Goldcorp (NYSE:GG) and Leagold (TSX ticker LMC-H.V) announced their binding sale and purchase agreement, which will transfer the Los Filos mine in Guerrero State, Mexico, from the major's portfolio into the aspiring mid-tier miner's control on January 12. The announcement puts an end to much speculation surrounding this transaction, but also provides much food for thought with regards to the regional consolidation potential of this dangerous, yet prospective neighborhood.
In the present article, we would like to provide a summary analysis of the announced transaction, and we would also like to discuss the implications on the mentioned consolidation potential.
The transaction
Goldcorp is selling Los Filos for $279M in cash, plus a 30% stake in Leagold valued at $71M. To be clear, that's a total of $350M, and not the $438M mentioned in the Goldcorp news release which generously adds in tax assets Goldcorp already owns and presumably Leagold didn't want to be included in the deal - a detail overlooked by several commentators.
This price of $350M buys Leagold a producing gold mine consisting of two open pits and one underground operation, plus the associated heap leach processing facilities. Total annual production is around 260,000 ounces at all-in sustaining costs (or AISC) of estimated $900/oz for a reserve-based mine life of 5 years.
On the surface, Leagold is paying $270 per reserve ounce, and $1,350 per ounce of annual production. Using a 5% discount rate and a gold price of $1,200/oz, we compute an NAV of $355M, which corresponds well to the price agreed between the two parties. We can think of two comparable transactions (i.e. large open pit non-core bulk mines) in recent memory:
Barrick Gold (NYSE:ABX) sold its Cowal mine at $354 per reserve ounce, and $2,200 per ounce of annual production.
It seems that valuations for the Los Filos deal are very much at the lower end of the range prescribed by these comparisons, and from the stated metrics (and others we checked), one could be tempted to call conditions advantageous for Leagold considering improvements in general market conditions since the listed comparables, along with the fact that reserves at Los Filos were computed for a gold price of $1,100/oz whereas higher gold prices were assumed for the stated reserves at Cowal and Cripple Creek at the times of transaction. Goldcorp's spin to include tax assets it already owns in the headline of its news release reinforces our assessment.
In summary, we believe that Leagold has negotiated a good price, for a somewhat troubled asset with arguably much potential. The trouble we just alluded to is twofold:
The Los Filos property is constrained, and expansion of mine life will probably require additional deals with third parties.
Guerrero State is a jurisdiction troubled by violence and many would argue that control is in the hands of narco-gangs rather than with the government.
We will discuss these two points in just a little while, but would first like to take a quick look at Leagold.
New kid On The block
Leagold is very much a new kid on the block as the company was only formed late last year in its current incarnation. Mr. Neil Woodyer is acting as Leagold's CEO, the very man who grew Endeavour Mining (OTCQX:EDVMF) into a mid-tier gold mining power house. The board is chaired by Mr. Frank Giustra another prominent (if not infamous) figurehead in Canadian mining. Having Mr. Woodyer and Mr. Giustra as proponents of this new company should disperse any doubts that necessary funds will be raised and we are convinced that the deal will close.
Leagold was founded to replicate Endeavour Mining's story, this time with assets in Latin America. The acquisition of the Los Filos mine is the first step on executing its stated strategy of purchasing cash flowing non-core operations from majors.
Another bullet point in the strategy outlined in Leagold's presentation reads "Consolidate within a region and leverage scale and local expertise to optimize and further develop assets..." And this is a point we would like to touch on in the next section.
Regional consolidation
Los Filos sits on a comparatively small and constrained piece of land within the highly prospective Guerrero gold belt. Reserves on the actual property are limited, but one needs to keep in mind that Goldcorp has re-classified 5.3M reserve ounces to resources for the February 2016 reserve update. This re-classification was driven by a more conservative gold price outlook, and it has ultimately led to the decision to divest Los Filos. A rising gold price could bring portions of these resources back into the mine plan, but we suspect that this is not Leagold's Plan "A" going forward as there are several options to add to the mine inventory at Los Filos.
Consider the map below in this context.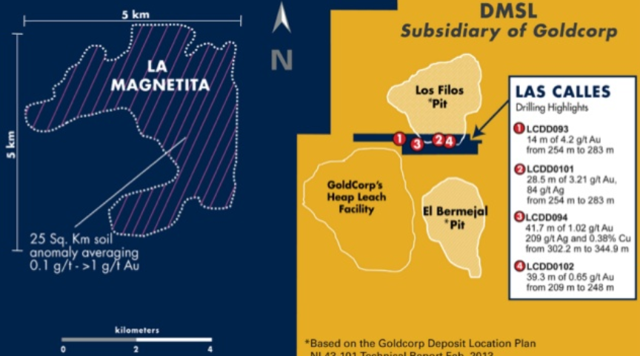 (source: Agnico Eagle 2014 presentation, p11)
The small strip of land immediately to the South of the Los Filos pit (labeled "Las Calles") belongs to Agnico Eagle (NYSE:AEM) and it has four drill holes in it, all of them showing high grade gold over significant thickness. And the large area labeled "La Magnetita" to the West used to be Cayden Resources' flagship project before it found El Barqueno and was bought out by Agnico Eagle.
La Magnetita is a skarn target much like Los Filos and purchasing these pieces of land should be a high priority for Leagold, and we would assume that Agnico Eagle would be amenable to an adequate proposal since these properties don't really fit with the company's policy of projects in low-risk jurisdictions.
The map below zooms out on the Guerrero belt, and it shows a number of development projects and operating gold mines in close proximity to Los Filos including Torex Gold's (OTCPK:TORXF) El Limon-Guajes operation and its nearby Media Luna project on the property immediately to the North, as well as Timmins Gold's (TGD) advanced Ana Paula project to the North of Torex. Both, Torex and Timmins Gold, have been touted as potential takeover candidates when Goldcorp was still tipped to look for a future for Los Filos by some, but both companies come with good reasons for Goldcorp (and now Leagold) to consider other options first, at least in our opinion.
One obvious alternative is labeled "Vuelcos Del Destino" in the map below. This small property belongs to a junior explorer by the name of Minaurum Gold (OTC:MMRGF) where Mr. David Jones is earning his keep as a senior geologist. And in case you wondered, then yes, that's the same Mr. Jones who discovered Los Filos a decade and a bit ago.
The geology at Vuelcos Del Destino is a Los Filos look-alike, the project is drill ready, and Mr. Jones has held on this particular piece of land for good reason. Minaurum is a project generator and its current focus is elsewhere. We would be very surprised if Leagold wasn't talking to Minaurum already, especially since the junior also controls the JV operating the property between Los Filos and Vuelcos Del Destino labeled "Birciu" in the map below.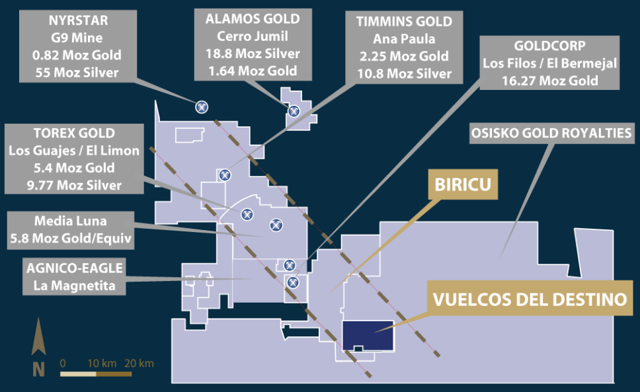 And looking further to the South-East, we note the largest property along the Guerrero belt, owned by Osisko Gold Royalties (NYSE:OR). This is one of several legacy properties, which Osisko retained when it sold the Malartic Mine to Agnico Eagle and Yamana Gold (NYSE:AUY) and transformed itself into a royalty company. Osisko has farmed out all other exploration projects it inherited at this time and we would be very surprised if it wasn't looking for options to do the same with its Guerrero project.
Mr. Woodyer is a shrewd and well-accomplished deal maker with plenty of backing. His arrival in the Guerrero gold belt is pointing towards consolidation of the Guerrero gold belt in our opinion. We strongly believe that the mentioned options will be high on his list, considering the constraints at Los Filos.
Warrior State
Guerrero is best translated into Warrior, a term befitting of this part of Mexico. Gangs control the region and much of the state, which has the highest homicide rate in Mexico. Drugs are the most talked-about trade these gangs engage in, but the riches of mineral extraction certainly hasn't escaped the attention of the bandits. You won't find this in the MD&A's of the companies operating in the Guerrero gold belt, but rest assured the miners have their arrangements with the Narcos. Only when these arrangements are violated, or when the balance of power between gangs changes is when one hears about it in the English language news (see here, here or here).
Nyrstar (OTC:NYRSF) is the only company we are aware of actively admitting to the security issues at its Campo Morado mine in the Guerrero gold belt (labeled "G9" mine to the North again of Timmins Gold's Ana Paula project in the map above). This mine has been shut down as a result of the violence in the area, and Nyrstar states it quite bluntly on its website: "​Production at Campo Morado has been suspended since Q1 2015 due to ongoing issues associated with security in the region."
One can of course speculate about the reasons for Goldcorp giving up on Los Filos, but plenty of rumors support the notion that payments to the gangs along with rising security costs have contributed significantly to the major's decision to pull the pin.
Mr. Woodyer is no stranger to mining in areas with security issues, having acquired Avion Gold in Mali during the Islamist insurgence in 2012 when he was still Endeavour Gold's CEO along with other transactions in challenged West African neighborhoods. We assume that he and his team will use a pragmatic approach in the Guerrero gold belt much like he appears to have applied in previous somewhat similar situations. That's no small task given Leagold's need for mine life expansion, and the consolidation we have already speculated on which will un-settle the balance in the region to some degree and might also have implications on other players.
Takeaway & Investment Thesis
Leagold is getting a mature operating and cash flowing gold mine for an attractive price. With Mr. Woodyer and Leagold entering the Guerrero belt, investors should expect a certain degree of dealing and wheeling going forward, especially since Los Filos will need expansion beyond its current limited organic possibilities. These consolidation efforts will provide various opportunities for investors wishing to bet on Leagold's moves - some of which we have sketched out in this article, and will follow in more detail going forward in our Itinerant Musings service.
Leagold's entry will also affect the balance of power in the region, and various parties will without doubt jostle to ensure their continued revenue from miners' activities. This will affect Leagold, but side effects on other players should also be expected. Investors with stakes in miners operating in the Guerrero gold belt are well advised to monitor local newspapers which are often much quicker and more accurate in reporting these "side effects" than the companies themselves, or English speaking news outlets.
Disclosure: I am/we are long AEM.
I wrote this article myself, and it expresses my own opinions. I am not receiving compensation for it (other than from Seeking Alpha). I have no business relationship with any company whose stock is mentioned in this article.
Editor's Note: This article covers one or more stocks trading at less than $1 per share and/or with less than a $100 million market cap. Please be aware of the risks associated with these stocks.