The iShares MSCI Chile Capped ETF (BATS:ECH) price has risen 30% since bottoming out in January 2016, from $29.76 to a recent $38.73, with much of the appreciation coming during the first half of the year. Based on improving commodity prices, the price should go higher in the coming months, possibly up to the $46 range (19%) before experiencing resistance.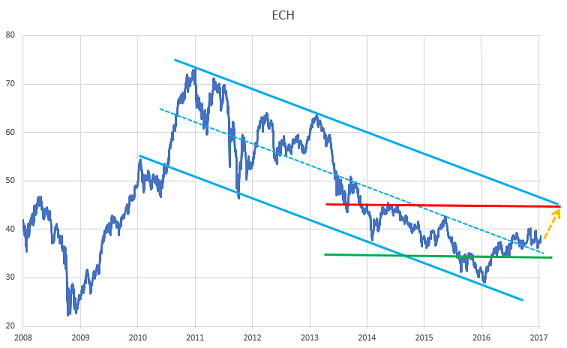 ECH Chart
Background
Chile is the world's largest copper producer, exporting more than $35B of copper ore and refined copper yearly, representing nearly 50% of all Chile's exports. 25% of Chile's exports go to China, Chile's largest trading partner. The United States is Chili's second largest trading partner. 12.5% of exports are to the United States.
Chile's top imports are petroleum (crude and refined), and vehicles. Again, Chile's largest trading partners are China and the United States.
Chile has been one of Latin America's fastest-growing economies over the past decade. However, following the 2010-2012 economic expansion, GDP growth fell due to the decline in copper prices and private consumption. In spite of the slow down, Chile's GDP year-over-year growth still performed better than the rest of Latin America.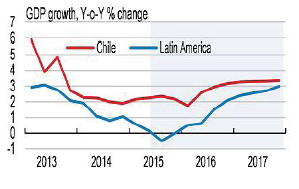 GDP Growth - Chile and Latin America (source OECD)
The reason is that the Chilean Government has generally followed a countercyclical fiscal policy, accumulating surpluses during periods of high copper prices and economic growth, and generally allowing deficit spending only during periods of low copper prices. Chile has a reputation for strong financial institutions and sound economic policy, giving it the strongest sovereign bond rating in South America.
The Chilean economy has been facing strong headwinds due to a slowdown in the copper mining industry and region-wide stagnation. In October, Chile experienced its first economic decline in 7 years, with economic activity falling by 0.4% from the previous month. Finance Minister Rodrigo Valdés indicated that the decline is a result of "temporary factors… that by November, Chile should return to economic growth." In any case, the interest rate is currently at 3.5% and the Central Bank could cut interest rates as a way to boost growth.
China and the Price of Copper
In November, the price of copper soared, based on president-elect Donald Trump's $500 billion-plus infrastructure plan. After an ensuing pullback, released Chinese customs data caused the price of copper to surge again.
Price of copper (source mining.com)
China's refined copper imports surged nearly 30% in December compared to November, boosting imports for 2016 to a new record. Concentrate imports also soared, with volumes up 28% year-over-year. China consumes 35% of the world's copper, and this is expected to rise to 50% by the early 2020's as hundreds of millions more people migrate from the country to cities.
Mining Issues
Codelco, Chile's (and the world's) largest copper miner, headed off potential strike action by getting workers to sign a labor deal at the Chuquicamata mega-mine. But the news wasn't quite as good this week in another major copper nation. Copper mines in Indonesia have been shut down as of Jan 12, due to a government ban on unprocessed mineral exports. The Indonesian government is apparently scrambling to introduce legislation to allow foreign mining companies more time to build smelters in Indonesia. This could take days or weeks, but until that happens, the price of copper is bound to go up. This will affect producers such as Freeport-McMoRan (NYSE:FCX). Chile, on the other hand, will benefit from higher prices.
Economic Projections
Economic growth is projected to edge up in 2017 as a stronger global economy is anticipated, along with a recovery of the price of copper which will boost confidence and investment, and increase government revenues. Monetary policy is expected to remains supportive, with the policy interest rate at 3.5%. Medium-term fiscal consolidation is planned to adjust to lower global copper prices, as required by Chile's fiscal rule. Scope for issuing debt to finance a gradual consolidation exists, and can help to sustain the recovery.
Checking Under the Hood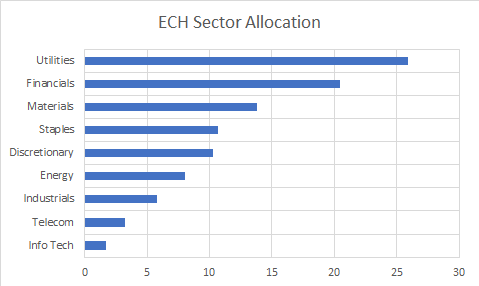 ECH Sector Allocation
Utilities and Financials account for 25.9% and 20.8% of the ETF holdings respectively. Surprisingly, the Materials sector only accounts for 13.8% of the ECH holdings, even though copper exports account for a large part of the economy. Given that Chilean interest rates are expected to remain steady in 2017, and copper price should rise, these sector allocations are conservative without assuming too much risk.
| | |
| --- | --- |
| P/E Ratio | 15.73 |
| P/B Ratio | 1.44 |
| Beta (calculated to S&P 500) | 0.18 |
ECH has relatively good P/E Ratio and P/B Ratio. Beta is quite low at 0.18, making this ETF a good choice for diversification from US equities.
Re-Cap
Chile has a reputation for strong financial institutions and sound economic policy, giving it the strongest sovereign bond rating in South America.
Chile is the world's largest copper producer, with a significant portion of Chile's exports going to China. Thus, Chile's economy is dependent on China.
China's copper imports surged nearly 30% in December compared to November. Price of copper has also surged. Indonesia's copper exports are shut down.
ECH sector allocation and financial aggregates are conservative and positioned for growth in 2017 assuming moderate China and world economic growth.
The price could appreciate by 19% before experiencing significant resistance.
Disclosure: I/we have no positions in any stocks mentioned, and no plans to initiate any positions within the next 72 hours.
I wrote this article myself, and it expresses my own opinions. I am not receiving compensation for it (other than from Seeking Alpha). I have no business relationship with any company whose stock is mentioned in this article.