Last week, Immersion Corporation's (NASDAQ:IMMR) stock moved strongly downwards and upwards in a very short period of time due to two different pieces of news: the announcement that Apple (NASDAQ:AAPL) had been granted the inter parties review of unpatentability of the 356 patent in its entirety, and of 10 of 21 claims of the 571 patent, followed by the announcement of Nintendo (OTCPK:NTDOY) (OTCPK:NTDOF) as a new customer in the gaming vertical.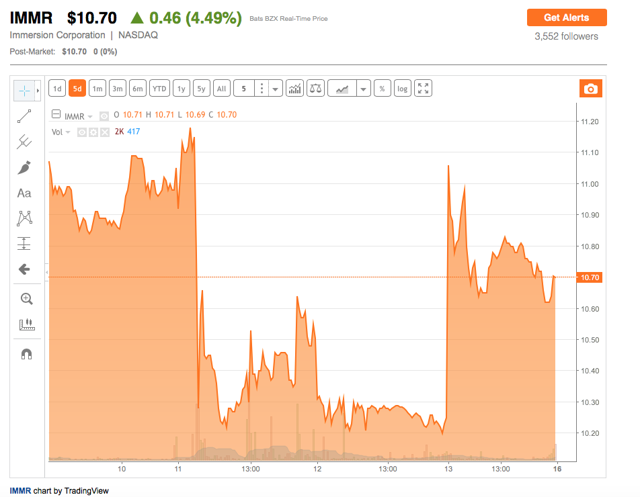 chart from Seeking Alpha
The bad news may not be so bad after all.
While the court granted Apple the re-exam of the 356 patent in its entirety, and the re-exam of 10 of 21 claims of the 571 patent, the judge also denied the review of the 051 patent (and, as we noticed, of 11 of 21 claims of the 571 patent).
We've already expressed, in the past, our concern that the climate toward IP protection in court is not as favorable as it was when IMMR defeated Sony (NYSE:SNE) a few years ago, but we can't keep from commenting that the outcome is not a complete defeat for the company - and we got the impression that IMMR management was prepared for the worst outcome (review of all patents).
As rleebue noticed commenting the news here on SA, "Immersion filed infringement for several dozen claims within 3 patents, expecting some to be tagged for review. That half are not to be reviewed weakens Apple's defense with respect to them." We could have not said it better ourselves.
Nintendo a solid win in the gaming sector.
Kudos to IMMR management for landing the only console producer that was not already a licensee as a new customer in the gaming vertical - in all honesty, we never put our bets on the Japanese company becoming a new client at this stage.
As a background to the story, Nintendo's IP in the haptic sector has always been considered very strong, a reason why Immersion never contemplated any enforcement action toward them:
Nintendo was not involved in the [Sony and Microsoft] case, as the technology used in the Rumble Pak and GameCube controller (and, subsequently, the Wii Remote) is based on a different design, for which Nintendo holds the patents U.S. Patent 6,200,253 and U.S. Patent 6,676,520 based on a Japan patent application filed on October 9, 1995.
What could have caused Nintendo to feel the need to negotiate a license with IMMR?
Speculation time: why now?
Recently announced IMMR licensee Alps Electric has been a supplier to Nintendo for quite a long time. Their quite extensive haptic product offering could have landed in the new Nintendo Swift console, at least according to this commentary (link to the original article, in Japanese):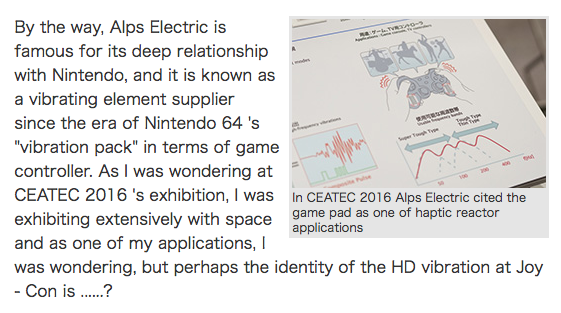 The same author speculates that Alps may have anticipated the Nintendo win by showing a very similar haptic effect to the one implemented in a new Nintendo Switch game at a recent exhibition: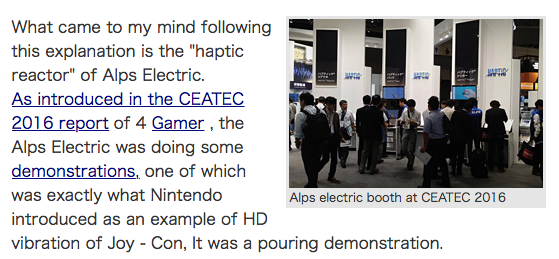 (HT to ggx2ac)
Only a teardown of the Nintendo console, when it will be available, may confirm or not whether Alps electric is supplying this specific hardware solution.
However, we speculate that Immersion, with or without Alps help/introduction, may have been selected by Nintendo both for its strong and complementary haptic IP AND for the big help it could provide through its software and its recent experience in the gaming and ad verticals to work closely with game producers for the proliferation of haptic enabled games.
The wording of Immersion's P/R is quite interesting (emphasis added):
Immersion Corp. today announced that it has signed a multi-year agreement with Nintendo to allow Immersion to adapt its TouchSense® technology to the new Nintendo SwitchTM system. As part of the agreement, Nintendo receives a license to Immersion's patent portfolio.

Once it is adapted to the Nintendo Switch system, game developers will be able to use Immersion's TouchSense software suite to design games for the Nintendo Switch system. Immersion's TouchSense software will help developers provide immersive touch-based gaming controls to players around the world.
Access to IMMR IP seems almost secondary to the possibility, offered to game developers, to provide the market (and Nintendo users) with an haptic enabled experience.
By partnering with Immersion, maybe Nintendo is trying to avoid a mistake that has caused many of its innovations to pass almost unnoticed:
It's a story as old as the original Wii: Nintendo tries to disrupt the game industry with a new innovation only to watch third parties do the bare minimum to support those innovations.
Two comments: first, with the Nintendo win Immersion becomes the established leader in the console gaming vertical. This recent chart introduced in IMMR investor presentation makes now even more sense: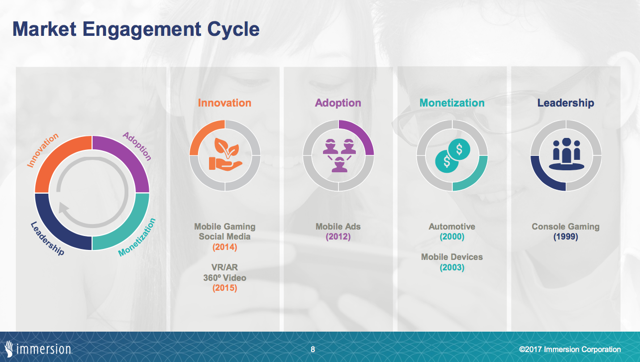 from Immersion's latest investor presentation
Second, the real question for investors, however, is if these software capabilities are offered to game developers fee of charge, as part of the Nintendo partnership, or if, in a similar way to what happens with Android game producers, Immersion will also collect royalties from this activity (obviously our favorite solution, as it means IMMR would win on both fronts).
We do not know the answer to this question, yet, but we are investigating into the matter.
Conclusion
Although the outcome of both the Samsung negotiations and the Apple lawsuit remain key issues for Immersion, the company has recently shown an unprecedented capacity to close new deals and timely renew old agreements.
Nintendo is a very solid win that allows the company to claim "clear leadership" in the console gaming vertical, with all major console producers now as customers, both through negotiations, out-of-court agreement or litigation: Nintendo, Microsoft (NASDAQ:MSFT) and Sony.
The early LG renewal, made ahead of its scheduled 2017 expiration, and in the middle of an IP war with both Apple and Samsung, is a nice change for investors, that have historically been used more to late renewals rather than timely ones, and hardly to early, positive news.
The Q4 2016 conference call, due for March 2nd, will hopefully shed some additional light about the Nintendo deal and the LG renewal - at least through the issuance of 2017 guidance, that will put an exact number on revenue expectations from announced customers.
As no direct mention of the monetary value of these two distinct deals has been made, we might need, as it often happens, to dig into IMMR financials looking for clues that allow making some educated assumptions.
We expect that the mention of "a number of agreements", linked with the $25 million deferred revenues, might mean that other new deals may be disclosed once haptics-enabled products are launched by new clients.
While IMMR management has given no clear indication of a deadline for the Samsung negotiations to end up either with a new agreement or in an enforcement action, we know that it must happen "sometime in 2017", as confirmed by Immersion's CEO, Vic Viegas, at the recent Needham investor conference.
Outside of an out-of-court agreement, the Apple lawsuit is also due to end by the end of 2017 - in what could end being a key year for Immersion's ambitions.
Disclosure: I am/we are long IMMR.
I wrote this article myself, and it expresses my own opinions. I am not receiving compensation for it (other than from Seeking Alpha). I have no business relationship with any company whose stock is mentioned in this article.
Editor's Note: This article discusses one or more securities that do not trade on a major U.S. exchange. Please be aware of the risks associated with these stocks.