Successful businesses use best practices to be competitive and grow profits. Growing marijuana requires agriculture expertise. Cultivating high quality hydroponics plants in greenhouses requires special skills and knowledge. This type of expertise is worth a lot on a grand scale. A low-cost cannabis producer with a 77% gross margin can make a lot of money. Sure people can grow their own pot, but plants take time to grow and need proper care and attention. In good conditions, a grower can harvest pot four times per year.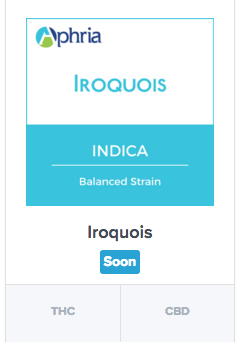 One of the reasons I like Aphria Inc. (OTCQB:APHQF) is its deep expertise on its board of directors. Most particularly I am impressed with the expertise of Aphria co-founder John Cervini, who is a fourth-generation grower in southwestern Ontario with hydroponic agricultural experience, and a co-founder of produce wholesaler Lakeside Produce; and Cole Cacciavillani, Aphria's co-founder, an industrial engineer with 35 years of experience in the agricultural and greenhouse industry. They know how to best use nature's light and proprietary growing techniques and technologies to create competitive, safe and cost effective products. Aphria became Canada's 13th Licensed Producer on Nov. 26, 2014. Aphria Inc., formerly Black Sparrow Capital Corp., is a Leamington, Ontario, Canada-based company, which is engaged in producing and selling medical marijuana through retail sales and wholesale channels. The company's retail sales are primarily sold through the company's online store, as well as telephone orders. Its wholesale shipments are sold to other Medical Purposes Regulations (MMPR) Licensed Producers. It offers medical cannabis of various strains, including Alien Dawg, Kusawa, Tamaracouta, Panache, Churchill and Iroquois. The company is also engaged in the research and development, and commercial production of cannabis oil. Its cannabis oil products include Champlain, Rideau and Capilano.
Results from Aphria's fiscal second quarter, for the three months ended Nov. 30, show us why expertise matters. The company is not that old, yet has shown four consecutive quarters of profitability. The latest quarter shows excellent growth in the average selling price per kilogram of cannabis (or kilogram equivalent) and very strong new patient registrations in the quarter.
Aphria reported strong EBITDA levels, growing 13% in the quarter to $1,198,620 Canadian dollars. This is the company's second consecutive quarter with EBITDA greater than $1 million. The EBITDA growth reflects the company's continued focus on low cost producer status and industry leading patient care, quarter over quarter. Revenue for the three months ended Nov. 30, 2016, was $5,226,589, representing a 19.5% increased over the prior quarter's revenue of $4,375,512. The increase in revenue for the quarter was primarily a result of increased average selling price per gram (or gram equivalents) sold.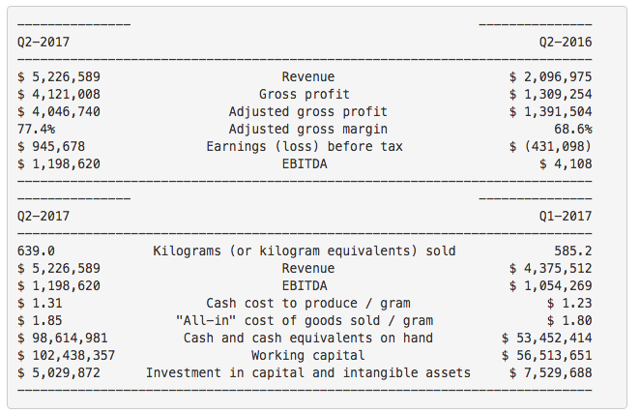 Source: Aphria. Currency: Canadian dollars.
Adjusted gross profit for the first quarter was $4,046,740 with an adjusted gross margin of 77.4%, generated from both retail and wholesale shipments of medical cannabis. The increase in the adjusted gross margin from the prior quarter is consistent with our revenue growth per gram. Net income for the three months ended Nov. 30, 2016, was $945,678 or $0.01 per share as opposed to a net loss of $431,098 or $0.01 per share in the same quarter in the previous year and an income before tax of $895,269 or $0.01 per share in the previous quarter.
"I am most proud of the best-in-class and sustainable successes delivered by Aphria," said Vic Neufeld, Aphria Chief Executive Officer. "First public LP to report consecutive positive quarterly operating results. First public LP to report consecutive quarters with net profits. First public LP to licence its cultivation intellectual property. Diversification with non-cultivation assets. Low cost producer status. The best customer service, as determined by Lift. Health Canada approval process for Part II expansion under way. Significant progression on Part III expansion. Cash on hand to pay for Part II & Part III expansions. Oil sales growing to over 10% of revenue. 100 employees and growing. Diversification into Arizona and the United States. Our primary focus continues to be building a strong, diversified and profitable market leader for our shareholders."
A greenhouse expansion must be done right to accommodate growth in cannabis sales and remain cost effective. I want the low cost producer to build out the space. I like the idea of real sunlight contributing to the growth of the plants in these Dutch style greenhouses built by Aphria in Ontario. Sunlight reduces expense of artificial light. Aphria plans to triple production and is already on its way to making this happen.
Last fall, the company announced plans to increase Aphria's capacity under the Access to Cannabis for Medical Purposes Regulations (ACMPR) from 100,000 square feet to 300,000 square feet and is expected to increase the company's ACMPR compliant growing capabilities from 5,500 kgs annually to 18,000 kgs annually. The project includes 200,000 square feet of state-of-the-art Dutch style greenhouses, 21,000 square feet of infrastructure, including four Level 9 vaults, automation for both the greenhouses and processing areas and security consistent with ACMPR standards. Aphria anticipates completion of this phase of the project within 12 months.
Aphria is in the midst of completing its previously disclosed 57,000 square foot Part II expansion and its 200,000 square foot Part III expansion.
In January 2017, the Aphria board approved a $137 million capital project, known internally as Part IV expansion. The project will increase Aphria's capacity under the Access to Cannabis for Medical Purposes Regulations from 300,000 square feet to 1,000,000 square feet. In addition to the 1,000,000 greenhouse growing square feet, the company's infrastructure will grow to over 250,000 square feet, necessary to service the expected 70,000 kilograms of eventual annualized harvests.
"Aphria continues to deliver on its strategic plan by ensuring our capacity meets expected demand for cannabis. The accumulation of local real estate properties (48 acres) has created an Aphria greenhouse campus capable of exceeding 1,000,000 square feet of greenhouse production area, when market conditions support further expansion," said Vic Neufeld, Chief Executive Officer. "Continued patient growth, combined with potential expansion of the medical cannabis distribution channels and the Liberal Government's promise to legalize cannabis for recreational use, all validate Aphria's capacity growth plans."
While U.S. states have been passing medical and recreational marijuana laws, Canada is moving along faster toward legalization of cannabis than in the United States. The legal framework in Canada is much more supportive of the Canadian companies operating there. The system in place today has successfully introduced about 100,000 Canadians to a legal source of cannabis for medical purposes. Industry experts say the success of the Access to Cannabis for Medical Purposes Regulations is evident in its growth, which has continued at a rate of approximately 10% per month for more than two straight years.
Aphria stock is up 394% over the past 12 months. The 52-week low is $0.79 cents and the 52-week high is $5.92 US dollars. I bought some shares at $4.10 US per share, which is a very high price, but I want to be in the game. I also own some shares in Canopy Growth (OTCPK:TWMJF), but do believe it has a crazy high valuation, with market cap of $1.2 billion. Both Canopy and Aphria are overvalued. Aprhia's market cap is around $500 million yet it only did $5.2 million Canadian revenue in its latest quarter.
I like Aphria's discipline in its financial performance -- four straight quarters of profits -- and I really like its expertise in growing plants in greenhouses, using the sun's natural light. I think this is the best approach for producing high quality plants at efficient costs in mass scale. Aphria reported $102 million Canadian dollars in working capital on Nov. 30, 2016. This gives the company sufficient capital to finish current projects and expand into new markets.
Conclusion
As U.S. states and Canada move toward legalization of pot in North America, Aphria is positioned to triple production. The company is a low cost producer of high quality marijuana and oils. Leadership on the board of directors have experience in growing plants in greenhouses in Ontario for several generations. The company is profitable with plenty of capital. I plan to buy more shares of Aphria when it dips down below $4.00 US. I plan to hold this stock for a long time. With a stock trading at such high levels now, it is possible for the stock to fall 50% during a stock market correction. Small cap stocks sometimes perform much worse in corrections. Worse yet, what if the laws turn against the cannabis industry? Stocks could slide, go to zero even. But I think there is two-thirds odds the laws will continue to improve, as they have already in most of the United States and Canada in the past 20 years. Medical marijuana laws in Canada have been in place for several years, and the Liberals plan to introduce legislation for legalization of recreational marijuana. Aphria is poised to become an industry leader as low cost producer and seller of high quality greenhouse cannabis.
Additional disclosure: Aphria Inc. pays Seeking Alpha a fee to participate in its Corporate Visibility program. This article was submitted independently by Michael Hooper and selected by Seeking Alpha's editors for publication. No fee was paid for its publication.
Disclosure: I am/we are long TWMJF, APHQF.
I wrote this article myself, and it expresses my own opinions. I am not receiving compensation for it (other than from Seeking Alpha). I have no business relationship with any company whose stock is mentioned in this article.
Editor's Note: This article discusses one or more securities that do not trade on a major U.S. exchange. Please be aware of the risks associated with these stocks.