(Editor's note: There is much greater liquidity on Euronext under the ticker SOLB).
The company
Solvay (OTCPK:SVYSF) is a Belgian multinational chemical company, headquartered in Brussels. Founded in 1863, the company originally was a producer of sodium carbonate, but quickly grew into plastics and chemicals. Before the first world war, the company even was the largest multinational in the entire world. Nowadays the company mainly produces chemical products. With a specific focus on sustainable chemistry, the company is able to offer a wide variety of solutions for all kinds of industrial companies.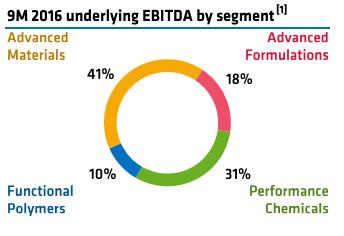 Source: Solvay's earnings report - Q3 2016
Solvay's most popular product-segments currently are advanced materials and performance chemicals with a combined net revenue of €5.718 billion in the first three quarters of 2016.
Stock performance
Solvay stock is currently worth 107.95 euro. The company has a market capitalization of 11.45 billion and is quoting at Euronext Brussels under the ticker SOLB. Solvay's average daily volume is about 325,000 shares.

On the graph above is the stock price of Solvay (BLUE) as compared to the BEL20 (index of the 20 largest Belgian stocks, in red) on a year-over-year basis. Currently, Solvay has outperformed the index by about 30%. Seeing the stock price slow down in growth, some investors fear for a long-term correction. The stock however, is still far from its all-time-high of €140.9 that it reached in April 2015. I believe that Solvay right now is still not at its peak, and I will explain why.
Recent Restructuring
One of the reasons as to why I believe that Solvay's growth will remain strong is because of the heavy restructuring that it has going on. To start, Solvay is currently expanding its foreign markets by building a new Technyl Polyamide compounding unit in San Luis Potosi, Mexico. This unit will be able to serve regional markets as well as the North American Automotive- and Consumer Goods segments, and will create an enormous growth opportunity for the company. In order to reduce cost, Solvay was smart enough to partner up with one of its major clients Chunil Engineering. Solvay plans to have the unit operational by the third quarter of 2017.
Secondly, Solvay is shifting its focus to only producing sustainable chemical products. Therefore the company is getting rid of less sustainable divisions, such as its Thai and Brazilian PVC-branches Vinythai and Indupa. Solvay's 59% stake in Vinythai was sold to Asahi Glass, Japan's biggest glass producer, in December of last year for $291 million. Indupa was sold in the beginning of January this year for about $143 million. Now Rusvinyl remains Solvay's only PVC branch, as the Russian market is one of Solvay's main growth engines. Therefore the company will probably hold on to this branch for a couple more years.
Lastly also Acetow, Solvay's cigarette filter division, has been sold to private equity firm Blackstone for around $1 billion. The deal should be completed by the first half of this year and should generate a surplus value of approximately $160 million after taxes.
Solvay is planning to use all the income from these restructuring-deals to reduce the debt they have compiled from the takeover of Cytec, among others.
Other reasons to be bullish
These restructurings are not the only reason as to why I believe in Solvay. There are also some other factors that make me like the company.
Firstly, Solvay is perfect for the ethical and social responsible investor. As mentioned before, Solvay tries its best to maintain a high corporate social responsibility. The company is heavily divesting its share of non-sustainable products and focuses on a cleaner future. This made Solvay win multiple awards for their efforts in sustainable reporting.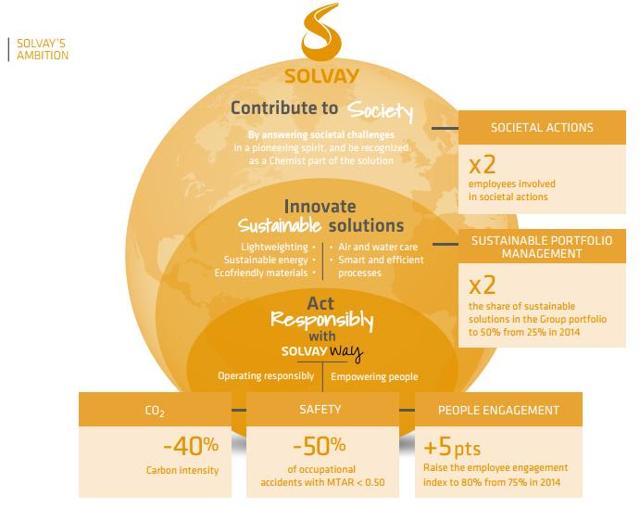 Source: CSR ambitions - annual report Solvay
Secondly, Solvay has a very diversified area of distributions. What I am trying to say with this is that the various products that Solvay produces, can be applied to- and used in a huge amount of different sectors and markets. Solvay's clients range from consumer goods manufacturers to automobile industry leaders. It is for this reason that I believe that Solvay is a rather safe bet, because even though some sectors might not do so well, its customer base is still very diversified and can handle potential drops in demand rather easily.
Lastly, I am bullish because the company faces little competition in its home markets. Ever since it stopped its pharmaceutical division in 2010, Solvay strives to be the market leader in sustainable chemistry. To obtain this position, Solvay has been doing restructurings as mentioned above, but also took over its biggest competitors. Solvay's largest takeovers were those of competitors Cytec for $5.5 billion and Rhodia for $4.84 billion.
Conclusion
I am very positive on Solvay's future. The stock has done well so far, and likely will do so in the future as well. To me, everything seems just right: Solvay has a good market position and its restructuring plans seem to increase the company's value already. The company is responsible, thinks ahead and has a diversified product portfolio. If the company indeed uses its restructuring profits to reduce its net debt, then 2017 will probably be a good year for Solvay, which is why this company is one of my favorite picks.
Disclosure: I/we have no positions in any stocks mentioned, and no plans to initiate any positions within the next 72 hours.
I wrote this article myself, and it expresses my own opinions. I am not receiving compensation for it (other than from Seeking Alpha). I have no business relationship with any company whose stock is mentioned in this article.
Editor's Note: This article discusses one or more securities that do not trade on a major U.S. exchange. Please be aware of the risks associated with these stocks.