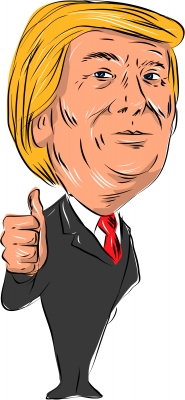 (Source: Free Digital Photos/freedigitalphotos.net)
A Special Type of Risk
When one invests, there are two classes of risks one must always consider. One is Systematic Risk, where an event can affect the entire market. The other is Unsystematic Risk where an event is unique to a specific company.
Political Risk is defined as, "the risk an investment's returns could suffer as a result of political changes or instability in a country." There is a special type of political risk that can be either market wide, or specific to companies or sectors, depending on the circumstance. I am calling it the "Trump Risk." It is where the value of a company or sector can be affected by the tweets, statements, or actions of President Trump.
Examples of The Trump Risk
Lockheed Martin
On December 12, 2016, Trump tweeted, "The F-35 program and cost is out of control. Billions of dollars can and will be saved on military (and other) purchases after January 20th."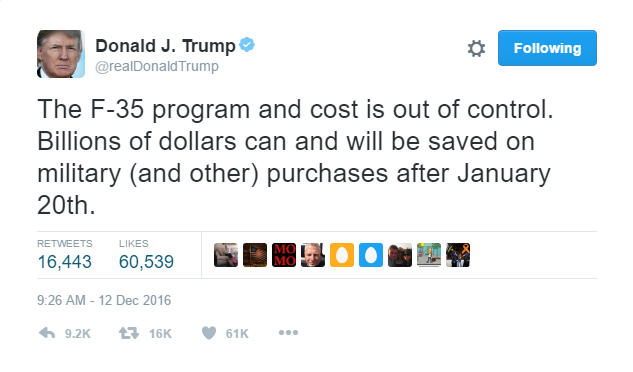 Tweet 1
This was a direct shot at Lockheed Martin (NYSE:LMT), and the stock did react. Lockheed's previous day closing price was $259.53/share. By the time the sell-off was finished, Lockheed's low for the trading day that Monday was $245.50/share for a 5.4% drop in price before it began to recover. To this date, it has not returned to the level where it had been before the tweet: it currently sits at $254.53 (as of January 16, 2017).
Toyota
On January 5, 2017, Trump tweeted, "Toyota Motor said will build a new plant in Baja, Mexico, to build Corolla cars for U.S. NO WAY! Build plant in U.S. or pay big border tax."
At 2:14 that day, Toyota (NYSE:TM) stock was trading at $120.78/share. By the end of the day, it was priced at a low of $119.40, off its high for the day by 1.6%. All of this occurred in a matter of 106 minutes.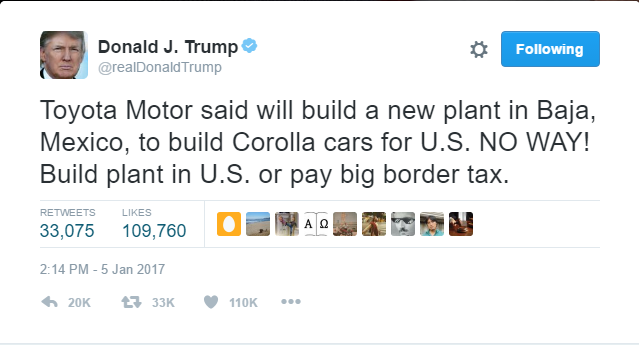 Tweet 2
Big Pharma
On January 10, 2017, Trump met with vaccine skeptic Robert Kennedy Jr. about the possibility of creating a commission on autism. Coming out of the meeting, Kennedy said, "President-elect Trump has some doubts about the current vaccine policies, and he has questions about it." How did Merck & Co. (MRK], where 6% of its revenues come from vaccines, respond to this news? It dropped 2% from its previous day's closing price, though it has more than recovered since then.
This was not the only salvo fired by Trump at drug companies. During his press conference, on January 11, 2017, Trump said:
"We have to get our drug industry coming back. Our drug industry has been disastrous. They're leaving left and right. They supply our drugs but they don't make them here, to a large extent. And the other thing we have to do is create new bidding procedures for the drug industry, because they're getting away with murder. Pharma has a lot of lobbies, a lot of lobbyists, a lot of power. And there's very little bidding on drugs. We're the largest buyer of drugs in the world, and yet we don't bid properly. We're going to start bidding. We're going to save billions of dollars over a period of time."
The iShares Dow Jones US Pharmaceutical Index ETF (NYSEARCA:IHE) sat at $147.40/share just before Trump's presser began. By the time the Q&A was over, the ETF had fallen to an intraday low of $142.49 for a 3.3% drop. These losses occurred while he was talking. By the end of the week, it still had not recovered all its losses ($144.46).
Mexico
On November 8, 2016, the iShares MSCI Mexico Capped ETF (NYSEARCA:EWW) opened at $52.79/share. Since the election, the stock has plunged 19.2%. It is already well documented how President Trump wants to deal with Mexico, but clearly, the country's stock market is not responding well to the new Trump presidency. The Mexican Peso is in lockstep with the decline in that country's markets, and has seen its value compared to the U.S. dollar drop 13.4%. More on this later.
Boeing: A Counterexample
On December 6, 2016, Trump tweeted, "Boeing (NYSE:BA) is building a brand new 747 Air Force One for future presidents, but costs are out of control, more than $4 billion. Cancel order!"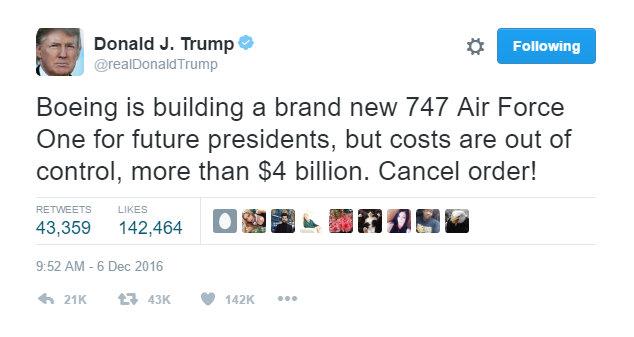 Tweet 3
Yet, on the same day he slammed Lockheed Martin, he tweeted, "Based on the tremendous cost and cost overruns of the Lockheed Martin F-35, I have asked Boeing to price-out a comparable F-18 Super Hornet!"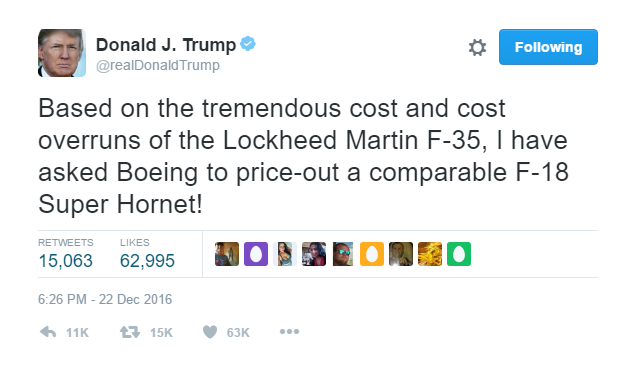 Tweet 4
While the Boeing stock shrugged off the negative tweet in early December, and barely yawned about the F-18 tweet rant, the stock is up 5.3% since Trump started tweeting about the company. This is better than the 3.05% for the overall market.
What to Do?
Regardless of what happened to Boeing, it appears we are about to enter an investing environment that has its own special form of volatility. We will have a president who tweets or says whatever is on his mind in an unfiltered manner, and the market will likely respond.
In 2015, I wrote that one should pay attention to their screens, especially when they do not return the usual number of potential candidates. You can find the piece here. In that piece, I outlined the case that if one is accustomed to seeing 20 candidates from their stock screen, and the screen only returns 12, then they should consider going to 40% cash. It is a clear signal that the market in which they prefer to invest is overvalued.
I want to reiterate my claim for the past two years. This market is clearly overvalued right now, so it will only take one tweet or misplaced comment to tank it 5-10% in short order. Read my most recent piece on why I think this market is overvalued. If one has allocated cash, there will be opportunities to invest that cash in the next four years. Just follow Twitter, and make it part of your investing strategy.
Waiting for The Right Time
I want to illustrate a nice example why one should use cash and the inherent volatility that is going to occur to take advantage of buying opportunities. Grupo Aeroportuario del Centro Norte (NASDAQ:OMAB), OMA for short, is a small-cap company based in Mexico. Per its website, its subsidiaries, it holds concessions to operate, manage, and develop 13 international airports. The airports are in:
Acapulco
Juarez City
Culiacan
Chihuahua
Durango
Mazatlán
Monterrey
Reynosa
San Luis Potosi
Tampico
Keep
Zacatecas
Zihuatanejo
As one can see from the price chart, this company, like most Mexican-based entities, has seen its value drop quite a bit since the election. However, that does not mean this company is not worth looking at.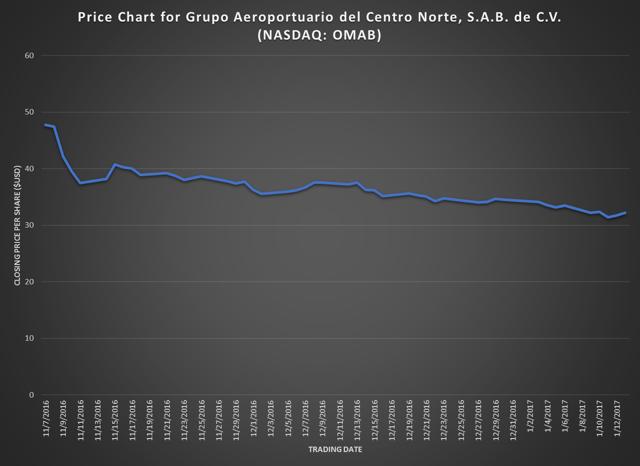 Figure 1
OMA is a mighty mite, with earnings growing over the last five years at an average of rate of 10.16%, revenues at 4.06%, and dividends at 19.54%. In its recent press release, it states, "Total terminal passenger traffic increased 12.2% to 5.1 million in 3Q16. Domestic traffic increased 14.2%, while international traffic decreased 2.0%. The Monterrey, Ciudad Juárez, Culiacán, and Chihuahua airports had the most growth." This increased traffic has increased revenues (20.6%), and income (55.4%) year over year. In a recent December filing, OMA reported a 10.9% increase in passenger traffic for the year, most of it coming domestically. It also announced new routes to Winnipeg, Las Vegas, and Denver, so its expansion plan is still in effect. Overall, it added 41 new routes in 2016, and plans to add more in 2017.
Why Buy OMA?
OMA first came to my attention as I was looking for an emerging market play that paid a nice dividend yield at least 3%. This certainly fits the bill. The chart below shows the historical dividends in both US dollars and Mexican Pesos.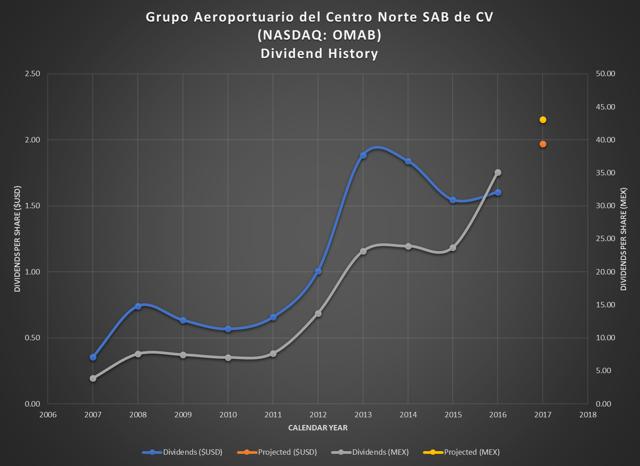 Figure 2
As one can see, the dividends in Mexican pesos have a more persistent dividend growth than it does after the dividends have been converted to American dollars. In 2007, it cost N$10.87 to buy $1. That price has jumped to N$21.87/$1 recently. Therein lies the risk of investing in companies where one must convert foreign currency. It is called Currency Risk or Exchange Rate Risk. Nevertheless, one can earn a projected $1.85/share on this company. That is a forward yield of 5.74%, and that is a very healthy yield.
What Is OMA Worth?
The key is to make sure one is not overpaying for the stock. Too many investors chase dividends, and overpay in the process. Based on five-year trends and using a discounted dividend model that accounts for supernormal growth, this company is worth $50.31/share right now. This is based on its dividend growth of 18.8%, and a reasonable required rate of return of 11.3%. I dare say that this company could appreciate to $41.25/share in short order when people begin to see its true value.
What Are the Risks?
OMA has clear goals of expanding its business. It wants to increase passenger traffic 8%, and its revenues by at least 17%. To bolster its bottom line, it hopes to achieve margins at 61%.
It does warn, however, the risks endemic to investing in international travel. These risks include:
Political Risks - It is regulated by the Mexican government, and cannot predict what regulations will occur in the future. In addition, Mexico does have a crime problem, and that could affect travel to that country.
Currency Risks - If the Peso continues to deteriorate, that could hurt company profits.
Systematic Risks - The company depends on a healthy global economy that allows passengers to travel. If the economy falters, or if terrorism, and other adverse events occur, travel will decline.
Unsystematic Risks - Over half of the company's business is focused on Mexico City. OMA needs to diversify its portfolio of airports. If the Mexican Government builds a new airport in the capital city before OMA's lease is up at the current airport, that will have a negative effect on its bottom line. As of now, the new airport is still mainly a concept than a reality.
As a reminder, OMA is an ADR. Owning it does not give you any voting rights. Also, the dividends are paid annually, not quarterly, so if one is looking for a steady income stream, this might not be the right stock for you.
What Are Others Saying About OMA?
This is what others are saying about OMA:
Morningstar (4 stars/BUY)
The Street (B-/BUY)
Zacks (SELL)
Consensus (3.7/5)
Commentary
It is difficult to write this kind of piece without revealing one's political stripes. This is not about politics. It is about making money, and being a good financial steward.
I have never seen in my lifetime a president who simply refuses to measure his words before he speaks or tweets. Investment markets do not like that. They like predictability. Each day, the markets are stating how they feel about investment environment at that point in time. When we have a political leader who disrupts that calm, the markets always sell off, and run for safety. Because of that, the markets will always go down.
With our instant access to social networks and trade mechanisms, every investor needs to have some defense in their portfolios. This comes in the form of cash, and researched watch lists so one can take advantage of the opportunities that absolutely will occur over the next four years. I ask all of you to do this. Be patient. Wait. Jump on opportunities.
Happy Investing!
Disclosures
Investments are subject to market risks including the potential loss of principal invested. The securities of smaller, less known companies may be more volatile than those of larger companies. Foreign investments may involve greater risk than U.S. investments, including political and economic upheaval and the risk of currency fluctuations. All investments involve risk, including risk of loss, and are made at your risk exclusively. The views and opinions presented in this article are mine and mine alone.
Disclosure: I am/we are long OMAB.
I wrote this article myself, and it expresses my own opinions. I am not receiving compensation for it (other than from Seeking Alpha). I have no business relationship with any company whose stock is mentioned in this article.