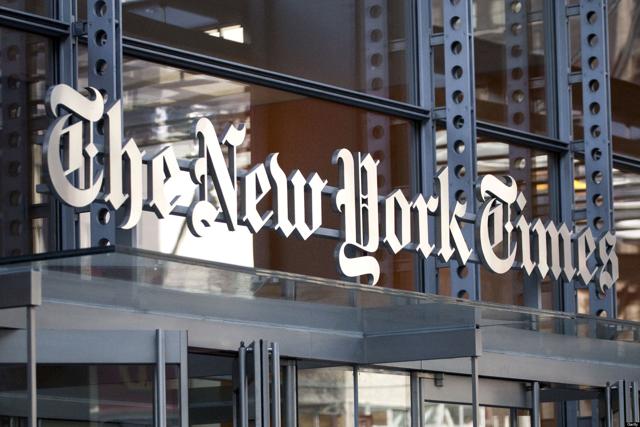 New York Times (NYSE: NYT) is under siege. The company is suffering from an industry-wide decline in print sales. Further, NYT is under pressure from the incoming administration. Trump has regularly called the company failed. He has also joked that his Twitter (NASDAQ: TWTR) account is like NYT without the losses.
The company has however bounced back and to a large extent proven Trump wrong. In November, after he won the election and criticized the company for its bias, it reported a 10-fold increase in subscriptions. In the last three months, the company's share price has gone up by 17%. This is huge when compared to its peers. In the same period, Garnet (NYSE: GCI), McClatchy (NYSE: MNI), Tronc (NASDAQ: TRNC), and News Corp (NASDAQ: NWS) have seen their share price decline by 10.06%, 28.45%, 20.18%, 10.11%.
This growth can be attributed to the company's growth of digital subscribers and its restructuring initiatives. In December, NYT announced that it would vacate eight floors in its prestigious Manhattan offices. According to the publisher and the chief executive, the changes will save the company funds and improve synergies among the employees.
In the last quarter, Mark Thomson said the following about the growth in digital subscribers.
We saw remarkable gains in digital consumer business with a net increase of 116,000 subscriptions to our news products, more than twice as many as the same quarter last year and far more than any quarter since the pay model launched in 2011. Revenue from digital news subscriptions grew 15% year-over-year.
While the increase in digital subscriptions is a positive move for the company, I have a number of concerns about this. First, can this momentum in subscriptions continue past the election year? In an election year, media companies experience an increased traffic as people make their decision on who to vote for. As shown below, the momentum in NYT viewership seems to be reducing.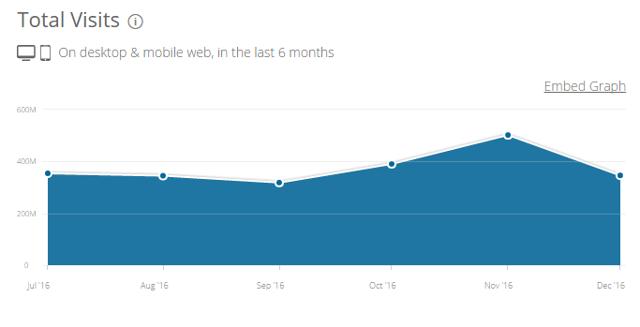 Source: Similar Web
As seen in the chart above, traffic increased from September to November as more people visited the website to read more about the happenings in the political scene. After the election, the number of visitors has dropped.
The chart below comparing NYT and Washington Post shows the same trend.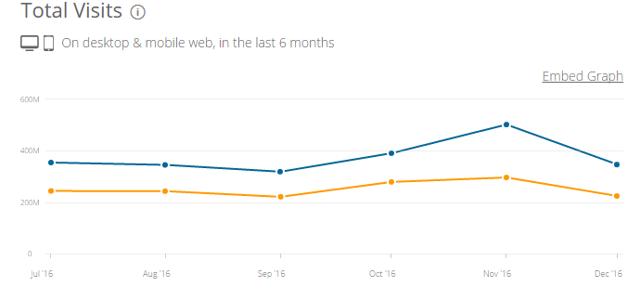 Source: Similar Web
A decline in online visits should concern investors because the bulk of NYT's revenues come from digital advertising. In the last quarter, the print division contributed only 22% of its revenue. I expect the revenues in the print division to continue declining as companies shift to digital advertising.
The next concern is about the industry as a whole. The media industry is currently faced with huge challenges. The revenue from print has reduced across the industry. This is despite the fact that marketing budgets have been increasing. According to GroupM, it is estimated that in 3017,global advertising will rise by 4.4% to $547 billion. The digital market share will reach 33%. Digital will get $77 cents for every new ad dollar compared to 72 cents in 2016. Unfortunately for NYT and other media companies, most of these revenues will go to the Google (NASDAQ: GOOG) and Facebook (NASDAQ: FB) duopoly.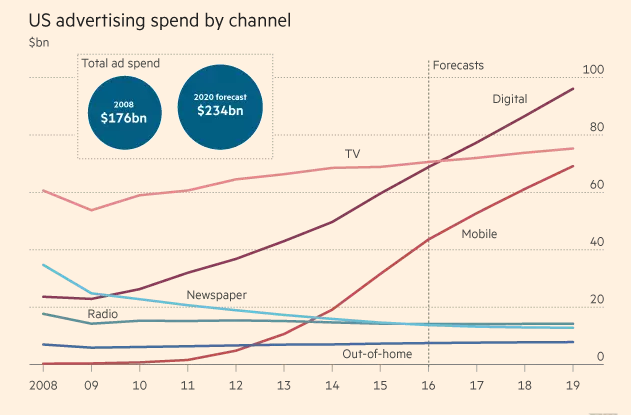 Source: FT
According to a Harriet Taylor from CNBC, with more advertisers turning to Google and Facebook, traditional media companies will struggle to find new advertisers. In the last quarter, NYT reported that their digital revenue had gone up by 21% compared to the same quarter in 2015. This was boosted by its investment in mobile, virtual reality, branded content, and programmatic advertising. However, there is a challenge on the sustainability of this growth. GroupM noted that, ' growth of digital continues to be high, but it is moderating from 18 percent in 2015 to 14 percent in 2016 and 12 percent in 2017.' How will this affect NYT?
Another concern about NYT is its valuation. Compared with the closest competitors and its historic performance, the company is overvalued. The company has a PE (TTM) of 52.07 compared to an industrial average of 34.89. Its 3Y and 5Y median are 41.02 and 39.03 respectively. It's estimated 1-year PE of 27.18 is higher than that of the closest competitors. Also, the company has a higher price to book value of 2.748 compared to the industry average of 2.151. For dividend investors, NYT has a lower forward dividend yield of 1.18% compared to GCI (6.57%), TIME (4.01%), and NWS (1.61%). From these numbers, it is clear that investors are paying a higher multiple for NYT.
Conclusion
NYT is without a doubt a brand respected around the world. However, the company's $2.2 billion valuation is not justified. As shown above, the company's growth in digital subscriptions in 2016 was expected in an electioneering year. After election, the growth was fueled by Trump's tweet claiming that subscribers were leaving the platform. As the election-related issues normalize, I believe the company will see reduced subscribers and traffic. In the first chart shown above, it is clear that the company's traffic has started to decline. For the reasons mentioned above, I would advise investors to stay away from NYT.
Disclosure: I/we have no positions in any stocks mentioned, and no plans to initiate any positions within the next 72 hours.
I wrote this article myself, and it expresses my own opinions. I am not receiving compensation for it (other than from Seeking Alpha). I have no business relationship with any company whose stock is mentioned in this article.
Editor's Note: This article covers one or more stocks trading at less than $1 per share and/or with less than a $100 million market cap. Please be aware of the risks associated with these stocks.