One of our favorite pieces that The Northern Miner issues monthly is their ranking of the top gold and copper intercepts drilled during the previous month. While we're always interested in quality intercepts, we think investors should pay special attention to what explorers are doing these days.
Mid-tier and large cap gold producers are going to have to replace their reserves, and since the gold crash of 2013, they have been cutting back on all exploration activities. Even before 2013, it was getting harder to find quality deposits, but with the double whammy of capital expenditure cuts, we have a chart that depicts how desperate producers are to find new quality reserves.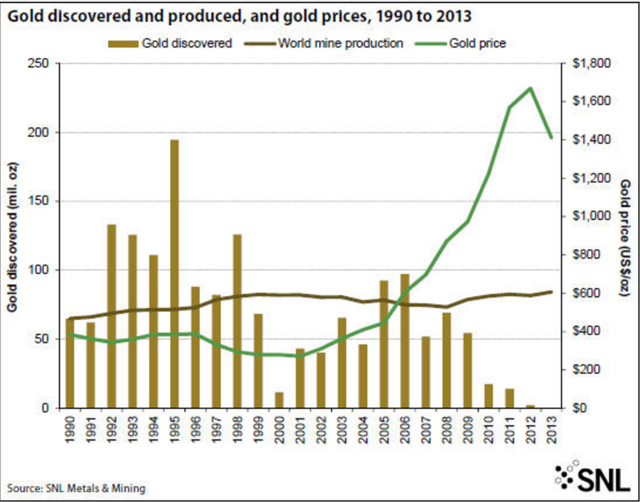 Source: Mining.com
That is why quality discoveries are so important these days and get bought out very quickly. And of course, quality discoveries start with quality drill holes.
So, without further ado let us take a look at the most interesting of the top 3 gold intercepts for December (from the Northern Miner's top 5) and our thoughts on the companies drilling those holes.
Intercept #1: Erdene Resource Development Altan Nar Project in Mongolia
The first intercept comes from Erdene Resource Development (OTCPK:ERDCF) and was drilled at its Altan Nar (Golden Sun) property in southwest Mongolia. This epithermal deposit was discovered in 2011 as part of a large-scale exploration program and currently has a NI 43-101 compliant resource of around 147,000 ounces of gold-equivalent grading 2.5 g/t.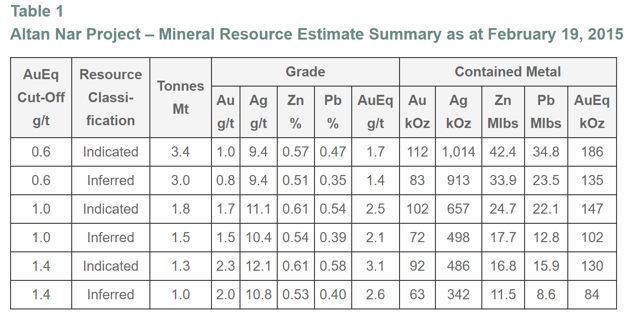 Source: Erdene Resource Development
On December 19th, Erdene reported an exceptional drill hole as it intersected 110 meters of 9.3 g/t gold and 32 g/t silver starting at a depth of 32 meters below the surface. The hole was drilled at the intersection of major geological structures and the company mentions that this will provide strong support for further drilling as they need to establish the continuity of the high-grade zone.
Altan Nar is one of a few projects in Mongolia that Erdene is currently drilling, and compared to drill results of companies exploring in North America, these would be opening. The only problem is that the jurisdiction has a much higher degree of political risk and not a lot of companies operate in the country. Though with a market capitalization of around $80 million and a few projects offering high-grade drill results of large intersections, this company may become much more interesting as they put together a higher-grade, million-plus ounce resource together.
Despite a dearth of high-grade gold projects for majors to acquire, we still think companies will still avoid Mongolia unless much of the project de-risking has already been done by the explorer. Investors should keep an eye on the company though, because if they can put together some more drill results like this and compile a larger resource out of them, then despite the poor jurisdiction buyers may be interested as it seems they are with Ivanhoe Mines (OTCQX:IVPAF) world class Kakula and Kamoa deposit in the Democratic Republic of Congo.
Intercept #2: Nevsun Resources Timok Project in Serbia
The second intercept comes from Nevsun Resources (NYSEMKT:NSU) and was drilled at its Timok property in Serbia. Many investors are probably already familiar with either Nevsun Resources or its Timok joint-venture property (which was one of the big acquisitions of 2016) so we will not go into too much detail about the company.
On December 7th, the company reported drilling on the Upper Zone of its Timok property which returned some exceptional intercepts of both high-grade gold and copper. The highlights from the company's news release include the following holes:

Source: Nevsun Resources
These drill results are designed as infill drilling to upgrade the resources of the Timok Upper Zone for its pre-feasibility study that the company plans to complete in September. From a cursory look the drill results look to be higher than the average grade found in the current published Upper Zone resource statement, so that is a positive, but of course there is much more detail needed to confirm and upgrade the resource.
Nevsun has been one of the lowest valued mining companies over the past few years as it simply doesn't get the price multiple that some of the other miners enjoy despite a large cash position and no debt. While part of the reason is certainly due to the company's operations in risky Eritrea, we think that as Timok is de-risked and gets closer to production, there is plenty of room for that multiple to ratchet up.
Intercept #3: Osisko Mining's Windfall Lake Gold Project in Canada
For the last intercept we will cover in this piece, we move westwards towards good old Canada. On December 5th, Osisko Mining (OTC:OBNNF) released drill results from its massive 150,000 meter expansion drilling program.

Source: Osisko Mining
As investors can see, Osisko hit a 5.7 meter of 65.0 g/t gold (148 g/t uncut) gold intercept that the company believes can help increase the scale of its previously defined Windfall mineralized system. These drilling results were done 600 meters northeast of its current deposit and is allowing the company to build a stronger case that there is much more to the Windfall deposit.
This is the same management team that discovered, constructed, and eventually sold the Malartic Mine in Quebec for $3.9 billion. Thus, they have a strong track record of not only building and selling a mine, but also exploring specifically in Quebec - which is where they are currently exploring with Windfall. Throw in two more high-grade hits in January, and the company is gaining a lot of market excitement. But Osisko is far from an unknown as it has already gained 25% since the start of January, so investors who are interested may want to wait for a pull-back in the share price.
Disclosure: I/we have no positions in any stocks mentioned, and no plans to initiate any positions within the next 72 hours.
I wrote this article myself, and it expresses my own opinions. I am not receiving compensation for it (other than from Seeking Alpha). I have no business relationship with any company whose stock is mentioned in this article.
Editor's Note: This article covers one or more stocks trading at less than $1 per share and/or with less than a $100 million market cap. Please be aware of the risks associated with these stocks.