The World Gold Council has recently published its outlook for global economic trends and their impact on gold (NYSE: GLD) in 2017. Taking into account that the World Gold Council (WGC) is inherently bullish on gold and its publications should be probably be viewed as marketing messages (although supported with facts), I would like to discuss the six trends that WGC believes will be important for gold this year.
These trends include heightened political and geopolitical risks, currency depreciation, rising inflation expectations, inflated stock market valuations, long-term Asian growth and opening of new markets.
Heightened political and geopolitical risks
Gold is a safe-heaven asset, therefore, it should rise when in case of a global risk event. I fully subscribe to this view. At the same time, determining if any event is a risk one is sometimes more art than science.
Last year brought us two events which were painted as "global risk" - Brexit and the Trump election. Only Brexit turned out to be a real risk event for certain markets and provided support for gold. Trump's election turned out to be a huge negative catalyst for gold and a big bullish event for the U.S. stock market (NYSE: SPY).
When people talk about increased political risks in 2017, they typically imply the outcome of elections in Europe and Brexit negotiations. As for European elections, I see the situation as similar to that of the U.S. election - the media takes one side and depicts the potential victory of the other side as a catastrophe and a major risk event. This was untrue with Trump and I believe that this will not be true for European elections either.
At the same time, continuing Brexit negotiations are a real risk. The current Britain's position is to have their cake and eat it too, while the EU led by Germany does not want this to happen as it will effectively mean that anyone can leave EU and get a good deal.
I recently wrote that gold may get a boost from the downside in the British pound (NYSE: FXB) and I stand by this view - negative news from Britain is likely the best gold bulls can hope for on the political front in 2017.
Currency depreciation
The World Gold Council's line of thinking is that Europe will continue printing money which will lead to fears of currency depreciation. I disagree with this view.
The fact that central banks print almost as much money as they want nowadays is hardly news to anyone. The lack of trust towards monetary policy around the world supports gold year after year.
Without this support, gold would have lost its appeal. However, there are no signs that monetary policy has gone absolutely mad so I don't see any additional support for gold on this side. Euro (NYSE: FXE) depreciation will lead to U.S. dollar (NYSE: UUP) appreciation, but will not create a major tailwind for gold.
Rising inflation expectations
You can hear talk about rising inflation expectations almost everywhere now. Trump's future policy is viewed as pro-inflation; Germany recently surprised with positive inflation numbers. There is a positive upside inflation trend in the U.S.: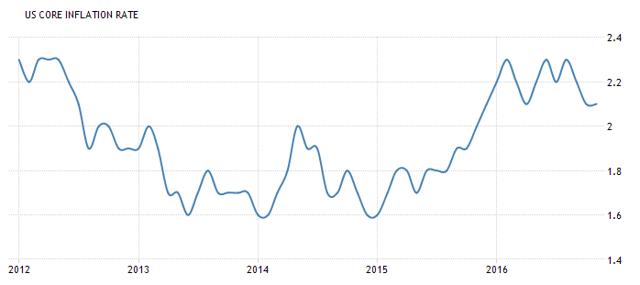 Source: tradingeconomics.com
However, in the EU inflation is going nowhere: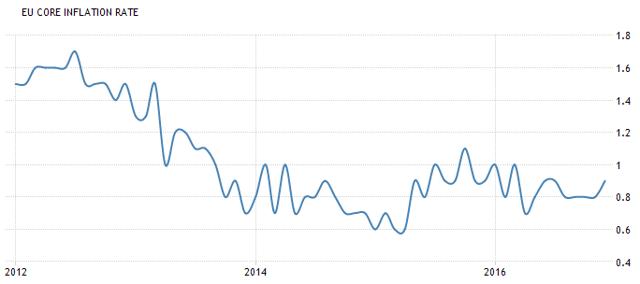 Source: tradingeconomics.com
It is no surprise that ECB keeps printing money. In my view, the prospects for inflation are slightly positive - but no more than that in 2017.
Inflated stock market valuations
Much has been said on the overvaluation of the U.S. stock market . There's a good reason why the market reached its current valuation. Money was printed all around the world and had to go somewhere. The U.S. stock market still remains the best option. At the same time, the stronger dollar will inevitably bite into earnings of U.S. companies and potentially trigger a correction. In my view, the situation now is similar to what we saw last summer: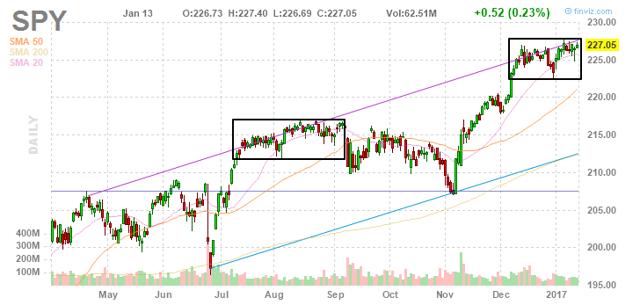 In my view, a potential stock market correction would certainly benefit gold this year. At the same time, the exact timing of such a correction remains a question.
Long-term Asian growth
The World Gold Council speaks about its projections for 2017 but cites long-term growth - this argument is definitely stretched. This year, India will likely be a drag on gold demand following the surprising currency reform.
That reform is a reason why gold is an important asset for many investors around the world, as any government always holds the ace up its sleeve and can trick you at any time. However, short-term practical implications are negative for gold, as wealthier Indians are the target of the reform and they were the bigger buyers of gold.
Opening new markets
The idea here is that the new Shari'ah standard for gold will unlock demand from Islamic institutions and individuals. I agree with the underlying bullish assumption and I guess we'll just have to wait for first numbers to see if the idea is valid. The good thing here is that there's no downside in that catalyst - the worst that can happen is that it will not work.
Bottom line
There's a good reason to be bullish on gold - both long-term and short term. Shorter term, key catalysts in play will likely be continued Brexit tensions and a potential correction in the U.S. stock market. Longer term, lack of trust in monetary policy and governments in general all around the world will provide support for gold.
Disclosure: I am/we are long GLD.
I wrote this article myself, and it expresses my own opinions. I am not receiving compensation for it (other than from Seeking Alpha). I have no business relationship with any company whose stock is mentioned in this article.