It's been a rough stretch for so-called roll-ups. Valeant Pharmaceuticals (VRX) no doubt is the most well-known (and most covered) failure of the debt-fueled acquisition strategy. But a number of acquisitive companies in other spaces, such as Platform Specialty Holdings (NYSE:PAH), ClubCorp (NYSE:MYCC) (still down from post-IPO levels after recent gains), Sequential Brands (NASDAQ:SQBG), and Performance Sports Group (OTCPK:PSGLQ), all have struggled of late.
I've long thought Beacon Roofing Supply (NASDAQ:BECN), which continues to buy out roofing distributors across the U.S., might run into similar trouble. But I simply haven't been able to quite make a strong enough short case to bet against the stock. Still, even with the stock ~10% of an all-time high reached in late December, I'm hardly ready to turn bullish.
Why This Roll-Up Won't Blow Up
Since its 2004 IPO, Beacon has made 39 acquisitions, according to its December Investor Day presentation (that figure includes two additional purchases made this month). In fact, of FY16 revenue (BECN fiscal years end in September) of $4.13 billion, roughly three-quarters came from businesses acquired over the past decade-plus: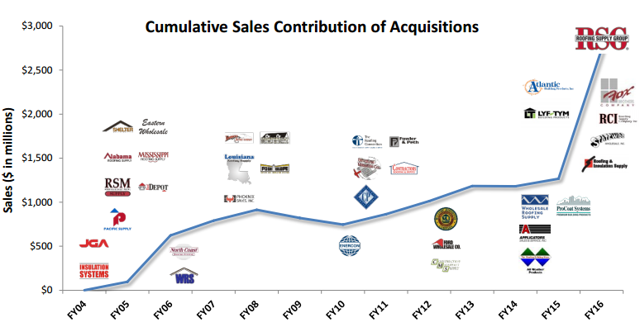 Source: BECN Investor Day presentation
The largest, and most notable, was the 2015 acquisition of Roofing Supply Group, for which Beacon paid $1.1 billion. The price tag there looked a bit high - RSG had been purchased by a private equity firm for just $700 million barely three years earlier - but Beacon cited synergies, $130 million in acquired NOL carryforwards, and an expanded presence in the South and West as key benefits of the deal. At least from a share price perspective, the RSG acquisition has worked out, with BECN shares gaining almost 50% since the deal was announced and touching an all-time high just south of $50 in December.
From a longer-term perspective, BECN's strategy has paid off as well. Beacon's September 2004 IPO priced at $13; the stock has returned right at 10% a year since then, with its total appreciation about 2.5x that of the S&P 500 over that period. Beacon is now the second-largest roofing distributor in the U.S. (behind privately held ABC Supply) with 373 branches nationwide (as of January):

Source: BECN Investor Day presentation
And Beacon has plenty of room to continue its roll-up strategy. At its Investor Day, the company estimated room for an additional 200-300 branches in the core roofing business. That would give Beacon a presence roughly 60% larger than current and ~equal to that of ABC Supply, which has "more than 600" locations. There's no shortage of potential targets; while the four largest players control about half of market share, the remaining half is held by about 1,500 local and regional distributors. Scale and synergies are not immaterial - even with RSG driving annual revenue over a billion dollars, Beacon still saw room to lower buying costs, and updated synergy targets of $55 million a year support a reasonable chunk of the $1.1 billion purchase price.
All told, it certainly appears that Beacon's rather aggressive strategy has worked well so far. Of course, the catch with roll-up strategies is that they usually work well - until they don't. But Beacon's combination of leverage (net debt is ~$1.1 billion, implying a leverage ratio just over 3x) and roofing industry exposure isn't quite as dangerous as it might appear. Re-roofing, not new construction, is the main demand driver.
In 2015, according to the 10-K, 78% of unit demand in residential came from replacement, down from historical levels around 86%; the split was 81/19 replacement/new in commercial, roughly in line with past figures. Only a tiny fraction of those re-roofing projects are discretionary; the overwhelming majority are due to age, storm damage, or existing leaks. And while some of those projects can be delayed to some extent during times of economic weakness, anyone who has lived with a leaky roof (the author sadly is a member of that group) knows that replacement demand should stay reasonably steady. At the nadir of the housing crisis, BECN's results remained solid. In FY2009 (which basically bracketed the worst of the crisis, at least from an equity markets perspective), revenue declined less than 3%, according to that year's 10-K. In FY08, "existing markets" revenue (essentially same-store or organic sales), increased 1.3%. In FY10 and FY11, existing markets revenue fell 7% and then recaptured their losses with a nearly 9% gain. Across all four years, Beacon was comfortably in the black, with free cash flow for the then-smaller company averaging ~$60 million-plus a year.
Beacon then likely is a much less cyclical stock than initial appearances might suggest. That hasn't stopped the company from being an occasional target of short sellers, both into the housing crisis and again in 2013, when short interest reached the mid- to high-teens as a percentage of outstanding shares. And there is a short case, in theory, given the leverage of branch operations and on the balance sheet. A reasonably sharp decline in sales could compress gross margins and deleverage SG&A. With EBITDA margins still sub-9% based on FY17 guidance, a 200-300 bps compression combined with interest expense at ~1.5% of sales and capex at ~1% of revenue would result in a significant haircut to free cash flow.
But barring a structurally deep and long depression, or significant execution/market share losses, Beacon's business simply isn't all that likely to face that type of revenue decline, because of the resilience of re-roofing demand. On an organic basis, there obviously is some level of cyclicality in new roofing, both commercial and residential. Given fixed costs (40/60 fixed/variable), the relatively small portion of revenue from new construction does have an amplified impact on the bottom line. In any reasonable model, however, that impact is a swing from profit to smaller (or larger) profit, not profit to loss (and potential blow-up).
So any short of BECN largely is going to be based on valuation - and I did consider such a play last month, when shares neared $50. But any short thesis based on general U.S. housing weakness, in particular, faces a hefty dose of the "there are better shorts elsewhere" problem. (Note that BECN's Senior Notes, due 2023, yield just 4.6%.) There are myriad more cyclical and more leveraged housing plays out there; there are a number of equities that in a housing recession would face legitimate solvency questions. While BECN's shares no doubt would decline in such a scenario, it appears to take a near-doomsday outcome to put the company in that type of jeopardy.
"Don't Short" Does Not Equal "Do Buy"
While I do think the business model at BECN is more stable than one might think, I'm still not terribly comfortable with the valuation here. That's true even after a pretty sharp decline of late: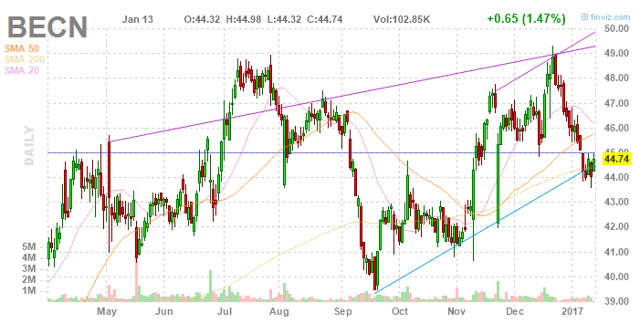 Source: finviz.com
Beacon's Q4 earnings were disappointing, missing consensus badly, with shares falling double-digits before rebounding. According to the Q4 call, volumes were much softer than expected, particularly in commercial, with weakness in that segment pressuring margins as well. The quarter was a notable shift from a strong FY16, with existing market sales per day up 9.5%, led by nearly 14% growth in residential. And it casts a bit of shadow over Q1 results (seasonally, the softest quarter), due next month.
From a mid- to long-term perspective, I still see a few concerns as well. FY16 Adjusted EBITDA margins increased 170 bps year over year; but that was with a strong top-line performance and with the benefit of ~$40 million in synergies from RSG. Those synergies drove over half of the margin improvement, and another ~$15 million should come in FY17. But those synergies are driving essentially all of the projected margin improvement this year, with the midpoint of guidance implying a 35 bps improvement to 8.75%.
I'm skeptical there's that much room for further margin expansion looking forward. This remains a distributor model in a competitive (and seemingly price-sensitive) industry. While BECN doesn't have direct publicly traded peers, margins for similar businesses top out at or below current levels. Universal Forest Products (NASDAQ:UFPI) is targeting 9% (and it does manufacturing as well as distributing). Builders FirstSource (NASDAQ:BLDR)'s EBITDA margins are in the 6%+ range. GMS Inc. (NYSE:GMS) was at 7% last year, according to its S-1. And admittedly much smaller Huttig Building Products (NYSEMKT:HBP) is under 5%.
There is some room for revenue growth to drive bottom-line improvement even without margins, through a three-pronged strategy of existing market growth, acquisitions, and new branches. But a lot of that growth looks priced in: at the midpoint of FY17 guidance, BECN already trades at 11x on an EV/EBITDA basis and about 21x adjusted EPS, against 8-9x and high teens, respectively, for those distributor peers. There's certainly a case that BECN's better margins, lower leverage (relative to BLDR in particular), and more stable markets support a premium. And with a relatively high book tax rate (40% in FY16) and new construction exposure, Beacon would seem to be a beneficiary of the pending change in the White House.
But I don't see that as nearly enough of a compelling case. Overall, BECN seems a bit stuck in the middle from my standpoint: if an investor sees housing as overheated, there are better shorts, and if an investor is projecting an acceleration in the industry, there are better longs. Back toward $45, BECN looks reasonably valued; a single-digit EBITDA multiple might make the stock a bit more interesting as a long-term compounding/deleveraging/cash flow story. 9x the low end of FY17 EBITDA guidance values shares around $36 (~20% downside); that looks like a much more intriguing entry point (it also gets closer to a 16x-17x multiple to normalized FCF).
All told, I think BECN is an interesting story, and I can see why investors would assign some premium to the equity, relative to more cyclical players in the housing space. But even with a 10% haircut of late, I don't think the price is quite as intriguing as the story.
Disclosure: I/we have no positions in any stocks mentioned, and no plans to initiate any positions within the next 72 hours. I wrote this article myself, and it expresses my own opinions. I am not receiving compensation for it (other than from Seeking Alpha). I have no business relationship with any company whose stock is mentioned in this article.