If you read my columns regularly, you know I'm a big fan of dividend growth stocks and high-yielding stocks in general. You probably also know the sectors where you are most likely to find higher payouts: Real Estate, Healthcare, Energy, and Utilities.
Today I'm going to focus on the latter two. By building a portfolio of both Energy and Utility stocks, you can insulate yourself from volatility to a degree without sacrificing income generation potential.
Winning Some And Losing Some
Here's what I'm talking about. In a very general sense, when fuel prices go up, it's a positive for oil and gas companies, but not so good for utility companies. A company like Exxon will just pass the increased fuel cost on to those fueling up their cars. Oil company profits--and often share prices--rise in such an environment. Most utilities, on the other hand, can't just raise rates every time their costs go up, at least not on a short-term basis. Those rates are often regulated. So increased fuel costs can hurt utilities' profitability--and their share prices.
The direction of fuel prices helps one sector and hurts the other (again, in a very general sense, and with some caveats). Here's a chart of two Vanguard ETFs. VDE is the Vanguard Energy Index Fund (in orange), and VPU is the Vanguard Utilities Index Fund (in green):

Data as of 1/12/17. Source: Morningstar
You get the idea. It's not an inverse relationship, exactly, but certainly not very correlated. This relationship can smooth out a portfolio's volatility if you're an investor on both sides.
And the best part? The dividends just keep coming no matter what. Not guaranteed, of course, but pretty close.
The D List
What follows is a list of large-cap companies and limited partnerships in the sectors we're talking about. All of them have boosted their dividends (or distributions) for 10 or more years straight; some of them have done so for decades.
| | | | | | |
| --- | --- | --- | --- | --- | --- |
| Company | Ticker | Sector | Yield | Avg Annual Dividend Growth | Consecutive Dividend Increase (Years) |
| AmeriGas Partners | (NYSE:APU) | Utilities | 7.8% | 5.5% | 12 |
| CenterPoint Energy | (NYSE:CNP) | Utilities | 4.1% | 4.9% | 11 |
| Chevron | (NYSE:CVX) | Energy | 3.7% | 8.5% | 28 |
| Consolidated Edison | (NYSE:ED) | Utilities | 3.6% | 2% | 42 |
| Duke Energy Corp | (NYSE:DUK) | Utilities | 4.3% | 2.2% | 12 |
| Enterprise Products Partners | (NYSE:EPD) | Energy | 5.8% | 5.7% | 19 |
| ExxonMobil | (NYSE:XOM) | Energy | 3.5% | 10.6% | 34 |
| National Grid PLC | (NYSE:NGG) | Utilities | 5.1% | 3.1% | 25 |
| PPL Corp | (NYSE:PPL) | Utilities | 4.4% | 3% | 15 |
| Southern Co | (NYSE:SO) | Utilities | 4.5% | 3.6% | 16 |
| Spectra Energy | (NYSE:SEP) | Energy | 5.7% | 7.4% | 10 |
| Averages | | | 4.8% | 5.1% | 20 |
Data as of 1/13/17. Average annual dividend growth over the past five years. Source: Morningstar, DRiP Investing Resource Center.
An equal-weighted portfolio of these stocks would get you not only a nearly 5% yield, but also a dividend (or distribution) growing by more than 5% annually. That's a pretty compelling number in almost any market environment.
There are other, similar companies in these sectors, too--steady dividend payers and growers. Their shares will go up and down, but since you're not relying on realizing capital gains for income (or as much income), it won't matter to you as much.
A Bird In The Hand
So volatility gets smoothed out due to the relationship between the sectors, as we mentioned. But there's another benefit as well. For the purposes of retirement planning, any "sure-thing" cash flows remove some uncertainty about the potential success of a plan.
In the WealthTrace Retirement Planner (which you can use as well), I ran the numbers through a simplified example. Here, we have a 50-year-old couple with $800,000 in investment accounts. They expect their total annual spending in retirement will be around $60,000.
If we assume the couple simply invests the portfolio in a broad array of value stocks, we might also make a blanket assumption of a 7% average annual return over the long term, with about a third of that return coming from dividends (and the rest being capital appreciation).

If we do that, and run the plan through the WealthTrace Monte Carlo simulator, which runs 1,000 simulations on the plan, we get a 71% probability of funding all of the couple's retirement goals: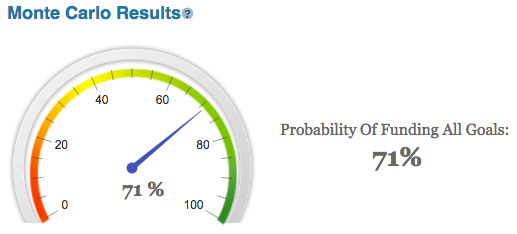 That's not bad, but we can do better. With our Energy-and-Utilities portfolio, we will for this case study assume the dividends are a sure thing by entering them as a cash flow:

Note that we have assumed in the above example that the inflows are taxed at 17%. We might normally assume a 15% tax rate for dividends, but some portion of the partnership distributions will likely be taxed at a higher rate. We also assume a 3% annual growth rate in those cash flows. Our portfolio's dividend payout growth has been more like 5%, but we gave that a haircut to be more conservative.
Remember that we previously assumed dividends would make up about a third of the portfolio's return. So with the dividends now considered a separate cash flow, we have to back that portion of the return out. So instead of a 7% return, we'll call it 4.6%:

You might call this re-characterization of total return. All things equal, the larger the portion of your return you can think of as automatic, the higher probability of success a plan should have. And, indeed, once we do that . . .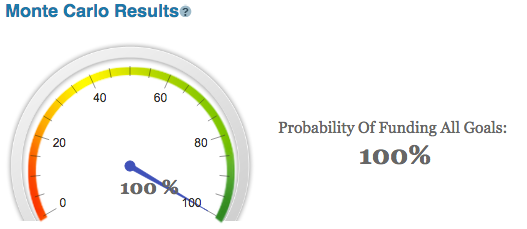 But At What Price?
We have thus far avoided talking about valuation, which will understandably be of concern for some people. Investors at or near retirement might think back to 2008 and worry about having much exposure to stocks that have been on a tear for several years. Indeed, a lot of these stocks have had great long-term runs, and some could be in for a correction.
But we largely aren't worried about that. Remember, we're looking at dividends here. Stock price movements should not affect dividend payouts for companies like these. A ConEd or an Exxon or a National Grid is going to do everything it can to keep decades of dividend growth going.
The stocks of energy companies and utility companies don't have completely inverse relationships by a long shot. Increasingly, utilities' inputs are coming from renewable sources, for example, so they're not as sensitive to fossil-based fuel costs as they used to be. But there is definitely enough of a relationship to consider making this strategy a powerful part of a retirement income plan.
Disclosure: I am/we are long XOM,VPU,ED, DUK.
I wrote this article myself, and it expresses my own opinions. I am not receiving compensation for it (other than from Seeking Alpha). I have no business relationship with any company whose stock is mentioned in this article.