After a successful IPO and a year of trying to figure out the right direction, Facebook (NASDAQ:FB) showed a long three-and-a-half-year walk with share prices on a strong upward trend.
Suddenly, a substantial correction has taken place since last October. For the first time since July 2013 the company has seen its stock price consolidating several times slightly below the EMA (50). In the five-year weekly chart below we can clearly see this strong ascending trendline only broken for a short period at the end of last year. Except for some slight negative divergences technical analysis didn't give any relevant signs of a likely price break or correction. Of course one cannot imagine such a long period without any kind of correction. Something would have to happen sooner or later.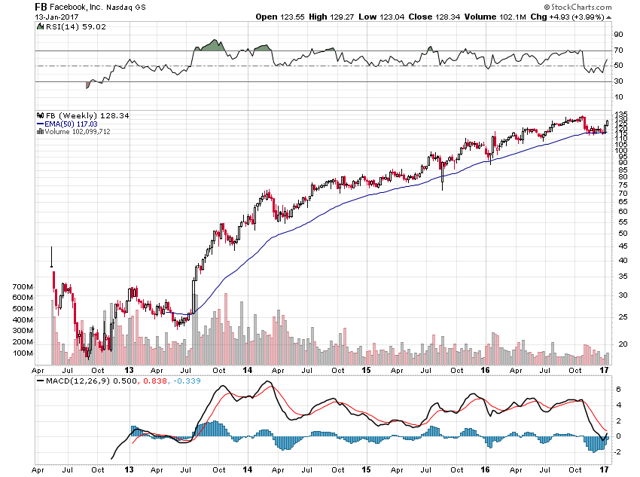 Charts courtesy of StockCharts.com. Note: The charts are in semi-logarithmic scale.
So let's look at the fundamentals of the company and identify the reasons for this unusual situation. We will try to judge if this was a mere accident or if the causes are deeper.
In Q3, FB reached nearly 1.8 billion monthly active users (MAUs), an increase of 16% YoY, and mobile ad revenue grew 70% representing around 84% of total ad revenue. It should be noted that ad revenue was 97% of total revenue in Q3. The growth in the quarter of 56% and 166% YoY of revenue and net profits, respectively, is also very relevant. Of course, it can be very problematic to maintain similar growth in the future given the levels already achieved. That's what scared many investors who also heard Facebook Executive David M. Wehner mentioning unsatisfactory things like this:
Turning now to the outlook for the remainder of 2016, first, some color on revenue. We continue to expect that revenue growth rates will decline in Q4 as we lap a strong fourth quarter in 2015. We also continue to expect that our total payments and other fees revenue in Q4 will be lower than it was in the fourth quarter of last year. (…) I also wanted to provide some brief comments on 2017. First on revenue, as I mentioned last quarter, we continue to expect that ad load will play a less significant factor driving revenue growth after mid-2017. Over the past few years, we have averaged about 50% revenue growth in advertising. Ad load has been one of the three primary factors fueling that growth. With a much smaller contribution from this important factor going forward, we expect to see ad revenue growth rates come down meaningfully.
Seeking Alpha Transcript
Several indicators seem exaggerated making us think the company's share price is overvalued. Working with GAAP accounting FB has EPS of $2.59 (trailing twelve months), and taking the current share price of ~$128 we arrive at a P/E of 49. This coupled with price/sales of 15 can make us fear that FB may suffer another correction even if the forward P/E ratio is now close to 25.
There is no doubt that the fundamentals of the company are sound as ROE and ROA are 13.9% and 12.6%, respectively, given that the company has very reduced total liabilities with no debt.
Thus, it is appropriate to make a first approach to the evaluation of the company in order to have a clearer reference for the future.
I will use a basic discounted cash flow (NYSE:DCF) analysis. My model is conservative but at the same time takes into account the particularities of the company:
FCF at 20% CAGR reaching ~$23.40B in five years
A 20x multiple against FCF in five years gives terminal value
WACC (Discount Rate): 8%
Cash minus debt: $26.10B
Thus, with a total market value of ~$410B and supposing that there will be the same number of fully diluted shares outstanding (2.88B), we arrive at a value of $142.15 per share. With these assumptions one thing is very clear: FB's valuation is hugely dependent on its annual growth. In fact, if we consider an annual growth of 10%, the value is reduced to $97.80 per share and if we take 30% growth the value reaches $203.30 per share.
Therefore, the base case we have presented is dependent on a very uncertain assumption in the coming years - growth, which is also the most decisive variable.
With a still inconclusive fundamental analysis, we will proceed in parallel with our technical analysis.
Looking at the one-year daily chart below, the correction became inevitable and only on the third attempt FB has resumed the rise. But investors forced prices again for an impressive climb showing an upward trend with an almost vertical slope. It looks like investors want to make up for the lost time too quickly. Just for this, I think that in the short term a pullback is expected or at least a consolidation with prices moving sideways for a while. But there is another very important point to study: the possible exhaustion gap which took place last Friday showing the probability of an imminent correction. If I'm wrong about this and it is only a mere runaway gap possibly we may see a continuation of new rises. However, I would bet that some sort of pullback if not a correction will be the probable follow-up.
Let us look now at an indicator that can help us measure the potential intensity of price increases (and declines). We used in the chart the Bollinger Bands that give us the price variation within two bands that distribute two standard deviations down or up in relation to a moving average of 20 days. Normally, the price remains within the bands but when it exceeds them we can draw important conclusions regarding the movement of prices. This analysis should include the %B indicator (at the top of the chart) which gives us the following crucial indications:
a) %B is above 1 when price is above the upper band (more than two standard deviations up).
b) %B is below 0 when price is below the lower band (more than two standard deviations down).
Looking at the %B indicator we can see that whenever it moves above 1 there is a subsequent price drop with some extent. Normally this situation happens when the RSI indicator is around 70. FB is now in a similar situation. In conjunction with other aspects already indicated this is another reason to believe that a correction is about to arrive very soon.
Conclusion
In the long run, I consider FB's upside potential to be favorable and out of the question. However, I think it is doubtful whether there will be a continued rise in stock prices as we have been witnessing until last October. The value of the company is very dependent on its future growth which is likely to slow down moderately because the market's elasticity has limits. A new short-term correction seems very likely but it's crucial to have the earnings report for the last quarter of 2016. The guidance for 2017 is also necessary in order to build a supported opinion about the long term which is what matters most. Anyway, the base case that I have presented seems appropriate for now. In my opinion, we may have a short-term correction that could touch the ~$115 level and a ~$145 target for the long run if the company's earnings report in a couple of weeks is decent and encouraging.
Disclosure: I/we have no positions in any stocks mentioned, and no plans to initiate any positions within the next 72 hours.
I wrote this article myself, and it expresses my own opinions. I am not receiving compensation for it (other than from Seeking Alpha). I have no business relationship with any company whose stock is mentioned in this article.
Additional disclosure: The author of this article is not an investment adviser and gives only his personal view and opinion, never making any investment advice or recommendation to buy or sell specific securities. Investors in financial assets must do so at their own responsibility and with due caution as they involve a significant degree of risk. Before investing in financial assets, investors should do their own research and consult a professional investment adviser.