Cameco Corporation (NYSE:CCJ) has been heating up lately. On Jan. 9, 2017 the company's shares closed at a price of $10.74. That's when the plot got interesting; the following day Askar Zhumagaliyev of Kazatomprom announced that they were "putting more and more uranium into an oversupplied market does not serve our various stakeholders' interests." This statement was in direct reference to Kazakhstan's state-owned uranium producer Kazatomprom announcing a 10% production cut for 2017. Kazakhstan controls about 40% of the overall global market for uranium, so the 10% cut amounts to approximately a 3% reduction in global uranium supply, a value of 2,000 metric tons. Shares of Cameco immediately skyrocketed and rose over 10% the following day. Shares closed at a price of $13.29 on Friday, Jan. 13 -- a 23.74% rise over the course of the week.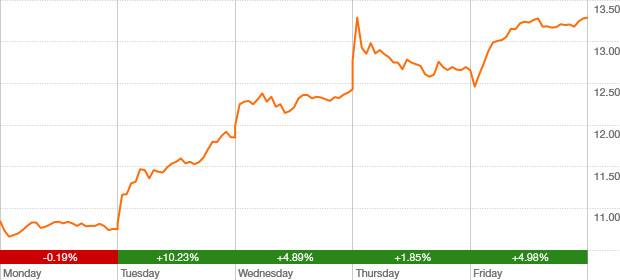 Source: The Globe and Mail
Have we missed out on the chance to invest? First, we must consider a few macroeconomic factors.
The Global Market for Uranium
Prior to 2011, uranium was perceived as a powerful and efficient source of energy with a small degree of risk. Developed nations thrived on an abundance of nuclear power plants to meet their country's electricity needs. Nuclear power plants are dependent on uranium for operations and producers of this energy source and the growing safety and reliance pushed spot prices of uranium to $72.63 US/lb on Jan. 1, 2011. Times were good for Cameco Corporation and Kazatomprom.
However, on Jan. 12, 2011, Japan was struck with a 5.0 magnitude earthquake. The earthquake devastated the nation and one of the nuclear reactors stationed in Fukushima was damaged as a result of a tsunami derived from the earthquake. Fear of nuclear energy rose around the world and weakened demand for uranium. Cameco continued to supply the market even as demand softened, leading to an eventual rapid downfall of uranium spot prices. Uranium spot prices bottomed to a 12-year low of $18.00 US/lb on Nov. 1, 2016.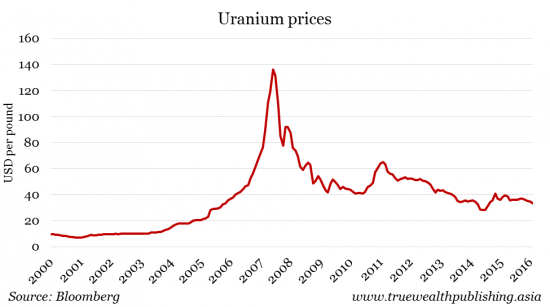 Will spot prices for uranium continue to rise?
The prospect of rising uranium prices looks bright. India and China have announced a growing ambition to develop their growing power needs using nuclear power as the primary fuel source. These rapidly growing economies account for a massive share of global energy needs that will only continue to rise in the future.
The trend of growing nuclear ambitions is rapidly increasing around the world as over 60 new reactors are currently under construction in 13 countries. Additionally, proposed nuclear reactors in the Asia Pacific region are currently undergoing congress and parliament approvals that will be implemented within the next 5 to 10 years. This will add to the already existing fleet of 440 nuclear power reactors operating in 31 countries. These nuclear reactors rely on uranium as fuel and will eat away at the excess supply as they are brought forth into operations.
Politically, the Trump administration in the United States will also play a role in propelling uranium prices. On Dec. 22, 2016 Mr. Trump tweeted the following: "The United States must greatly strengthen and expand its nuclear capability until such times as the world comes to its senses regarding nukes." The implications of his statement are profound. It is highly likely that the United States plans to expand its military arsenal. These growing conditions of uncertainty will force other countries to do the same subsequently raising spot prices of uranium.
Overall, we can expect a continued rise in global uranium prices.
So, what about Cameco Corporation?
Two of the biggest pure players for uranium production globally are Cameco Corporation and Kazatomprom. I'm excluding mining conglomerate Rio Tinto (NYSE:RIO) from the analysis as the company focuses primarily on the extraction of iron ore; its extraction of uranium only amounts to approximately 1% of worldwide revenues.
So between the two, it looks like Cameco has won the patience game by letting Kazatomprom cut production first. In reference to the production cut, Wall Street Analyst Greg Barnes of TD Securities said that it "finally indicates that the two largest uranium producers are serious about correcting what has been an oversupplied market." Barnes argues that the production cuts are extremely significant and will increase the demand for term contracting for Cameco Corp.
The downfall in uranium spot prices were actually a blessing in disguise for Cameco Corporation. During the downtrend, companies such as Cameco were forced to engineer new methods, cut costs, and defeat competitors to stay profitable. On the contrary, Cameco's competitors -- including Uranium Energy Corp. (NYSEMKT:UEC) and Energy Fuels (NYSEMKT:UUUU) -- failed to stay profitable during the downtrend.
Tim Gitzel, President and CEO of Cameco, pontificated:
While we can't control the market, we're not idly waiting for the recovery we see coming. We've flexed our production levels, we've optimized our contract portfolio, and we've identified efficiencies within our business to streamline and adapt the company to the current conditions. We've taken significant actions and we're continuing to make the changes necessary to remain competitive in a depressed environment. We are confident that our strategy will help us to effectively manage through these low times, while positioning the company to benefit as the market improves and additional uranium is required to meet demand over the long term.
Let's go into a deeper examination of Cameco
Third-quarter financial results for 2015 reported the following:
Maintained annual delivery guidance at better-than-market prices.
Optimized contract portfolio to extract value and reduce future uncertainty.
Continued taking actions to reduce costs and remain competitive.
Cameco's optimized contract portfolio has reaped huge dividends for the company. The company has successfully locked into contracts protecting them from depressed spot prices in the global uranium market. In the third quarter, the realized price of Cameco was around $43.00 US/lb at the same time average prices of spot uranium amounted to $24.50 US/lb. The company also cut capital spending costs by 23.43% from $320 million to $245 million to address the low global uranium spot price.
In addition to these moves, over the past few years Cameco has been shifting production from high-cost assets on the decline to assets with brighter prospects including Cigar Lake. This move represented a saving of 23% of cash costs in 2016 and ultimately an 11% decline in corporate company costs for the production and purchasing of uranium.
Final Verdict
The future of the global uranium market looks promising as worldwide demand continues to strengthen and new nuclear reactors begin construction. Cameco will be a primary catalyst in fueling these new nuclear reactors with the mined uranium they produce. The company has remained profitable despite these external factors while its smaller competitors Uranium Energy Corporation and Energy Fuels have suffered and been severely outpaced by big brother Cameco.
Therefore, the macroeconomic factors of the global uranium market and Cameco's individual initiative in engineering methods to remain profitable place the company in the leading position for individuals looking to invest in uranium stocks or simply individuals looking for a stock with high long-term potential. Analysts have raised share price targets by 44.82% from $14.50 to $21. The company's conservative financial structure and ability to adapt using key strategic moves rightfully label Cameco as a stock worth buying.
Disclosure: I/we have no positions in any stocks mentioned, and no plans to initiate any positions within the next 72 hours.
I wrote this article myself, and it expresses my own opinions. I am not receiving compensation for it (other than from Seeking Alpha). I have no business relationship with any company whose stock is mentioned in this article.