White Collar Education, Blue Collar Work Ethic
Amerco's (NASDAQ:UHAL) core self-moving franchise U-Haul has remained family owned since 1945 and is now under the direction of Joe Shoen, the son of founder Leonard Shoen. A graduate of Harvard, CEO Joe Shoen is a hard-nosed, no-nonsense leader. He runs an old fashioned, wide-moat business that cuts sharply against the grain of established Wall Street conventions. Some notable aspects worthy of even the hardiest value investor's attention include the following:
The company maintains a modest profile and corporate culture despite its success and brand recognition.
On bi-weekly trips across the U.S. to various U-Haul dealers, Shoen eats most meals at McDonald's (NYSE:MCD). Company policy also requires two people per room and he insists on utilizing modest motel chains such as Red Roof Inn and La Quinta to control costs.
Analyst coverage of the $7 billion company is virtually nonexistent: Only two analysts report on Amerco compared to ten for Carter's (NYSE:CRI), a company only 60% as large.
Management tenure among the top three executives (CEO, President, and CFO) averages 33 years.
In spite of their long tenure and strong recent success, the group is satisfied with comparably modest salaries relative to publicly-traded peers: Joe Shoen, the highest paid, earned only $1.02 million in total compensation in 2015.
Although there is no compulsory stock ownership policy for executive officers, insider ownership is high with members of the founding family still owning approximately 52% of the company. Employees also own a large percentage through an employee stock ownership plan.
Shoen is also a heavily-involved, hands-on chief executive. He directs customers to contact him directly with problems, going so far as to interrupt corporate meetings to answer their calls, of which he sometimes fields up to dozens on particularly active days.
Past Performance
Management has eschewed the typical Wall Street glitz and glamour, instead opting to build a premium quality business on the back of modesty, hard work, and outperformance against the competition. In doing so, they've built an enterprise that meets customer needs in ways that rivals can't match. Its two largest competitors are a fraction of its size, and one has pursued rapid retrenchment over the most recent five years, which has made U-Haul's advantage greater today than ever before.
While it's easy to qualitatively describe how the business has performed, these results also translate to superior historical stock performance. UHAL stock traded for $93 five years ago, $73 ten years ago. Today, shares fetch $369, a gain of approximately 300% in the past five years and 400% in the past ten.
| | | | | |
| --- | --- | --- | --- | --- |
| UHAL Historical Return | 1 Year | 3 Years | 5 Years | 10 Years |
| Total Return % | -2% | 55% | 299% | 407% |
| Annualized Return % | -2.3% | 15.7% | 31.9% | 17.6% |
The steady stock gains have been driven by solid business performance. Earnings per share have grown from $8.80 in fiscal year 2011 to $24.95 in 2016. While revenue has increased only 50% during that time frame, the gains have come on the back of efficiency gains and operating leverage, with operating margin expanding from 16.8% in 2011 to 26.5% for the most recently completed year.
The Virtuous Cycle
As the most recognizable brand in do-it-yourself moving, U-Haul's white and orange trucks are well-known across the country, and while serving customers' needs they also fulfill a secondary function as rolling advertising boards for the company. Management acknowledges this, indicating in its annual report that its rental equipment is its most effective advertising.
A large reason for its brand recognition is the ubiquity it achieves through a dominant network of rental dealers and vehicles. Its top two competitors are owned by Penske Automotive Group (NYSE:PAG) and Avis Budget Group (NASDAQ:CAR). Penske truck rental has approximately 2,300 dealers. The next largest competitor is Budget Truck Rental, which although it had 26,000 rental vehicles and 2,150 dealers as recently as 2011, has seen its numbers decline to just 21,000 and 1,450. In contrast, U-Haul boasts more than 21,000 rental locations and 139,000 trucks, dwarfing the numbers of its major rivals by a factor of ten.
The vast mismatch between U-Haul and its top peers in contact points across the country can make it difficult for customers to feasibly choose a different service for their moving needs. Depending on the origin or destination, movers may simply lack another option besides U-Haul in areas where competitors lack a presence in either the pickup or dropoff location. While U-Haul is competitive in same-city moves, these factors give it an unrivaled competitive advantage in intercity moves.
Complementary Services
To complement its well-established self-moving business, Amerco has been aggressively growing its storage business. Total square footage increased 16% from 22 million at September 30, 2015 to 25.5 million in the most recently reported quarter.
While the headline occupancy numbers for the self-storage appeared weaker on the surface at 79% versus prior year amount of 84%, there's a reasonable explanation for the difference. Joseph Gaebler, in his truly exception analysis of the company, pointed out correctly that the decrease is attributable to the company's recent preference for building out, rather than acquiring, new capacity. These facilities begin at much lower occupancy rates. In its latest 10-Q, the company indicates that the average occupancy rate of newly developed facilities was just 19%, greatly reducing the overall numbers. This newly added capacity makes up a significant portion of the total and will take time to reach full productivity.
The company also offers moving-related products to assist customers and owns property, casualty, and life insurance businesses to complement its moving business. And a separate service helps to connect movers with laborers and relevant third-parties.
Future Expected Return and Initiation Price Target
Given what we know about Amerco's core and complementary businesses, let's begin to develop a range of future expected returns and a target valuation for the company. We'll begin by noting that the analyst five-year earnings growth estimate is 15%.
As noted earlier, the company is not widely covered on Wall Street, so we take a risk that this could be an inaccurate estimate by a single individual, not to mention the inherent estimation errors in such forecasts even under ordinary circumstances. To compensate for this, we'll make the range of growth estimates conservative: 3% above the five-year estimate at the top of the range and 18% below at the bottom of the range.
Lastly, we'll use FY 2017's earnings per share estimate of $22.32 as our starting point and assume that at the end of the five years UHAL stock will trade at a price-earnings multiple between 8 and 24. The chart below sets forth the annualized rate of the return investors will achieve over the next five years using this set of assumptions.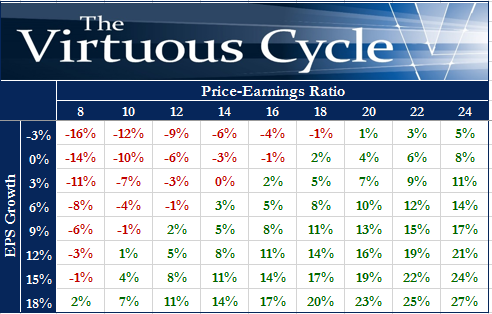 UHAL Five-Year Annualized Return Under Various Scenarios
In the most optimistic scenario displayed in the bottom right-hand corner, UHAL stock would achieve 18% annual earnings growth and trade at a P/E of 24 five years hence. This would result in earnings of $51.06 and a stock price of $1,225, resulting in a 27% annualized and 232% total return over the period.
In contrast, the most pessimistic scenario of a 3% annual earnings decline and P/E of 8 would lead to earnings of $19.17 and stock price of $153, leading to a 16% annualized and 59% total shareholder loss.
Initiation Price Target
As with all investments, the preceding analysis makes clear that there is a risk-reward element to be considered. Let's quantify this risk-reward tradeoff more clearly so that prospective investors can begin to develop a price target at which to consider initiating a position based on their expected valuation and earnings growth expectations.
We'll set the desired annualized rate of return at 12% and assume 6%, 9%, and 12% future growth rates and 10, 15, or 20 terminal P/E ratios depending on the pace of growth. The table below displays the price at which a prospective investor should open a position in the stock to achieve a 12% annualized rate of return over the subsequent five-year holding period.
| | | | |
| --- | --- | --- | --- |
| Initiation Price Target | $169 | $292 | $446 |
| Premium (Discount) from Current Price | (54%) | (21%) | 21% |
| Assumptions: | | | |
| Five-Year Earnings Growth Rate | 6% | 9% | 12% |
| Price-Earnings Ratio | 10 | 15 | 20 |
| Target Annualized Shareholder Return | 12% | 12% | 12% |
As can be seen from the table above, investors can initiate a position at up to $446, which is 21% above the current market price, and still achieve a 12% annualized return assuming a 12% earnings growth rate and 20 P/E. Using these assumptions, the stock is undervalued, although the margin of safety is not as wide as some investors might prefer. The less optimistic scenarios of 6% and 9% growth indicate that the stock is currently overvalued by 21-54%, meaning that it would need to decline by these amounts before it can achieve the 12% desired return under the assumptions presented.
Risks and Limitations
Overall, the exercise is a valuable one and give a prospective investor an excellent sense of the possible risk and return. It should be noted that in each case, the growth rate we've assumed is well below the analyst target of 15% for the next five years, which makes our model more conservative and less susceptible to overvaluation errors.
In addition, the model uses FY 2017 earnings estimates as the starting point and does not take into account any dilutive impact on current earnings of newly developed and under-occupied storage capacity referred to above. It also values the business based on earnings power without regard to the real estate assets, which also could be significant in a future spinoff of the storage business, although management has indicated no desire to take such action.
In summary, Amerco is a quality business with a wide competitive advantage, dedicated and cost-conscious management, promising future prospects, reasonable current valuation, and is undervalued based on future earnings estimates. By setting a target rate of return and using appropriate assumptions to value the stock, individuals can make a confident decision whether to invest in this high-quality enterprise at the current price offered by the market.
Author's Note: Investors who valued this analysis and wish to receive future articles and ideas from The Virtuous Cycle can do so by clicking the "Follow" button at the top of the article and selecting real-time alerts.
Supporting Documents
Disclosure: I am/we are long UHAL.
I wrote this article myself, and it expresses my own opinions. I am not receiving compensation for it (other than from Seeking Alpha). I have no business relationship with any company whose stock is mentioned in this article.
Additional disclosure: All investments involve risks. This article is only general analysis, and is neither financial or investment advice nor a recommendation to buy or sell any security based on an individual's specific investment goals or financial situation. Individuals are encouraged to do their own due diligence and determine how each investment fits into their own investment and financial plans prior to making their own investment decisions.