Back on December 21st, Public Storage (NYSE:PSA) had an ex-dividend date, by which the dividend was $2.00 even. That represented a dividend increase of 11%; extending a streak of dividend increases which most companies would be envious of.
Public Storage is a real estate investment trust, or REIT, and is a company that I like very much: It is a consistent company in a consistent business, with a philosophy of steadily raising its important dividend.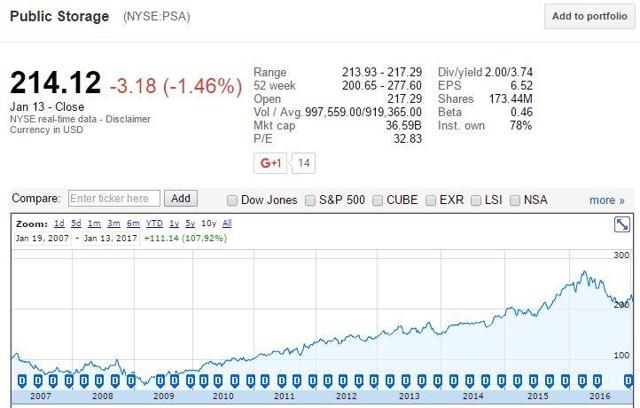 Courtesy of Google Finance.
As the chart above shows, long-term shareholders of Public Storage have made out very well, thanks in no small part to its consistent and progressive dividend policy. It makes a big difference.
As I've mentioned in my finance journal, I've been aggressively adding shares of Public Storage over the latter part of last year. I did so because I saw this as a somewhat rare opportunity in which shares have dipped to the point where Public Storage was a good value. This article takes a look at Public Storage's latest business results, and what investors can expect in years to come.
Deceleration, at some point
Although management has been talking about a "slowdown" in dividend growth, it's pretty hard to notice at this point. Although, over the last ten years, Public Storage has averaged 13.7% dividend growth, and so this 11% hike is slightly below that average. Also, the dividend payout ratio is getting up there. Ten years ago, Public Storage paid 56% of its trailing FFO as dividends, that figure is now closer to 75%. With the dividend to FFO ratio what it is, I don't believe that Public Storage will continue raising the dividend at a rate faster than FFO growth.
The good news is that FFO continues rising at a decent clip, at least over the last nine months. As long as FFO keeps rising, the dividend will do so, too.
Revenue increased 5.9% year-on-year over the nine month period, with core FFO up 10.9% year-on-year. Storage revenue lead the way on the west coast, particularly in Los Angeles and San Francisco.
Prices for residential and commercial storage continue to rise along the west coast, particularly because it is very difficult to build new storage units in those land-locked large cities with resilient economies. That is much less the case in middle American cities such as Denver, Dallas-Ft. Worth and Houston, where there often is space to build new storage units. The weakest of Public Storage's markets, so far this year, has been Houston, where revenues fell by 1% due to the bear market in oil and gas. Management believes there has been a "net out migration" of people from Houston over the last nine months. I would not be at all surprised if that were true.
The one overarching trend management noticed in the last quarter is that 80% of markets saw revenue and same-store deceleration of some kind. So, while this was a very solid quarter, I believe there could be a good bit of 'deceleration' ahead.
Over the last three months the company acquired eight self-storage facilities; four of which are in Kentucky, and one each in Georgia, Colorado, Michigan and Utah, for a total of $73 million. In addition, the company completed one newly developed facility for another $25 million.
Considering that there isn't yet any guidance for 2017, it is difficult to forecast FFO, revenue and same-store sales for this year. Public Storage does have premier storage real estate with a highly recognized brand name, with almost no debt. While I do agree with management that there is deceleration, it's hard not to like Public Storage, given its decent valuation.
A reasonable valuation, and good time to buy
According to data from FAST Graphs, Public Storage has averaged a price to trailing FFO of 21 times over the last ten years. Right now shares trade at 21.9 times. The thing is, Public Storage has also been trading above its ten-year average price to FFO since the middle of 2015, and its valuation has only recently come back down to earth.
I saw that as an opportunity to buy back in November, and I took that opportunity. I still think now is a fine time to add shares of Public Storage. Yes, growth might be slowing down some, but this is a very high quality company, with high barriers to entry in many of its urban markets, a pristine balance sheet and a long track record of dividend growth. There is a lot to like here. I'm of the opinion that Public Storage should be picked up by income investors whenever it trades at a reasonable price, and the valuation is reasonable enough right now.
If you're interested in Public Storage, feel free to follow me here on Seeking Alpha. I am personally long this stock, and will continue to provide update articles when doing so is material and relevant.
Disclosure: I am/we are long PSA.
I wrote this article myself, and it expresses my own opinions. I am not receiving compensation for it (other than from Seeking Alpha). I have no business relationship with any company whose stock is mentioned in this article.