This is our first article in a series we would like to start publishing on a weekly basis. The series will be focusing on high-yield CEFs and will try to cover the latest developments in the space mainly in terms of general trends, mispricings and potential trade opportunities. We have already started a similar series dedicated to muni CEFs and you can see our latest report about munis here.
We try to always look for ways to improve ourselves, so we would really appreciate your input regarding this series devoted to high-yield CEFs. We want to create a product that you find useful in your daily trading or investing decision-making process. So we are looking forward to fruitful discussion in the comments section.
The High-Yield Benchmarks
Most high-yield CEFs usually follow closely the iShares iBoxx $ Corporate Bond ETF (NYSEARCA: HYG), so this is the benchmark I tend to use when I construct my pair trades. HYG, like the majority of high-yield CEFs, is not very sensitive to interest rate changes as is visible from the relationship between the ETF and the iShares 20+ Treasury Bond ETF (NASDAQ: TLT).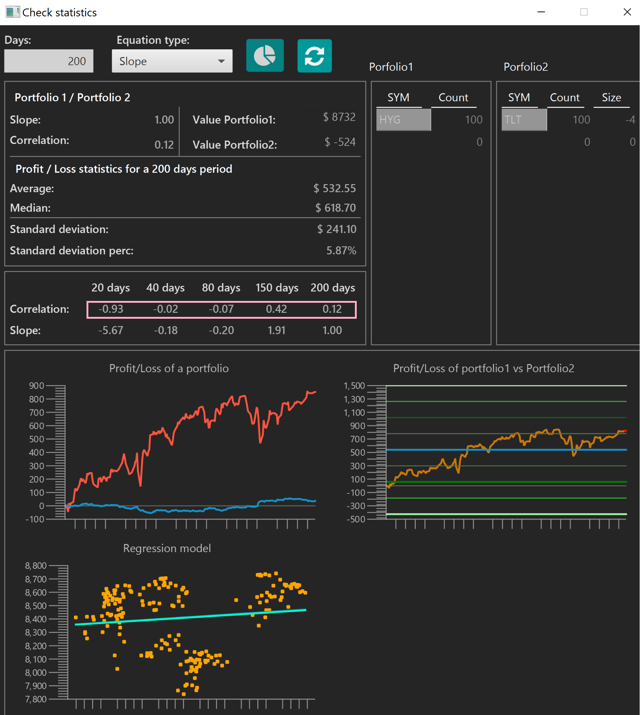 Source: Author's software
HYG, on the other hand, has a very high correlation with the general level of the stock market as illustrated by the relationship between the ETF and the SPDR S&P 500 ETF Trust (NYSEARCA: SPY).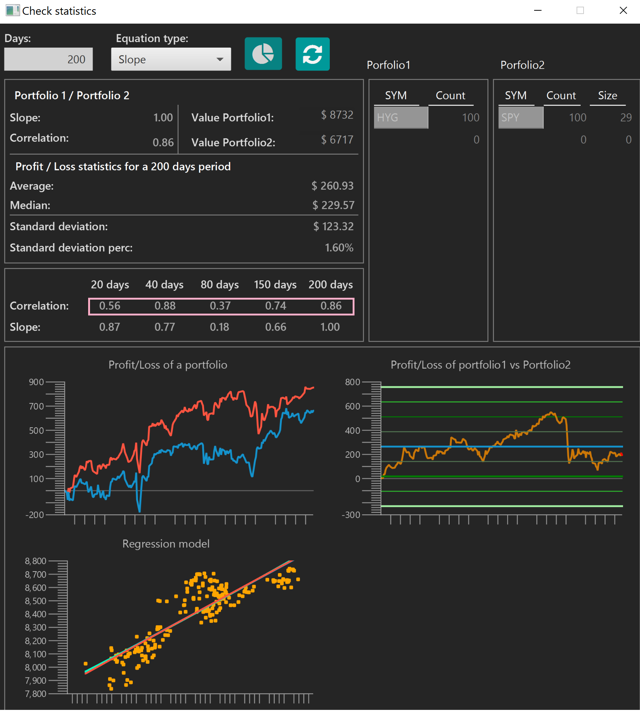 Source: Author's software
That's just another way to say that high-yield bonds usually behave more like equity securities than traditional fixed income securities. Bear this in mind when you are buying high-yielders and don't fool yourself. You are basically buying quasi-equity instruments.
So, with the equity market soaring to new highs after Trump's election as president, it is no surprise that high-yield CEFs have been trending up. Now everyone is talking about Dow hitting 20,000 but we are yet to see this happen. Also, markets are eager to learn whether any of Trump's proposed policies would come to fruition. If we see a boost in fiscal spending and some deregulation of Wall Street, then the rally in equities is likely to continue. If, on the other hand, the proposed policies remain only on paper, then markets might take turn south. No matter what happens with equity markets, however, it is likely to have a big impact on high-yield bonds and by extension on high-yield CEFs.
When buying high-yielders, also be mindful of the general health of the credit market (I like to track the CDS market as a proxy to what is happening to the credit markets in general). Any increase in defaults or even fear of rising defaults could dampen the demand for high-yield CEFs.
Averages
The average high-yield CEF looks like this: 7.72% discount, correlation to its NAV of 91%, correlation of its NAV to HYG of 93%, z-score of 0.41.
Top 5 undervalued/overvalued based on 200-days z-score

Source: Author's database
The table above lists the top 5 high-yield funds with the largest z-score and the top 5 funds with the smallest z-score. The market prices of these funds have strayed too far away from their respective NAVs and pair trade opportunities exist here that could be constructed so that one bets on spread tightening between the fund and its NAV. I recently wrote about one such opportunity concerning Pioneer High Income Trust (NYSE: PHT). You can read more about the trade here. If you are skeptical about the approach we are using to construct our pair trades, you can review two of our older articles. Both trades we suggested in those articles resulted in significant positive returns for our readers. You can check out the articles here and here.
Top 5 premium/discount funds

Source: Author's database
Only one of the high-yield CEFs is currently trading at a premium. Of the funds trading at a discount the ones in the list above are trading at a quite hefty discount to their NAV. Most of the other funds I track also trade at a significant discount. I guess markets are not going crazy about fund managers' skills in portfolio construction. Or at least they do not believe that the skills warrant the hefty management fees they have to pay as investors.
A pair trade opportunity?
In the picture below I have constructed a hypothetical pair trade that would involve shorting the 5 most overvalued funds (Portfolio 2) with respect to their z-scores and buying the 5 most undervalued ones (Portfolio 1). Let's see what that trade looks like.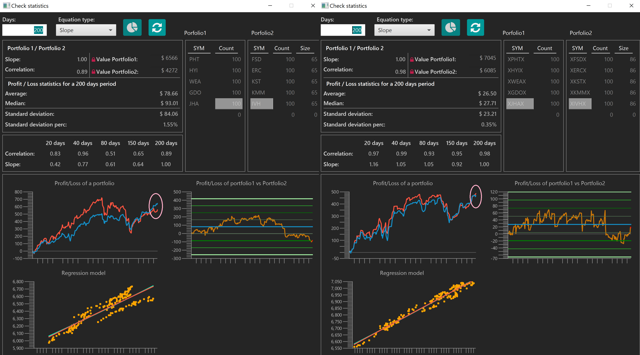 Source: Author's software
As you can see from the picture above, the NAVs of the short portfolio and the long portfolio have a very strong linear relationship as illustrated by the high correlation between the two. The market prices of the two portfolios also have tended to move together historically. In fact for much of the preceding 200 days, portfolio 1 has outperformed portfolio 2. But that has recently changed as is visible from the first panel in the picture above. My hypothetical pair trade is betting on things returning back to normal and portfolio 1 outperforming portfolio 2 once again. The potential for profits, however, is too small to warrant actual initiation of the trade. The risks associated with further widening of the spread between portfolio 1 and portfolio 2 as well as costs associated with building positions in illiquid securities, make the proposed trade not worth it.
In the follow-up articles to this one I will continue reviewing that similar trade based on the top 5 funds with highest z-scores and the top 5 funds with lowest z-scores to see if we can actually come across a situation with higher profit potential.
Dividend cuts
Distribution cuts can have a significantly negative impact on the price performance of any CEF, even though they can be quite arbitrary in nature and fundamentally shouldn't be very important for any fund's underlying value. The problem is, however, that some of these funds are held by large institutional investors who might have a mandate to only invest in instruments providing high streams of current income. And when the fund management decides to lower the outflow of income from the fund, that could cause a huge run for the exit by investors in the fund. The price effect is usually temporary, but could lead to significant short-term losses. If you don't believe me, check out my article on PHT. You can also see what happened to some muni CEFs after they announced similar dividend cuts in this article.
How to take advantage of the rising stock market?
If you are a believer in the rally in equities, I would suggest you focus on high-yield CEFs with high correlation with their benchmark HYG, currently trading at a discount to NAV and having a very low z-score. Which one of the funds I mentioned so far fits these criteria the best? With the risk of repeating myself, I believe PHT is your best option here. The fund declined in value after its distribution got cut, but I am a firm believer it will bounce back to the same levels it used to trade before (with respect to its NAV and benchmark I mean).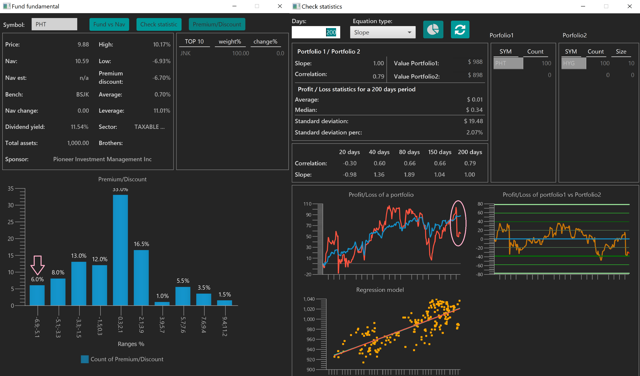 Source: Author's software
As you can see from the picture above, PHT is trading at a historically high discount to its NAV, while the fund has also deviated significantly from its benchmark HYG despite the good linear relationship the two instruments have had in the past 200 days. If you think stocks are going to continue trending up, I suggest you consider buying PHT for your portfolio. Be mindful that PHT has a slightly higher beta than HYG, so you would be exposing yourself to higher risk as well. Just something worth considering before you start building up your position.
Conclusion
High-yield CEFs have been trending upwards recently much in line with what has been happening in the equities markets. In this article I have tried to show you which of the high-yield CEFs have strayed too far away from their respective NAVs and which ones are currently trading at very high discounts/premiums. I have also offered you a way to take advantage of the short-term mispricings in some of these high-yield CEFs by engaging in a pair trade. If pair trading is not your thing, but you have a directional view about equity markets, then high-yield CEFs offer a way for you to express that view.
Lastly, a word of caution: Beware of funds that are paying unsustainably high dividends and are trading at a premium. A cut in the distributions could swiftly send the price of those funds sharply lower and that might lead to a significant capital loss, although I am a firm believer that any price movement which is driven by dividend policy changes is likely to reverse in the short to medium term.
Disclosure: I am/we are long PHT. I wrote this article myself, and it expresses my own opinions. I am not receiving compensation for it (other than from Seeking Alpha). I have no business relationship with any company whose stock is mentioned in this article.