Comerica (NYSE:CMA) is on course with its GEAR Up initiative, which is aimed at improving operating leverage. However, even if it succeeds in its objectives to 2018, the shares look fully valued.
Our forecast for 2016 net to common for Comerica was $475 and we wound up with $473. Costs and loan loss provisions (LLP) were a little higher while the tax rate was slightly lower. Good enough.
Deposit and loan volumes, like other Texas based banks, were subdued in the quarter and have been for a while. CMA has been actively reducing its energy loan portfolio, which has offset modest growth elsewhere in the book.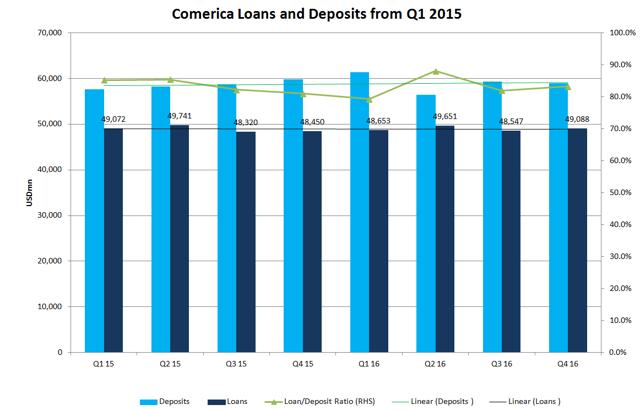 The bank has been able to grow net interest income reasonably well thanks to an expansion of non-loan assets and a slight step up in net interest margin.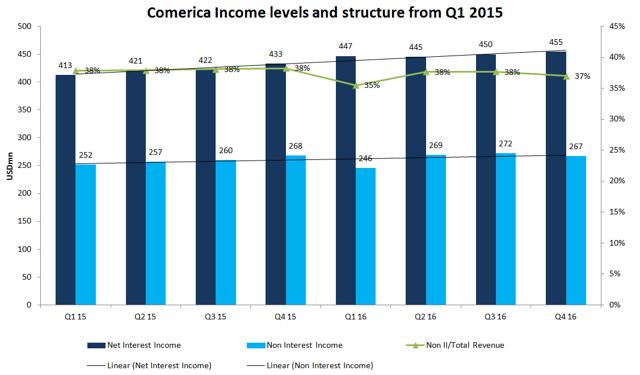 NIM for 4Q '16 over average assets was 2.53%, up from 2.42% in 4Q'15 and 2.38% in 4Q '16. This is a 6% improvement in NIM through the last seven quarters and is augmented by 2% asset growth. Net interest income has grown 5% YoY for 4Q'16 and 6.3% YoY.
The main implication of this is that CMA has reasonable momentum in NII going into what should be a stronger rate environment. CEO Ralph Babb commented on the NIM development and attributed it to the rate hikes that have occurred. The gentle rise in NIM can be seen on the chart below. Credit costs (LLP) are normalizing and should be lower in 2017-18 due to the higher oil price.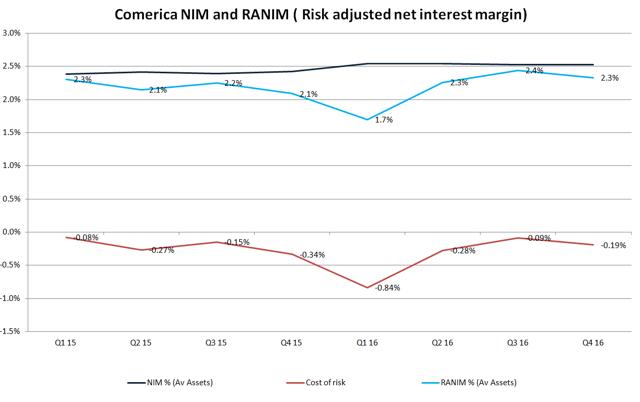 Many regional banks of course are looking forward to gently rising rates. Specific to CMA, investors will be interested in the development of non-interest expenses. CMA delivered here as part of its GEAR Up initiative, which envisages ~$200m of cost saves before the end of 2018. The 4Q drop in costs is visible in the chart below: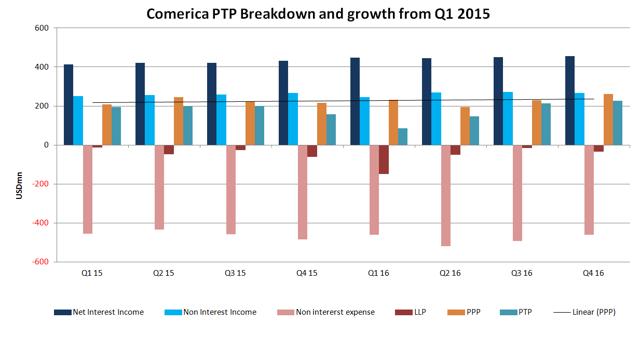 The main judgment call for analysts is what the underlying cost growth is that will run parallel of the takeout of ~6% of annual operating costs under GEAR Up.
The forecasts in the table below assume revenue growth of 6% then 7.5% from 2017-18 (reflecting higher margins and hopefully a little more loan growth), and then cost growth of 3% and 5% over the same period. This would reduce the cost/income efficiency ratio from 67.8% in 2016 to 64% in 2018, a strong gain to operating leverage that allows the pre-provision profit number to expand by 12% annually. With an additional boost from buybacks, EPS growth is impressive.
Conclusion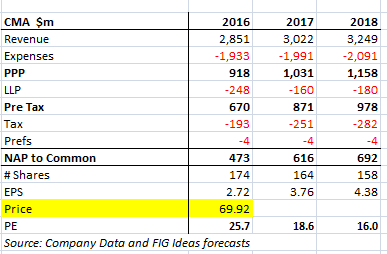 What I balk at is the starting valuation for this process. CMA is left on 16x 2018. Sure, even then it won't have the skinniest efficiency in the universe, but you have to ask another question there. That is, with net interest income at 63% of total income and working off a NIM of 2.3%, which is not that high, is CMA to some extent a low(ish) income/assets bank and its cost/income relationship in part reflects that. The answer there probably lies in non-interest income development, while GEAR Up is about costs and will take management focus for now.
If CMA keeps going improving operating leverage through 2019-2020, value will emerge in the end vs. regional peers about 20% cheaper over the medium term. I am ambivalent here and would probably look to switch to better value where I can find it (STI, KEY, FITB)
Disclosure: I/we have no positions in any stocks mentioned, and no plans to initiate any positions within the next 72 hours.
I wrote this article myself, and it expresses my own opinions. I am not receiving compensation for it (other than from Seeking Alpha). I have no business relationship with any company whose stock is mentioned in this article.