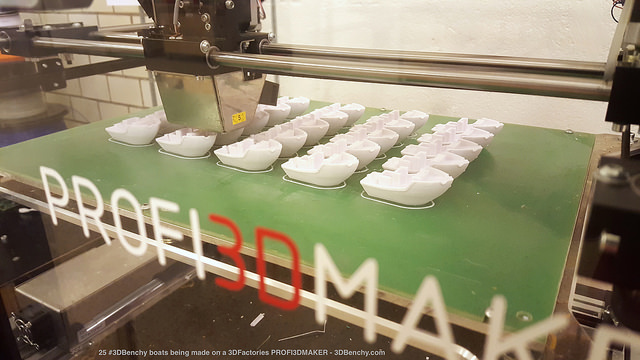 Photo credit: Creative Tools
The case for smartfacturing
This article was to be about Nike (NYSE:NKE) and its innovative manufacturing process Flyknit. But then, Flyknit's efficiency and smoothness made me realize that its concept could be extended to the rest of US manufacturing. As Elon Musk has put it so well, US companies need to rethink the machine that builds the machine.
Tesla's (NASDAQ:TSLA) CEO has been struggling with production issues, so he knows what he's talking about. In order to improve production efficiency, his staff has been forced to rethink and reorganize the whole production process to build a car. From the logistics to the factory floor, every notion has been challenged and revisited.
This might seem obvious, but, during the last decades, the main improvements in factory productivity didn't come from adopting newer and better technology, it came from delocalizing production to the third world. However, the production arbitrage through cheap labor countries might have reached its limit. Unintended consequences in the western world have produced sociological factors that are coming into play. Long-term unemployment and low paying jobs in so-called prosperous countries have brought a populist and protectionist wave that will slow the convergence between the first and third worlds.
Therefore, further gains in productivity will have to come from other sources like the aforementioned technological advances. This includes, among others, the fields of data processing, autonomous robotics, additive manufacturing and connectivity being applied to manufacturing. The end result is expected to be higher cost efficiency and higher production flexibility.
The ability to increase flexibility of the factory floor will bring two related advantages. Firstly, higher flexibility will allow the production of different objects without having to incur heavy retooling expenditures. This fact alone provides the possibility of economically producing small batches of a given product. Secondly, small batches of a given product allow a high degree of customization, which will offer new business models possibilities.
We have already mentioned several science fields with breakthroughs during the last decades but that failed to find their way into the factory floor (though some high-tech specialized companies have been using them for long). This happened, in part, due to the trend toward production arbitrage during the 1990s and the 2000s. Now that the need for cost-effective onshore production due to a protectionist wave is on the rise, we might get the incentive to update the factory floor with recent tech. The recipe has always been the same: as technology improves, new production processes become possible, creating room for additional business model possibilities.
Trump's role in US manufacturing renaissance
Trump's victory is the symbol of the Americans' revolt against a society converging with the third world through higher unemployment and lower living standards. The President-elect had the merit of reading the public's anxiety accordingly and addressing the main perceived problem: manufacturing delocalization. Analysts suggest that there is nothing like manufacturing to create jobs, each manufacturing job has the ability to generate up to 2.9 additional jobs. In high-tech manufacturing, the figures are even brighter, we are talking about up to 16 additional jobs.
It shouldn't come as a surprise that the President-elect wants to protect US manufacturing in order to restore the virtuous cycle between production, innovation and better paying jobs. The threat of a border tax has been waived constantly against companies announcing intentions delocalizing.
The alternative for corporations is to keep production onshore and re-engineer production processes to increase productivity and flexibility of capital-intensive production tools. The border tax is key at this point. It might be the economic incentive needed to incentivize US corporations to keep and even add in-house production.
Companies making labor arbitration, through cheap work in East Asia, will have to adapt. As I mentioned before, one way to do it is through the introduction of automation, additive manufacturing, data processing and connectivity. In this article, I'll be focusing on additive manufacturing.
The role of 3D Systems (NYSE:DDD) and the 3D printing industry
In my opinion, 3D Systems is one of the companies better positioned to profit from this new environment. Before 2016, 3D Systems' was focused in growing its mass market printing business. However, expectations weren't fulfilled and the company ended up replacing the CEO in early 2016. Vyomesh Joshi, a veteran executive from HP Printing business unit, took the helm of the company and redefined the strategy. Here are some of VJ's remarks:
When we looked at all those customer segments and where the opportunity is where we can move from prototyping to production, we focused on really key, in my mind, five segments, aerospace and defense; automotive; the third segment is healthcare; durable goods; teaching and training institutes.
I've stated in previous articles that I agree with this strategy. However, now it makes even more sense. If Trump succeeds with his border tax threat and he is able to enforce US companies to produce at home, then additive manufacturing will have its place in many factory floors. In this case, 3D Systems will have changed its strategy at the right time without even realizing it.
Investment Rationale
Last year wasn't great for 3D Systems. The company fired the CEO in the beginning of 2016, and this kind of moves tends to leave scars and destabilize organizations. This is especially true in the 3D printing industry, where the rate of technological development is key to survival. When industry leaders in growth industries get into internal convulsions, smaller competitors tend to take advantage from them.
3D Systems used and abused issuing shares to finance acquisitions. Now that the stock price has crumbled, this strategy is no longer viable. The company's management has repeatedly mentioned at conference calls that cost cutting will serve to finance strategic investments in order to remain cash-flow positive.
In this context, Trump's border tax has all the potential to be a game changer for 3D Systems. It might work as a catalyst for sales in the manufacturing unit, spurring a growth wave in sales of 3D printing devices for production. Since, 3D Systems has been profitable every year but 2015 (and probably 2016) a significant increase in demand for printers will likely lead to profitability once again. I believe the market will be fast to incorporate this fact once it becomes evident that the border tax is acting as a catalyst.
There is one negative factor that may offset part of the sales gain. The sourcing of materials and components used by the company is hard to trace with precision. Therefore, we should keep in mind that 3D Systems might come to suffer from the border tax in its own operations. I believe the net effect will still be positive for 3D Systems because the main manufacturing facilities are located in the US but I cannot sustain this claim beyond this reasoning.
Why 3D Systems?
A good part of the accumulated goodwill from acquisitions (a trademark of the leaders in the sector) has been written off already, which means that the balance sheet now has a lower probability of generating unpleasant surprises.
The liquidity position seems adequate. The acid-test ratio is above 2 and the cash flow from operating activities has oscillated from slightly positive to slightly negative. If we add the low debt profile, the company seems to have enough cash to face the following quarters. Therefore, survival doesn't seem to be an eminent risk.
Graph 1 - 3D Systems vs. S&P 500 since the US Presidential election (Source: Google Finance)

I'm taking an opportunistic position here. The company has a good portfolio of technology and it has been profitable in recent years. Trump's protectionist wave has the potential to be the driver for growth in 3D Systems' sales. Looking at Graph 1, the market seems to be overlooking this aspect and it has failed to significantly price in this possible development. In part, the market must be assuming that the border tax won't be easily approved.
My take here is the risk is asymmetric. The market has not reflected Trump's border tax in the company's stock price. Therefore, if it fails to have a material impact on 3D Systems' sales, shares should not suffer much. However, if the border tax increases demand for 3D printers, shares should rise significantly.
Disclosure: I am/we are long DDD.
I wrote this article myself, and it expresses my own opinions. I am not receiving compensation for it (other than from Seeking Alpha). I have no business relationship with any company whose stock is mentioned in this article.