Many commentators talk about Bausch & Lomb like it is the bedrock of Valeant (NYSE:VRX), but this narrative is misleading. While B&L isn't as bad as some of Valeant's other segments, it is still a relatively weak business and not immune from the continuous decline of the Valeant portfolio.
I believe Bausch & Lomb will be an area of weakness going forward. The growth in the 3rd quarter of 2016 may be an anomaly, and the segment may disappoint in the 4th quarter and onwards into 2017.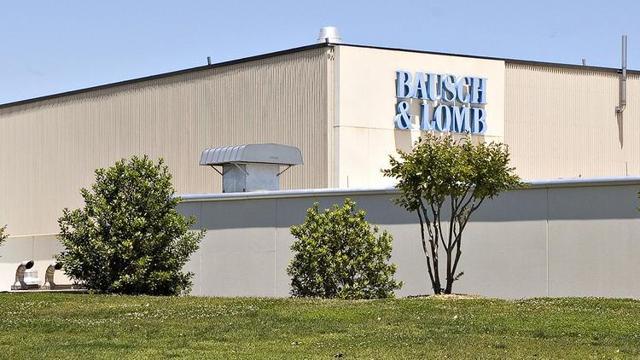 Source: Bizjournal
Investment Thesis
Even if the declines have stopped in the more volatile parts of Valeant's portfolio, investors should not get too comfortable with Bausch & Lomb. The segment may not be as strong as the chatter suggests.
In the 4th quarter result, I expect to see declines in B&L due to mismanagement and other problems. Valeant may be a good short before earnings.
Background
Valeant's 'core business' is broken into three segments: U.S. Diversified, Branded Rx, and Bausch & Lomb. The company describes Bausch & Lomb as 'durable growth', suggesting it is a more reliable contributor to EBITDA than the other segments.
And yes, B&L certainly is more stable than the other businesses, but is it a bedrock? I don't think so.
B&L has only been recorded as a segment in Valeant's presentations recently. I can only find the numbers for Q315 and Q316. In this period, the business grew around 4%. However, when we look a little bit further back, B&L sustained severe losses.
I think Valeant's ophthalmology and contact lens segments can serve as a reasonable proxy for B&L sales.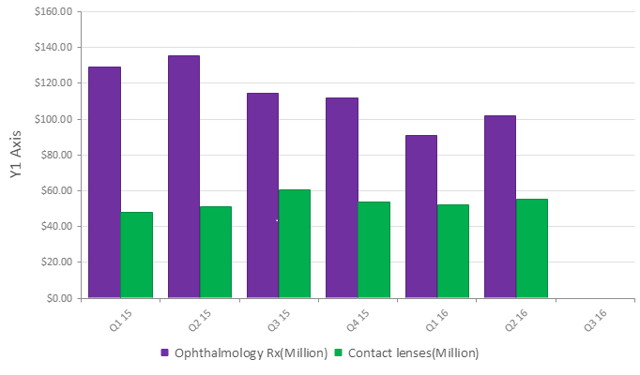 It turns out B&L is not a stable business after all, at least not the ophthalmology division. Is Q3 a fluke?
Breaking Down Bausch & Lomb
Even B&L's 4% growth isn't what it seems. According to Market Realist:
After making certain adjustments for acquisitions, divestitures, and discontinuations, there was a 1% decline in the segment's same-store sales on an annual basis. With a fall in net price, the volume increase wasn't sufficient to offset the impact.
The only part of Bausch & Lomb I would call "durable growth" is consumer and contact lenses. The rest of the business is a toss-up.
But remember, Valeant divested a large percentage of its highest-quality consumer brands this month. Without the consumer division's growth to offset possible declines in ophthalmology, B&L's future as a 'durable growth' business looks bleak
Now that I have established the reasons I don't think B&L is immune to decline, I would like to express the reasons why I believe it may fall in 2017.
Mismanagement and Quality Control Issues:
Management alluded to quality control issues at several B&L plants in the Q3 earnings call. These hang-ups resulted in FDA scrutiny and even resulted in delays in a drug approval.
Evidence from company insiders suggests that things haven't changed, and B&L's quality control problems will continue to haunt the segment. Quotes are from the Cafe Pharma Valeant board, an anonymous pharmaceutical message board for Valeant employees, December 22-28:
Tampa is the US ophthalmic pharmaceutical production plant for Bausch and Lomb. The site has experienced a complete loss of all competent management in all areas since Valeant acquisition.

Tampa has no leadership thus no direction. The production cost has skyrocketed due to the number of rejected batches. The production delays have extended the backorder delays. The QC lab is now occupied by contract staff. No R&D so no new products.

Valeant thinks everything can be contracted out with no overhead. They end up getting less work for more money than if they just hired people. They still contract out key management and technical jobs for big bucks. Meanwhile, good employees walk out the door.
The company 'insiders' even allude to Papa's new hire Louis W. Yu, Ph.D. who was brought on to fix these issues as the Chief Quality Controller. The 'insiders' are suggesting that management's efforts to revitalize the firm's leadership are not working.
It is important to note that Cafe Pharma is an anonymous message board. All of these quotes should be taken with a grain of salt. However, if these people are actually company insiders, they have given us some very valuable information about what to expect from Bausch & Lomb in the 4th quarter report.
These quotes suggest that, as of last month, the problems at B&L have still not been fixed. This flies contrary to the impression of stabilization Joe Papa presents to the public.
Broken Business Model:
Valeant purchased Bausch & Lomb for 8.5 billion in 2013 but what is the division worth now? Wells Fargo's David Marris believes it may be worth even less than what it was purchased for.
Valeant's business model of acquisitions and streamlining may actually reduce the value of the businesses it acquires. As the comments in Cafe Pharma seem to suggest, there was an exodus of old 'competent' management that seems to have resulted in a decline in efficiency and leadership.
The complaints about Valeant's changes can also be found on the Glassdoor employee board:
Bausch and Lomb "Excellent until 2014"
Pros

I had joined Bausch & Lomb surgical in 2011 when it was in growing phase. Good salary, excellent work culture, visionary management made it overall great company.

Cons

With the acquisition by Valeant in 2013 the entire work culture is doomed. Management in India has no long term vision. Hard working people are asked to over work. People leave company within 2 years.

Advice to Management

Increase the field force. Nominate managers with experience in the field. FMCG managers are not capable of understanding medical business. Invest and only then expect business.
B&L Great! Valeant - not so much!"
Pros

At B&L we were building a culture committed to doing what is right, always! Pay and benefits were great! Perks were very good, between flexible schedules, unsurpassed 401K; rewards for efforts. Management tried to listen to people on the front lines. B&L was great, would do it again! Once Valeant took over things changed - see cons below.

Cons

Now that Valeant has taken over, everything has gone down the tubes. Valeant does not have the same commitments as Bausch. They do not care about their employees - only the bottom line. Everything we heard about what Valeant did to other buyouts came true! They are committed to destroying all central services, and only support manufacturing and sales! Their corporate offices reflect this - you will have VPs running a… Show More

Advice to Management

Having high paid people running around doing things that administrative assistants used to do, does not make sense! The paradigm is destined to fail! Commitment to only Wall St is wrong thinking. Your commitment should be to your patients/customers - everything else including quality and revenue will follow!
The second quote comes from the New York location that was mentioned in the earnings call. The 'Rochester Plant' received an FDA warning over quality control issues, something that did not happen before the acquisition.
Valeant seems to have done severe damage to the morale, quality and efficiency of Bausch and Lomb.
Conclusion
B&L may be the most stable of Valeant's core businesses, but it is far from a bedrock. The business grew slightly in the 3rd quarter, but this is in the midst of a longer-term decline that may reappear in the next earnings report.
I believe mismanagement and quality control issues make a convincing case for doubting the strength of B&L going forward.
Are the anonymous quotes credible? It is impossible to know until we see the 10-K. However, I believe that these reports, along with all the other negative information about this segment, make a convincing case for shorting VRX before the next earnings date.
Disclosure: I/we have no positions in any stocks mentioned, and no plans to initiate any positions within the next 72 hours.
I wrote this article myself, and it expresses my own opinions. I am not receiving compensation for it (other than from Seeking Alpha). I have no business relationship with any company whose stock is mentioned in this article.