After a humiliating launch failure of the "Falcon 9" rocket engineered and operated by SpaceX (Private:SPACE) in September 2016, the successful launch and return flight made by the rocket this past week bought the company back into the space race.
This marks a great success for SpaceX which along with its rival "Blue Origin," the space company launched by rival Amazon (NASDAQ:AMZN) founder Jeff Bezos, is attempting a similar feet.
Challenges
Since aerospace industry is design intensive, on average an OEM takes about five years to design a completely new model. Long gestation periods in terms of designing, prototype development and testing to perfection make it difficult for private firms to build a viable business model in this space.
While challenges abound on the technical front, from a business perspective below are a few challenges the business needs to address in order to establish itself as a successful player in the industry.
Competition from emerging markets space exploration agencies. High capital expenditure and wait times. Loss of credibility in the event of mishaps (read this!)
SpaceX - A history of failures - Timeline
2006 - SpaceX launch fails just 33 seconds after lift off.
2007 - Engine shut down prematurely and the rocket failed to reach orbit. SpaceX loses again.
2008 - Carrying NASA's first payload on an official trip to the space station the rocket exploded again. Zero to 3 almost killed the company and was shared courtesy billionaire Peter Theil's investment in SpaceX just a day after the crash.
2015 - The rocket completely evaporates just a few minutes into the launch completely destroying the two NASA payloads it was carrying to the International Space Station. At this point NASA negotiated significant discounts on the SpaceX contracts the government had allotted to the private space explorer.
Thereon, the company successfully delivered a vertical rocket landing procedure, a key goal that the company had been pursuing and one necessary for the company to provide affordable reusable rocket technology critical for inter-planetary species transportation development (aka putting a man on the Mars as Musk puts it).
2016 - The launch vehicle blasts even before getting Aerial as the rocket catches fire during fuelling.
Skepticism in the Seeking Alpha community on SpaceX isn't any less
An article published by fellow SA contributor Dhierin Bechai on SpaceX drew strong criticism of Musk's plan and some commentators even termed the entire idea "rubbish."
One of the commentators Videnak said "Firstly, I would like to point out, that Musk is not flying anywhere. All he does are fancy PPT presentation. Get people on the Moon was bit accomplishment for NASA, flying to Mars is completely different league and to get people there 2023, one needs to have a few testing runs. Which means, that first rocket should fly quite soon. At the moment, Musk got nothing more than quite unreliable rocket for short trips around Florida. So 2023 is just a joke.
Also, I do not see any single reason why would anyone invest in this company. I mean financial reasons, not that scientific rubbish, which has nothing to do with value.
And I am quite sure that Musk is going public with this sooner than later. He needs money and there are tons of silly retail investors to donate their $ on the ground of some fictional valuation of this company based on 2100 present value."
The scepticism isn't unfounded for a company which is barely making it off the ground trying to plan sending humans to unknown and life endangering inter-galactic missions.
As someone commented, inter-galactic travel isn't about catching a bus from the local bus station. It involves a lot in terms of technology, safety and mental training.
Fidelity and Google's $1 billion minority stake in SpaceX
The investment marks Google's (NASDAQ:GOOG) (NASDAQ:GOOGL) continued foray into new innovation markets. However, many market players find Fidelity's investment in the company a bit odd in comparison to the myopic "what are you doing to beat next quarter analyst estimates?" mentality of money managers at big hedge funds.
The investments are long term and probably reflect Fidelity's bet on Musk taking the company public in order to attract investments to build the business and fulfil his life-long vision of "putting a man on Mars."
Opportunity
A study commissioned by the German government in 2010 identified the main trends in the international space sector.
In the study it identified the impact of the US space policy on opening up the sector to private capital deployment. The use of private providers for carrier systems and satellite services is on the rise in the US.
The foundation of new age space corporations through increasing private funding, use of new technology and the convergence within the IT sector are forming the basis for what has been referred to for some time in media as "New Space."
Five decades ago it was the space industry that laid the foundations of the ICT (Information and Communication Technology) Industry. Now, the ICT is driving the space market. With more activity in the ICT sector than the traditional space industry, ICT has been able to transform the world into a global digital landscape. This creates a major opportunity for ICT players to explore beyond their traditional markets and expand at a much faster rate. Exploring space is the natural order for these firms as an opportunity of this scale requires resources of incredible proportions.
The combination of capital and entrepreneurship in the US west coast has set the tone for the global commercial space industry. Companies like SpaceX, SkyBox, Spire and PlanetLabs have setup shops and are being supported by the US government through investments and order flows.
Satellite technology
Mini, micro and nano-satellites called ("CubeSats") are the products of this new space industry. The potential for diverse applications particularly in earth observation (oil and gas), broadband connections (investments in India's telecommunications market by global telcos exceed $15 billion in FY16) and Internet of Things industry (inspired by e-commerce and internet entrepreneurs like Facebook (NASDAQ:FB) and Whatsapp) are the driving factors of this business.
Government space exploration projects
Institutional stakeholders in the global space sector led by the governments of the world have bought the promise and vision sold by entrepreneurs like Tesla's (NASDAQ:TSLA) CEO Elon Musk. Musk has been successful in selling his vision of "putting a man on Mars" to the stakeholders.
The company is attracting a lot of attention (investment) to developa reusable rocket engine (Falcon 9) at affordable prices.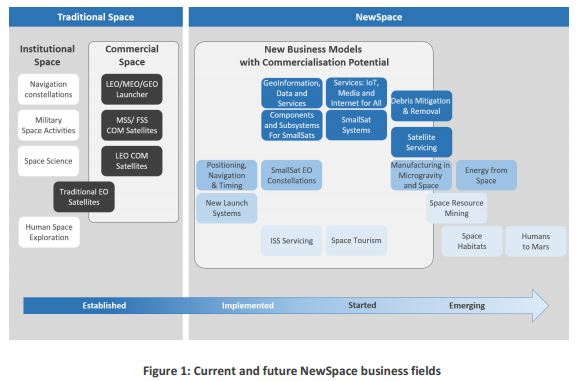 The dynamism in the new space industry is creating a big opportunity for players like Tesla as the number of consumers is steadily on the rise.
Market size
The global space economy grew c.9% to $330 billion in 2014 compared to $302.5 billion in 2013. Further, the commercial space industry made up 76% of this market growing at a CAGR of 7% to double in size from 2005 to 2014.
The market is big and private players establishing themselves at this nascent stage of the industry stand to gain heavily, which perhaps explains the interest of billionaires like Musk, Thiel and Bezos in the industry.
Closing thoughts
SpaceX's recent success marks an important step in the company's move to send a manned mission by 2018 and the coveted "Mission Mars" by 2022.
However, a lot is still left. The company has difficult technology and innovation challenges to overcome and establish proof of concept.
I believe the business viability exists in terms of exploring conventional opportunities like communication technology as well as establishing the requisite technology framework to boost the Internet of Things industry.
In any case, the industry is burdened with challenges and it will be interesting to see how Amazon's New Glenn rockets change the technology dynamics and create further inroads to achieving space travel a possibility.
Disclosure: I/we have no positions in any stocks mentioned, and no plans to initiate any positions within the next 72 hours.
I wrote this article myself, and it expresses my own opinions. I am not receiving compensation for it (other than from Seeking Alpha). I have no business relationship with any company whose stock is mentioned in this article.