We wondered in a previous article:
Given the enormous progress shale production has made to date (especially the last couple of years), whether deregulating the fossil fuel sector will make that much of a difference in terms of added production.
Perhaps more seriously, insofar as it will be successful, whether the US will not fall in the same trap as the Saudis.
The latter is hardly hypothetical. In a way, it has already happened with natural gas where the shale revolution has unleashed an era of cheap gas that isn't likely to end anytime soon.
Could something similar happen in oil? Well, one could argue it's already underway. While opinions differ, we could be heading towards peak demand in oil, due to a conspiracy of factors:
Oil demand will be declining in the developed world, according to McKinsey.
Efforts to keep global temperatures from rising more than 2 degrees.
Demand is under pressure from lower economic growth worldwide, the EV revolution, fuel efficiency standards, saturation in petrochemicals, and potentially new driving habits (autonomous vehicles), to name a few.
Opinions differ about the time scale, here is the IEA (from MarketWatch):
Global oil demand won't stop growing before 2040 despite pledges made at the Paris climate change summit last year to cap greenhouse-gas emissions, the head of the International Energy Agency said. IEA Executive Director Fatih Birol's comments have added to a debate over when oil consumption-which has steadily grown for decades-will begin a sustained decline, a change known as peak demand. Royal Dutch Shell PLC's RDS.B, +2.15% RDSB, -0.34% Chief Financial Officer Simon Henry caused a stir earlier this month when he said the company believes demand for oil could stop growing within the next two decades and as soon as five years.
But some think it will happen much sooner, like the World Energy Council (from OilPrice.com)
A new report from the World Energy Council predicts that global demand for crude oil could hit a peak in 2030 at 103 million barrels per day. The scenario would require rapid and substantial advancements in electric vehicles, efficiency, renewable energy, and digital technologies - developments that are no longer difficult to imagine. Additionally, the report envisions a scenario in which global primary energy demand - which includes energy demand for everything including transportation and electricity - could also peak before 2030.
Nobody really knows how these forces will play out in time exactly, but what is clear is that these forces are structural and not going to go away anytime soon.
Reputable institutions are worried about the implications. For instance, The Bank of England has commissioned a study of the impact of the loss of oil reserves which are too expensive to get out of the ground (although this in relation to keep global temperatures from rising more than 2 degrees):
A series of analyses have shown that most existing reserves of fossil fuels cannot be burned without blowing the safe budget for carbon emissions. A study in January indicated that 80% of coal reserves, half of gas and a third of oil would have to stay in the ground. But companies spent $670bn (£436bn) in 2013 alone searching for more fossil fuels, investments that could be worthless if action on global warming slashes allowed emissions.
Marginal cost
The prospect is for a market in which the oil price settles more or less at the marginal cost of shale (which is itself a declining target), which would not leave much profit for a host of industry players.
While shale might very well be the most promising resource and most important destination of oil development dollars, speeding shale development up by wholesale deregulation will only create more supply in a market that, sooner or later, is going to shrink.
Going all in on US fossil fuel is not really a recipe for a wholesale revival and it's not without cost either (in terms of pollution and missing out on the alternative energy revolution as we argued in a previous article).
We agree with the following rationale (from MarketWatch):
Even before Donald Trump takes office, the fundamentals of the uptick in energy stocks his election inspired are eroding. Short term, there's the massive newly quantified find of frackable oil and gas in the Wolfcamp shale formation near Midland, Texas. Longer term, you see news like Canada's announcement this week that its utilities will phase out use of coal just about entirely by 2030. For those not impressed with the stock market's narrowly based rally since the election, the news flow on energy stocks help explain why. The president, and the market, can fight against fundamentals if they wish. But fundamentals win.
While oil stocks could rise a little further and OPEC could join the party for a while, market realities will assert themselves, irrespective of what the incoming US government will achieve.
Natural gas and LNG might last a little longer (world demand is still firmly growing for these fuels), but barring any large scale semi-permanent supply disruption, the really good times in the oil market are basically gone.
Electric Vehicles
Two studies, one from Fitch and another from Bloomberg, sound the alarm (from ThinkProgress):
Advanced batteries could "tip the oil market from growth to contraction earlier than anticipated," concludes the credit rating agency Fitch in a new study. Bloomberg New Energy Finance (BNEF) has already told investors to expect the 'big crash' in oil by 2028 - and as early as 2023.

Fitch Ratings agency warns that if recent technology trends continue, we may see an "investor death spiral" as first the smart money - and then everyone else's - sell off oil company assets (bonds and stocks). That would in turn increase the industry's costs for both debt and equity - while oil prices would be stuck at low levels as the world hits peak demand.

This would affect industries whose stocks and bonds are cumulatively valued in the trillions of dollars. In particular, Fitch notes, "an acceleration of the electrification of transport infrastructure would be resoundingly negative for the oil sector's credit profile."
The Bloomberg study has two scenarios. One in which EVs keep growing at current rates (60%). By 2023, this growth will displace 2M barrels of oil demand, a similar shock to what caused the 2014 oil crash.
A more moderate scenario (based on when components are cheap enough to lure the average buyer) has this happening five years later, in 2028.
But it is possible for EVs to really catch on. Even well before the EV market has really started and mass market models are available, Norway has powered ahead, from Cleantechnica:
Norwegian EV Association Secretary General Christina Bu stated: "We reached 100,000 battery electric vehicles (BEV) way earlier than most people expected. By 2020 our aim is 400,000."
The aim is to have 100% of new car sales emission free by 2025. A whopping 28.8% of new car sales were plug-in electric vehicles (including hybrids) and all-electric cars have a 19.0% market share.
At work are some aggressive incentives, but this could set an example for other countries. Funny enough, Norway is a really substantial fossil fuel producer, but that has not held it back to prepare for the future.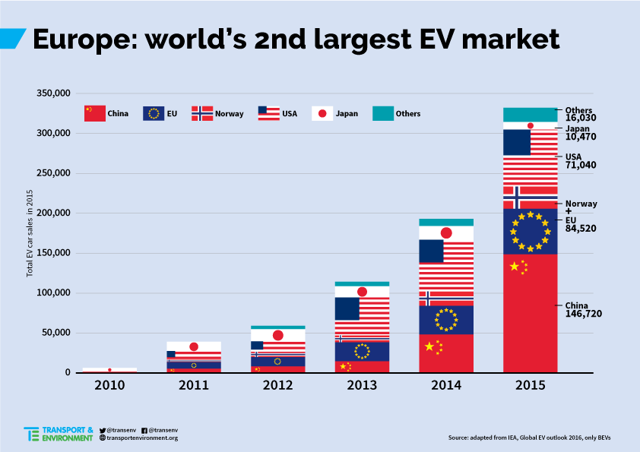 It only takes a couple of bigger countries to break the proverbial dam. One of these countries could be China. The Chinese are basically choking in their own pollution, coming from cars and coal fired power plants.
But a virtuous cycle is possible where EV sales and alternative energy could reinforce one another. It's of little use boosting EVs if they're powered by electricity from coal-fired plants so China is again committed to greatly expanding alternative energy, spending another 2.5T yuan in the next five years.
Chinese EV sales are set to triple this year to 450,000. Of course, EV sales are still a tiny fraction (China is the biggest car market in the world selling 21.7M passenger cars in the first 11 months of 2016, although that number is somewhat inflated by a tax change).
As a side note, these EV sales aren't Tesla's (NASDAQ:TSLA), China has its own booming EV business with companies like BYD, the market leader, and a lot of other companies few people outside China will be familiar with.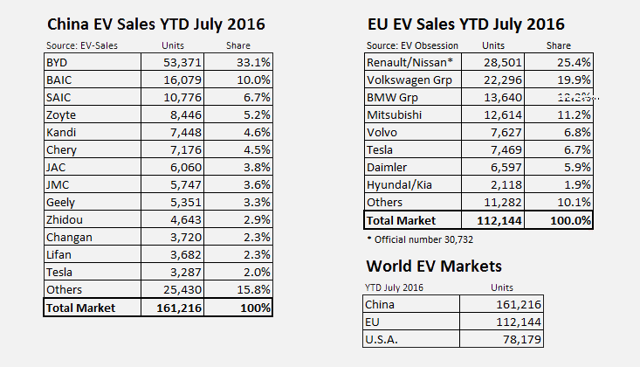 The other big growth market is Europe and here as well incentives play a big role (as well as the fact that gasoline is generally substantially more expensive compared to the US).
Autonomous driving
While these are projections that could miss their mark, what's equally notable is that OPEC, nor some of the oil majors, seems to be prepared for anything resembling the above scenarios. Here is Bloomberg:
OPEC maintains that electric vehicles (EVs) will make up just 1 percent of cars in 2040. Last year ConocoPhillips Chief Executive Officer Ryan Lance told me EVs won't have a material impact for another 50 years-probably not in his lifetime.
Good luck to that. Autonomous driving could add another nail in the coffin. Here is an extreme scenario, from Oilpro:
Researchers at the University of Texas have conducted a realistic simulation of vehicle use in cities that took into account traffic congestion and rush-hour use. They found that if our vehicle fleet was fully autonomous, every shared autonomous vehicle could replace 11 conventional vehicles. As their study showed, the world would only need 800 million vehicles to supply transportation services for nine billion people, or 200 million fewer cars than what already exists in the global vehicle fleet. That doesn't sound like a bright future for either the automobile or petroleum industries.
Such a fleet could easily be electrified as recharging can take place when demand is low so it could even speed up the electrification of the fleet, from the Houston Chronicle:
Automated cars would be a natural platform for electric engines, which require about one third the energy of a traditional internal combustion model. While limited in distance and slower to charge than filling a gasoline tank, fleet vehicles that could charge themselves might mitigate those problems.
Of course, this shared scenario is extreme (although one that must be very attractive in cities choking on traffic and related pollution like Manila, New Delhi and Beijing). It remains very much to be seen whether, and if so to what extent, such a shared scenario materializes.
But even if shared resources don't catch on everywhere, there are still important economies to be gained from autonomous driving, from the Houston Chronicle:
Traffic creeps along the highway a couple hundred feet below the glass-cased offices of the U.S. government's Advanced Research Projects Agency-Energy in Washington. Chris Atkinson, a program director at the agency, can't help but think about how much fuel those cars are wasting, stopping and starting, and ponders how much more efficient they will be when computers control them and not humans. "Humans are terrible drivers. They accelerate too quickly. They brake too late and they change lanes without reason," he said. "If all those vehicles would mutually agree to move at a steady 30 mph, there would no long be any congestion out there."
And once again, not all oil majors seem to even contemplate the implications:
So far, the potential threat of autonomous cars does not appear to have set off alarms within the oil offices that dot the Houston skyline. "It's not something we've had a deep dive on," said a spokesman for Exxon Mobil.
Batteries
Battery costs have already come down at a rapid pace.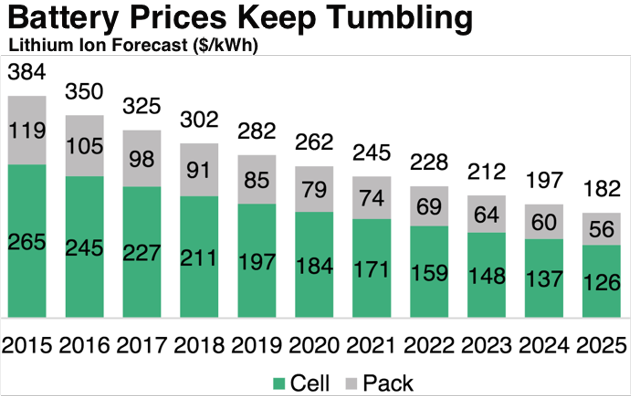 And Tesla isn't the only one with giga factory undertakings, from Greentech Media:
Tesla's recent purchase of German manufacturing automation specialist Grohmann Engineering comes as an increasing number of Gigafactory rivals spring up across Europe. Tesla announced the Grohmann deal last month after Swedish media reported that its former supply chain vice president, Peter Carlsson, was planning to open a battery gigafactory of his own in Sweden. The announcement means at least five gigafactories are now slated for the continent. Tesla itself is planning a European gigafactory in the wake of the Grohmann acquisition. The facility will be used to build batteries and cars..
It will be interesting to see where this is going.
Conclusion
US shale has come out victorious from the oil wars, with cost much reduced and resource estimates greatly increased. This makes it the likely beneficiary of much of the investment stream as few other sources of oil can match these prices.
Wholesale deregulation of the sector might speed things up a bit, isn't without cost (environment, public health), and it risks going all in on what could be an industry which could face a slow decline while there are new energy sectors that are booming and these could start to have a serious bite off the oil sector.
Well-known shorter Jim Chanos used to say that the oil majors are slowly liquidating themselves. He might have a point.
Disclosure: I/we have no positions in any stocks mentioned, and no plans to initiate any positions within the next 72 hours.
I wrote this article myself, and it expresses my own opinions. I am not receiving compensation for it (other than from Seeking Alpha). I have no business relationship with any company whose stock is mentioned in this article.