There is a widely held notion that stocks with low P/E ratios tend to offer better returns on average. However, the ongoing eight-year bull market has proved the exact opposite. More specifically, several high-growth stocks, with high P/E ratios, have offered life-changing returns in the last few years. Nevertheless, in this article, I will analyze why it is really hard, particularly for retirees, to profit from this type of stocks.
Many stocks with initially low P/E ratios, such as ConocoPhillips (NYSE:COP) and Ensco (NYSE:ESV), seemed remarkably cheap before the plunge of the oil price began, as they were trading at single-digit P/E ratios. However, while they seemed great bargains, it turned out that the market had good reasons for valuing these stocks so cheaply and hence their shareholders incurred excessive losses a few months later.
On the other hand, several high-growth stocks, which have remarkably high P/E ratios, have offered exceptional returns during the ongoing bull market. The shareholders of Amazon (NASDAQ:AMZN), Facebook (NASDAQ:FB), Alphabet (NASDAQ:GOOG) (NASDAQ:GOOGL), Netflix (NASDAQ:NFLX), Tesla (NASDAQ:TSLA), Visa (NYSE:V) and MasterCard (NYSE:MA) and numerous other stocks are well aware of this fact. These stocks confirm one of the most important investing rules: If high growth is achieved for many years, the returns will be excellent even if a stock has been purchased at a significant premium.
Nevertheless, it is really hard for most investors to profit from this category of stocks. First of all, these stocks are operating in a unique, growing market. Therefore, as they tend to trade at extremely high P/E ratios, in the range 50-500, investors should carefully estimate the future size of the market in order to determine whether the current valuation makes sense or the stocks are extremely overvalued. In addition, investors have to make estimates for the market share of the companies and their profit margins. Obviously, it is extremely hard to make all these estimates accurately.
Even if some investors are exceptional in their calculations, the input data they have to use does not remain constant. Instead, every business sector is highly dynamic, particularly in the most profitable areas. As these stocks usually operate in exceptionally profitable segments, competitors enter the market sooner or later and their impact is extremely hard to assess. Moreover, technological progress is faster than ever and hence business conditions change faster than ever in almost every single sector. Therefore, not only is it extremely difficult to make accurate estimates, but the underlying conditions continuously change as well.
Another important characteristic of high-growth stocks is their pronounced volatility and sensitivity to any unforeseen headwind. As these stocks are usually priced based on markedly high growth rates, the slightest negative development, such as a single remark of the CEO or a channel check, can cause a 30% plunge of the stock on a single day.
The shareholders of Chipotle Mexican Grill (NYSE:CMG) know this very well, as the stock lost 42% in just three months in 2015 due to a series of E. coli incidents in its restaurants. The stock had tripled in just three years before those incidents but those who came late to the party incurred excessive losses. Michael Kors (NYSE:KORS) is another example of a previously high-growth stock that exhibited extreme volatility. To be sure, the stock lost 25% on a single day about two years ago simply due to reduced guidance from its management for future growth. Even worse, two years later, the stock is still lower than the level it had attained after its plunge and 30% lower than its pre-crash level.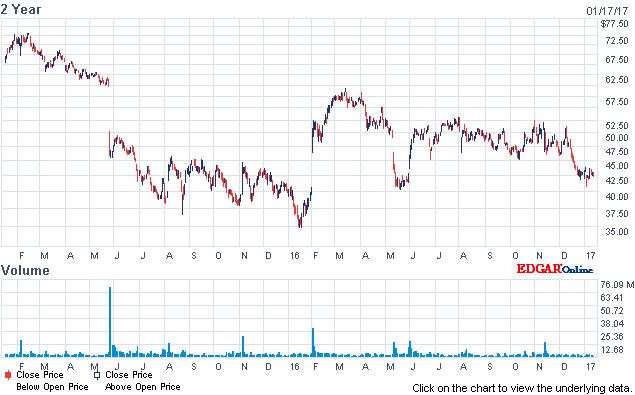 Of course, there are some cases in which the high-growth estimates are eventually proven correct. However, the vast majority of investors cannot stomach the underlying volatility and stay the course. Most investors are likely to lose their sleep when they experience the volatility of these stocks. And when this occurs, the next step is always panic selling. This is particularly true for retirees, who cannot and should not have any tolerance for volatility, as their living standard heavily depends on the value of their portfolio.
To sum up, while some high-growth, high-P/E stocks offer life-changing returns, it is quite hard to separate them from the expensive stocks that fail to keep growing. Even if some investors make a correct assessment, they are not likely to be able to withstand the extreme volatility of these stocks and stay the course until they make exceptional returns. Although these stocks are clearly attractive for their promising returns, investors who cannot stomach the inherent volatility of these stocks should not attempt to purchase them, as they are likely to resort to panic-selling on the first unforeseen headwind that shows up.
Disclosure: I/we have no positions in any stocks mentioned, and no plans to initiate any positions within the next 72 hours.
I wrote this article myself, and it expresses my own opinions. I am not receiving compensation for it (other than from Seeking Alpha). I have no business relationship with any company whose stock is mentioned in this article.