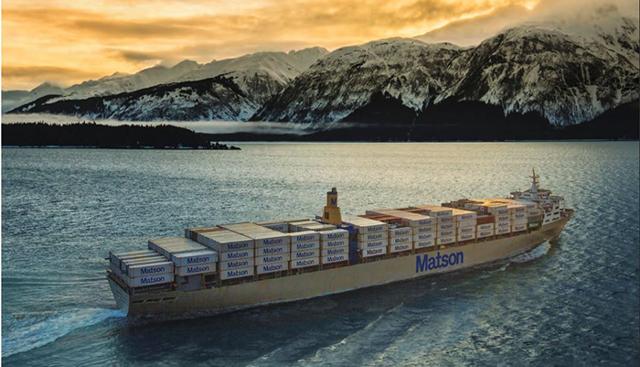 Source: Google Images
Matson (NYSE:MATX) has witnessed stock price volatility over the past year with a closing low of $31.15 and a high at approximately $42 per share. This reflects a difference of 34 percent. Today, the stock price has settled at just above $36 per share, almost directly in the middle of this trading range.
Long term, the company's prospects remain positive. This is built upon Matson's leading market share in serving both the Hawaii and Alaska markets, as well as the company's other services to China, Guam and Micronesia. Other outer-year tailwinds include the company's investments into the Hawaii service fleet renewal.
Recently, the company has made a couple of moves, including the planning for a new service to Okinawa Prefecture of Japan, and the closing of a $75 million debt private placement. Both have a connection to the company's long-term viability and near-term opportunistic potential. The new service to Okinawa is expected to begin in late January, early February. First call to Okinawa will be made on February 18, 2017.
Management has continued to provide guidance on the headwinds impacting the business. This has included slower growth rates for the Hawaii, Alaska and Guam markets. All impacts have been for varying reasons. For Hawaii, the baseline comparable from 2015 will be at a high level from Pasha's service issues last year, which will lead to lower estimated volume performance. For Alaska, the economic environment remains highly challenged as job losses are projected to continue through 2017. The new competitor entering the Guam market is also expected to lead to lower volumes for Matson.
On a positive note, the spot market activity in the Trans-Pacific trade lane has remained substantially higher than last year for much of the fourth-quarter months. Matson has generally stated that close to 50 percent of the expedited China business is exposed to the spot market. This bodes well for a positive catalyst to revenue and earnings.
Matson has yet to announce its earnings report date, but it is estimated that results will come in the latter weeks of February. When considering the recent events and current headwinds and tailwinds, there is a probability that Matson may deliver an earnings beat. This of course assumes that management has accurately and conservatively projected fourth-quarter expectations.
Recent Events
The announcement for a new service to the Okinawa Prefecture in Japan may not have been on the radar for investors. But it makes perfect sense based upon the container shipping industry climate. The biggest event of 2016 was the bankruptcy of Hanjin Shipping (OTC:HNJSF). Combined with the new vessel sharing alliances to take effect later this year, Matson's management has had the opportunity to assess weaker markets to serve in Asia.
The team has determined that Okinawa fits its existing expedited China-Long Beach Express (CLX) service profile better than China's Xiamen port. At the November 2016 Investor Presentation, Matson continued to express its strength in providing the fastest transit and cargo availability of a 5 to 10 day advantage for customers between the U.S. and China. The new Okinawa service as part of the CLX will provide customers with a four-day advantage.
Matson has been able to achieve substantial premium rates for this existing expedited advantage from customers. Premium rates should be anticipated for the new Okinawa service. It is not yet clear whether they will be as significant above regular service transit times. But management's decision to swap locations from China to Japan is an indication that the opportunity is in line or potentially better.
The call to the Port of Naha in Okinawa will replace the existing call to Xiamen, China. Matson will remain focused on its China service by maintaining service to the ports of Ningbo and Shanghai. Shanghai and Ningbo rank first and third in twenty-foot equivalent container (TEU) throughput volume respectively. Xiamen ranks seventh. The population of Okinawa stood at around 1.4 million as of 2015. During this year, Okinawa was the fastest growing prefecture in Japan; collectively, Japan's total population growth declined.
Some investors may have concerns regarding Matson's exposure to serving China and Japan with president-elect Donald Trump entering office later this week. But Matson is a Jones Act container shipping company, so there is a possibility that the Trump administration will look upon the company's trade operations more favorably. The volume of goods shipped is also at a much smaller scale relative to larger global container shipping peers.
The $75 million debt private placement has a weighted average life of approximately eight years bearing interest at a rate of 3.37 percent. Proceeds of the notes are expected to be used to pay down the company's revolving credit facility and for general corporate purposes.
This is important as Matson is gearing up for a heavy capital intensive next four years to deliver two Aloha Class and Kanaloa Class vessels to the Hawaii service. Currently, the company has roughly $195 million available on its revolving credit facility. Assuming most the debt private placement is swapped, and the available revolving credit facility will be approaching north of $250 million.
Matson has mentioned cash flows, the revolving credit facility, additional debt financing and Title XI U.S. Government guaranteed vessel finance bonds as combined options to pay for the new four vessel capex newbuild costs.
The company's debt to EBITDA ratio has increased from 2015's 1.2 times EBITDA to a current 2.3 times EBITDA on a net basis. Over time, Matson will continue to swap out capacity for the revolving credit facility to maintain borrowing capacity and to better align long-term obligations with long-lived vessel investments.
Headwinds & Tailwinds
There are two headwinds which management has been alluding to over the past earnings announcements and during the more recent November 2016 Investor Presentation. These include the Hawaii and Guam markets.
The Hawaii business is expected to remain solid as its economy continues to remain in an expansion cycle. The upcoming fourth quarter's volume declines will simply be a result of the competitive operating issues which led to Matson's increase in service and volume last year. For 2017, expectations are for continued moderate volume growth for Hawaii.
The Guam market is expected to be marginally impacted from the new competitive service during the fourth quarter and the first half of 2017. Overall, 2017 is anticipated to witness modest positive volume growth. But there is the chance that a second vessel will be launched by the competitor leading to weekly service.
For me, the most interesting focus areas of the business will be for the Alaska and CLX services. The Alaska economy has struggled since the back half of 2015, resulting from the oil price collapse. This has led to dire job estimates for calendar-year 2017.
Per the most recent January 2017 Alaska Department of Labor and Workforce Development report, the Alaska economy is projected to see a reduction of slightly more than two percent for job losses. This reflects the second consecutive year for two percent or greater job losses.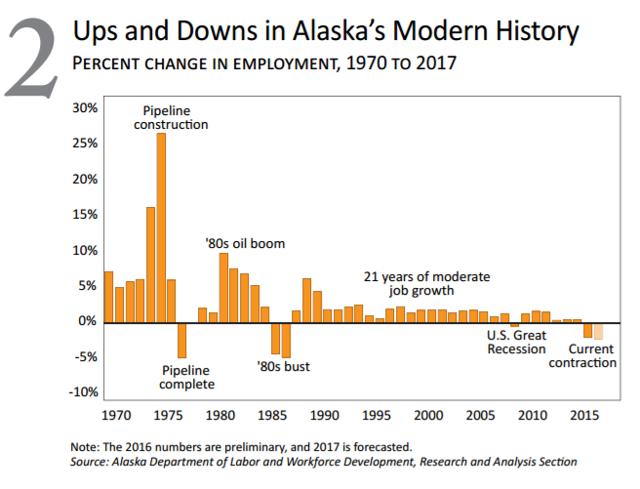 This may not seem like that extreme of an impact to the Alaska economy, but agencies entrenched in Alaska's long-term economic performance are saying that the current situation is most reminiscent of the economic bust in the mid-1980s. Concerns mainly stem from the fact that for the first time in nearly 40 years, the State of Alaska will have to fund the majority of its budget with something other than oil revenue.
With the current budget deficit, the fear is that any prolonged contraction of the Alaska economy could affect the state's credit rating, business investments and consumer confidence. This could ultimately lead to a domino effect of businesses and residents leaving for greener pastures.
On a positive note, the decline in oil-related jobs is expected to improve from last year to negative 14 percent. But overall job losses will be more pronounced across most industries, with the primary exception being healthcare. 2017 is shaping up to be a potentially tougher year than Matson's expectations, as the energy-based economy witnesses a ripple effect across industries.
On a more positive note, Matson's CLX market looks to have witnessed strong average spot market pricing increases during most of the fourth quarter. This could translate to stronger revenues and margin performance.
For 2017, management has remained cautious in the near term due to the overcapacity issues which are still prevalent. Over the long term, the company has felt that consolidation and new vessel alliances offer the ability for markets to improve.
For 2017 and over the near term, it remains to be seen how stable container shipping line freight rates will be. Once the Chinese New Year is over, the spot market could just as quickly witness a significant decline in freight rates. There is still too much unpredictability to assume any sustainable volume gains.
Fourth-Quarter Earnings
Average analyst estimates have remained stable from last year for both Matson's revenue and diluted earnings per share (EPS) projections. This is not surprising even though Matson did miss the previous quarter's estimates.
In quarters past, Matson has witnessed very strong performance for both top-line and bottom-line results when there have been strong increases in freight rates and volumes for the CLX market. The fourth quarter did witness the strongest TEU traffic for West Coast seaports. The greater surge in volumes for the Port of Los Angeles versus Long Beach may have allowed for some customers to take advantage of quicker cargo handling and transfer to surface transportation modes.
For this reason, analysts could be inclined to keep estimates at current levels. Had spot market activity remained weaker, estimates would have likely been reduced. The Hawaii, Alaska and Guam markets all also could fall victim of witnessing reduced results from the company's estimates. In short, there is not clear enough transparency to determine whether the headwinds or tailwinds will drive any surprise.
For 2017, there is less visibility regarding the same headwinds and tailwinds. Oil prices could increase or fall back to previous levels effecting the Alaska market, growth could remain stable or slow for Hawaii, Guam could go either way as well, and the CLX market is still questionable due to the weakness in the trade lane.
From a long-term management perspective, this is why Matson has traded around the $35-36 per share level of late. There is no clear catalyst to drive the stock towards the 12-month price target, but there is enough potential to keep it in the current range.
As many investors know, Matson's stock has fallen significantly a couple times this past year after earnings reports. Both times, the stock has witnessed a quick recovery of 10 to 30 percent. These recoveries have stemmed from stock price levels of around $30 to $31 per share.
Matson may very well shoot up even from the current $36 per share level if the company can beat average estimates for the fourth quarter. But there will likely be opportunities later in the year to buy the stock below $35 per share, possibly approaching the $30 mark. The best bet for investors is to be patient, as the stock is clearly at the midpoint of its TTM trading range.
The average age of the Hawaii fleet will be 13 years by 2020. A return to stability and/or growth for Alaska, sustained economic cycles for Hawaii, and a better balance for supply and demand in the container shipping industry will occur over the long term. The market likely will not reward Matson with a higher valuation multiple equating to average analyst price targets until business fundamentals are stronger collectively. Like the company's investments into the business, now is the time to accumulate opportunistically for the long term.
Disclosure: I am/we are long MATX.
I wrote this article myself, and it expresses my own opinions. I am not receiving compensation for it (other than from Seeking Alpha). I have no business relationship with any company whose stock is mentioned in this article.