Trump's economic plan includes a very important tax incentive for companies who hold cash overseas. It is not a secret to anyone, there is more than $2.4 trillion ( source) held offshore by Fortune 500 businesses. By offering companies an opportunity to bring the offshore cash back to the USA at a special tax rate of 10%, Trump may tempt several companies to bring some back. What could they do with this money? My thesis is that most companies will reward their shareholders with share buybacks and stronger dividend increases. I've identified 5 attractively valued companies that are likely to reward their shareholders with this money.
Microsoft: $108.3 billion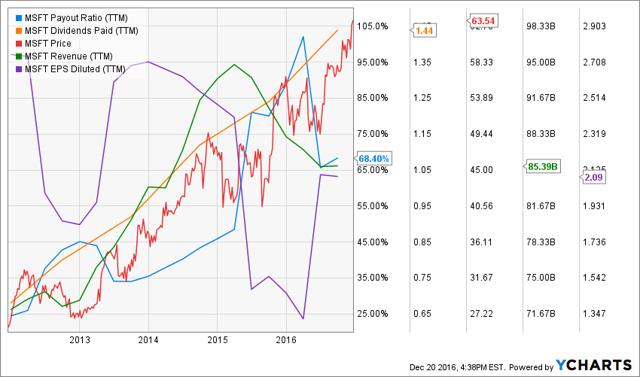 Source: Ycharts
Microsoft (NASDAQ:MSFT) owns the third largest offshore bank account, with $108.3 billion. Only Apple (NASDAQ:AAPL), with $181 billion, and General Electric (NYSE:GE), with $119 billion, have more across the pond. MSFT is one of the 40 companies that meet my 7 principles of dividend growth investing. The company is already showing strong growth vectors for the future such as its intelligent cloud business (sales up 8% in 2016, with Azure showing +116% growth year over year) as well as productivity and business processes (sales up 6% in 2016). While Microsoft was once against paying dividends to its shareholders, management has come a long way and now shows a more generous side. Over the past five years, MSFT's dividend growth rate is 14.29% CAGR. This is why I believe Microsoft may take advantage of the special tax and repatriate a part of its offshore nest egg to distribute it to investors. Considering a 10% dividend growth rate for the next 10 years and a more conservative 7% dividend growth rate as a terminal rate for calculation, MSFT is currently trading at discount:

Source: Dividend Toolkit Excel Valuation Spreadsheets
Exxon Mobil: $51 billion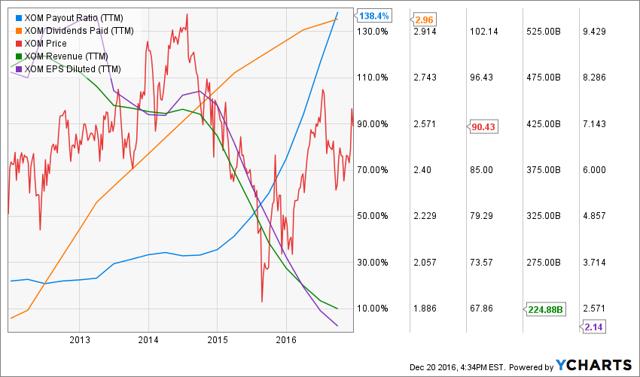 Source: Ycharts
Exxon Mobil's (NYSE:XOM) stock price dropped from mid-2015 until the end of that year. As the oil price situation has seemingly stabilized, the stock is now picking up slowly. It would be a perfect time to invest in XOM as it has yet to recover its pre-oil crisis price. Management has made sure to continue increasing its payouts during the most recent crisis as they want to send a strong signal to the market that they can manage what is coming. In its 2016 third-quarter update, it showed positive earnings of$6.2 billion and cash flow generation of$16.9 billion including asset sales.
With $51 billion offshore, it is a good opportunity for management to repatriate some cash to pay patient shareholders while they wait.
PepsiCo: $37.8 billion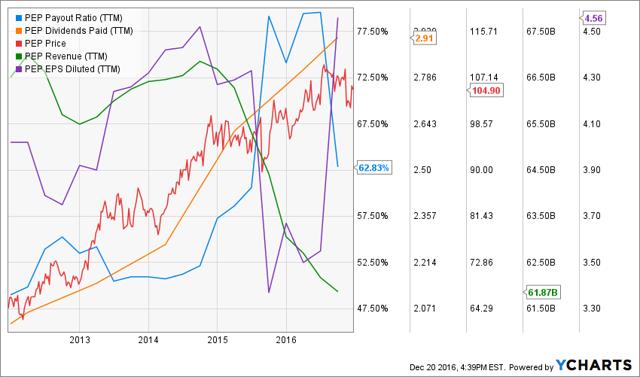 source: Ycharts
While carbonated drinks sales are slowing down in developed markets due to rising health concerns, PepsiCo (NYSE:PEP) benefits from strong non-carbonated drink brands such as Gatorade and Tropicana. PEP's snack division is a strong leader in this industry with 64% market share in the U.S., 60% of Brazil's market and 46% of the U.K. market (source: Morningstar analyst's report). Back in 2010, the company had purchased two of its anchor bottlers: Pepsi Bottling Group and Pepsi Americas. These transactions have already generated $550 million in synergy and has created stronger control on Pepsi's operations. As the company is driving solid cash flow ($3.7 billion generated in 2016), additional cash returning from their offshore account is likely to end-up in shareholders' hands.
Using a 7% dividend growth rate for the next 10 years and a terminal growth rate of 6%, PEP is currently trading at a discount as per the Dividend Discount Model.

Source: Dividend Toolkit Excel Valuation Spreadsheets
Intel: $23.3 billion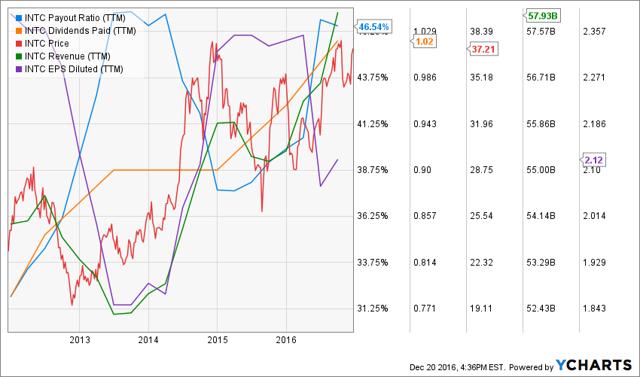 Source: Ycharts
Intel (NASDAQ:INTC) differentiates itself from other competitors by executing Moore's law, which predicts transistor density on integrated circuits will double about every two years, meaning subsequent chips have substantial power, cost, and size improvements. The company uses substantial cash flow in R&D to pursue its leadership and #1 position in world in its business. The company will also benefit from an extension of Moore's law to 2.5 years (BBC News, Business Insider). Moore's law dictate the number of transistors in a chip would double approximately every 24 months. However, it has become difficult to shrink transistors beyond a certain point. This means the company will have more time to sell the same chips.
Intel's recent quarters show very strong results with quarterly revenue up 9% year-over-year and operating profit of $4.5 billion. The internet of things group is showing a strong uptrend with +20% from Q2 to Q3 and +19% year-over-year.
Using a 8% dividend growth rate for the next 10 years and a terminal growth rate of 6%, INTC is currently trading at a discount per the Dividend Discount Model.

Source: Dividend Toolkit Excel Valuation Spreadsheets
Caterpillar: $18 billion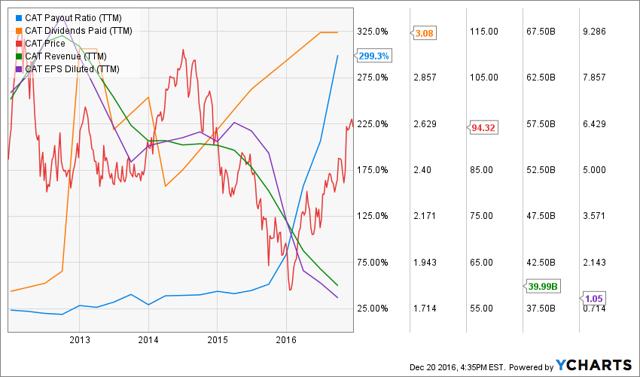 Source: Ycharts
Caterpilla (NYSE:CAT) has a similar stock price curve as XOM but for different reasons. While the oil bust affected CAT's business, the company was also hit by an important slowdown in the mining industry. As Caterpillar operates in three segments (drilling, mining and construction industries), this has left very little opportunity for the company to perform well of late. In reaction to its challenging environment, CAT is on its way to cutting $2 billion in cost. Through various strategies, Caterpillar is becoming leaner and more productive. While the stock price had been under siege until the beginning of 2016, it has bounced back since then (+38.64% ytd as at Dec 27, 2016). However, CAT's stock price still hasn't fully recovered from its previous price highs.
CAT is another example of companies that could use additional cash to pay shareholders to wait through dividend payments or stock buybacks.
Final Thoughts
Out of the top 30 companies holding money offshore, Goldman Sachs expects about $150 billion to be repatriated ( Bloomberg, ZeroHedge):
"We forecast $150 billion of the total $200 billion of repatriated overseas cash will be allocated to share repurchases in 2017. Share buybacks were the biggest beneficiary of the repatriation tax holiday in 2004. One study estimated that between $0.60 and $0.92 of every $1 repatriated was spent on share purchases ("Watch What I Do, Not What I Say: The Unintended Consequences of the Homeland Investment Act" (2011), The Journal of Finance 66(3): 753-787). S&P 500 buyback executions rose by 84% in 2004 and 58% in 2005. There was also a jump in dividends in 2004 and sharp M&A growth in 2005, but the rise in buybacks following the tax holiday far exceeded any other increase in cash use."
I've selected only 5 companies out of this top 30 as they are in my portfolio and I follow them closely. While MSFT, INTC and PEP seems to be undervalued, XOM's and CAT's stock prices are recovering from their highest price levels. This is more of an opportunity to benefit from their current momentum.
Disclaimer: I hold MSFT, XOM, PEP, CAT, INTC, in my Dividend Stocks Rock portfolios.
The opinions and the strategies of the author are not intended to ever be a recommendation to buy or sell a security. The strategy the author uses has worked for him and it is for you to decide if it could benefit your financial future. Please remember to do your own research and know your risk tolerance
Cash held offshore data has been taken from Citizens for Tax Justice ( source).
Disclosure: I am/we are long MSFT, CAT, INTC, PEP, XOM.
I wrote this article myself, and it expresses my own opinions. I am not receiving compensation for it (other than from Seeking Alpha). I have no business relationship with any company whose stock is mentioned in this article.