Looking around this morning, it sure seems like a lot is going on today, but you would never know it by looking at the S&P 500 (NYSEARCA:SPY). The S&P 500 is only down about 25 bps midway through the day and sitting at 2270. When you start looking around, you can start seeing signs of the churning. The most notable area that stands out to me today is the Dollar weakness. I began talking about this last week (see: The Two Sectors That Are Living In The Dark).
FX
Take a look at the Dollar Index chart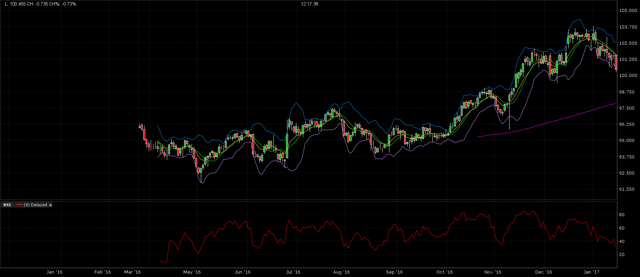 (Interactive Brokers TWS)
We can see the Dollar Index is getting closer and closer to 100. But the biggest action to in the Dollar is happening in the British Pound. The Pound is surging by 0.0333 to $1.2379, a move of nearly 3%. The Pound has been entrenched in a trading range between 1.20 to $1.28 for some time now.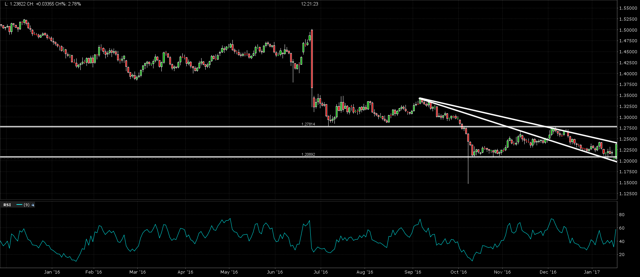 (Interactive Brokers TWS)
Most of the move today in the Pound is related to the latest expectation around Brexit. The Euro is strengthening as well and is now at 1.07 vs. the Dollar. It seemed not that long ago that the Euro seemed destined for parity.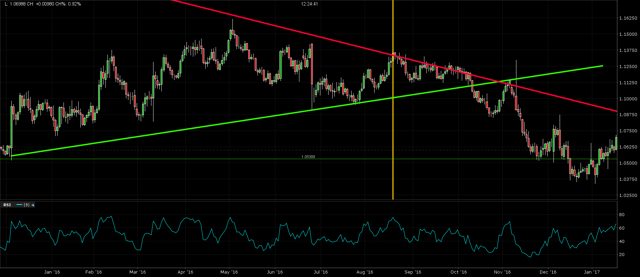 (Interactive Brokers TWS)
The Yen is strengthening as well vs. the Dollar and now sits at under $113.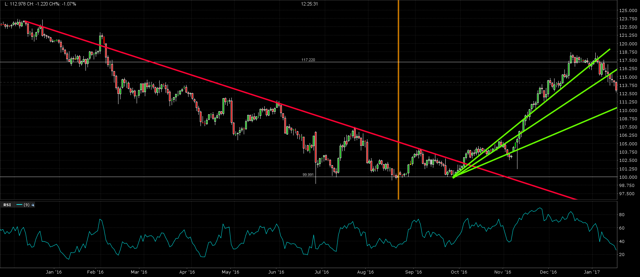 (Interactive Brokers TWS)
I don't think this trend in Dollar weakness ends soon either. I think overall if the current assumption of a Fed tightening fiscal policy remains, then the recent weakness in the Dollar is nothing more than the short-term pull back. However, if this is a sign that the markets are beginning to suspect the Fed is not as hawkish or fiscal policy is not as big as it first thought, then the currency market is making a thunderous signal.
Yield
The 10-year at this point seems to be not signaling the same sentiment as the currency market in my viewpoint, yet. The 10-year still sits at 2.35%, which is nearly 45 bps higher than where it was on November 7th when it sat at 1.82%.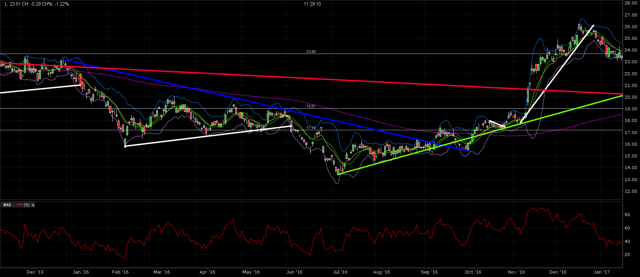 (Interactive Brokers TWS)
The critical levels to watch for the Dollar will be $111 level right now in the Yen, 1.085 in the Euro and 1.25 area in the Pound. Those are the levels to watch for the Dollar. For the 10-Year, the current 2.35% level is critical, and a break below 2.3% would be crucial. So what if all these level start getting broken? What will that mean? If those things happen in my opinion, it will be a clue that the market is likely not expecting either three Fed rate hikes or is expecting a delay in the fiscal policies from the Trump Administration. If these levels not break, then everything we thought before will continue to remain true. However, a shift in this stance could cause a massive unwind in the specific sector of the equity market.
Equities
The sectors likely to get hurt in a Trump unwinding trade would probably be those areas that have benefited the most on the way up and those most strongly tied to these policies.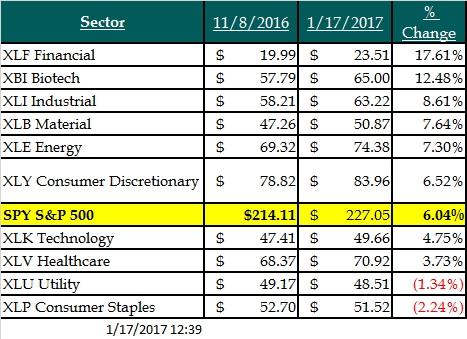 (Mott Capital Management, LLC)
You can see right at the top are the Financials (NYSEARCA:XLF), Industrials (NYSEARCA:XLI) and Materials (NYSEARCA:XLB). These sectors would get hurt most should fiscal policy be delayed. Unfortunately, for the XLF it would get a double whammy should the Fed pull back on its three rate hikes stance as well. Lower interest rates would hurt the Financial's net interest rate margins. Financials seem like they would have the most lose at this point, should an unwind begin to happen.
If fiscal policies are slower to roll out, then Biotechs (NYSEARCA:XBI) and Healthcare (NYSEARCA:XLV) would like benefit in my opinion. Sounds counter-intuitive, yes, but it also means that it will take longer for the drug pricing issue to take center stage. Additionally, falling interest rates or a weakening Dollar will be a positive for Utilities (NYSEARCA:XLU) and Staples (NYSEARCA:XLP). Why? They are higher yielding equities and investor will likely want to start investing in higher yield stocks again.
Summary
The currency and bond markets have something on their mind. Clearly, they have thoughts of fiscal policy falling short or a more dovish Fed. It isn't clear to me yet what it is. However, if the Trump Administration is ready to take power over this Friday, this is most likely on the forefront of the mind of the market. For now, I'm watching the critical levels I mentioned above. If we start seeing currencies breaking trends coupled with the 10-year, the equity market will be forced to get involved.
Remember in our research area we offer instructional video market commentaries and track market themes and trends. If you'd like to get a full listing of the different items we currently have a rating or view on, you can find a list in our research area. Remember, if you like reading these commentaries, make sure you follow us with that little "+" button at the top of the page next to our name.
Have a Great Day!
Mike
Disclosure: I/we have no positions in any stocks mentioned, and no plans to initiate any positions within the next 72 hours.
I wrote this article myself, and it expresses my own opinions. I am not receiving compensation for it (other than from Seeking Alpha). I have no business relationship with any company whose stock is mentioned in this article.
Additional disclosure: Mott Capital Management, LLC is a registered investment adviser. Information presented is for educational purposes only and does not intend to make an offer or solicitation for the sale or purchase of any specific securities, investments, or investment strategies. Investments involve risk and unless otherwise stated, are not guaranteed. Be sure to first consult with a qualified financial adviser and/or tax professional before implementing any strategy discussed herein. Upon request the advisor will provide a list of all recommendation made during the past twelve months. Past performance is not indicative of future performance.