By Scott Tzu with Thom Lachenmann
A secular shift has been taking place on the technology landscape and it has been so slow moving and difficult to notice that nobody seems to care. Apple (NASDAQ:AAPL) devices are finally overtaking Microsoft (NASDAQ:MSFT) Windows devices, marking the end of a decades-long era where Windows was the assumed dominant operating system and Apple was always second in the industry. While tough to make out, Mac OS X is now elbowing its way into Windows territory.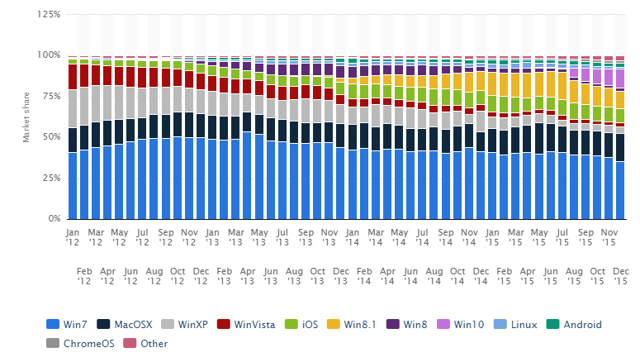 Yes, Apple has come a long way since the ugly Microsoft bailout at Macworld 1997.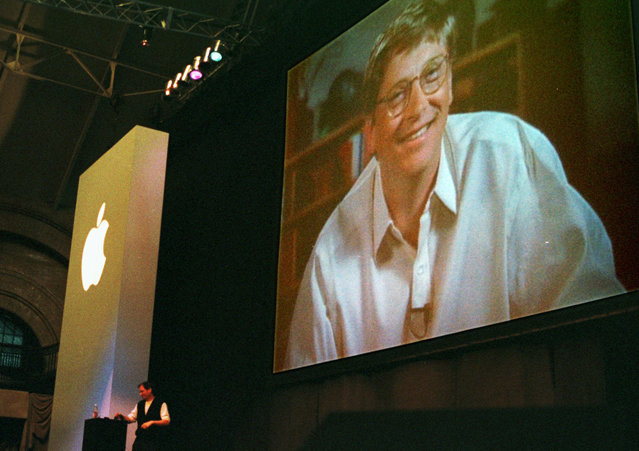 And when it comes to what operating system users are using to bridge the gap between phone and device, iOS is clearly paving the way. As you can see in the below chart from Statista, phones that use both Wi-Fi and Mobile are dominated by iOS, showing the strength that the mobile platform has to potentially move users into tablets, and eventually, computers. It's a natural progression from one product to the next. This is what gives Apple its strength in total sales.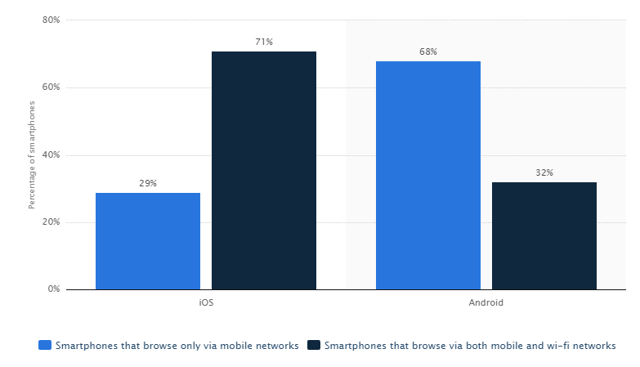 We wanted to touch upon this briefly today and also talk about some long term, mid term and near-term catalysts as to why we think Apple will soon be through its all-time highs and moving higher before 2017 comes to a close.
BGR reported last week that Apple will finally have overtaken Windows in terms of total devices sold. This is news of a serious proportion, so we were a bit surprised when we didn't see it mentioned on any of the technology blogs that we read. The article stated,
Windows vs Mac is just about the oldest battle in computer fanboy history. Right-click sheeple against computers that just barely work is a flame war for the ages. But in the history of the rivalry, it's always been accepted that Windows will be sole on more devices. Quality vs quantity is a defining feature of the disagreement.

But starting in 2017, it looks like things might change as Apple steals one of Windows's most important stats.

According to analysts at Gartner, sales of Apple devices (that's iOS and macOS, not just MacBooks) will eclipse Windows sales for the first time this year. Windows has held a diminishing lead for years, but 2017 looks to be the year the tide finally turns.

Gartner is forecasting Apple to sell 268 million iOS and macOS devices this year, an increase of 8% on 2016 numbers. That's a big jump, but if you consider that Apple just released the long-awaited MacBook Pro update, and is set to release a big iPhone update this year, that's not unrealistic.
This means a couple of things for Apple. It diversifies them as a company, it will change attitudes about using Apple products in environments where they are not popular, and it could mark the beginning of another golden age for Apple investors. With Apple taking on original content and showing signs of becoming a media company, coupled with the fact that there may be tax incentives for the company to repatriate some of its offshore cash, we believe that Apple has both short-term and long-term appeal for investors, and that is why we are long.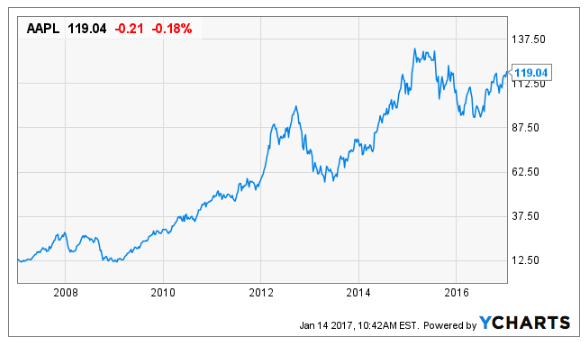 Let's look at the first reason why this shift is important. Apple is pretty much known now on the street exclusively as a smartphone company. The iPhone generates a good portion of the company's business and it is subsequently scrutinized all year round. Not only is it scrutinized as new models come out and are released, but suppliers for all of its parts are also scrutinized year-round in order to try and get a picture on how the phone has produced, will produce, and will be producing in the future. This narrative helps to diversify Apple a little bit more by adding focus to the company's other line of products.
While the iPhone is always going to be incredibly important and part of the lifeblood of the business, the supplemental roles played by MacBook, iMac, and now the App store and the iTunes store will come further into focus as Apple looks for these types of niches to capture in order to move forward with new growth avenues.
This shift also changes the narrative about the company for younger generations. When we were coming up through high school and university, Windows was simply the standard. While some art students and educators used Apple products, it was not considered to be a serious product for working professionals. Take, for instance, data collected in the early 2010s showing which operating system college students at the time preferred,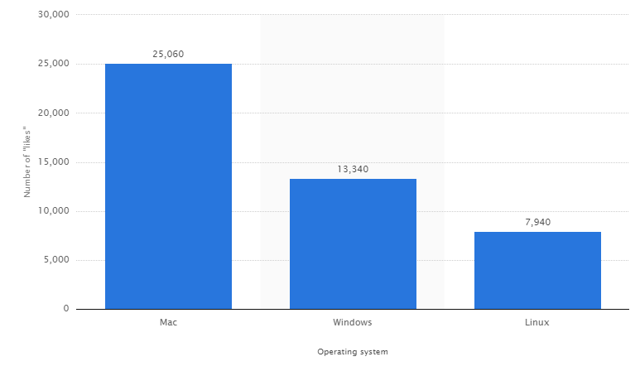 As Apple now shifts to become the standard in the industry, these niche markets are going to have no choice but to re-examine Apple potentially playing a role at their respective workplaces or specialty outfits. With Apple's recent enterprise partnerships with both IBM (NYSE:IBM) and Microsoft, the company has proven that it can also be a tool in the workplace and the number of Apple products that we see in the financial industry, while still small, has increased meaningfully over the last few years.
To walk into a hedge fund's office and see anything other than Windows-based terminals and Bloomberg terminals used to be an impossibility. Now, it's becoming reality. Moving into 2016, the company had already built a $25 billion enterprise business.
As these shifts continue to take place and Apple finds opportunities for business in pockets where it previously hasn't, it could be one of many factors that contribute to the beginning of a new golden era for Apple investors. While the shift of the technology landscape is a longer-term catalyst, we believe that there exists several short-term catalysts that could be beneficial to Apple investors and could drive the stock to and through its all-time highs in relatively short order.
One potentially positive catalyst is the Trump administration making it easier for companies to repatriate cash into the United States. As most investors know, most of Apple's cash is domiciled overseas and any tax breaks that may make it easier for the company to bring some of this cash back into the United States would easily be a positive for shareholders, as it is assumed that at least a portion of this cash would continue going towards shareholder-friendly initiatives like buybacks and dividends. Bloomberg wrote back in November that this repatriation would stand to benefit investors the most:
The president-elect has suggested that cutting taxes on companies' accumulated offshore earnings from the current 35 percent to 10 percent would persuade them to repatriate that income; as the money returned, so would jobs.

In fact, the capital is more likely to benefit investors than jobseekers. It's not a shortage of funds that has held back job creation by U.S. companies. Apple Inc., Microsoft Corp., Pfizer Inc. and many others have raised huge amounts of cash -- using low-interest debt -- to buy back shares and boost dividends, not build new factories in the U.S.

Asked what he would do with repatriated cash should the Trump administration slash taxes on foreign profits, Cisco Systems Inc. Chief Executive Officer Chuck Robbins said in a phone interview last week: "We do have various scenarios in terms of what we'd do but you can assume we'll focus on the obvious ones -- buy-backs, dividends and M&A activities." Gary Dickerson, CEO of chip equipment maker Applied Materials Inc., said much the same.
We expect Apple would do the same. The amount of cash that Apple has on the sidelines is in the hundreds of billions and it continues to grow, despite Apple servicing its debt and returning plenty of capital to shareholders still. This is a near-to-mid term catalyst that we think could be of potentially huge benefit for Apple shareholders.
Another piece of news that made its way out this week was that Apple was considering heading into original content. We are not going to beat a dead horse and talk again about how important we believe content is going to be to the future, but you can reference any number of our previous Twitter (NYSE:TWTR) or Netflix (NASDAQ:NFLX) articles to get a feel for our take on content. Marketwatch reported last week:
Apple Inc. is planning to build a significant new business in original television shows and movies, according to people familiar with the matter, a move that could make it a bigger player in Hollywood and offset slowing sales of iPhones and iPads.

These people said the programming would be available to subscribers of Apple's $10-a-month streaming-music service, which has struggled to catch up to the larger Spotify AB. Apple Music already includes a limited number of documentary-style segments on musicians, but nothing like the premium programming it is now seeking.
Regardless, it seems Apple is going to be getting into content, which is a logical move from the media extension of its business that currently exists. Apple is already selling new content both in music and video, and it certainly has the firepower and brand power to create its own content. What Apple shareholders should look forward to, if this happens, is Apple seeing a perk up in its valuation to get a bit closer to content companies now.
Microsoft, for instance, doesn't offer much content but offers several software as a service options. It has a P/E multiple of almost double what Apple's multiple is. If Apple can start to participate in these types of subscription-based software services (media content or otherwise), we would not be surprised to see its multiple expand accordingly.
Like all good fundamental investments, we think that there is also an opportunity for growth in Apple stock from simply organic growth. It doesn't need to be financial engineering in order for Apple investors to make money. Those investing now may enjoy the benefits of multiple expansion, organic business growth and additional buybacks, all of which we think will easily move Apple closer to the $200 per share mark over the next couple of years.
We believe Apple to be one of the best fundamental investments available and one of the safest places to put your capital in the market right now. We look forward to this new era, where Apple enjoys its operating system finally being the standard and we are excited for the initiatives that the company has in place for the near future. We are long.
Disclosure: I am/we are long AAPL.
I wrote this article myself, and it expresses my own opinions. I am not receiving compensation for it (other than from Seeking Alpha). I have no business relationship with any company whose stock is mentioned in this article.