Qualcomm (NASDAQ:QCOM) has set itself up for strong growth in the automotive segment, which, in turn, will allow the company to report strong earnings growth going forward. On the back of a rise in semiconductor content deployed in cars, Qualcomm looks well-placed to tap into a market that's expected to be worth as much as $38 billion by 2020. In this article, we will take a closer look at the potential impact of the automotive segment on Qualcomm's overall financial profile and earnings.
Potential revenue that Qualcomm will generate from the automotive segment
Though Qualcomm already has strong presence in the automotive segment, with products such as wireless charging and telematics, it is the pending acquisition of NXP Semiconductors (NASDAQ:NXPI) that will provide a major boost to the company going forward. Qualcomm is acquiring NXP for an enterprise value of $47 billion and, in turn, getting 14 of the top 15 customers for infotainment systems used in cars.
In fact, NXP's share in the market for automotive chips stands at 14.5%, which is the highest among peers. Using this robust market share, QCOM will be able to tap an expanding market. The amount of chips used in cars nowadays is increasing at a fast pace. For instance, back in 2012, the amount of semiconductor content in each vehicle was worth only $297. Last year, it was $343, and it's expected to increase to $382 per vehicle in 2019. This is shown below: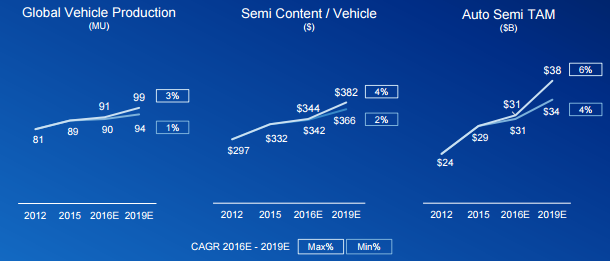 Source: NXP Semiconductors
This increase in the semiconductor content is a result of the deployment of more automated features, which require chips to communicate with each other. Features such as radar-based detection systems that are used to judge distance between vehicles in a real-time environment (in order to avoid accidents) require micro-controller units to communicate with the car's computer.
Additionally, as shown on the chart above, global vehicle production in 2019 is expected to increase to 99 million units annually. Assuming that there is $382 of semiconductor content in each vehicle in 2019, the total size of the automotive semiconductor market will increase to $37.8 billion.
As mentioned earlier in the article, NXP has a 14.5% market share in automotive chips. If this number remains constant, in 2019, Qualcomm will realize an additional $5.5 billion (14.5% market share X $37.8 billion end-market opportunity) in revenue. But, how much income will Qualcomm be able to generate from its potential automotive revenue? Let's find out.
Analyzing the costs
In order to analyze the earnings addition of Qualcomm's automotive business, I will assume that the company's revenue from other sources remains constant. In the last four quarters, Qualcomm has generated $23.55 billion of revenue. So, after the addition of the potential revenue from the automotive segment, Qualcomm's total revenue in 2019 will increase to $29 billion (as the automotive segment is expected to generate $5.5 billion in revenue as I had arrived at earlier).
Apart from the improvement in the revenue, Qualcomm will also enjoy annual cost savings of $500 million in 2018 and 2019 (the two years following the closure of the acquisition in end-2017). This means that the increase in Qualcomm's revenue will take place at a lower cost.
Over the past four quarters, Qualcomm's total cost of goods sold stands at $9.75 billion. Total operating expenses over the same time period have been $7.3 billion and, consist of research and development, and general and administrative expenses. Hence, Qualcomm's EBITDA in the trailing 12 months stands at $6.5 billion (revenue of $23.55 billion less COGS less R&D less G&A).
Looking ahead, the $500 million in cost savings that Qualcomm forecasts due to its NXP move will allow it to increase its EBITDA profile. More specifically, 35% or $175 million of the cost reduction will take place on the COGS side while the remaining $325 million will take place in the form of operating expenses. The following table shows the comparison between Qualcomm's current performance and projected performance, after accounting for the expected revenue addition and cost deductions from the automotive segment:
Qualcomm automotive projections (all figures in $billions)

Trailing 12months

2019 Estimates

Revenue

$ 23.55

$ 29.00

Cost of goods sold

$ (9.75)

$ (9.57)

Operating expenses

$ (7.30)

$ (6.98)

EBITDA

$ 6.50

$ 12.45
Source: Trailing 12-month data from Qualcomm. Cost reductions and revenue growth are based on company's projections and author's calculations, respectively
Therefore, as evident from the chart given above, Qualcomm's EBITDA is expected to increase over 91% in the next three years once it recognizes the potential growth and efficiency synergies from the NXP acquisition. This increase in Qualcomm's EBITDA will eventually lead to an increase in the company's enterprise value, which will eventually lead to a higher market capitalization.
Valuing Qualcomm using enterprise value
Qualcomm's current EV/EBITDA ratio is 11 (the company has an enterprise value of $91.88 billion). Assuming Qualcomm has an EV/EBITDA of 13 in 2019 (its median), its enterprise value will be $162 billion in 2019. Using its 2019 enterprise value, I can calculate its potential market capitalization.
The acquisition of NXP will add $11 billion in new debt for Qualcomm. As a result, QCOM's total debt will increase to approximately $23 billion. The company says that it will finance the remaining $36 billion using cash on hand, but its current cash in hand, including short-term investments, is only $23 billion. So, for the calculation's sake, I will assume that cash position will be a negative $13 billion.
Now, using an enterprise value of $162 billion, total debt of $23 billion, and negative cash position of $13 billion, Qualcomm's market capitalization in 2019 will be $126 billion (present market cap is $98.8 billion). This means that over the next three years, the market cap will increase by almost 28% purely on the basis of automotive growth.
Conclusion
In this article, I have solely focused on the value that the automotive business will add for Qualcomm. As seen above, the automotive business itself will add 28% to its market cap by 2019, which is good news for investors since it indicates that Qualcomm is diversifying and reducing the reliance on the mobile chip business.
Disclosure: I/we have no positions in any stocks mentioned, and no plans to initiate any positions within the next 72 hours.
I wrote this article myself, and it expresses my own opinions. I am not receiving compensation for it (other than from Seeking Alpha). I have no business relationship with any company whose stock is mentioned in this article.