In my December 7, 2016, article, "Mast Therapeutics: Increasing Shareholder Value," I discussed Mast's (NYSEMKT:MSTX) efforts to maximize shareholder value. One of the options I wrote about was the possibility of a reverse merger. This option was mentioned in the company's November 21, 2016, update. Here we are, a month later, with news that Mast is merging with Savara, Inc. Savara is a privately-held emerging specialty pharmaceutical company focused on the treatment of rare respiratory diseases.
Merger Highlights:
The surviving entity will be named Savara, Inc. and will be based in Austin, Texas.
Savara's current management team will lead the combined company.
Savara's stockholders will own 76% of the combined entity while Mast's stockholders will own the remaining 24%.
Mast is required to execute a reverse stock split to fulfill NYSE's listing requirements.
The new company will get listed on the NYSE with a new ticker symbol.
The combined pipeline will consist of three inhalation therapies for the treatment of heart and lung ailments with significant unmet medical needs.
The merger will close in the second quarter of 2017.
The January 9, 2017, merger conference call added nothing new, except that Savara intends to submit a form S-4 to the SEC in mid-February detailing its financial condition. Also in the CC, Mast CEO Brian Culley mentioned that the company will send shareholders proxy documents related to the merger and the forthcoming reverse split in two to three weeks.
What I Think About The Merger
The biggest winners in this deal are Savara's stockholders because they are getting AIR001, a potentially multi-billion-dollar drug, for a fraction of what is worth. I hope readers will agree with me after they read this article.
Mast shareholders are also winners because: 1) They are getting a significant premium for their shares, 2) the new company has a strong and well-regarded management team, and 3) the upside of the combined company is significant relative to the proposed initial merger valuation.
The words "reverse split" scare many investors. But this is not a typical reverse split. This reverse split is to break away from a dying and directionless Mast enterprise to be part of a thriving and growing company with significant upside potential. Recent reverse mergers have fared very well post-merger. As an example, Apollo Endosurgery, Inc. (NASDAQ:APEN), which resulted from a recently closed merger with Lpath, had a pre-merger consensus price of $11, but it has traded as high as $20 post merger. Likewise, most of us have seen in amazement the rocket ride experienced with EnteroMedics' (NASDAQ:ETRM) shares recently post reverse split.
I am projecting that Savara's market cap will exceed half a billion in 2018, or about three times higher than the initial valuation. This is because most key clinical milestones listed in the merger press release have been successfully met, and the market will have better appreciation of Savara's potential and will have valued it properly by then. The reasons for my confidence in making these assertions will be obvious by the end of this article.
Mast Therapeutics' Contributions To The Merger
My December 7, 2016, article provides a comprehensive look at Mast and AIR001. In that article, I concluded that AIR001's value is at least $100M - a value that is not reflected in the proposed merger agreement.
AIR001 has been granted orphan designation by the U.S. Food and Drug Administration and the European Medicines Agency for the treatment of pulmonary arterial hypertension (PAH). The drug also has other potential applications in cystic fibrosis, pneumonia and other respiratory infections, transplantation, heart failure and other cardiovascular indications.
Simply stated, AIR001 is a sodium nitrite solution for intermittent inhalation via nebulization. Nitrite is a direct vasodilator that yields nitric oxide (NO) once inhaled. The nitric oxide derived from nitrite has several beneficial effects, including dilation of blood vessels, reduction of inflammation, and undesirable cell growth. The beneficial effects of nitrite cannot be maximized if applied intravenously or through other mechanisms because of a concomitant accumulation of methemoglobin, often to dangerous levels. Elevated levels of methemoglobin are undesirable because this type of hemoglobin does not carry oxygen like normal hemoglobin does (decreased availability of oxygen to the human tissues).
Mast obtained the rights to the AIR001 program through its acquisition of privately-held Aires Pharmaceuticals, Inc. on February 27, 2014. Under the terms of the all-stock transaction, Aires became a wholly-owned subsidiary of Mast Therapeutics in exchange for a total of 5.2 million shares of MSTX common stock, representing approximately 5% of Mast's outstanding common stock at the time of the transaction.
On September 8, 2014, Mast reported that its AIR001 Phase 2 clinical trial with patients suffering of pulmonary arterial hypertension (PAH) had met its primary and secondary end-points.
Key findings were:
Significant improvement in hemodynamic parameters and exercise capacity.
AIR001 was well tolerated as was the case in previous trials, with no treatment-related serious adverse events.
All doses resulted in marked improvements in median pulmonary vascular resistance and median distances obtained in the six-minute walk test. No serious adverse events occurred, and methemoglobin levels remained normal (<1.5%), which is not typically the case for intravenously-administered nitrite.
Mast concluded that the data supported further clinical development in pulmonary hypertension.
Mast CEO Brian Culley commented on these results:
"The data from the study show benefits consistent with prior studies and support further development of AIR001. We look forward to proceeding with the Phase 2a studies in pulmonary hypertension associated with left heart disease and anticipate reporting preliminary study results as early as the second half of 2015."
It appears that the PAH program died since then because ClinicalTrials.gov states that the trial was "terminated early due to acquisition of Sponsor and change in corporate priorities." I find it surprising that this trial was terminated early even though all the clinical trials leading up to that decision met all the primary and secondary end-points. I understand that the orphan-drug designation of AIR001 for PAH was the original reason Mast acquired AIR001 from Aires Pharma.
To put in perspective the importance of AIR001 to treat PAH/PH conditions, I'd like to provide a bit of historical perspective at this point. Prior to being acquired by Mast, Aires discontinued its AIR001 open-label, randomized, parallel-dose study on pulmonary hypertension patients "due to capital constraints." This situation was caused by the unexpected termination of a collaboration agreement with Novartis (NYSE:NVS) to advance AIR001. Novartis opted out of the agreement because it underwent a restructuring process to cut costs.
The agreement gave NVS an exclusive option to acquire Aires following the successful completion of a Phase II AIR001 clinical study. The deal also gave Novartis an exclusive worldwide license to AIR001. The total amount of potential payments to Aires was estimated at $250 million. The collaboration agreement was announced on November 11, 2010, and terminated in late 2013.
More on my thoughts about AIR001 for PAH and PH later in this article.
AIR001 For HFpEF Clinical Trials
In early clinical studies, AIR001 demonstrated positive hemodynamic effects with reductions observed in right atrial pressure and pulmonary capillary wedge pressure, as well as improvements in mean pulmonary artery pressures, cardiac output, and exercise tolerance.
In February 2016, Mast announced positive top-line results for a double-blind, placebo-controlled Phase 2a study of AIR001 in 30 patients with HFpEF conducted at Mayo Clinic. The AIR001 treatment group showed a statistically significant decrease in pulmonary capillary wedge pressure during exercise compared to the control group and was generally well tolerated.
On May 16, 2016, at the American Thoracic Society (ATS) International Conference, the company presented positive interim data from its Phase 2a AIR001 in patients with pulmonary hypertension associated with heart failure with preserved ejection fraction (HFpEF). The condition for which no proven therapeutic agent is available affects millions in the U.S.
Results from the 10 patients studied to date demonstrated that the administration of AIR001 lowered central pressures, more specifically the right ventricular systolic and diastolic, right atrial, pulmonary artery (PA) systolic/diastolic/mean, and pulmonary artery occlusion pressures (PAOPs). Pulmonary artery occlusion and mean pulmonary artery pressures were significantly reduced compared to baseline values.
Additionally, the results showed an increase in pulmonary artery compliance, with no significant decline in systemic blood pressures or change in heart rate. There was also a modest increase in methemoglobin levels, but the levels remained less than 1.9 percent and did approach the 5 percent upper limit set by the trial.
Lead Investigator Marc A. Simon, M.D., M.S., F.A.C.C. commented:
"This is the first report of the acute hemodynamic effects of multiple inhaled nitrite doses in patients with pulmonary hypertension due to heart failure with preserved ejection fraction. The interim results observed to date are important as they demonstrate that AIR001 can significantly lower right atrial pressures, pulmonary artery pressures, and pulmonary artery occlusion pressures, as well as improve pulmonary artery compliance."
Subsequently, AIR001 was selected by the Heart Failure Clinical Research Network (HFN) for evaluation in a 100-patient, multicenter, randomized, double-blind, placebo-controlled, Phase 2 clinical trial known as the Inorganic Nitrite Delivery to Improve Exercise Capacity in HFpEF (INDIE-HFpEF) study (ClinicalTrials.gov: NCT02742129). The HFN is providing the platform to conduct the INDIE-HFpEF study. Mast will provide test materials, nebulizers, and regulatory, technical, and additional financial support.
Besides the INDIE-HFpEF Phase 2 clinical trials, Mast announced on December 6, 2016, that it has begun enrolment for its Phase II INABLE-TRAINING study of AIR001 to treat heart failure with preserved ejection fraction (HFpEF) (ClinicalTrials.gov: NCT02713126). This Phase II randomized, double-blind, parallel-group and placebo-controlled Inorganic Nitrite to Amplify the Benefits and Tolerability of Exercise Training (INABLE-TRAINING) trial is being conducted to test the effect of inhaled AIR001 on chronic exercise training (ET) in subjects with HFpEF.
The following slide from the company's October 19, 2016, presentation will help you visualize the status of the three ongoing Phase 2 clinical trials being advanced to treat patients with HFpEF: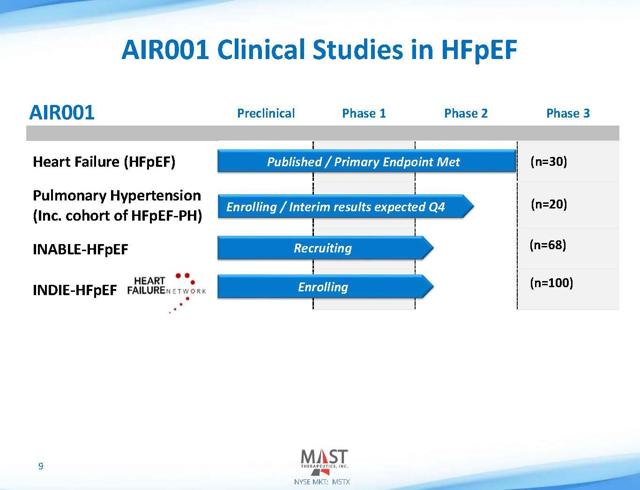 Heart failure is an important public health problem, and one of the leading causes of hospitalization in the United States. With the increasingly aging population, the scope and cost to society associated with this condition will progressively rise.
Per the HFN, HFpEF affects approximately half of the more than five million people in the US diagnosed with heart failure, and there are no proven effective therapeutic agents available for this large patient population.
The following slide from the company's October 19, 2016, presentation summarizes the significant addressable market for AIR001 in patients with heart failure. In the US alone, the heart failure populations will increase from about 5.2M to in 2016 to over 7M patients in 2034 as the population ages, sedentary habits, and poor eating habits.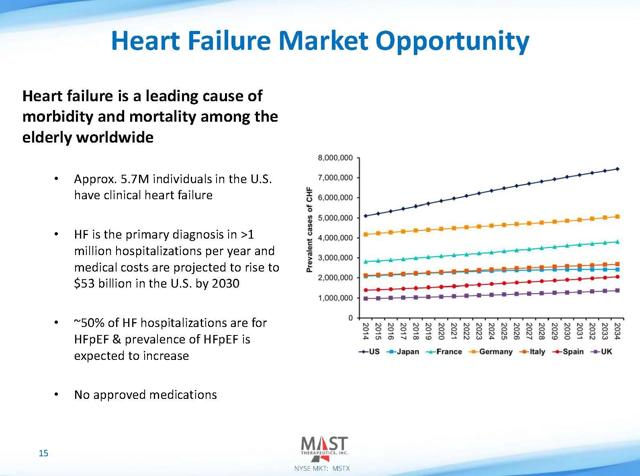 AIR001 For Pulmonary Arterial Hypertension And Pulmonary Hypertension
Readers might find it confusing because some of Mast's clinical trials appear to address PAH conditions while others appear to be aimed at PH, or both in addition to HFpEF. This is because I don't think Mast's leadership had a clear strategy to advance the AIR001 program. I believe this is because its primary focus in the last three years was to advance the EPIC sickle cell clinical trials up to the September 2016 news that EPIC had failed. As a shareholder, I was frustrated with the lack of clear strategy for this important program, which in my opinion always had more upside than Vepoloxamer/EPIC.
As a reference, I would like to discuss the differences between pulmonary hypertension (PH) and pulmonary arterial hypertension (PAH). Pulmonary arterial hypertension (PAH) is a specific subgroup of pulmonary hypertension (PH). The definition of PH is more inclusive than the definition of PAH, meaning that the specific hemodynamic measurements used to define PAH do not apply to PH.
Pulmonary hypertension (PH) is an elevation in the pressure in the arteries of the lungs. Many diseases such as obstructive sleep apnea (OSA), lung diseases, diastolic heart failure, and diseases of the left side of the heart can cause the pressures in the pulmonary arteries to rise, but this does not mean you have pulmonary arterial hypertension (PAH). Pulmonary arterial hypertension is a disease of the blood vessels of the lungs, meaning these vessels have changed causing the elevation in pressure. In pulmonary hypertension, the elevation of the pressures is caused by another disease, the blood vessels themselves are not the problem. PAH is high blood pressure that occurs in the arteries that connect the heart to the lungs. It causes the right side of the heart to work harder than normal, which can lead to limitations on exercise ability and shortness of breath, among other more serious complications.
AIR001 Studies/Clinical Trials To Treat Cystic Fibrosis
On May 15, 2016, the University of Pittsburgh announced that Anna Zemke, MD, PhD, begun a research study entitled "Nebulized Nitrite as a Novel Antimicrobial Therapy in Cystic Fibrosis."
The announcement added:
"The central objective of this research program is to develop nebulized sodium nitrite as an antimicrobial agent in cystic fibrosis. Cystic fibrosis is the most common lethal disease among Caucasian Americans and is marked by progressive respiratory failure and airway infections. Pseudomonas aeruginosa infects up to 80% of adults with CF, and grows in highly antibiotic resistant biofilms within the lung. Triggering bacteria to disperse from biofilms may allow for improved clearance by the host and improved antibiotic efficacy. Sodium nitrite (AIR001) is an agent that combines antimicrobial activity, through the suppression of bacterial respiration, with the ability to disperse established biofilms When AIR001 is combined with colistimethate, it has additional activity against P. aeruginosa biofilms. AIR001 has not been tested in the CF population, but it has excellent safety data in pulmonary hypertension patients."
As a result of the University of Pittsburgh's efforts, AIR001 is in currently in Phase I/II study of inhaled sodium nitrite as an antimicrobial for pseudomonas infection in cystic fibrosis. This is synergistic with Savara's lead drug candidate AeroVanc for CF. Per the Cystic Fibrosis Foundation, the addressable market for CF treatments exceeds $4B.
My View Of Savara's Contribution To The Merger
I have never heard about Savara until the recent merger announcement. But the more I learn about this company, the more I like my MSTX investment. To help me guide my discussion below, I will first list Savara's pipeline additions to the merger from the January 7 announcement:
AeroVanc (organ drug designation), an inhaled dry-powder vancomycin to treat chronic methicillin-resistant Staphylococcus aureus (MRSA) pulmonary infection in cystic fibrosis in preparation for a pivotal Phase 3 study.
Molgradex (organ drug designation), an inhaled nebulized GM-CSF to treat pulmonary alveolar proteinosis (PAP) currently in Phase 2/3 development.
Savara's chairman and CEO, Rob Neville, who was described by Mast CEO Culley as a "successful serial entrepreneur" during the January 9 merger conference call, has indeed a proven record of accomplishment as a successful executive. As an example, in 1998, Mr. Neville started and began growing his system management software company, Evity, Inc., at Austin Technology Incubator (ATI). Two years later, he sold Evity to BMC Software for $100 million.
I understand that Mr. Neville used some of the cash from his BMC windfall to fund Savara Pharmaceuticals in 2007. I could not find out how much of that money he invested in Savara, but I guess he owns a significant portion of the company now. Based on his prior success with ATI, he used them again to secure funds to advance AeroVanc. In addition to ATI, Savara has received over $10M in grants from the Cystic Fibrosis Foundation, the National Institute of Health, Keiretsu Forum (KF), and other non-profit organizations. KF is a global investment community of accredited private equity angel investors, venture capitalists, and corporate/institutional investors.
Recent data from PitchBook shows that Savara has raised a total of $51.9M in grants, and several successful private, venture capital, and institutional funding rounds.
Savara's strong reputation as a well-regarded organization in the business world can be summarized by the following statements made by Randy Williams, founder and CEO of the Keiretsu Forum:
"The opportunity to invest in Savara Pharmaceuticals attracted many of our accredited investors, who are deeply committed to supporting products and technologies with the potential to positively impact people's lives."

"With a solid business plan for developing an innovative and much-needed product, Savara exemplifies the type of company Keiretsu Forum members are seeking to identify and support. We are proud to have made our largest single investment to date in Savara, and look forward to working with our members and entrepreneurs in funding this and other exciting enterprises."
Savara is advancing its lead drug AeroVanc, which is the first dry-powder, inhaled formulation of the antibiotic vancomycin for the treatment of persistent MRSA infection in cystic fibrosis patients. AeroVanc received fast-track and orphan drug designation. Mr. Neville and his team had to overcome early challenges and objections about AeroVanc such as: 1) The market for it was relatively small, 2) there were technical challenges related to applying vancomycin in an inhaled form instead of the traditional IV application, and 3) there were already two inhaled antibiotics to treat CF patients, and others.
Savara's team confronted the challenges head-on and resolved all those issues quickly. In June, 2010, a JAMA article published results of a study evaluating mortality among CF patients with MRSA. The report concluded that mortality rate with MRSA was 34%, or twice as much as to what was believed to be the case before the study. This meant that the CF addressable market for AeroVanc increased to about 30,000 patients. This was a significant incentive for the Savara team to overcome the technical challenges related to applying vancomycin in an inhaled form. The competition issue related to the two existing FDA-approved antibiotics for CF patients (Novartis and Gilead (NASDAQ:GILD) drugs) resulted to be a non-issue. This is because those drugs treat patients having gram-negative-related bacterial (pseudomonas) infections compared to AeroVanc's activity on gram-positive infections (MRSA).
Through an accelerated execution of AeroVanc's clinical path following resolution of early challenges, the program has successfully completed Phases 1 and 2, and it is scheduled to start Phase 3 trials in 3Q 2017. I believe the CF population is just an opportunistic target, small enough for the FDA orphan-drug approval, yet with a strong lobby. AeroVanc's applicability will likely be extended to address other lung conditions such as pneumonia, bronchitis, etc., thus extending its addressable market significantly.
In an effort to diversify its pipeline, Savara acquired Serendex Pharmaceuticals in June 2016 for an undisclosed amount of stock upfront, with additional cash milestone payments upon FDA approval of its lead assets, Molgradex and a preclinical inhaled form of Factor VIIa to treat diffuse alveolar hemorrhage (DAH).
Molgradex, an inhaled form of granulocyte-macrophage colony-stimulating factor (GM-CSF), is in Phase II/III testing in Europe and Japan to treat autoimmune pulmonary alveolar proteinosis (PAP) and has orphan-drug designation. In addition to PAP, Serendex envisioned Molgradex as a potential therapy for cystic fibrosis (CF), Bronchiectasis (BE), and other indications by stimulating the immune system to better kill microbes or to repair damaged lung tissue.
Autoimmune PAP is caused by autoantibodies that disrupt the recycling of the lung surfactant function of GM-CSF. This causes excessive surfactant accumulation in the lungs, which leads to decreased gas exchange, shortness of breath and, potentially, respiratory failure. Japan has about 10% of the PAP population in the world. The estimated US, Japan, and Europe PAP population is 10,000 patients.
On May 12, 2016, Savara announced that it had signed license agreement with Japanese Nobelpharma Co., Ltd. for future commercialization of Molgradex in Japan.
According to the press release, Savara will receive up to $10.5 million in milestone payments and entitle the company to royalties on future sales in Japan. Per the agreement, Nobelpharma becomes the license holder of Molgradex for the treatment of PAP in Japan.
Fast forward to today, and Savara has found the way to execute an inexpensive and fast IPO while acquiring a potentially a blockbuster asset in AIR001 for a fraction of what it would cost if Mast's management was in a stronger bargaining position.
Savara's management is making all the right moves to increase shareholder value. The acquisitions of Serendex Pharma and Mast Therapeutics in less than a year have created a force in the lung/heart therapeutic arena with several orphan drug candidates at various stages of development. Savara management's ability to identify synergistic assets and to negotiate favorable deals for the company's stockholders bode well for those who are considering it as a long-term investment.
The (Almost) Complete Savara Pipeline Post Merger?
I decided to put together the following table to help you visualize the fact that Savara's pipeline is potentially significantly more extensive than the three Phase 2 clinical trials mentioned in the merger press release:
| | | | | |
| --- | --- | --- | --- | --- |
| Company | Drug name | Indication | Status | ClinicalTrials.gov |
| Mast | AIR001 | HFpEF-PH | Phase 2 | NCT01431313 |
| Mast | AIR001 | HFpEF - INABLE | Phase 2 | NCT02713126 |
| Mast | AIR001 | HFpEF - INDIE | Phase 2 | NCT02742129 |
| Mast | AIR001 | PH | Phase 2 | NCT01431313 |
| Mast | AIR001 | PAH | Phase 2 Term | NCT01725269 |
| Mast | AIR001 | CF | Study | NCT02694393 |
| Mast | Vepoloxamer | IS | Phase 2 Ready | |
| Mast | Vepoloxamer | SC | Selling Database | NCT01737814 |
| Savara | AeroVanc | CF | Phase 3 Ready | NCT01537666 |
| Savara | Molgradex | PAP | Phase 2 | |
| Savara | Form VIIa | DAH | Study | |
| | | | | |
Abbreviations:
| | |
| --- | --- |
| HFpEF | Heart Failure with Preserved Ejection Fraction |
| PH | Pulmonary Hypertension |
| PAH | Pulmonary Arterial Hypertension |
| CF | Cystic Fibrosis |
| IS | Ischemic Stroke |
| SC | Sickle Cell |
| PAP | Pulmonary Alveolar Proteinosis |
| DAH | Diffuse Alveolar Hemorrhage |
| Term | Terminated |
Merger Optimization Opportunities
Mast reported 3Q financial results on November 8, 2016. Key figures to keep in mind were R&D of $5.1M, SG&A of $2.1M and $27M cash. Furthermore, Mast forecasted post EPIC operating expenses ranging between $8 and 9$M/year. I believe there are significant savings opportunities in R&D and SG&A. Mast's SG&A expenses might have been reasonable up to the EPIC failure, but they should be substantially lower post-merger since a sales organization should be minimal to support a Phase 2 AIR001 and the G&A element basically absorbed by Savara's organization. Regarding R&D, I expect this figure to come down significantly because the three active clinical trials of AIR001 are being funded substantially by sources other than Mast as discussed above. In agreement with the Phase 2 sponsors, Mast was expected to provide test materials, nebulizers, and regulatory, technical, and additional financial support. It happens that AeroVanc and AIR001 Philips' Adaptive Aerosol Delivery (AAD) nebulizer per prior agreements with Respironics, Inc., the nebulizer manufacturer. Furthermore, I expect that Savara being more focused on inhaled therapies has a leaner technical and regulatory organization than AIR001/Vepo Mast.
Also in the 3Q 2016 earnings release, Mast asserted that it will continue supporting the ongoing nonclinical study of vepoloxamer in ischemic stroke, which is entirely funded by a Small Business Innovation Research grant from the National Institute of Neurological Disorders and Stroke of the National Institutes of Health. The company is looking for licensing opportunities for this asset, and continues its efforts to monetize EPIC's database. In the subsequent quarterly CC, CEO Culley stated that the company is having active conversations with two large pharma companies interested in the EPIC database.
I expect that Mast will bring to closing from $10M to $12M in cash based on the assets and liabilities listed in 3Q filings, and the subsequent payments to Hercules, which were due upon the EPIC failure. With this amount of money, it is likely that Mast's stake in the combined entity will increase from 24% to about 30%.
Unanswered Questions
I will list randomly questions that I feel need answers, some before the merger is consummated, while the others can be clarified after Savara is up and running.
Were the Vepoloxamer assets included in the $36.5M "Mast business value" mentioned in the merger announcement?
If the answer is no, is Mast looking to sell/license this asset prior to the merger closing to increase MSTX's stake in the combined company in addition to cash at closing? Mast shareholders paid hundreds of millions of dollars in the last decade to support this programs, and it appears that they are not getting anything in return.
If the answer is yes, what is the strategy going forward for this asset?
Will Savara consider (if it is not familiar with it at this point) or reconsider its strategy with respect to advancing AIR001 for PAH and/or PH indications? If Novartis was willing to sign a $250M collaboration agreement when the technology was less developed for these conditions, couldn't Savara look for similar partnerships to advance these programs (if it does not have the internal or financial resources to do so)?
Is Savara aware about the AIR001 opportunity in cystic fibrosis? I believe it could accelerate this program because of its excellent relationship with the Cystic Fibrosis Foundation.
Would Savara be willing to sell some of its pipeline assets as shown on the above table to obtain non-dilutive financing?
Risks and Uncertainties
1) The reverse merger is cancelled.
2) The reverse merger is not approved by shareholders of both companies.
3) Mast shareholders do not approve the reverse split required to qualify for NYSE listing.
4) Savara is unable to unlock the value of AIR001 and the other drugs in the pipeline.
5) One or more of the drugs in the pipeline fail clinical trials.
6) The company is not able to secure funds to advance the pipeline.
7) Even if financing is obtained, it may not be in terms favorable for shareholders.
Conclusions
The reverse merger is a win-win-win situation for both companies and their shareholders. The initial merger valuations provide a good balance between providing a significant gain for current shareholders and allowing others to enter the stock at a reasonable cost.
I am very impressed with the accomplishments of Savara CEO Neville. I also like the fact that he invested millions of the money he received from the sale of Evity to BMC Software. But one person alone cannot ensure corporate success. I believe Mr. Neville instills a strong, visionary, disciplined, and dynamic corporate culture based on interviews I've conducted with people who are familiar with the company.
I estimate that Mast will go into closing with $10M to $12M in cash after paying Hercules and all remaining liabilities. The cash adjustment mentioned in the merger press release could boot Mast's stake in the combined company to about 30%. This is equivalent to about 130% premium over the average trading price before the merger announcement was made.
I see the upcoming reverse split not as a negative, but as a significant positive event. It will enable Mast to complete the terms of the merger so that current shareholders will be able to become part of a growing enterprise. Recent reverse mergers paid off handsomely for its investors. Shares of Apollo Endosurgery resulting from a merger with Lpath had a pre-merger consensus price of $11, but it has traded as high as $20 post merger.
Mast shareholders will receive the R/S proxy documentation in the next two to three weeks according to comments made in the January 9, 2017, merger conference call.
Savara has assembled an impressive array of late-stage orphan-designated clinical prospects with large addressable markets. This is particularly true with the addition of AIR001 which could benefit at least a million heart failure patients suffering preserved ejection fraction complications (HFpEF) in the US, and several million globally. There are no approved or proven treatments for these ailments, and for this reason, there is significant support from lung and heart organizations as they are currently sponsoring the ongoing clinical trials.
The drugs that Savara brings to the table have strong endorsement from the Cystic Fibrosis Foundation and are already collecting revenues, as it is the case for Molgradex in Japan. Molgradex sales to Japan through a program named "Early Access Program" are estimated to reach $1M in 2015.
There are significant opportunities to unlock the true value of the combined company's pipeline. For instance, in addition to advancing the three main drugs through the clinical path, Savara could look at creating partnerships for non-strategic indications. Take the PAH/PH sub pipeline for instance and recall the $250M Novartis/Aires deal, couldn't Savara look into doing something similar? This is a significant market opportunity as seen by Seeking Alpha author Fusion Investor who estimates that the AIR001 PH market could range from $250M to $350M/year.
There is also the opportunity to assemble a several drug candidates to go after the growing CF market. In addition to AeroVanc, AIR001 is being evaluated at the University of Pittsburgh to treat CF, and Molgradex could also be used in this market as discussed above.
Savara's management was able to advance its lead drug AeroVanc through Phases 1 and 2 in less than three years, and now it's set to enter Phase 3. Long-term investors and institutions value this type of execution and reward organizations with higher valuations.
As can be seen in the combined pipeline table I've presented above, the new Savara's potential pipeline is significantly larger than the three Phase 2 drugs mentioned in the merger press release. I believe that with a more focused and visionary approach, that pipeline can be maximized to enhance shareholder value.
Although Mast CEO Bryan M. Culley has been associated with many prior clinical failures including EPIC, he should get credit for making an effort to increase current shareholder value for current shareholders. I know of many biotech CEOs who selfishly ran their companies to the ground to keep getting significant salaries and benefits at the expense of shareholders.
Healthcare stocks have been the best performers in the U.S. over the past 25 years and over the past year. Healthcare in the U.S. is among the highest P/E of all market sectors. To enjoy this high-value sector, a clinical-stage biotech like Savara must get its pipeline candidates approved by the FDA. Savara's track record with AeroVanc thus far suggests that investors don't have to wait too long to begin enjoying the benefits of the merger as Phase 3 AeroVanc gets under way later this year, and other pipeline milestones are met.
There is nothing like the emotional swings of the biotech industry. Just take a look at a recent significant jump in ETRM's share price for instance. If timed appropriately, some of the biggest gains can be realized. However, there is the potential for catastrophic losses to occur. Investors in biotech should only risk what they can afford to lose, or use options to hedge.
Investors interested in purchasing MSTX shares should take their time evaluating the risks and uncertainties as detailed in the latest company filings with the SEC.
Disclosure: I am/we are long MSTX.
I wrote this article myself, and it expresses my own opinions. I am not receiving compensation for it (other than from Seeking Alpha). I have no business relationship with any company whose stock is mentioned in this article.
Editor's Note: This article covers one or more stocks trading at less than $1 per share and/or with less than a $100 million market cap. Please be aware of the risks associated with these stocks.