I think there is some value in not obsessing over investments. If your reasoning is sound, you can buy them, and just let them grow. Since I wrote a flurry of articles last Spring I have had a very busy life indeed, involving much travel and spending as much time with grandchildren as possible. While I waited for the tea to boil this past weekend I decided to open my investment statements finally, look in on Seeking Alpha (I have followers?!) and try to decide what to do now. I am pleasantly surprised with the results, but I must remind myself that the investments may have risen for reasons other than what I thought. Thus, I may know far less than I think I do, which is a dangerous circumstance. My knowledge is definitely imperfect, and I am sitting on a large gain here, so I must sell some of my shares. As usual, I will offer my thoughts here and I hope the Seeking Alpha community offers some guidance for where my reasoning is flawed. In this article, I will talk about my best performing stock, Greenbrier (NYSE:GBX), because I feel it is the most risky now that it is no longer as inexpensive.
Background
Greenbrier is a manufacturer of inland barges, a railcar manufacturer, rail car lessor and wheel repair and refurbishment company that "creates customized freight car solutions over the entire life of a railcar." In addition to North American rail operations, the company also manufactures rail cars out of its Wagony Swidnica facility in Poland. It also has a joint venture (Greenbrier-Maxion) that services the growing rail needs of Brazil and the rest of South America.
The Future of the Business
In my previous article, I displayed a slide that shows that the average delivery rate is approximately 50,000 railcars annually and that the backlog remains (mostly) intact. When I review the most recent data, I'm partially heartened. Although the backlog has diminished slightly over the past decade Greenbrier (and, interestingly, Trinity) have managed to increase their market share. To me, the notion that the backlog has completely evaporated is a nonsense.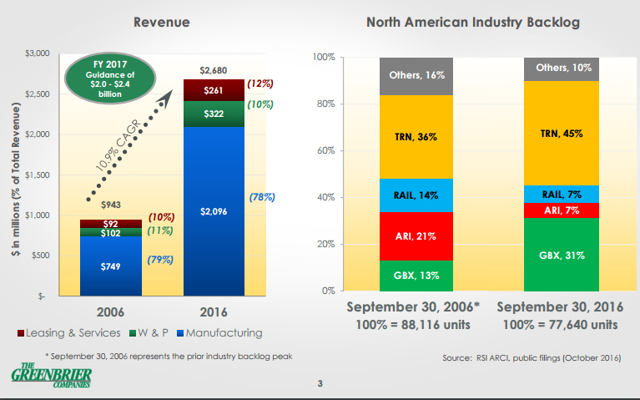 That said, there are some worrying trends going forward. For instance, the next few years are forecast to deliver below average orders, with 2017 being the worst of the bunch. Because we investors are buying a future and not a past, this is something I must pay attention to. Revenue will very likely fall in 2017 and remain anemic for possibly some time.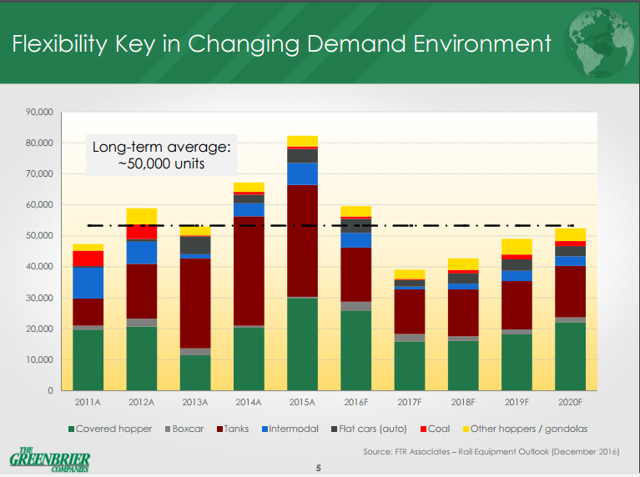 The Financials
Reviewing the financial performance of Greenbrier is enough to make an investor's heart sing. For instance, although revenue has been relatively volatile over the past five years, net income has remained remarkably consistent. Since net income is the only sustainable way we all get paid, I appreciate this very much about this company.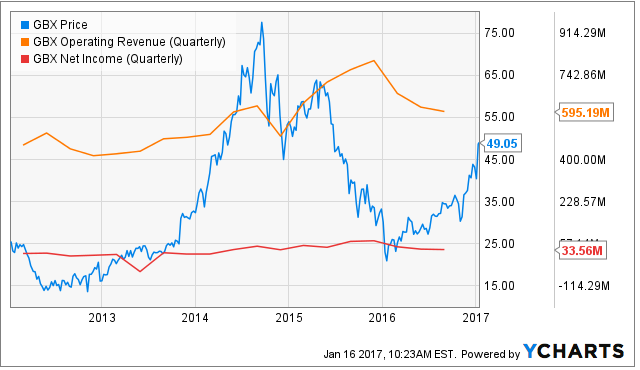 Source: YCHARTS
I also find it interesting how, in the face of such relatively consistent income, the share price has fluctuated so dramatically. My advice to the naysayers here is to examine what the company does in terms of net income, calm down and invest.
The Stock
Speaking of the stock, it would be worthwhile talking about how much investors are being asked to pay for this business. It may be unreasonable to fixate on the PE multiple that I purchased at (approximately 5x earnings), but at the moment, investors are being asked to pay more than twice what I paid for these shares. In addition, although the shares are trading at a discount to the market, the "E" in the PE multiple is likely going to drop according to the company's own analysis. For that reason, what appears cheap now may not be.
Conclusion
I continue to feel that this is a very well run firm, but it happens to now be a bit too risky for my blood. You can accuse me of being an old lady and you'd be right! That's exactly what I am, and for that reason I must cash in some of my chips. What I will be doing specifically is sell off the amount of my original investment and will let my gains remain invested. This is likely an imperfect strategy, but I value my sleep and, unlike most readers here, I am no longer a long term investor. If I were such a person, I would likely remain fully invested and would be prepared to tolerate the drops and buy more when the inevitable drops present themselves. Thank you very much for reading and thank you in advance for any (respectful) comments.
Disclosure: I/we have no positions in any stocks mentioned, but may initiate a short position in GBX over the next 72 hours.
I wrote this article myself, and it expresses my own opinions. I am not receiving compensation for it (other than from Seeking Alpha). I have no business relationship with any company whose stock is mentioned in this article.
Additional disclosure: I want to make it plain that I am not short with this company. I am simply selling my original investment and letting my gains "ride." Happy New Year!