I'm forced to admit that one of my followers, Azure Blue, turned me on to this little ditty, and I'm glad I took a look before I pooh-poohed it. What attracted me most was its enormous yield, magnified by it tax free status - two things that, in combination, made it difficult for me to pass the stock up. Therefore, I began my research in the usual way and went straight to QuantumOnline and America First Multifamily Investors (NASDAQ:ATAX).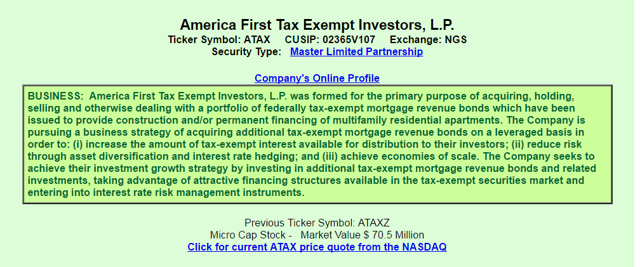 ATAX is a limited partnership that acquires, holds, and sells federally tax-exempt leveraged mortgage revenue bonds issued to provide funding for multifamily residential apartments.
From there I jumped ahead of my usual research process straight to a MarketWatch view of its past performance, because, for whatever reason, Yahoo Finance failed to go back beyond the beginning of the year: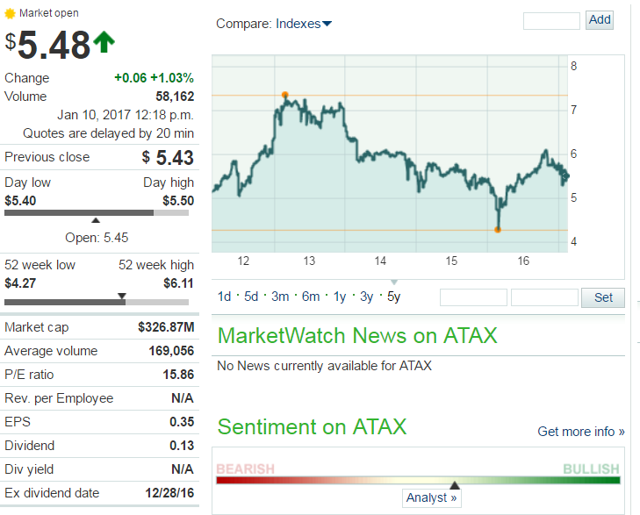 However, I was a bit disappointed by the above detail, so I decided to enhance it by utilizing my very own IB platform: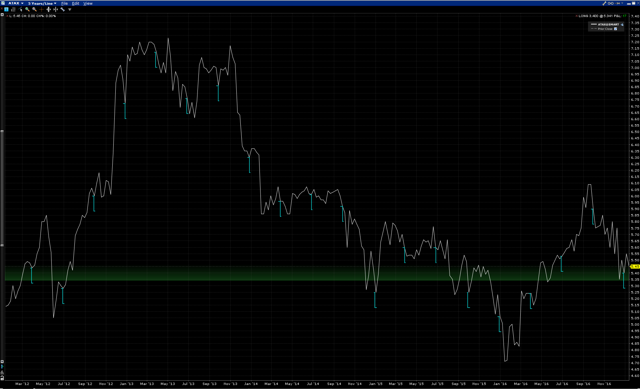 Although its had it ups and downs these past five years, trading at $5.15 on 1/13/12, it now trades at $5.45, a $0.30 gain during the period. Better yet, and what sold me on this puppy, was the fact that each year it paid out a steady tax-free $0.50 dividend. KaChing.
So far I like this company, and trust my source implicitly, but I decided to dig a little deeper into its numbers, or as deep as I felt comfortable in doing. Therefore, I turned to ATAX's financial highlights according to Finviz

The company's current market value is $334.39 million. It earned $20.40 million on sales of $78.00 million. And last year it was up an impressive 23.69%. Its short- and long-term debt/equity is a moderate 1.44.
Although I'm far from an expert at this, I did find something troubling when I reviewed the SA transcript of the third-quarter conference call in November and discovered - as a part of the following exchange during the question and answer period - that ATAX might have had insufficient CAD to fund its yearly $0.50 distribution, and that part of it was paid for with ROC, return of capital, which is troubling if I read it correctly. Consequently, I urge that you take some time to take a closer look before considering an investment in this company. Now for that exchange:
Investor's name deleted by me:

Hello, fellows. Good job. I am calling from home, I hope you can hear me, we have a lot of value [indiscernible] for the shareholders in the ATAX listing. I have a question regarding CAD, cash available for distribution. The plus 17.6% or $0.34 applies to the first record of this year compared to the first records of last year, am I right on that?

Craig Allen (NASDAQ:CFO)

Yes. That's correct.

Name deleted by me:

Okay. If I just took last year's fourth quarter, the lack of a better number used, I don't have that handy, you know what the fourth quarter CAD was?

Craig Allen

It would have been about, let's say 36 - it's been about $0.15 to $0.16. We ended slightly over $0.50 on a…

Name deleted by me:

Yes, And if you went over $0.50, so you went above $0.15 to $0.16?

Craig Allen

Yes. Again, we did have - I am sorry, go ahead.

Name deleted by me:

Just a question, I think I know the answer, but a lot of folks don't. If there is a shortfall of CAD is that the number that's made up on your K-1, on the return of capital side?

Craig Allen

Yes. If there happens to be a shortfall then it would be considered on the K-1 to be a return of capital.
As many of you know, I'm no financial whiz, therefore, before plunking down your money I urge that you do some further DD and air any misgivings or questions you might have in the comment section following this article. As you must know, I'm a bit out of my element here because this is not my usual preferred investment; however, it might be a great investment considering its high yield and tax-free status.
So what I'm requesting is a communal think-tank to collectively decide whether or not this common stock is a hidden gem or simply a piece of brightly colored glass.
One last admission: On Blue's recommendation, I stepped out of my comfort zone and purchased shares of ATAX. I further confess that the high yield and tax-free status further pushed me toward that decision - plus the fact I could afford the risk and easily afford any loss I might suffer. I'm leaving it to my followers to determine if my rash investment has been a wise or foolish move.
Disclosure: I am/we are long ATAX.
I wrote this article myself, and it expresses my own opinions. I am not receiving compensation for it (other than from Seeking Alpha). I have no business relationship with any company whose stock is mentioned in this article.