We consider the common stock of Dynavax (NASDAQ:DVAX) under-valued at its current price level. After receiving the CRL from the FDA regarding its novel Heplisav-B vaccine, investors seem to have written off this company. Moreover, patents for the vaccine is expected to expire in the U.S. in 2018. The company is in the process of discussion with FDA regarding the issues raised in the CRL. The vaccine could have use in selected populations like type 2 diabetes, elderly and the obese where Engerix B has not shown adequate seroprotection. On the other hand, Heplisav-B has shown much higher seroprotection in these high-risk groups.
The company management seems to have the immune-oncology pipeline (Cpg TLR9 agonists) as its primary focus after the presentation at the JPMorgan conference. We think that investors are under-appreciating the future commercial potential of this immune-oncology pipeline (including SD-101). Rather than as a standalone agent, we consider the commercial potential for SD-101 as a immune-response boosting therapy in combination with Merck's (NYSE:MRK) anti-PD1, Keytruda. SD-101 is being tested in seven clinical trials in combination with other agents in cancers (three trials in combination with Keytruda, one trial each in combination with anti-IL-10 and anti-IDO, and two trials in combination with ibrutinib).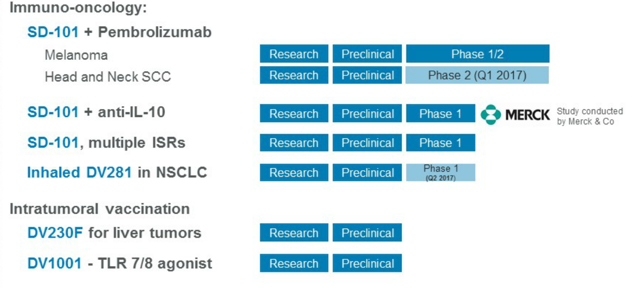 (Dynavax: Immune-oncology pipeline)
The combination of SD-101 and Keytruda has shown proof-of-concept in a phase 1 b trial in metastatic melanoma. A phase 2 trial of the combination (two cohorts, PD1-naïve and PD1-pretreated) is expected to start in 2017. In this phase 1b/2 trial, the combination showed 80% PR (partial response)+ CR (complete response) in PD-1 naïve patients.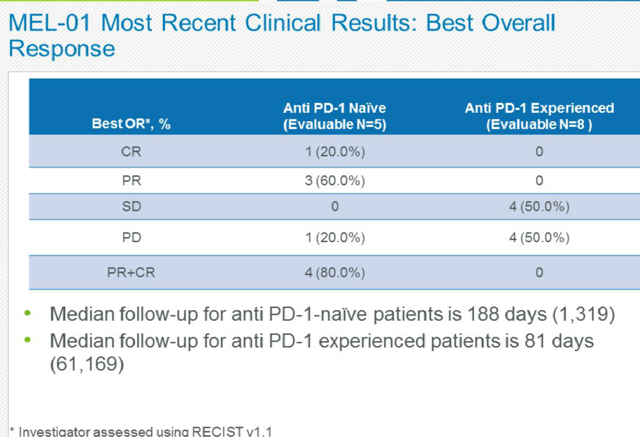 (Results from the on-going MEL-101 study in metastatic melanoma)
The combination was also safe with only minor flu-like symptoms. Potential competition in this indication include Opdivo+Yervoy combination (Bristol Myers Squibb (NYSE:BMY) already approved), and Checkmate Pharma (in phase 1). The clinical response of Dynavax' SD-101+Keytruda was better than that shown by Bristol-Myers check-point inhibitors combination. Idera Pharmaceuticals (NASDAQ:IDRA) is conducting a phase 1/ 2 trial of its intratumoral TLR9 agonist in combination with Yervoy (anti-CTLA4) in this indication.
A phase 2 trial of SD-101+Keytruda (2 cohorts, PD-1 naïve and PD-1 pretreated) is expected to start in Q1, 2017. The combination is expected to show higher clinical efficacy than Keytruda alone (18% ORR in this cancer, 25% in HPV+ patients).
A phase 2 trial of SD-101+Keytruda in metastatic prostate cancer is expected to start in Q4, 2016. Dynavax also is developing an inhaled form of Cpg TLR9 agonist, AZD1419 which was shown to decrease lung metastases in an animal model. A combination of inhaled Cpg+anti-PD1 may control metastases outside the lung as well due to various cancers.
Dynavax has about $78 million of cash reserves, enough to last at least one year. It has minimal long-term debt (<$1 million).
We modeled $619 million of peak risk-adjusted revenue from SD-101 (in combination with Keytruda) in the treatment of metastatic melanoma and head and neck cancer in the U.S. and the EU (at 30% probability at this stage) in 2033 (patent expiry). Using cost of capital=15% for first five years, then 12% for next five years, and then 10% till patent expiry, we calculated risk-adjusted NPV= $477.7 million. After adjusting for non-operating assets and liabilities and using diluted stock count, our fair value estimate for the common stock price (using forecasted revenue from just these two indications and excluding Heplisav-B vaccine revenue) is $13.
Subscribers to our premium research service had an earlier llok at this report and can download the DCF valuation model.
Although, we still remain optimistic that Heplisav-B vaccine may be approved (even if in certain high-risk groups), the purpose of this post was to value Dynavax's immune-oncology pipeline since it appears to be the primary focus of the management. Intra-tumoral TLR9 agonists are an excellent choice to boost the immune response in certain cancers like melanoma, lymphoma etc. We consider Dynavax shares undervalued (time frame of the investment= 2-3 years). More data from the ongoing phase 2 SD-101+Keytruda in metastatic melanoma is expected in Q2 and Q3 this year which may also act as a catalyst for the stock price.
Risks in the investment:
It is possible that ongoing clinical trials in above mentioned indications may fail, regulatory agencies might not approve the products, unexpected side effects might be seen in future, clinicians might not widely prescribe the products or insurers might not reimburse them. Competing products from other companies might gain significant market share in the planned clinical indications.
Note: To get more investment ideas like this as soon as they are published, click on my profile and hit the big orange "Follow" button and choose the real-time alerts option.
Premium Research Service:
Get more investment ideas like this by subscribing to Vasuda Healthcare Analytics, our premium equity research service (listed in Seeking Alpha's Marketplace). Subscribers have earlier access to the research reports, can download the valuation models/spreadsheets in the research reports and have access to the model portfolio (with price targets and suggested allocation) and a contrarian portfolio.
Few investment ideas are exclusively limited to subscribers. Subscribers also have access to an active chat room with useful insights from myself and other active traders/investors. There is extensive coverage of companies with upcoming catalysts (trial results etc.).
Disclosure:
This article represents my own opinion and is not a substitute for professional investment advice. It does not represent solicitation to buy or sell any security. Investors should do their own research and consult their financial adviser before making any investment.
Disclosure: I am/we are long DVAX.
I wrote this article myself, and it expresses my own opinions. I am not receiving compensation for it (other than from Seeking Alpha). I have no business relationship with any company whose stock is mentioned in this article.
Additional disclosure: This article represents my own opinion and is not a substitute for professional investment advice. It does not represent solicitation to buy or sell any security. Investors should do their own research and consult their financial adviser before making any investment.