Six banks reported earnings on January 13th. Amidst all the enthusiastic talk about rising rates, lower taxes, less regulation, and improving animal spirits among corporate clients, investors must not miss the biggest news coming out of the 6 banks: credit quality is outstanding.
FDIC data show the industry has averaged a .83% return on assets since 1984. This means banks have earned $.83 in profits after tax for every $100 of assets. Razor-thin margins mean nothing matters more to bank investors over the long haul than consistent, disciplined lending practices.
As a reminder, there are three key credit quality metrics for banks: loan-loss provision, charge-offs, and reserves (or allowance) for loan losses. Loan-loss provision shows up quarterly on a bank's income statement. Loan-loss provision flows into the reserves for loan losses which is a balance sheet item. When a bank incurs a charge-off, the reserve shrinks.
The most important of the credit metrics is the loan-loss provision. As evidence, consider the relationship between loan-loss provision and bank profitability over time.
Using FDIC quarterly data dating back to 1984, there is a -80% correlation between the industry's quarterly ratio of loan-loss provision to assets and the industry's quarterly pretax return on assets. The strength of this relationship indicates that the industry's profitability increases or decreases in near opposite proportion with the direction of loan-loss provision. Said another way, when provision goes up, bank profits go down; when provision falls, profitability improves.
With that as background, let's examine chart 1 which details the three key credit metrics since 1984. The data shown in chart 1 covers all U.S. banks. Chart 1 shows industry-wide charge-offs (blue line), loan-loss provision (red line), and loan-loss reserves (green line) as a percentage of total assets by quarter from 1984 to third quarter 2016.
Chart 1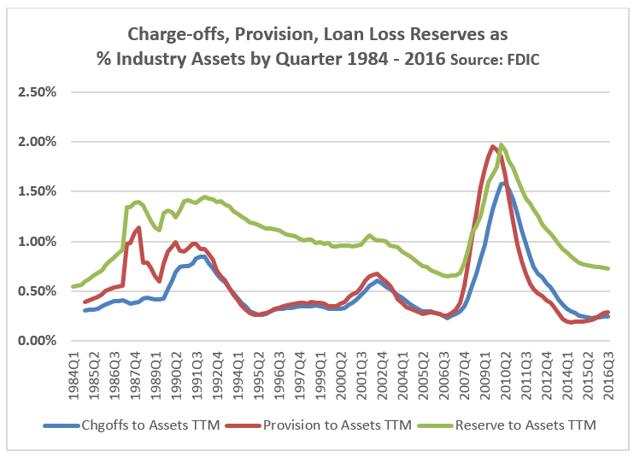 While loan-loss provision and charge-offs have historically been in sync, as the chart shows, during the financial crisis loan-loss provision rose much faster than charge-offs. This phenomenon can be seen by the widening gap between the red and blue lines between 2009 and 2010. This occurred when policymakers "encouraged" banks to book loan-loss provision in anticipation of a financial Armageddon that influential policymakers assumed would wipe out the banking industry. Combined with the demand for a spike in provision, policymakers made a bad situation worse by concurrently requiring banks to significantly boost capital ratios. (As a point of fact, industry capital ratios stood in 2007 at levels higher than at any time since the 1950s. See fdic.gov)
Not wanting to dilute existing shareholders, bankers responded to policymakers demands by essentially freezing up lending across the country. (By increasing loans, a bank would require more capital.) Consequently, total loans in U.S. banks fell by $1 trillion to $7.3 trillion during the financial crisis. Bank lending was so slowed by policymaker actions that the industry did not get back to 2008 loan levels until the third quarter of 2014.
Note that the chart shows a precipitous decline in loan-loss provision and charge-off ratios from 2011 through 2015. Here's what was happening: when banks took too much provision during the financial crisis and charge-offs failed to keep pace, loan-loss reserves built-up in excess to what banks actually needed. (It is quite possible charge-offs would have been even less had not policymaker actions froze lending.)
Having over-reserved for loan losses, bankers were pushed appropriately by outside auditors to release reserves between 2011 and 2015. As a result, loan loss provision expense as a percentage of assets fell to the lowest point in the history of the industry. At the time approximately half the banks in the country had zero or nearly zero provision from 2011 to 2015.
All that brings us to 2016-2017. In some ways the atrocious performance of bank stocks during 2008 actually works as a catalyst for further improvement in bank returns in 2017. Here's why: as my last post showed, 10-year total returns from banks continue to lag the S&P 500, suggesting that over time bank stocks should outpace other industries.
Also working in favor of bank stocks is industry loan growth, up a robust 6.9% year over year as of Q3 2016. (Historic average is 4.2%.) Though generally good news, the risk is that recent loan growth is too good relative to a sluggish economy that has grown only 1.7% over the same 12 months. When bank loan growth clips along 4 times faster than GDP, historically provision accelerates, dragging down bank earnings. To mitigate that risk, banks need to see GDP jump to at least 3% in 2017. If this occurs, continued strong credit metrics for the industry is virtually assured.
Here is where it gets interesting for bank investors in January 2017: J.P. Morgan Chase (NYSE:JPM), Bank of America (NYSE:BAC), PNC (NYSE:PNC), First Republic (NYSE:FRC), and First Horizon (NYSE:FHN) all reported loan-loss provision expense for the fourth quarter of 2016 that was less than reported in the third quarter. Wells saw Q4 provision match Q3, which was down 25% from Q2. If these banks are any indication, investors can expect the FDIC to report an industry-wide provision to asset ratio less than .30% when it reports Q4 2016 data on or about February 22.
Bank of America noted in its earnings release that its charge-off ratio for the quarter was a historic low. While that's a big deal, Bank of America is likely not alone in achieving record credit metrics performance in the fourth quarter.
Here are two other encouraging signs about credit quality: First Horizon actually took no provision in the fourth quarter despite double-digit annual loan growth while First Republic ($73 billion in assets) reported total net charge-offs in 2016 of a miniscule, mind-blowing $1.9 million, equivalent to less than a basis point of average loans.
What do all these credit quality metrics mean to investors?
My last post included a table tracking the annual total return of 25 large U.S. banks from 1990 to 2016. If we take the data from that table and compare it to the industry's historic loan-loss provision by year, it reveals a further encouraging sign to bank investors in 2017.
Since 1991 loan-loss provision as a percentage of assets has been equal to or below .35% ten times: 1994-96, 2004-06, and 2013-16. (The ratio was .29% on September 30, 2016.) During those 10 years the average total return for the 25 banks was 20.3%, ranging from a low of -2% (1994) and a high of 60% (1995). If banks can maintain superior credit quality in 2017 - which looks quite possible given the strong Q4 numbers reported by the six banks - it seems the downside risk for bank stocks is quite modest while the upside could be meaningful.
Word of Caution
While it is highly likely that the 6 banks that reported earnings on Jan. 13 are leading indicators for the industry, investors should monitor provision expense closely over the next several days as more banks report Q4 numbers. Just as importantly, should provision jump later in 2017, investors who are not long-term holders of bank stocks should be prepared to cut back on bank stock holdings.
Disclosure: I am/we are long JPM, PNC, FRC.
I wrote this article myself, and it expresses my own opinions. I am not receiving compensation for it (other than from Seeking Alpha). I have no business relationship with any company whose stock is mentioned in this article.
Additional disclosure: While not holding BAC shares, as a retired 31 year employee of the bank, I continue to have certain financial interests in BAC.