While seeking out yield, investors are often drawn to royalty trusts such as Sandridge Mississippian Trust I (NYSE:SDT), Sandridge Permian Trust (NYSE:PER), BP Prudhoe Bay Trust (NYSE:BPT), and Chesapeake Granite Wash Trust (NYSE:CHKR). While the yields of these trusts (often in excess of 10%) are very enticing, it is very important to realize that these trusts are depleting assets, and often have set expiration dates.
These trusts are typically entitled to a certain percentage of production from a select group of wells. In the case of SDT, the trustees are entitled to 90% of the production from 37 horizontal wells in the Mississippian formation. As an added bonus, they will receive 50% of the proceeds from an additional 123 horizontal wells to be drilled in the formation, with the cost of drilling placed upon the parent company, Sandridge Energy (NYSE:SD). These wells are to be drilled by late 2014.
Because this Trust is a depleting asset, investors must carefully consider what to do with their beefy distributions. Below, I will explain why I believe investors should reinvest their dividends.
Royalty Trusts - A Depleting Asset
If you already know all about SDT, you can skip to the next section.
So, what exactly does 'depleting asset' mean to an investor in one of these trusts? Basically, it means that with time, the underlying value of the assets (and thus the dividends paid) will decrease.
Oil wells do not last forever. Likewise, SDT is set to terminate in 2031. At that time, if there is any remaining value, the assets will be sold off; with 50% of the value going to the parent company Sandridge Energy, and the remaining 50% of the value going to the shareholders.
While buying a share of an entity that you know will be going to zero in 2031 may seem foolish, there is still plenty of money to be made off of the trust. In fact, most of your capital is expected to be returned within the first few years. SDT has provided us with projected distributions through 2016. To add to your confidence, approximately 54% of the production is hedged through April 2015.
| | |
| --- | --- |
| Period | Target Distribution ($) |
| 2012-First Quarter | 0.65 |
| -Second Quarter | 0.70 |
| -Third Quarter | 0.74 |
| -Fourth Quarter | 0.73 |
| 2013-First Quarter | 0.74 |
| -Second Quarter | 0.76 |
| -Third Quarter | 0.77 |
| -Fourth Quarter | 0.76 |
| 2014-First Quarter | 0.78 |
| -Second Quarter | 0.82 |
| -Third Quarter | 0.87 |
| -Fourth Quarter | 0.89 |
| 2015-First Quarter | 0.84 |
| -Second Quarter | 0.77 |
| -Third Quarter | 0.72 |
| -Fourth Quarter | 0.68 |
| 2016-First Quarter | 0.65 |
| -Second Quarter | 0.62 |
| -Third Quarter | 0.60 |
| -Fourth Quarter | 0.58 |
The Case for Reinvesting Dividends
You may ask, "So why would I reinvest dividends into a company that I know will be disappearing?" This is a valid question, and one that I was stuck with myself. As displayed in the chart below, it actually will be beneficial to reinvest your dividends-to an extent.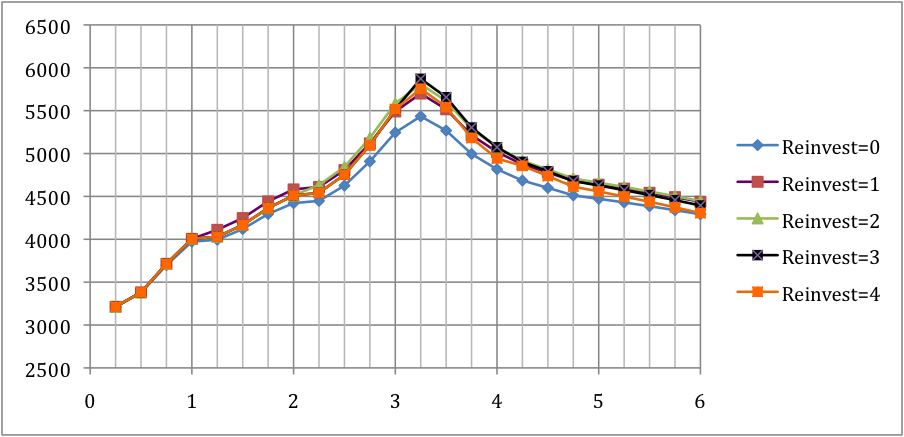 This chart shows the total value (value of shares+ total distributions) of your investment, with different reinvesting time periods of 0, 1, 2, 3, and 4 years. For this chart, I used 100 initial shares and a dividend yield of 8%, although if the initial shares/yield were higher/lower the only difference would be the overall value would increase/decrease - the trend will stay the same. Notice that reinvesting for 4 years provides a lower overall value compared to the 3 year. This decreasing return continues for longer re-investment periods.
The 3-year re-investment program provides a 8% higher return than the non-reinvestment program. If the yield is 12%, around the current yield, the advantage increases to 14%.
There are two main assumptions with this calculation: The yield will stay constant, and the distributions decline as stated by SDT.
Conclusion
If my assumptions prove to be true, the best way to play SDT is by reinvesting for 3 years, and selling after the subsequent distribution. After that, the overall value declines.
This method could be utilized for similar trusts (CHKR, PER, etc.).
Also, it would be wise to actively manage your re-investing. If the share prices are skyrocketing and the yield is low, it would be wise to take the cash instead.