You have heard it all before - Apple (NASDAQ: AAPL) benefits from a large, robust and loyal installed base of iPhones users. This locks in future replacements and recurring cash flows that provide significant downside protection and the potential introduction of new products and services provides a free option.
My analysis adds value by diving deep into the installed base and related key drivers. In turn, I will show that Apple is significantly undervalued even if future cash flows are significantly reduced in my conservative and unlikely base case (free cash flow FY16A-17F: -16%).
I assume no more growth in the iPhone's user base and no more successful product introductions in the foreseeable future despite Apple's continuously demonstrated innovative characteristics and its perceived highly talented workforce and management team.
Numerous other contributors have provided insightful analysis on Apple's innovative capabilities including autonomous driving cars and the iPhone's unrealised potential. Countered by this bear article.
Steady installed base of 520m iPhone users assumed from FY16 onwards
As such, the only iPhones sold from now on would be replacement units to existing customers and there are no more net Android (NASDAQ:GOOG) (NASDAQ:GOOGL) switchers to the Apple universe. This assumption is considered conservative given market research by Gartner:
"We expect the market for premium smartphones to return to 3.5 per cent growth in 2017, as stronger replacement cycles kick in and in anticipation of a new iPhone next year, which is expected to offer a new design and new features that are attractive enough to convince more replacement buyers"
In addition, CIRP indicates that 17% of iPhone 7/7 Plus buyers in the U.S. stepped over from Android devices (as per 16th November 2016 -no reverse switching data is available), and the market share of iOS in the U.S. increased by 7% to 40.5% L3M October 2016.
Unfortunately, Apple has not disclosed a breakdown other than the wider iOS and OS X environment surpassing 1bn active units in January 2016. Gartner estimated a total installed base of >500m active iPhones in the first half of 2016. I since checked this number in my model applying several replacement cycles over the past years.
It can be disputed that my assumed installed base number is too low, and a quick search on news outlets, blogs and sell-side research suggests more optimistic views of 550-630m units in 2015-16.
The replacement cycle extends from 2.5 to 2.7 years in the forecast period
A challenge to my investment thesis is the potential lack of innovation in smartphones and in turn the decreased addition of new features. As a result, consumers could hold on longer to their iPhone before buying the latest version. This risk was recently highlighted by well-known venture capitalist Peter Thiel who dramatically stated that the "Age of Apple" is over, yet his assertion is highly debatable as argued in this Seeking Alpha article.
However, repurchase cycles seem already to fully incorporate the assumed slowdown in new innovative features for the last couple of years. The elongation of the repurchase cycle seems to have stabilized at 2-2.5 years in the U.S. since 2014 after an increase by circa three months in 2013-14 (source: below CIRP figure roughly translated into the underlying numbers). Furthermore, Gartner states replacement cycles of 2.5 and 2.2-2.5 years of premium devices in mature and emerging markets respectively, and overall it expects no substantial shifts in the next five years.
Age of Previous iPhone of iPhone Buyers (trailing twelve months):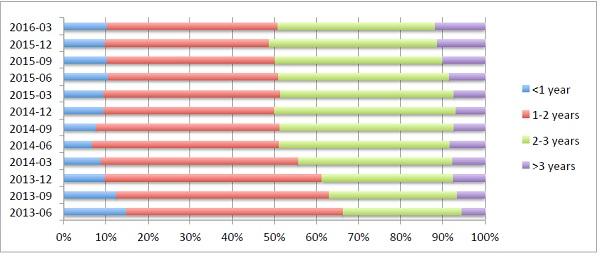 Source: CIRP, 7th June 2016
My assumption is conservatively on the high end of the indicated 2-2.5 year range, and the projected cycle is further extended over time. Further comfort is taken from the fact that the cycle has to be drastically stretched to almost 4.5 years in my base case before my valuation reaches the current share price of $119 at the time of writing.
Base case or bear case - iPhone sales going down

Source: Apple, contributor assumptions
All my conservative assumptions combined result unsurprisingly in depressed future sales numbers.

Source: Apple; contributor assumptions
The average sales price is projected to remain USD 619 per unit from FY17 onwards in line with 4Q16 performance. A potential adverse shift in product mix due to the SE model is assumed to be fully absorbed in the average 4Q16 pricing. Any potential inflationary increase of sales prices is also excluded. Although I believe this to be fully offset by the risk of increased price competition.
Base case shows robust free cash flows

Source: Apple; contributor assumptions. Notes: 1. effective tax rate: 25-26% p.a.; no deferred income tax expense add-backs included; 2. FY17 one-off lump sum payment of approximately $14bn relates to the EU tax ruling; 3. excludes add-backs regarding share-based compensation schemes (FY16: $4.2bn); not all FY16A cash flow items are presented in the table
Free cash flow is roughly $42bn p.a. in the projection period (excluding the one-off lump sum in FY17) which is significantly below FY16A performance due to:
Decreasing iPhone sales partly offset by other products and services.
Margin pressure of 1.1% from FY17 onwards reflecting competition risk and potentially increased manufacturing costs.
Base Case valuation - USD 140 per share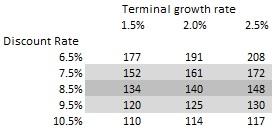 Source: contributor assumptions
The valuation implies an upside of 18% compared to the current share price. More importantly, investing in Apple is highly attractive with a significant margin of safety even in the case of using conservative assumptions.
Harsh and unlikely sensitivity scenario underlines significant downside protection
Although I believe that the current base case is already sufficiently depressed, a more sensitized case is helpful to further assess the downside risk and test the robustness of my assumptions.
Let's see which events we have to plug in to get to the current share price:
The installed base is decreased to 500m iPhones.
The replacement cycle is immediately extended to 3.0 years in FY17.
The average sales price is reduced by 10% to $581 per device in FY17 onwards.
EBITDA margin is further scaled down by 2% in the period.
As a result, projected free cash flow contracts significantly to $32-35bn p.a.
Closing remarks
Apple's shareholders require more granular insight into the key installed base and the overall replacement cycle in order to fully appreciate the business. I urge Apple to disclose this key information instead of providing some soft hints on an irregular basis.
I believe that Apple is an attractive investment with significant downside protection. That said, the underlying value is capped due to no imminent landmark product introductions coupled with the reliance of my investment thesis on the iPhone - do not expect a multi-bagger.
Disclosure: I am/we are long AAPL.
I wrote this article myself, and it expresses my own opinions. I am not receiving compensation for it (other than from Seeking Alpha). I have no business relationship with any company whose stock is mentioned in this article.