Exxon Mobil (NYSE:XOM) announced today it was purchasing assets - which included 250,000 acres in the Permian Basin - for $5.6 billion worth of Exxon stock. This article will look at the implications of the stock transaction on Exxon's existing shareholders.
As of the Q3 EPS report, Exxon had 4.178 billion common shares outstanding. At the current price of $87, the $5.6 billion purchase price would equate to 64.367 million shares. That implies a dilutive share impact of only 1.5%.
Annual dividend payments on the additional 64.367 million shares would equate to an estimated $193.1 million. However, the assets purchased included 18,000 boe (70% liquids). At an estimated realized price of $30/boe, the incremental 18,000 boe of production would equate to an estimated 197.1 million annually, or enough to cover the additional dividend payments on the shares used to purchase the assets.
In addition, the assets added an estimated 3.4 billion barrels of oil equivalent resource to the company's portfolio. The company's press release also said the assets included "60 billion barrels of oil equivalent in place". See my previous summary of Exxon's reserves per share in the article Big Boy Showdown: Exxon Vs Chevron.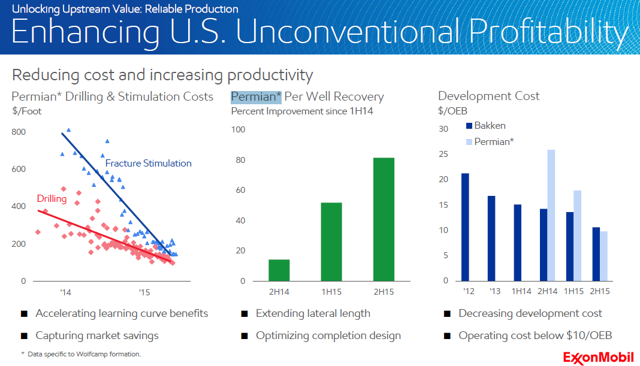 Source: Exxon 2016 Analyst Meeting (available here).
Summary and Conclusion
Exxon's recent purchase of Permian resources appear to be an excellent use of its shares. For a mere 1.5% dilutive impact to existing shareholders, the company picks up a massive resource base. In addition, it would appear current production from the assets will cover the company's incremental dividend obligations. Not surprisingly, shares are currently trading modestly higher.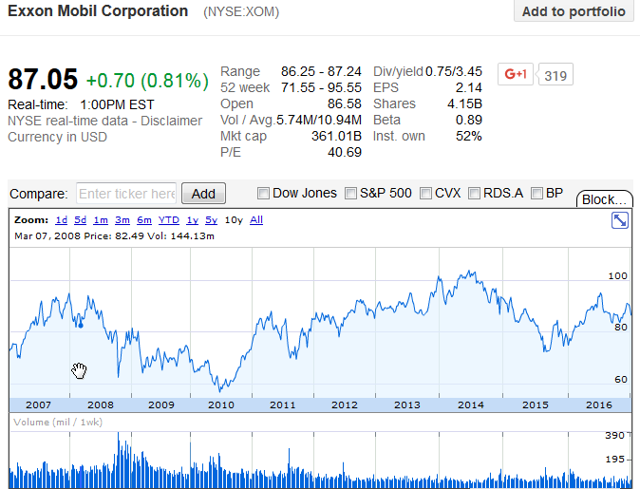 Disclosure: I am/we are long XOM.
I wrote this article myself, and it expresses my own opinions. I am not receiving compensation for it (other than from Seeking Alpha). I have no business relationship with any company whose stock is mentioned in this article.
Additional disclosure: I am an engineer, not a CFA. The information and data presented in this article were obtained from company documents and/or sources believed to be reliable, but have not been independently verified. Therefore, the author cannot guarantee their accuracy. Please do your own research and contact a qualified investment advisor. I am not responsible for investment decisions you make.