In a successful entertainment conglomerate, such as The Walt Disney Company (NYSE:DIS), value is derived from management's ability to consolidate corporate-wide content, production skills and technology into competencies through strategic investments, acquisitions and partnerships.
As you can see in the picture below, Walt Disney himself presented the strategic plan that enables Disney to sustain its competitive advantage and growth up to this day. His vision was to create a company that will operate in various segments that might look idiosyncratic at times, but beneath the surface, they create a harmonized entertainment conglomerate with world-class core competencies.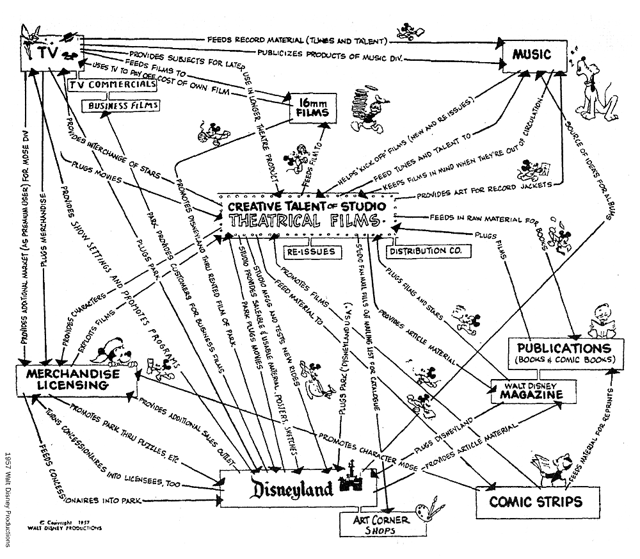 Disney's drawing 1957
Bob Iger in his seventeen years as Disney's CEO was able to capitalize on Walt Disney's original strategic plan and enhance Disney's (the company not the founder) competitive advantage through strategic investments, acquisitions and partnerships. Some of these include the acquisition of Pixar for $7.4 billion in 2006, the acquisition of Marvel for $4 billion in 2009, the investments in Vice and BAMTech and the recent partnerships with Sling TV, Netflix (NASDAQ:NFLX), AT&T (NYSE:T) and Snapchat (CHAT).
Although in the past many professionals from the investment community criticized Iger for overpaying for his strategic plays, they now agree that his ability to cross-sight and identify adjacent value-adding assets to the Disney conglomerate is indisputable.
The most recent concerns from investors relate to ESPN's declining viewership, which is Disney's crown jewel. The advantage that ESPN has over other media networks is in its ability to have two streams of income. From one end revenue earned through affiliate fees per subscriber; from the other, ESPN also generates revenue from advertisers interested in reaching a specific consumer demographic. This dual stream of income is not a common feature among other broadcasting networks, which solely rely on advertising income.
I understand investors' concerns regarding ESPN because it is not only the income features that ESPN brings to the table, but also the brand recognition associated with the sports network and the ability to complete Disney's demographic reach across the entire age spectrum in every household.
There's some really interesting opportunities, given what's going on from a technological perspective, to both improve our businesses and also improve the consumer experience by selling directly to consumers.
Based on the past, investors should be confident in Iger's abilities to rejuvenate ESPN and the entire media segment through its recent investment in BAMTech, and the strategic partnerships with Sling TV and Netflix.
BAMTech
In January 2017, Disney will finalize its acquisition of a 33% interest for $1.1 billion in BAMTech, a content management and distribution business. The technology company also has a direct-to-consumer business in which it acquires rights and distributes sports programming. This investment gives Disney the ability to generate upstream revenues, while testing the effectiveness of the service in terms of consumers' preference and adoption time. Disney has an option to increase its ownership to 66% by acquiring additional shares at fair market value between August 2020 and August 2023.
Netflix
According to the L.A. Times, in 2012 Disney and Netflix reached a deal that as of September 2016 Netflix will be allowed to stream all Disney content - including Marvel, Pixar and Lucasfilm films. All movies and original TV shows will be available to stream on Netflix six to nine months after they air. This type of deal usually pays content providers between 10% and 12% of the U.S. box office. Although exact terms were not disclosed, Netflix can ultimately pay much more based on the recent theatrical success Disney had.
Sling TV
ESPN's central problem is that programming costs are rising, while the traditional cable TV audience base shrinks. That's where the recent deal with Sling TV comes into play. Sling TV starts at $20 per month for a package of around 30 live TV channels, including ESPN, History Channel and Disney Channel (all three owned by Disney). The logic behind the deal is to create a more economically feasible option to watch ESPN, but it will also help Disney maintain its demographic reach in every household by including the Disney and History channels in the package.
The table below provides a breakdown of Disney's GAAP net income (including income from investee) in contrast to Disney's standalone net income.
| | 2013 | 2014 | 2015 | 2016 | CAGR |
| --- | --- | --- | --- | --- | --- |
| GAAP NI | 6,136 | 7,501 | 8,382 | 9,391 | 11.22% |
| Standalone NI (adj. for taxes) | 5,663 | 6,947 | 8,119 | 8,495 | 10.67% |
| Income from investee as % of GAAP NI | 8.33% | 7.93% | 6.51% | 6.94% | |
| Source:DIS 10-K | | | | | |
As presented above, the CAGR for the GAAP net income was higher by 55 basis points in relation to the CAGR of Disney's standalone net income. It's an evidence for shareholders that the executive management delivered on its strategic investments over the years, and should therefore put investors at ease regarding Disney's future.
Projections & Valuation
In the long run, my belief is that Disney can grow revenues at a sustainable rate of 5.30% per year, or even higher in years where all four segments have standout performances. The ability to leverage its size and brand can help Disney further expand its operating margins, and net profit margins by 90 to 100 basis points by 2021.
Projections

2016- Base Year

2017

2018

2019

2020

2021

Operating Income

$14,358

15,198

16,281

17,231

18,236

19,299

Operating Margin

25.81%

25.95%

26.41%

26.55%

26.69%

26.83%

Net income

$9,391

9,976

10,734

11,388

12,080

12,811

NPM

16.90%

17.03%

17.41%

17.54%

17.68%

17.81%

Shares Outstanding

1,639

1,599

1,564

1,529

1,494

1,459

EPS

$5.73

6.24

6.86

7.45

8.09

8.78

FCFF

$7,455

7,850

8,266

8,704

9,166

9,651

FCFF Per Share

$4.55

4.91

5.29

5.69

6.13

6.62
Based on the current FCFF and a projected growth rate of 5.30%, which is in line with my long-term sales growth assumption, I have the confidence that Disney will be able to sustain its payout ratio and share buyback programs.
Many investors like to use the Sum of Parts or the FCF methods to value Disney, but there are certain biases when valuing such a conglomerate with these methods. The Sum of Parts method fails to capture the high synergistic nature of Disney's various business segments and the FCF method fails to represent a minority shareholder perspective.
Since Disney is a mature company with stable revenue, earnings, and cash flow growth, as well as a consistent payout policy, the dividend discount model is probably more appropriate when valuing Disney's FVPS.
Based on the assumption in the table below and the dividend discount model, the current fair value for Disney is $120 per share.
| | | | | |
| --- | --- | --- | --- | --- |
| TVGR | 8.90% | | | |
| Required Return | 10.2% | | | |
| Adj. Beta (Beta8(2/3)+(1/3) | 1.29 | | | |
| Risk Free rate | 2.75% | | | |
| Risk Premium | 5.75% | PV of DIV | Payout | EPS |
| DIV 17 | $1.56 | $1.42 | 25% | $6.24 |
| DIV 18 | $1.72 | $1.41 | 25% | $6.86 |
| DIV 19 | $1.86 | $1.39 | 25% | $7.45 |
| DIV 20 | $2.02 | $1.37 | 25% | $8.09 |
| DIV 21 | $2.20 | $1.35 | 25% | $8.78 |
| TV | $184.3 | $113.38 | | |
| FVPS | | $120.4 | | |
To verify the FVPS from the dividend discount model, I decided to develop three types of justified price multiples based on the Gordon method. The following three multiples were used: justified trailing P/E, justified leading P/E and the justified P/S. They are appropriate to Disney due to its size and revenue predictability.
Based on the following assumption:
| | |
| --- | --- |
| Payout | 25% |
| NPM | 17% |
| TVGR | 1.3% |
| Required Return | 10.2 |
| EPS GR | 8.9% |
The justified trailing P/E is 21.13x, which means that based on the current trailing P/E of 18.6x the stock is trading at a 13% discount from the justified multiple.
The justified leading P/E is 19.43x, multiplying this by the projected 2017 earnings of $6.24 leads to a FVPS of $121.30.
The justified P/S is 3.5x, multiplying by the 2016 year-end sales per share of $33.94 leads to a FVPS of $121.17.
The value convergence between the dividend discount model and the justified price multiples shows that Disney's stock has a 13% upside potential. In my opinion, ESPN's declining viewership is just a little bump in the road. Judging by experience, investors should express more confidence in Disney's executive team's abilities to deliver value and growth. The business model that was set by Walt Disney is still alive, perhaps all it needs is Iger's magic touch.
Disclosure: I am/we are long DIS, V, RBA, SHY, VCSH, MON, BAYRY, , AMGN.
I wrote this article myself, and it expresses my own opinions. I am not receiving compensation for it (other than from Seeking Alpha). I have no business relationship with any company whose stock is mentioned in this article.