Twilio (NYSE:TWLO) is a leading Communications Platform-as-a-Service (CPaaS) provider. Through its straight forward APIs, Twilio allows developers to seamlessly integrate messaging, phone, video, and authentication tools into their own applications.
Have you gotten a text alerting you your package has arrived? What about one that your prescription is ready? Those are examples of developers using TWLO APIs to communicate directly with consumers. This type of communication is called App-to-Person (A2P) communication, and as you probably realize after thinking about the growing number of alerts you have received recently, the market is growing by leaps and bounds.
With its unparalleled cloud-based technology platform, its leading position in the fast-growing cloud-based A2P SMS market (text alerts), and an efficient and effective sales strategy, Twilio is a prime example of a beaten-down growth stock ready to rebound. Specifically, I am long TWLO for the following reasons:
Strong demand growth.
Efficient and proven sales model.
Undervalued relative to peers at similar growth stage.
Strong Demand Growth
Increased adoption of CPaaS among major enterprises - especially in the cloud-based A2P messaging space - will drive significant revenue growth at TWLO over the next 2-3 years. The current enterprise customer base is diverse, and the newly released Enterprise Plan announced on the Q3 2016 conference call will drive faster adoption among corporate clients.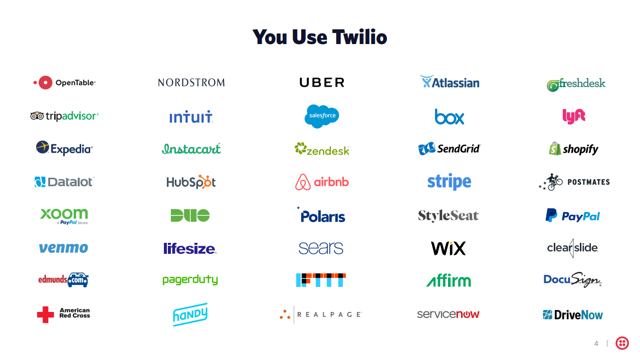 The research firm IDC expects the cloud-based API A2P SMS (messaging) market, which is TWLO's bread and butter, to grow from ~$222 million in 2015 to ~$8.6 billion by 2019. This will be the primary driver of revenue growth, which I expect to total $370 million in 2017.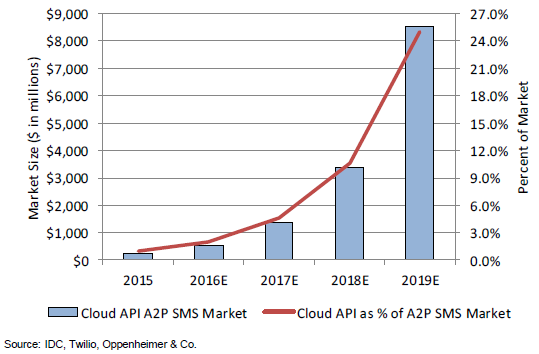 In addition to cloud API A2P SMS messaging, TWLO is developing APIs to allow developers to integrate video messaging, voice messaging and authentication into their products. Given the company's competitive portfolio of cloud-based solutions, its platform is the ideal solution for enterprise developers as demand for multiple mediums of A2P communication grows.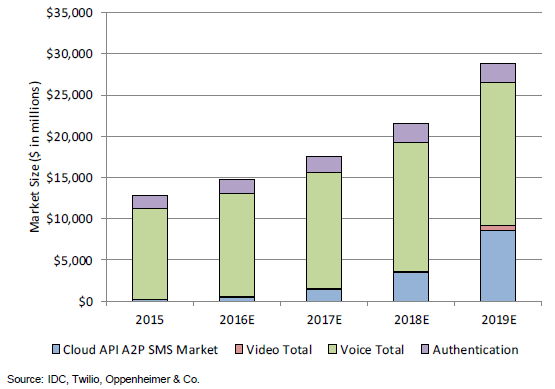 Efficient, Effective Sales Model
TWLO markets its APIs directly to software developers looking to incorporate text alerts, voice messages or other types of A2P communication into their applications. The company allows developers to use its APIs for free during product development, then, once the developer is set to deploy their product, they purchase a certain amount of capacity. By engaging directly with developers and providing them with the APIs for free, TWLO has been able to get in the door with a plethora of enterprise customers without major marketing expenses. Once one API is being used, developers tend to use other Twilio tools, driving an expansion in existing customer revenue.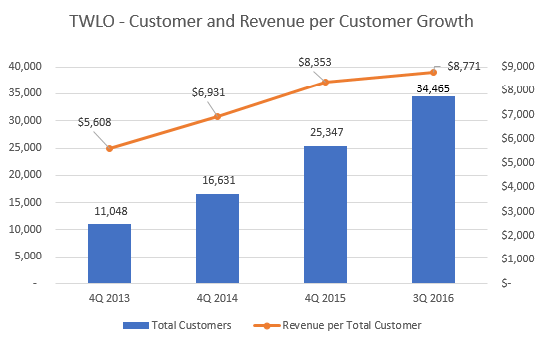 In addition to strong customer growth, TWLO's marketing strategy has resulted in lower-than-average marketing expenses relative to similar companies such as Workday (NYSE:WDAY), ServiceNow (NYSE:NOW), Palo Alto Networks (NYSE:PANW) and Splunk (NASDAQ:SPLK).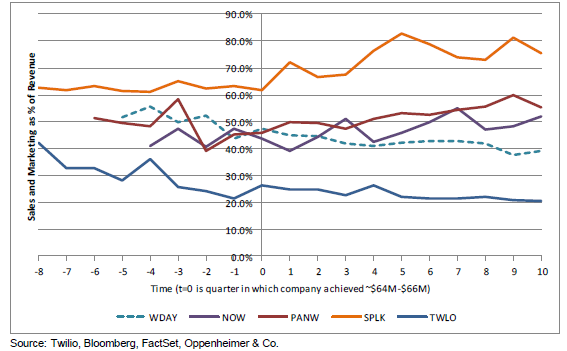 Given TWLO's strategy of marketing directly to the developers building products within large enterprises and the newly released Enterprise Plan, I expect to see new enterprise customer growth over the next few quarters as well as continued expansion of existing customer spending.
Valuation
After its initial public offering in June 2016, shares of TWLO traded up to a high of $70.96 before falling to a price of $27.89 as of January 17, 2017. As many analysts have noted, on a historical valuation basis, Twilio remains expensive relative to its peers. However, on an EV/Next-Year-Sales (FY2017E) basis, TWLO is undervalued relative to the multiples achieved by its peer group at similar stages in their growth cycles.
The analysis below, which is based on analysis performed initially by Oppenheimer analysts, shows the average EV/Next-Year-Sales multiples achieved by competitors during the first year after reaching ~$65 million of quarterly revenue. On average, during the first year, after the peer group reached that revenue milestone, their stocks traded at an EV/Next-Year-Sales estimate of 18.1x. Twilio reached that milestone in Q2 of 2016.

Based on a FY2017 revenue of $350M and current enterprise value, TWLO is currently trading at a 6.2x EV/FY17E multiple. Based on a target EV/FY2017 multiple of 10.5x (below peer average of 18.1x during similar growth stage), the shares should rebound to ~$45/share.

Downside Risk Factors
Although I believe TWLO is best positioned to take advantage of the growing CPaaS market, there are a number of downside risks that could impact share price in the near term.
Revenue growth is dependent on continued customer acquisitions as well as increased spending by existing customers. Since TWLO's revenue model is based on usage, and is relatively susceptible to customer concentration risk, any macroeconomic event that decreases usage or customer-specific event that impacts one of its major customers could significantly impact the company's revenue growth.
Additionally, there remains a large short interest (~45% of the float) due to fears of upcoming insider selling. Should insiders begin to sell shares following the January 19, 2017, expiration of the secondary offering lock-up period, there could be downside pressure on the shares.
Summary
With its diverse portfolio of offerings and the expected growth of the CPaaS market, specifically the expansion of cloud-based API A2P messaging market, TWLO should be able to achieve annual revenue in 2017 of $350 million.
Second, as revenue increases, the low-cost marketing strategy employed by TWLO should allow the company to boast a strong gross margin, and provide additional support to its share price.
Finally, once fear subsides related to insider selling, I expect TWLO's shares to increase to more closely reflect the EV/Next-Year-Sales multiples historically seen amongst its peer group.

Disclosure: I am/we are long TWLO.
I wrote this article myself, and it expresses my own opinions. I am not receiving compensation for it (other than from Seeking Alpha). I have no business relationship with any company whose stock is mentioned in this article.
Additional disclosure: I have long option exposure using call spreads at various expirations during 2017.