Inclisiran from The Medicines Company (NASDAQ:MDCO) is an upstream inhibitor of PCSK9. Using RNA interference, it inhibits the very synthesis of PCSK9 (Proprotein convertase subtilisin-kexin type 9). PCSK9 binds to receptors of LDL-C (low-density lipoprotein cholesterol), reducing metabolism of LDL by promoting the lysosomal degradation of these receptors, and increasing LDL-C plasma concentrations. By inhibiting the synthesis of PCSK9 in the liver, Inclisiran attempts to reduce LDL-C in the body.
In its exact mechanism of action, Inclisiran, a small interfering RNA or siRNA, engages the natural pathway of RNA interference (Pending:RNAI). It binds to RISC, the RNA-induced silencing complex, and cleaves away messenger RNA or mRNA molecules that encode PCSK9. This cleaved mRNA molecule is degraded and cannot help translate its encoded PCSK9 protein formulation. Just a single siRNA-bound RISC can cleave many mRNA transcripts because it works like a catalyst. Indeed, the effect of a single dose of Inclisiran has been shown to last 180 days, thereby reducing the dosage regimen of PCSK9-inhibiting mAbs significantly. The latter are required to be administered subcutaneously, at least twice a month, maybe more often. This leads to compliance issues. Inclisiran, on the other hand, can be administered just once every six months as part of a regular follow up with your doctor.
Shown below is the effect of a single dose of 300mg Inclisiran at 180 days - PCSK9 levels remained reduced, as compared with baseline, at day 180 after receipt of the dose.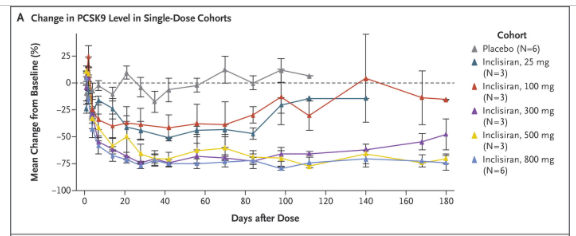 The other edge for Inclisiran is that the RNAi process is less expensive than creating a monoclonal antibody. Repatha and Praluent, both monoclonal antibodies, are priced quite high, which makes insurers uncomfortable. "Repatha, which is sold by Amgen, has a list price of $14,100 a year, while Praluent, which is marketed by Sanofi and Regeneron, costs $14,600." According to some analysts, Inclisiran may have a distinct price advantage over the competing mAbs because it is an RNAi, as well as because it is needed to be taken only twice a year, compared to Praluent or Repatha which must be taken 24 times a year.
The stock hasn't fared well recently because of some safety data that has spooked investors. This is an overreaction because the data isn't bad at all. 54% (n=198/370) of patients treated with inclisiran experienced a treatment-emergent adverse event (TEAE), 9% (n=34/370) of whom were considered serious or severe. However, this was almost the exact figure in the placebo group as well, exactly 54% (n=69/127) of whom also experienced a TEAE, including 8% (n=10/127) considered serious or severe.
So if you give them inclisiran or if you give them sterile water, half of the patients from both the inclisiran and the water group suffers an adverse event. Therefore, these adverse events cannot even be said to be "treatment-emergent," because placebo is not treatment. Basically, there are very sick people already, and it is not unusual for them to have adverse events during the course of six months - in both the drug and the placebo arm. There was one death reported in the drug arm, but given the patient population, it was a coincidence the death was in the drug arm at 500mg and not in the placebo arm. Also note that the drug arm had twice the population of the placebo arm, so a death in the former has more probability than in the latter. But just t be safe, MDCO will be progressing the phase 3 trial with the 300mg dose, which has proven to be very effective.
As for safety, the results were durable, consistent and extensive. "Among 189 randomized and treated patients who had been followed for 180 days or more by the interim data cut-off date of October 25, 2016, one 300 mg subcutaneous injection of inclisiran achieved mean LDL-C reductions of 59% at Day 60, which were durable to Day 90 (mean 50%) and Day 180 (mean 43% and up to 81%). Two 300 mg injections of inclisiran - one given on Day 1 and one on Day 90 - achieved a mean LDL-C reduction of 57% at Day 120, which was durable to Day 180 (mean 52% and up to 81%). All differences relative to placebo in these 189 patients were statistically significant (p <0.0001)." To compare, Repatha/Praluent had mean LDL-C reduction in the 20-60% range, and the reduction lasted only for 2 weeks at most in most cases.
Medicines Company has thrown itself into R&D since it faced a patent cliff some years ago. Results have been good, with approval for its skin-infection treatment Orbactiv in 2014, its blood-thinner Kengreal and fentanyl patch Ionsys in 2015, and positive topline results from a phase III study its urinary tract infection drug carbavance which was announced in June 2016. Carbavance will have an NDA submitted early 2017. This is a lot of good news, and if inclisiran can also show success, then MDCO will be looking at many years of strong revenue growth from its products and pipeline.
Disclosure: I/we have no positions in any stocks mentioned, and no plans to initiate any positions within the next 72 hours.
I wrote this article myself, and it expresses my own opinions. I am not receiving compensation for it (other than from Seeking Alpha). I have no business relationship with any company whose stock is mentioned in this article.