2016 will be remembered for a lot of things. While some were figuring out if they were deplorable or not, most of us were just plain tired of the continual political barrage found on our social and news media. Some of us who follow Apple (NASDAQ:AAPL) were figuring out that this stock was also tired and maybe not capable of the quantum leaps of the past. A look at the monthly average daily volume for 2016 shows a continuation of the long-term declining trend (Source: StockCharts.com):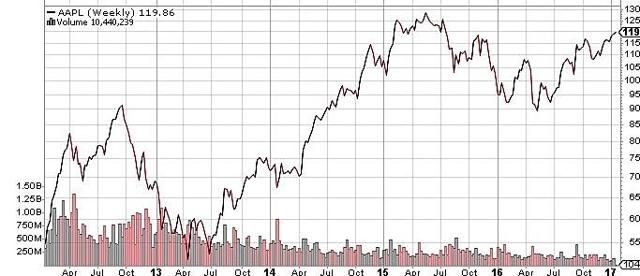 The excitement isn't there. Even on this site, the number of Apple-related articles declined. From the October earnings announcement through the end of the year, there were only 109 articles. That number was 154 six months earlier.
Since the last earnings announcement on October 25th, Apple's stock dipped 10% before closing the year at relatively the same level of the last quarter. With all of the hoopla of Dow 20,000 during this time frame, you would think this Dow 30 stock and former market mover would take part. It did not (To be fair, some of Apple's cohorts on the Dow also did not fully participate in the nearly 9% run-up over this time frame. Stocks like Cisco (NASDAQ:CSCO), Coca-Cola (NYSE:KO), Merck (NYSE:MRK), Nike (NYSE:NKE), Procter & Gamble (NYSE:PG), Visa (NYSE:V) and Wal-Mart (NYSE:WMT) did not really take part either).
But yet, as the stock continues to trudge through the doldrums, many Apple "bulls" still look upon Cupertino to lead us to the stock market nirvana. As I always have said, I prefer to rely on facts and numbers to formulate my own opinion and consequent investment plans.
My article analyzing the Q3 numbers lead me to project Apple's earnings for Q4 to be $1.68 per diluted share. Apple reported $1.67 per share. Close enough in my book. Let's see if we can figure out where Q1 will be going using history, Apple's guidance and a little common sense. Data was taken from a number of sources as noted and including AAPL's earnings transcript on the Seeking Alpha website (here), Apple's website, and the 10-K and 10-Qs found at SEC.gov.
Q4 Results - Revenue
Apple reported Q4 revenue to be $46.852 billion, a 9.0% decline from Q4 2015, but in line with the range of guidance from the previous quarter. The company began providing a range of revenue for its guidance starting with Q2 of 2013. In those 15 quarters, Apple has never missed the low end of its guidance. In fact, actual revenue has averaged 6.9% higher than the low-end guidance for these 15 reported quarters. Last quarter was 3.0% over the low-end guidance of $45.5 billion.
Q4 Results - Gross Margin
The gross margin for Q4 was identical to that of Q3 at 38.02%. This put the fiscal year gross margin at 39.1%. Like revenue, since Q2 of 2013 when Apple began guiding a range for gross margin, the reported number has never been below the low guidance. This quarter came in just over the high guidance of 38.0%, at 38.02% (Let's not forget, .02% doesn't sound like much, but in real dollars this equates to $11 million towards profits).
Q4 Results - Operating Expenses
Since its guidance epiphany that Apple had back in Q2 of 2013, Apple has provided guidance for operating expenses in an expected range. For these 15 quarters, it has never seriously come close to the high end of its guidance. In fact, the 15-quarter average is just 0.1% over the low-end guidance. This past quarter was no exception. Apple had guided operating expenses to be up a little from the previous quarter to a range between $6.05 billion and $6.15 billion. The expenses came in at $6.052 billion.
Q4 Results - Other Income (Expense)
Q4's other income for Apple came in significantly higher than the $350 million that it gave as guidance for the quarter. The quarter saw other income come in $77 million more than expected at $427 million. This area has been a tough area for Apple to guide as the range of difference to guidance is all over the map. The good news is that this entry has only been an expense once in the last 32 quarters (Q4 2012).
Q4 Results - Tax Rate
Apple's provision for taxes in Q4 came in at 26.04%. This was considerably higher than its guidance of 25.5%. Perhaps I should rescind my statement from last quarter's analysis because it does not look like Apple's tax department had its act together when forecasting the guidance for Q4. The tax rate for the fiscal year did come in at 25.56%.
Q4 Results - Share Count
As pointed out in previous articles, there are three share counts Apple reports in its quarterly and annual reports. The header of the report includes the share count at the time it completes (internally) the report. This number was reported as of 10/14/16 and was 5,332,313,000. This was down 56,120,000 (1.04%) from the previous quarter, which is slightly less than the average post-split quarterly drop of 1.28%.
The share count used to determine earnings per share, which is a weighted average (see Note 1 of the 10-K notes to consolidated financial statements), increased 0.5% (27,500,000 shares) to 5,500,281,000 (fully diluted). This increase is typical to the last four annual reports.
The third share count reported by Apple is the one used to determine shareholders' equity as of the close of the quarter. This was reported as 5,578,753,000, up 3.44% from the previous quarter, an increase of 185,588,000 shares. This is the first increase since the split in Q3 of 2014. Since one quarter does not make a trend, I will leave further prognostication on this to the Seeking Alpha comment nation.
Q4 Results - Earnings Per Share
For Q4, diluted EPS came in at $1.67. Using Apple's guidance numbers and last quarter's ending share balance, the expected range was between $1.51 and $1.66 per share. Summarized in the table below are the pertinent numbers regarding Q4 guidance, our projections, and the Q4 actual:
Q4 Review

Category

Apple Guidance

My Projection

Apple Actual

Revenue - Low

$45.5 billion

$46.638 billion

$46.852 billion

Revenue - High

$47.5 billion

Gross Margin - Low

37.5%

38.37%

38.02%

Gross Margin - High

38.0%

Expenses - Low

$6.05 billion

$6.097 billion

$6.052 billion

Expenses - High

$6.15 billion

Other Income (Expense)

$350 million

$350 million

$427 million

Tax Rate

25.5%

25.5%

26.04%

Share count - Diluted EPS

Not Provided

5,380,000,000

5,500,281,000

Surprise

Not Applicable

$0.00

$0.02

Earnings Per Share

Not Provided

$1.68

$1.67
Projections for Q1
In the following paragraphs, I will present my analysis for each of the guidance numbers as we head into Apple's Q1 earnings announcement next week.
My Projections for Q1 - Revenue
When I look at the history of actual to guidance over the last 16 quarters, the average difference between actual and the low guidance is 6.44%. This number is propped up by outliers that occurred in the Q4 2014 to Q2 2015 time frame. The same holds true for the difference between the high guidance and actual coming in at 1.45% over high guidance. This is propped up by an outlier that occurred in Q1 of 2015.
| | | | |
| --- | --- | --- | --- |
| Quarter | Low Guidance | High Guidance | Actual |
| Q2 2013 | $41.0B | $43.0B | $43.603B |
| Q3 2013 | $33.5B | $35.5B | $35.323B |
| Q4 2013 | $34.0B | $37.0B | $37.472B |
| Q1 2014 | $55.0B | $58.0B | $57.594B |
| Q2 2014 | $42.0B | $44.0B | $45.646B |
| Q3 2014 | $36.0B | $38.0B | $37.432B |
| Q4 2014 | $37.0B | $40.0B | $42.123B |
| Q1 2015 | $63.5B | $65.5B | $74.599B |
| Q2 2015 | $52.0B | $55.0B | $58.010B |
| Q3 2015 | $46.0B | $48.0B | $49.605B |
| Q4 2015 | $49.0B | $51.0B | $51.501B |
| Q1 2016 | $75.5B | $77.5B | $75.872B |
| Q2 2016 | $50.0B | $53.0B | $50.557B |
| Q3 2016 | $41.0B | $43.0B | $42.358B |
| Q4 2016 | $45.5B | $47.5B | $46.852B |
| Q1 2017 | $76.0B | $78.0B | |
Over the past four quarters, actual over low guidance has been a "mere" 2.0%. In keeping with my premise that Apple is now a much more mature company, I believe that this is a more reasonable approach to the revenue number. My projection for Q1 revenue is 2% over low guidance or $77.52 billion.
My Projections for Q1 - Gross Margin
History repeated itself. For Q3 and Q4, Apple guided gross margin to be between 37.5% and 38.0%. Both times, the actual came in at 38.02%. This also marks the 14th quarter in a row where gross margin exceeded the low guidance. It is also the 12th out of the last 13 quarters that gross margin has exceeded the high guidance.
For Q1, Apple has raised the bar slightly to guide gross margin in the 38.0% to 38.5% range. I am going to go with a continued beat to the high side matching the 15-quarter average of plus 0.35%, giving an expected gross margin of 38.6%.
My Projections for Q1 - Operating Expenses
The trend continued for operating expenses. Since Q2 of 2013, when Apple began providing a range for its guidance of this parameter, the actual has yet to exceed the high end of the range. I would certainly expect that trend to continue. The average operating expenses to revenue ratio for Q1 is 8.92%. Using my expected revenue number of $77.52B, this puts operating expenses at $6.915B. This fits the trend and is in line with Apple's guidance of $6.9 to $7.0 billion, so I will go with this number.
My Projections for Q1 - Other Income
This item, although small in the bigger picture of earnings, is the one parameter that doesn't seem to be able to be trending or for that matter even capable of trending. The actual can be off by 50% in either direction from guidance. For lack of a better number, listening and using Apple guidance for this parameter is probably best.
My Projections for Q1 - Tax Rate
The tax rate for Q4 came in much higher than the rest of the year at 26.04%. Apple has reflected this increase in its guidance by going a full half point higher than each of the last three quarters, settling on 26.0%. Fiscal 2016 was the first year since fiscal 2012 where the tax rate was less than 26.0%.
Anyone following Apple realizes that taxes are a complicated matter for this company. With the ongoing Ireland/EU tax case pending resolution, appeals and potential U.S. problems with those findings, this is one parameter that could continue to fluctuate and take many more quarters to resolve. For that reason, I will accept Apple's guidance on this as well, going with a 26.0% tax rate for Q1.
My Projections for Q1 - Share Count
Apple's share count is dependent on the open market, its accelerated share repurchase (ASR) plan, other repurchases, and its employee purchase and compensation plans. For purposes of this exercise, I use the weighted average shares outstanding which is used to calculate earnings per share.
Apple does not provide a quarterly breakdown for the weighted average shares by quarter in its 10-K annual report. I backed into this number using the rest of its parameters and came up with a Q4 weighted share count of 5,396,000,000. This puts the share count drop to 76,624,000 for the quarter or approximately 1.4%. The average quarterly decline in share count for fiscal 2016 is slightly lower at 1.27%. This is in line with fiscal 2015's average quarterly drop of 1.25%. Both Q4 and Q1 drops have been the higher points of the year since the split, so I think a repeat of Q4 is in order with a 1.4% drop. This puts my projection for Q1 at 5,320,611,000 for weighted average share.
My Projections for an Earnings Surprise for Q1
Q1 of 2017 is a 14-week quarter. Will this result in an earnings surprise? Let's look at some facts and questions we must answer to determine if a surprise is probable.
Q1 has historically been the quarter of surprise even when the other quarters don't measure up. Apple announced record-breaking App Store sales for New Year's Day (falls in fiscal Q2) and called it a "record breaking holiday season". For 11 out of the last 16 quarters, actual EPS exceeds EPS calculated from Apple's guidance. EPS for the last three quarters has not exceeded the high-end EPS calculated from Apple's guidance. Note: The basis for last quarter's finding regarding the surprise factor. The continued exuberance of the market - irrational or not? Will market exuberance translate into consumer confidence and how much of a benefit has this been to Apple?
Based on my beliefs, I would think a surprise is probable. The question then becomes how much. The trend for Q1 surprise is declining rapidly - from 47.4% five years ago to just 2.6% a year ago. The five-year average stands at 19.6%. I'm inclined to go with a continuation of a moderate surprise, i.e., one equal to last year at 2.6%.
Wrapping It All Up - The Q1 Projections
In the table below, I've shown Apple's guidance and my projections for Q1 and calculated out the projected Q1 earnings per share. Because Apple does not guide on share count, I provided a few options for that parameter.
| | | |
| --- | --- | --- |
| Parameter | Apple Guidance for Q1 | My projections for Q1 |
| Revenue | $76.0-78.0 Billion | $77.52 Billion |
| Gross Margin | 38.0-38.5% | 38.6% |
| Expenses | $6.9-7.0 Billion | $6.915 billion |
| Other Income (Expense) | $400 million | $400 million |
| Tax Rate | 26.0% | 26.0% |
| Share count | No Guidance Provided | 5,320,611,000 |
| Earnings per Share using Shares outstanding on 10/14/16 | $3.09-3.27 | |
| Earnings per share using my Projection for Q1 | $3.10-3.27 per diluted share | $3.26 per diluted share |
| Surprise | | 2.6% |
| Consensus | $3.22 per diluted share | |
| My projection | | $3.34 per diluted share |
Potential Effect on the Stock Price
From September 21st's Q4 close through the close on the day of the earnings call, Apple's stock gained $5.54 (4.9%) to close at $118.25 per share. A week after the election, Apple hit a low for the quarter at $104.08. On the Q1 close of 12/31/16, the stock closed at $115.82, a gain of $3.11 or 2.76% for the fiscal quarter. Meanwhile, its peers on the Dow Jones Industrial Average overcame this lackluster performance ( and others as well) to post an 8.2% gain over the same time frame.
As of this writing (1/15), the current P/E for Apple is 14.39 ($8.27 TTM earnings - Barron's). It continues to lag its peers on the DJ Industrial Average which sports a 21.68 P/E (according to WSJ.com). Using consensus earnings adds .1 to the P/E to 14.49 at the current close of $119.04. I doubt that hitting consensus would raise the bar and allow the stock price to break the resistance levels just above $120.00.
On the other hand, an upside surprise based on my predicted EPS would lower the P/E by .1 to 14.29 and may give enough impetus to push the P/E towards 15 and break those resistance levels. A P/E of 15 using my predicted EPS would put the stock at $124.95.
Of course there are many ongoing big picture issues that can have effects on macro movements of the market which could translate into further exuberance, or the possible doomsday decline that everyone was expecting. There has been an underlying battle between the Apple Bears and Bulls as to which direction the stock will move. This battle continues and will probably rear itself in the comments section once again.
Or then, there is stagnancy. Let's face it. If you bought Apple at the closing price on December 5, 2015, over 13 months ago, you'd only be better off by a penny (plus dividends). In fact you could go back 10 more months to Feb. 2nd and be only better off by a dime (plus another couple of bucks in dividends). And this is where I think we are at. It's a solid company. It pays a decent dividend. It may soon be able to repatriate some of its hoard of cash and do something with it. So, buy it for the maturity. Buy it for the covered call opportunities. Buy it for the sustained dividend. Buy it for the hope and glimmer that a technology giant with the cash and capability to innovate has the real possibility to reinvent itself from a phone manufacturer into the next thing you and I have to have.
Disclosure: I/we have no positions in any stocks mentioned, and no plans to initiate any positions within the next 72 hours.
I wrote this article myself, and it expresses my own opinions. I am not receiving compensation for it (other than from Seeking Alpha). I have no business relationship with any company whose stock is mentioned in this article.
Additional disclosure: From time to time, I/we utilize Apple as part of a covered call rotation. I do not expect to have a position this month.