Introduction
ClubCorp (NYSE:MYCC) ("ClubCorp") has announced that it will start reviewing strategic alternatives with Jefferies LLC as well as Wells Fargo Securities, LLC. Several authors in Seeking Alpha have noted that the company was undervalued. A week ago, the share price was $12 prior to the announcement, but it is $17 now. I believe that we are now close to its fair price, but the buyers will have to pay the control premium and a little bit more if there are several bidders.
This week, the company started to contact potential bidders, thus the price has not been inflated by rumors. In this article, I will provide some inside about the kind of company that may buy ClubCorp and the likelihood of a deal.
ClubCorp
ClubCorp was founded in 1957. It is based in Dallas. The company operates and owns private golf and country clubs in the United States. It runs a portfolio of 200 golf and country clubs in 26 states.
The IPO was made in 2013. In these three years, the revenue as well as the expenses have grown. I believe that the company is offering a great product, but it is not very good at managing costs. I believe that a buyer may be able to do it in a befitting manner.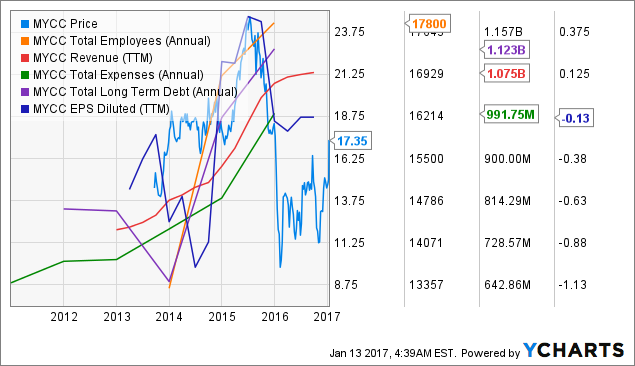 I think that a private equity may be able to run this company at this point in time much better than the current management. The product works since the revenues are growing, but it needs people with expertise implementing cost-cutting programs to make the company profitable.
In addition, the company has $1.11 billion of debt, which accounts for half of its enterprise value. A PE fund has much more expertise in negotiations with debt holders and may be able to obtain better deals. Finally, if the company needs to dispose of some assets, a private equity has more resources and expertise in selling assets to increase the value of the company.
Properties
In the last annual report, I learnt that the company owns a lot of properties. Take a look at the figures reported:

Source: 10-K
Taking into account that the number of shares outstanding is 65 million, these assets should be worth at least $15 per share. I am sure that buyers will look at these properties carefully. Private equities, for example, appreciate very much such kind of assets in a balance sheet.
Activism
I have not seen any activist investor, pushing the company to make some changes in the way it is managed. However, in the annual report, it is stated that the company has been contacted by activists. Shareholders might not have the time to read it, so here it is:
"Publicly traded companies have increasingly become subject to campaigns by investors seeking to increase stockholder value by advocating corporate actions such as corporate restructuring, increased borrowing, special dividends, stock repurchases, and the sale of assets. We have experienced activist investors taking ownership positions in our common stock and initiating communications with us. "
The fact that the company has been contacted by activists is remarkable. Maybe the company was forced by the activists to review strategic alternatives. If this is the case, the likelihood of the sale of the company may be high.
Buybacks
The Board of Directors also believed that the company was undervalued since it commenced a buyback program in 2016:
"On February 18, 2016, our Board of Directors authorized a repurchase of up to $50 million of our common stock. The repurchase program is expected to be executed over two years, and is expected to be executed from time to time, subject to general business and market conditions and other investment opportunities, through open market or privately negotiated transactions, including through plans designed under Rule 10b5-1 of the Exchange Act."
Conclusion
There are many reasons to believe that this company will be sold. Firstly, the company owns properties, and its revenues are promising. Secondly, the company is trying to sell the business, and it is noted in its last report that activists have contacted the company. I firmly believe that if we buy now, we may be able to profit when the company announces the deal.
Disclosure: I/we have no positions in any stocks mentioned, but may initiate a long position in MYCC over the next 72 hours.
I wrote this article myself, and it expresses my own opinions. I am not receiving compensation for it (other than from Seeking Alpha). I have no business relationship with any company whose stock is mentioned in this article.