In the beginning of this year, I believe the consumer cyclical sector will do well. I've based my thesis on the following facts:
Consumer sentiment has reached its highest point in five years.
The unemployment rate is heading towards the pre-2008 crash level.
New housing construction starts in the U.S. continues to rise.
When consumers believe they will keep their jobs - or even better, think they will get a raise - they are more likely to spend money. The University of Michigan conducts a survey trying to determine consumer sentiment towards the economy: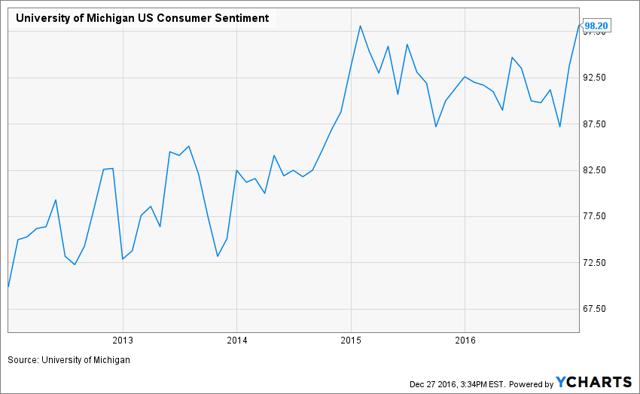 (Source: YCharts)
As you can see, sentiment has recently grown stronger after Trump's election. Regardless of whether he will keep his promises, consumers seem to be fairly confident in the future.
The other two factors that tell me we will continue to have a strong economy are the unemployment rate, which continues its strong trend downwards, and new housing starts, which are rising consistently: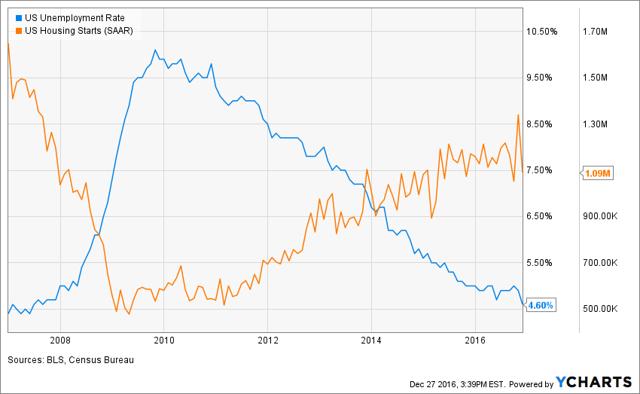 (Source: YCharts)
While there is still room for improvement in the case of housing starts to reach the pre-2008 crash level, both metrics are clearly heading in the right direction. When you have the three factors combined (low unemployment rate, more housing starts and strong consumer confidence), you can expect people to spend more money in the years to come.
For these reasons, I've selected three companies meeting my 7 dividend investing principles in the consumer cyclical industry.
Disney
Disney (NYSE:DIS) is one of my favorite holdings. The company is often ignored by dividend growth investors due to its low yield (1.50%). Unfortunately, these investors have missed its impressive dividend growth history over the past 10 years. Back in 2007, DIS paid a total of $0.35 per share. In 2016, the company rewarded its shareholders with $1.49 per share for a CAGR of 26.64%.
Disney stock has lagged the S&P 500 in 2016 with barely any progression (0.09% YTD as at December 27, 2016). The main reason why the company wasn't able to attract investors is ESPN, despite surfing on several successes such as a new theme park in Shanghai and several blockbuster movies. Unfortunately, the most profitable unit of Disney is losing steam, as ESPN lost 3 million customers in 2016.
However, Disney doesn't intend to leave the situation as is. It recently made a deal with BAMtech (a stake of $1 billion) in order to launch an ESPN streaming service. As Disney is losing customers as they are cutting their cable services, the company is moving along with its lost customers to the streaming world.
We also expect several blockbuster movies for 2017 that should propel Disney's movie division to higher records. With a strong start in late 2016, "Rogue One: A Star Wars Story" will generate more revenues in 2017, and will be followed by another "Pirate of the Caribbean," superhero movies such as "Guardians of the Galaxy 2" and "Thor 3," along with another Star Wars sequel movie during the same year. With more money in hand, we can also expect customers to spend more in Disney's theme parks. This division has shown +5% revenue growth in 2016, and we should expect stronger numbers in 2017, as the Shanghai park will be open for a full year for the very first time.
Genuine Parts
Genuine Parts (NYSE:GPC) is part of the most elite group of dividend payers, the Dividend Kings. The Dividend Kings is a group of 18 companies that have successfully increased their dividend payouts for more than 50 consecutive years. Over the past 5 years, the company has maintained a dividend CAGR of 5.84%.
GPC could be compared to a big whale in the ocean. As the company is the largest automotive replacement parts distributor, it continuously swallows smaller competitors to become even larger. GPC's growth by acquisition model has been proven successful for several decades. As this market remains fragmented, the company is able to continue its growth on a steady basis: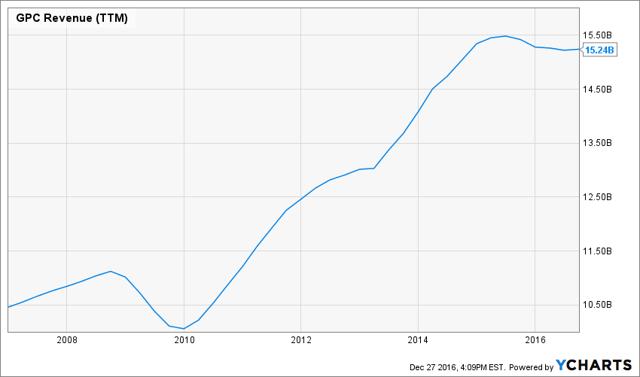 (Source: YCharts)
Due to its size, GPC has become the most reliable and the fastest parts distributor (Source: Morningstar analyst report). It is easier and faster to get parts from Genuine Parts compared with other companies, so more customers are inclined to do business with it.
A winning strategy for any portfolio-building method is to pick strong companies with established business models that have become leaders in their industry. GPC meets all requirements to be considered as such. While you will not see GPC stock price expand by 20% in the next 12 months, you can count on regular and sustainable growth. Therefore, the company will continue to provide both dividend growth and stock value appreciation for many years.
Hasbro

It would be foolish to mention Disney and not Hasbro (NASDAQ:HAS) in the same article. Hasbro has published its most profitable quarter with Q3 2016 ($1.68 billion, up 14% year to year). This was mainly due to its partner brands' revenues going up 19%. This division counts Disney as one of its major partners, and the arrival of Disney Princess and Frozen dolls made a huge hit. Over the past five years, management made sure shareholders were rewarded for their success with a dividend CAGR of 11.20%.
Besides its lucrative partnerships licensing many Disney-related toys (Star Wars, the Princesses, Marvel and Frozen), Hasbro has also been able to create a "new" generation of toys that attracts little boys and has its place along with the strong competition created by video games and tablets. With toys like NERF, Magic: The Gathering and Transformers, the company also shows its ability to create and maintain toy brands that are appealing for kids.
As I am expecting a strong year in the U.S., I was pleased to see that Hasbro's main currency is still the USD: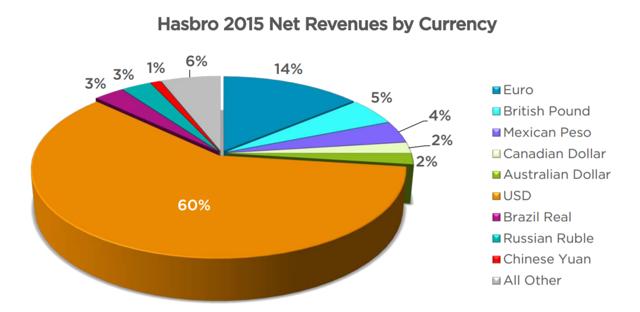 (Source: Hasbro Q3 presentation)
This leaves little room for currency volatility and a strong position to benefit from the boost in U.S. consumer spending. Then again, there are several movies expected in 2017, such as Star Wars and Marvel's, that should generate even more revenue for Hasbro.
My favorite pick among this short list
If I had to pick only one company out of this list, I would definitely pick Disney. This is the only stock among this small group that hasn't performed well in 2016. The stock could easily jump if management is able to reduce investor concerns around ESPN.
Disclaimer: I hold all above mentioned stocks in my DividendStocksRock portfolios.
The opinions and the strategies of the author are not intended to ever be a recommendation to buy or sell a security. The strategy the author uses has worked for him and it is for you to decide if it could benefit your financial future. Please remember to do your own research and know your risk tolerance.
Disclosure: I am/we are long DIS, HAS, GPC.
I wrote this article myself, and it expresses my own opinions. I am not receiving compensation for it (other than from Seeking Alpha). I have no business relationship with any company whose stock is mentioned in this article.