There is a window of opportunity for gold (NYSEARCA:GLD) to start to perform. It appears to have bottomed. Inflation picking up is helping. Central banks soft-peddling tightening is another key element.
Review Of Our Calls
On August 25th, we went from being bullish to bearish:
"The Fed increased their hawkish tone over the last two weeks. That likely means they are aligned to hike rates. The initial reaction to a hike in rates would be to sell inflationary assets like gold."
Previous to that call, we had been bullish.
Since that call, we had been bearish initially based on the Fed turning more hawkish. Gold had a huge multi-year run, thanks to record easing from the Fed. That change in tone was expected to cap gold.
In December, our Premium Members (Pay Wall) saw us turn bullish for the first time fundamentally, despite our technicals still pointing bearish.
"We are staying bearish for now because of our model but the fundamentals could swing short term positive if there is a slowdown in the economy."
While some economic numbers had been turning up, our main indicator, US jobs, slowed in December. A slowdown, while most were looking for a pickup, could help gold.
Now we see fundamentals and technicals pointing up.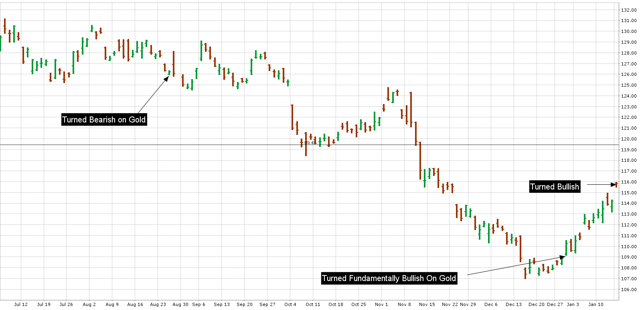 Source: Interactive Brokers
Here's a chart of our calls changing direction.
Inflation Fundamentals
Inflation has been picking up globally. So far that has not been met with a change in central bank desires to stop easing and start tightening.
The ECB and BOJ, both are adamant to continue their massively stimulative bond buying programs.
That is in the face of inflation jumping.
Here's the EU inflation rate jumping.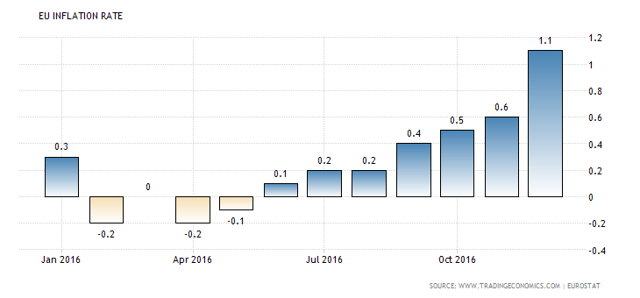 Source: Trading Economics
Here's Japan's inflation rate jumping.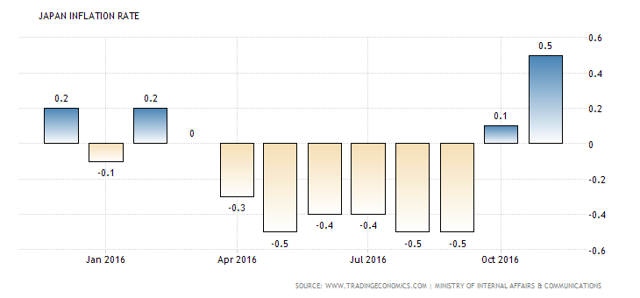 Source: Trading Economics
US inflation reports on Wednesday, which can also move higher.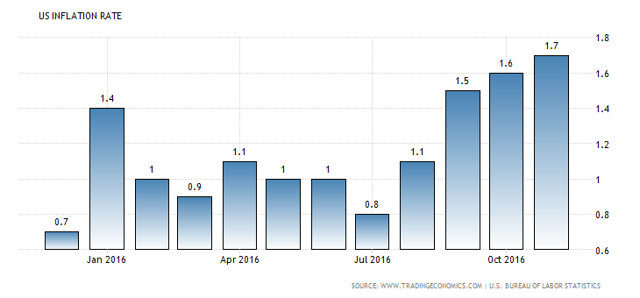 Source: Trading Economics
US inflation has also been moving up. Wednesday's CPI numbers could also see a continued acceleration driven by oil. Oil was up from November to December, which could bias CPI higher.
Window Of Opportunity For Gold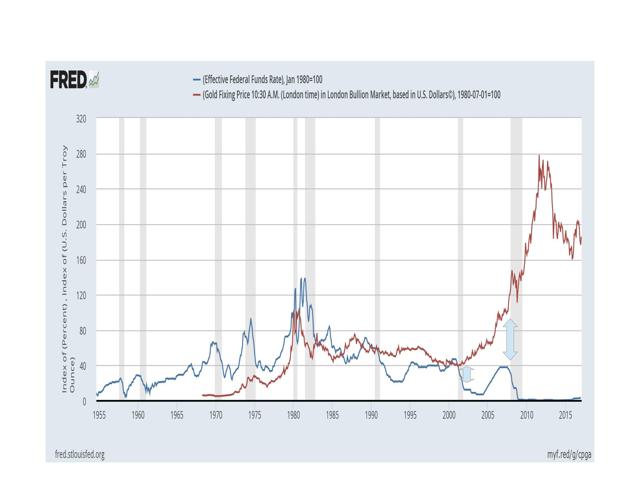 Source: St Louis Fed, Elazar Advisors, LLC Arrows
Above, you see gold in red indexed to the Fed Funds rate in blue.
We drew two double-sided arrows to show that when Fed Funds rates dropped to near zero, gold launched. As investors had no return on debt instruments, gold was relatively more attractive.
In the near term, we have inflation picking up, but global rates are still near record lows. As long as these two factors hold (inflation up, rates down), gold should do well.
Whenever global central bankers decide to get more aggressive to tighten, gold should reverse down. The chart above should reverse. Higher rates should lead to lower gold prices.
Again, we're not there yet. Instead rates not moving should allow gold to benefit from higher inflation.
Technical Break Out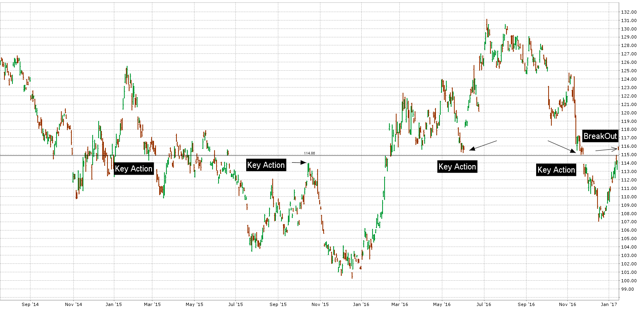 Source: Interactive Brokers
Above is the Gold ETF GLD. We drew where we thought were key action points. The very recent move broke back above this line that has acted to break down or break out gold.
The combination of fundamentals and technicals, both now pointing up, has us bullish.
Conclusion
We turned bullish after several months of being bearish on gold. Gold has a window of opportunity where inflation is picking up without the corresponding tightening from central banks. As long as those two factors are static, gold has upside.
PRO TRADER on Seeking Alpha
Thanks for reading our report. We hope you enjoyed it. If you did, you may want to check out our premium Seeking Alpha service.
Every morning and throughout the trading day, we offer our members unique access to our insight on the markets based on a wealth of experience working with multi-billion dollar hedge funds and institutions in PM, analyst and trader roles. We provide weekly and daily market models and analysis that can help you know what to expect next in stocks, S&P 500, gold, oil and bonds. We're also very proud of the interaction with our members which can help you harness your own unique strengths to become a great investor or trader. There is no secret formula in this business. Discover your own investing ability.
Click here for a free trial of Elazar's Pro Trader on Seeking Alpha.
If you liked our work scroll to the top and click "Follow."
Disclaimer:
ETFs reported by Elazar Advisors, LLC are guided by our weekly and monthly methodologies. We have a daily overlay which changes more frequently which is reported to our premium members and could differ from the above report. Portions of this article may have been issued in advance to premium members. All investments have many risks and can lose principal in the short and long term. This article is for information purposes only. By reading this you agree, understand and accept that you take upon yourself all responsibility for all of your investment decisions and to do your own work and hold Elazar Advisors, LLC and their related parties harmless. Any trading strategy can lose money and any investor should understand the risks.
Disclosure: I/we have no positions in any stocks mentioned, and no plans to initiate any positions within the next 72 hours.
I wrote this article myself, and it expresses my own opinions. I am not receiving compensation for it (other than from Seeking Alpha). I have no business relationship with any company whose stock is mentioned in this article.