Juxtapositions are a lot of fun. Especially when it comes to markets and politics.
Why are they so much fun? Well, because by definition, they expose confusion, hypocrisy or ideally both.
Over the past week or so, it's been interesting to watch as the market's faith in the reflation narrative has deteriorated, even as positioning still seems to indicate at least some folks are keeping the faith.
You probably don't need to be reminded of this, but the consensus trade is to long USD (NYSEARCA:UUP) and short Treasurys (NYSEARCA:TLT). Faith in the latter has taken on an almost religious zeal, with the short position now constituting a multi-sigma event: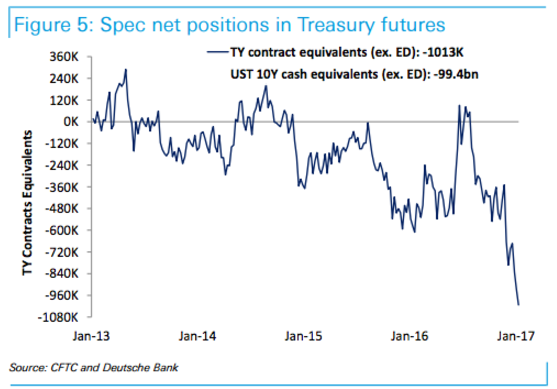 (Chart: Deutsche Bank, CFTC)
As for the USD trade, the net long position is sitting at around $25 billion. Traders trimmed their longs by a shade in the week ending January 10. Here's the full breakdown via Goldman: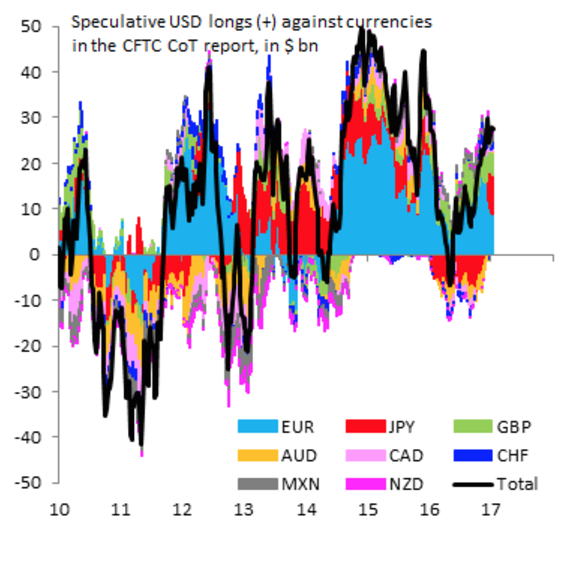 (Chart: Goldman)
Although Trump's comments in the Wall Street Journal are what's grabbing headlines this week, the long dollar trade was already looking a bit tenuous. "It evokes memories of a year ago when the market got bullish dollar after the first Fed hike of the cycle, but the dollar subsequently traded lower into May after global market turbulence early in the year cut off Fed rate expectations at the knees," SocGen wrote on Tuesday morning, adding that "this time it is the lack of details on US fiscal stimulus that has sapped dollar momentum."
Right. No one knows exactly where this is going to go. As I wrote on Monday, we're kind of in limbo.
Getting back to the juxtaposition point, the question for market participants when it comes to the reflation narrative is now this: "Who are you gonna to believe, me or your lyin' eyes?"
Markets are suggesting that the spell may be broken, with stocks being the only component of the reflation trinity still hanging on to the narrative:

But CFTC data still seems to suggest there's still quite a bit of money betting on the year's most crowded trades to pan out.
It's against this backdrop that I found the following charts from BofAML to be particularly amusing: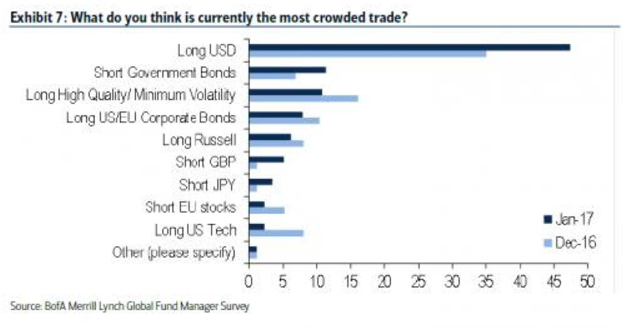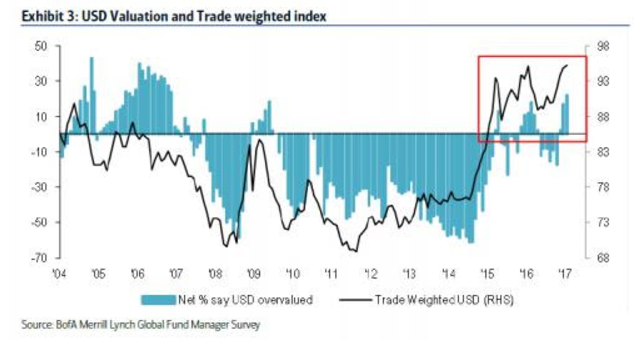 (Charts: BofAML)
The first chart suggests that not only is everyone aware of how crowded these trades have become, but they are more aware of it now than they were last month.
The second chart provides some historical context - the percentage of survey respondents who say the dollar has overshot is now the highest since 2006.
So the market is saying one thing, positioning is saying something else and, when asked, traders are saying the same thing as the markets. Who you gonna believe?
You'll have to decide that for yourself, but watch the CFTC data closely for the next couple of weeks to see if anyone is getting shaken out.
Disclosure: I/we have no positions in any stocks mentioned, and no plans to initiate any positions within the next 72 hours.
I wrote this article myself, and it expresses my own opinions. I am not receiving compensation for it (other than from Seeking Alpha). I have no business relationship with any company whose stock is mentioned in this article.