2016 proved to be underwhelming in terms of IPOs, with the WSJ calling it the worst year for IPO deal volume since the financial crisis. 2017, however, is being tipped to break last year's trend, with several decacorn and unicorn IPOs keenly anticipated, none more so than Snap, Snapchat's (CHAT) parent company.
Cory Murphy of Renaissance Capital.

Renaissance Capital traces the difficulties of 2016, back to August 2015, with various concerns, including the weakening of China and a commodities decline, impacting market confidence. Last year's volatile political situation meant uncertainty continued to take centre stage. This kept IPO investors, and companies thinking of launching themselves on the market, more often than not on the sidelines in terms of launches. Partly as a result of Trump's expected pro U.S. business platform, and also because it certainly feels like many of the big shocks have had their day, there may be space for a turnaround in IPO-related confidence. With 2017's first major IPO likely to be Snapchat's in March, this article runs the rule over this decacorn, asking if an investment is worth the risk.
IPOs in $bn raised - 16 years. Source: Dealogic/Wolfstreet.com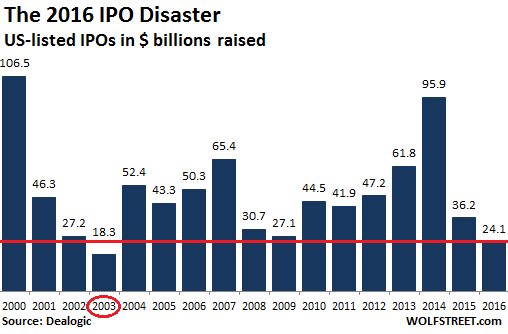 If 2017 does buck, what the above diagram shows is a two-year trend, it might be worth remembering that this does not mean that IPOs are an opportunity that can't be missed. The graph below shows in fact that very often they should be avoided, with companies launching with values often at the high end of the spectrum, meaning that between 2000 and 2015 (the years covered by Paul Marsh and Elroy Dimson of the LBS in their study) smaller companies, after their IPO underperformed the market by around 25%. If it were all bad news, however, the fanfare around IPOs simply would not exist. In 2016, whilst there were flops, like PhraseRX, down 73%, according to Dealogic, 81 of the 111 IPOs that made it to the market, are trading above their offer price. Though investors may feel companies are overvalued, and be wary of getting their hands burned, shrewd research, and even something as simple as a feel for a potential stock, can generate significant returns. As everyone knows, if you had invested in Facebook's (NASDAQ:FB) IPO, your shares would since have trebled in value.
Returns after IPOs - '87 on. Source: FT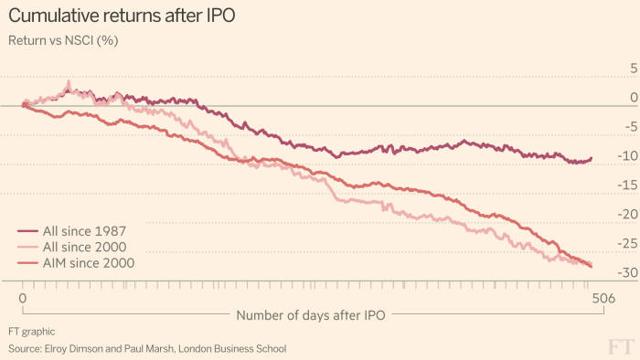 Dealogic IPO data - 2016. Source: Dealogic

Snap
Snapchat Ad Revenues - Source: emarketer.com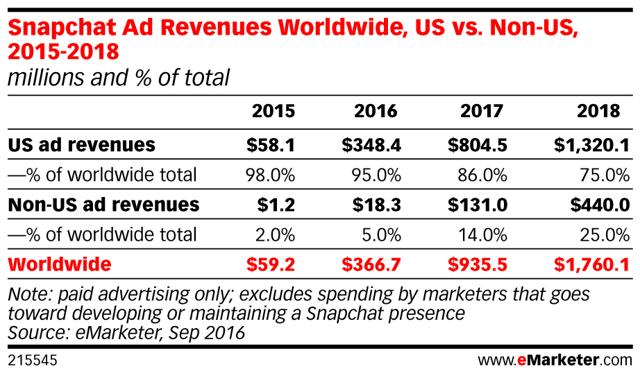 Snap, the owner of Snapchat, from humble beginnings, a story most are likely already familiar with, has grown and grown, and become 2017's expected hot IPO offering, with a March date expected. The company, known as being popular with key younger demographics, but yet to crack the over 30s market, has been pushing a series of monetisation schemes, from in-app applets which can be bought, to advertisement. These schemes are "expected" to see the company's profits surge. Snap's IPO is expected to be valued around the $25bn to $35bn mark, and the key question is whether an investment is worth it, and how such an investment might be seen.
Snap Revenue Forecast - Source: Bloomberg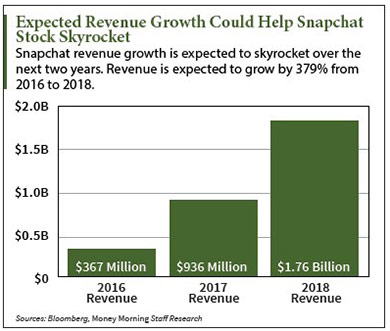 Snapchat has nearly 150 million daily users, and the positive case for investing is certainly there to be made. Initial investors have supported the company strongly, and are strong believers in its potential, Facebook tried to head off Snap's potential as a competitor with a $3bn buyout offer, advertisers see a method of reaching the key 18-24 year old demographic, and Snap's key product, disappearing messages, for the moment is only increasing in popularity. Contrastingly, a huge amount of its credibility comes from its cultural cachet, and should Snapchat lose its "cool," it has much less to fall back on that its competitors, being essentially, for the time being at least, a single service offering. When Facebook stopped being viewed as an upstart and made the transition into "uncool" corporate behemoth, its huge user base, and its wide offerings as a platform and web portal ensured its survival. It is all too easy to view Snap's increased in-app offerings, for instance those related to emojis, as little more than faddish. In terms of investing in Snap's IPO, there is a case for, and a case against, and also the possibility that "stagging" the IPO might prove the most profitable course of action.
Snapchat Millenial Popularity - Source: Statista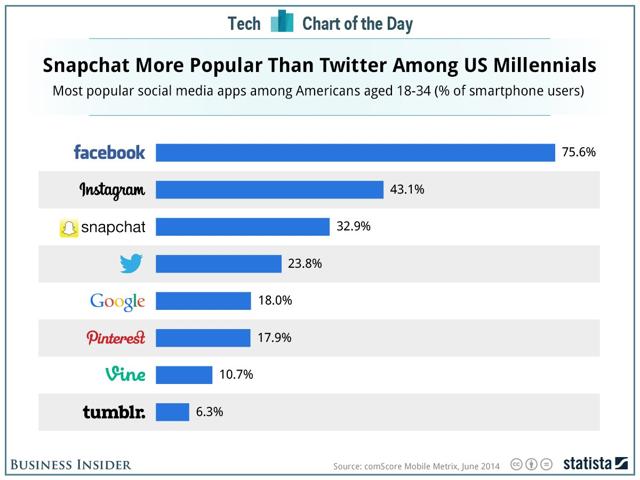 The Case In Favour
As far as the company's future is concerned, Snap is well aware that it needs to broaden its product offering, having shown an interest in developing technologies such as its Spectacles glasses, and in the augmented reality market in general. In terms of its development, the company has grown over its short years to become a major competitor in social media terms, and the buzz around it suggests that Snap has both plenty of room to grow, and the necessary energy and vision, especially if you buy into the "visionary" hype around its founder Evan Spiegel. The company's daily-user figure of 150m is impressive, but so too is its much larger monthly active user figure of 301m. Over 9000 snaps are shared per second through Snapchat, and more than 30% of American millenials use the service. It also does seem to be an advertising goldmine. This latter point is even more pertinent when you consider the company's innovative advertising ideas, such as tying advertisements to a user's location, or its rumoured patent application for a technology which can identify objects in pictures and deliver ads around them. If the buzz is right, and the company can convince investors and consumers that it is the next Facebook, as against the latter half of millennial generation's Bebo, then getting on the Snap gravy train is a simple choice to make.
Snapchat Infographic Edited from FDI Website.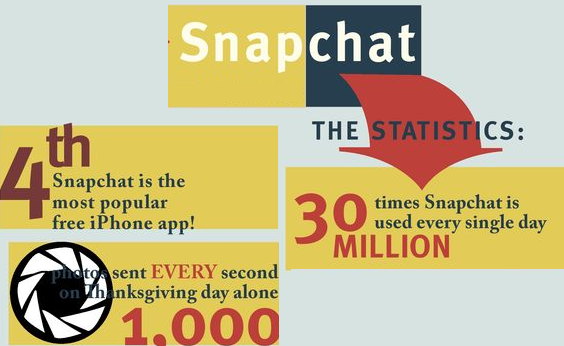 The Case Against
Beginning with Facebook and Twitter (NYSE:TWTR) as a comparison, it is worth remembering that whilst Facebook grew and grew since its IPO, still having several bumps along the way, Twitter, the globally popular social media platform, continues to be valued at almost $10 lower than its initial valuation. Simply, there is absolutely no guarantee that Snapchat will be the next Facebook, or even the next Twitter; it has yet to suffer a real series of setbacks, and cannot claim to have had its mettle truly tested.
Snapchat Valuation Speculation - Source: Dealogic/WSJ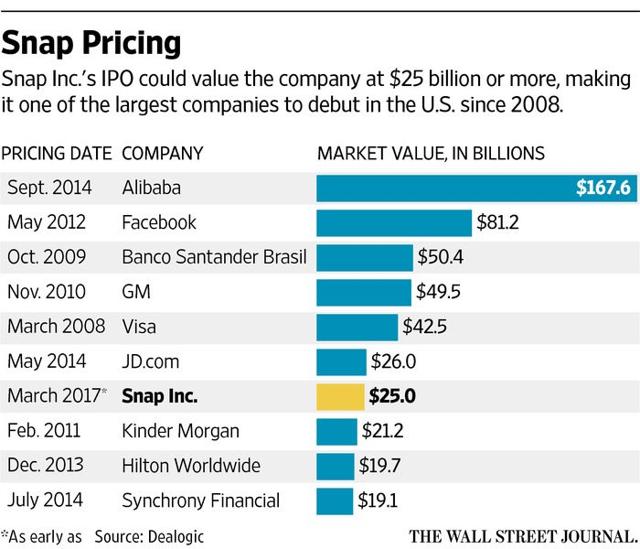 The word unicorn is used around IPOs for the simple reason that massive investor returns often prove to be entirely illusory. University of Florida's Jay Ritter found, for instance, that average investors in IPOs usually lose money over the five years following an IPO. This, of course, is not company specific, and Snap may be yet another example of a company that bucks such trends; however, it is certainly reasonable to be cautious.
Snapchat User Penetration June '13 & June '16 - Source: Comscore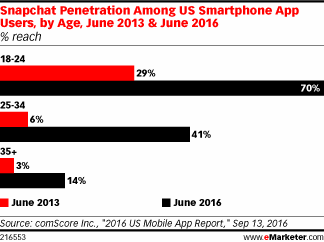 Still more potentially troublesome is that the future direction of Snap remains uncertain. Outside of its millennial demographic, and its messaging service, what exactly can the company do to grow? Instantly deletable messages might prove popular with people going through the throes of maturing, but it is difficult to imagine one's grandmother enjoying having a deadline for reading a message. Further to this, 150m users in social media terms is not actually, so to speak, all that. Instagram, a rival owned by Facebook, reached the same number of daily users since launching a Snapchat-like service: Stories. Snap's sole major conceptual offering, outside of its core application, its Spectacles glasses product, which re-pitch the company as a "camera company," also might not prove popular, being as likely to flop as not. It is after all not Google Glass that powers Alphabet's global reach.
Purely economically, the numbers also do not quite add up. Its current operating profits lag well below its valuation. If it floats at the $25bn mark, the company will be valued at around 500x its after profit earnings, and although it may succeed in its monetisation of its service, with 2023 profits expected to reach approximately $400m, even that level of profit is sixty-three times its IPO valuation. Furthermore, the fact that only a little over a year ago Fidelity marked down its then recent investment into Snapchat by 25%, could certainly be read as a sign that Snap is not quite the perfect investment opportunity it markets itself as.
The last case against a Snap investment is the argument that the company is essentially operating as a free R&D centre for Facebook, with the technology behemoth simply adopting a variation of every single product Snap launches that might fit well with the Facebook offering, from Instagram's Stories, to Messenger's timed messages. What Snap can do, even if better, its already highly subscribed to rivals can imitate and offer. This may mean that user uptake, outside of Snap's current demographics, may prove difficult to ensure.
If you are an ardent believer in Snap's future, then none of this analysis will change your mind, but if you are sitting on the fence, it does seem that there are significant risks in taking a position in what remains essentially a single-service company.
The Case For Stagging
Stagging, the buying of shares in an IPO with the intention of selling for a quick profit, might be the most shrewd move in terms of Snap's IPO. If you compare the company's product offering with the two IPOs which generated a similar buzz: Twitter and Facebook's, as a single-service company, Snap has a lot more in common with the former than the latter. If this analogy holds, Snap's value is likely to peak early on, and then see a steady decline. In the case of Twitter, stagging the company would not have earned you as much as hanging on for the two-month high of $69 per share, but a 160% return for a day's investment is hardly to be sniffed at. Similar gains may be on offer the day after Snap's launch. Whilst not the most exciting strategy, if you are interested in Snap, but don't want to go all in on a long holding, stagging may just be the approach for you.
Disclosure: I/we have no positions in any stocks mentioned, and no plans to initiate any positions within the next 72 hours.
I wrote this article myself, and it expresses my own opinions. I am not receiving compensation for it (other than from Seeking Alpha). I have no business relationship with any company whose stock is mentioned in this article.
Additional disclosure: CFDs, spread-betting and FX can result in losses exceeding your initial deposit. They are not suitable for everyone, so please ensure you understand the risks. Seek independent financial advice if necessary. Nothing in this article should be considered a personal recommendation. It does not account for your personal circumstances or appetite for risk.