Looking back on 2016, two shockers stand out: Brexit and the US presidential election. Not only were the polls wrong, but markets defied expectations by rising in the wake of both votes. In 2017, I expect politics and policy will again play a major role in driving markets and creating volatility. So how do we assess areas of opportunity and risks with any confidence amid this uncertainty?
I anchor my investment ideas to a framework that takes political trends into account, but also fundamentals and valuations. When these factors are favorable, then the case for the investment is likely to be more insulated from hard-to-forecast political outcomes. This is the framework I use in this 2017 outlook.
Among my conclusions: Recession risk is low, growth is improving, and inflation is rising. This gives me a pro-cyclical bias with a view that rates are headed higher. I favor equities over bonds, less interest-rate-sensitive equities over bond-like equities, and the US and Japan over Europe. I think emerging markets will face two headwinds: higher yields in developed markets and a stronger US dollar.
POLITICS: TRUMP, BREXIT AND BEYOND
I view the election of Donald Trump as having both positive and negative implications for the US economy. On the positive side, Trump has promised to slash regulations, cut corporate taxes, and increase infrastructure and defense spending. On the negative side, Trump's protectionist and anti-immigration proposals threaten to stem the free flow of goods, services, and labor. Of course, his tone has changed in some areas since the election, making it difficult to predict whether he will stick to his campaign pledges. But on balance, I view his policies as supportive of nominal growth in the US, and think his softened rhetoric and pro-business stance, as well as the private-sector backgrounds of many of his cabinet picks, will be positive catalysts for the market.
I think deregulation and corporate tax reform will have significant stimulative effects on the economy and are the policy ideas most likely to be implemented (Figure 1). My base case is that a budget resolution will be passed during the spring that will include corporate tax reform and a modest increase in infrastructure spending. I think the tax reform could include lower corporate taxes and/or repatriation of foreign earnings to the US at a low, one-time transition tax rate. While the president has broad trade authority, I don't expect Trump to fulfill his most draconian promises, as their negative impact on the economy would be counterproductive to his ultimate goal of stimulating growth.
FIGURE 1
US has among the highest corporate tax rates
Average effective tax rate by country (%)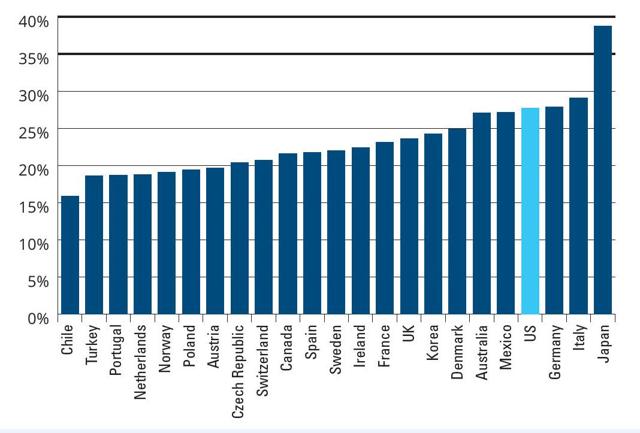 As of November 2016 | Source: PwC
Increasing infrastructure spending significantly could be difficult given that Speaker of the House Paul Ryan and Senate Majority Leader Mitch McConnell do not want to expand the budget deficit and consider current infrastructure spending levels adequate. Meanwhile, Trump's victory, as well as Brexit, has empowered populist and anti-EU parties throughout Europe. As I've noted before, years of rising inequality and declining purchasing power have left the working classes disaffected and angry at the political establishment. Europe faces general elections in France, Germany, the Netherlands, and possibly Italy in 2017, all of which are likely to contribute to volatility.
HIGHER YIELDS: IT'S THE ECONOMY, STUPID!
Most market moves are being measured post-Trump's election on November 8. However, the "Trump trade" of higher yields and rotation from safety to cyclical sectors actually began post-Brexit in July. Some of this was likely in anticipation of pro-growth policies associated with Hillary Clinton's infrastructure spending plans, but growth and inflation were already inflecting upwards, with the improvement in fundamentals (Figure 2) pushing yields higher.
FIGURE 2
Fundamentals have ticked up
Composite purchasing managers indexes,1 January 2010 - November 2016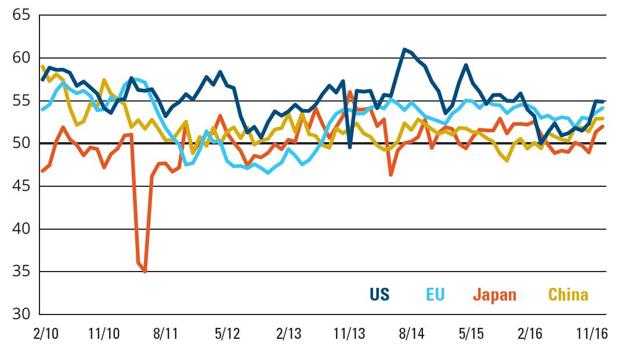 Sources: Haver Analytics, Markit, Wellington Management
OPEC's agreement to cut production by 1.2 million barrels per day over the six months starting in January 2017 will also support higher inflation. Inventories in the US have swelled as operators have become more efficient and capable of profitably pumping oil at lower prices. The OPEC cut will allow inventories to rebalance and support oil prices in the US$50 - $65 range, in my view.
Shifts in central bank policy are also afoot. The US Federal Reserve (Fed) hiked interest rates .25% at its December meeting, and other central banks, including the European Central Bank (ECB) and the Bank of Japan (BOJ), may be running up against technical limits on their asset purchase programs.
Higher yields are more likely in long-dated maturities, causing yield curves to steepen further. The long end of the curve is affected by growth and inflation expectations. On both scores, there is likely to be upward pressure on yields. And with Trump's pro-growth policies likely to push deficits higher, I expect investors to demand higher yields.
Flows may also pressure yields higher. Mutual fund flows into bond funds have totaled almost US$1 trillion since the financial crisis. Outflows of more than US$10 billion in November were relatively modest but more may be on the horizon.
SECTOR ROTATION STILL IN ITS EARLY DAYS
The combination of a reflating economy, higher interest rates, and attractive valuations suggests that the rotation from low-volatility equity sectors to value sectors can continue in the coming year. Value-oriented sectors, though not as cheap as a few months ago, are still about one standard deviation2 cheaper than the median over the long term, while low-volatility equities are still on the expensive side of their long-term history.
I don't anticipate large moves in the credit markets. Corporate bonds are likely to outperform governments as spreads should narrow in an improving growth environment. That said, absolute returns will be challenged unless spread narrowing more than offsets the rise in underlying Treasury yields. For this reason, I favor shortening duration3 and prefer high yield or bank loans for return-seeking opportunities. High-yield spreads stand to benefit from improvements in oil and US manufacturing. Bank loans should benefit from higher interest rates. Within US governments, I see further upside in US Treasury Inflation-Protected Securities (TIPS). Municipal bond selling has put valuations at attractive levels compared to investment-grade corporates on an after-tax basis.
MY REGIONAL VIEWS
US
I expect the US to remain an area of relative economic strength in 2017. Already benefiting from employment gains, modestly improving wages, and favorable housing conditions, the US consumer is, in my view, strong enough to handle moderately higher interest rates, assuming the rate rise doesn't prove disorderly.
US manufacturing has been challenged by a strong US dollar, uninspiring global growth, a stubborn inventory overhang, and political uncertainty. I think the inventory backlog is clearing, however, and with the election behind us, businesses should gain clarity on the political landscape and be freed from many burdensome regulations. That said, continued dollar strength and still-sluggish global growth will likely mean only a moderate pickup in manufacturing.
Europe
With shakier economic fundamentals, Europe is more vulnerable to political risks, including the upcoming elections noted earlier. In the UK, the market may soon have to re-engage with the realities of Brexit, as Prime Minister Theresa May has targeted the end of the first quarter of 2017 to trigger Article 50. Still, economic data has held up reasonably well, especially in manufacturing and exports, so we're not concerned that a recession is imminent.
Japan
While fundamentals are mixed, the BOJ remains the most aggressive of the major central banks in providing support to the economy, and in turn, to markets. Further, our firm's global industry analysts note that a key tenet of Abenomics4 remains alive and well: Japanese corporations are increasingly managed with shareholder goals in mind. We're also encouraged that the yen is depreciating versus the US dollar as investors weigh Trump's reflationary agenda and the divergence between Fed policy and BOJ policy, with its commitment to keeping the 10-year Japanese bond yield at zero.
China and other emerging markets
I expect the recent pickup in China's economy to continue through the first half of 2017 before slowing into year's end. Leading indicators on the important property market remain solid as real interest rates have only risen modestly and fiscal spending has been strong. However, medium-term risks are picking up-including higher nominal rates and the threat of capital outflows as US rates and the dollar rise-and longer-term concerns about China's debt persist.
As the tides of ultra-low global rates and ultra-high liquidity begin to turn, emerging economies that have large current-account deficits and depend on foreign funding, such as Turkey and South Africa, will be vulnerable. Mexico will be in Trump's anti-NAFTA crosshairs, and given that almost 90% of the country's exports go to the US, any restrictions will hurt its economy.
ACCENTUATE THE POSITIVE, BUT DON'T LEAVE OUT THE RISKS
Markets are embracing the potential pro-growth positives of the US election outcome, but shouldn't overlook the uncertainty associated with Trump's apparently staunch views on protectionism, lack of political experience, and unpredictable temperament. In addition, we do not know the extent to which Congress will support Trump's policies, particularly when it comes to spending.
Financial conditions are also a key risk for markets. Sharp increases in interest rates and the stronger US dollar could derail growth momentum by curtailing lending and hindering flows to emerging markets.
Investment Implications:
Favor US equities - My base case is that the political landscape will be a positive catalyst for the market. When combining this policy tailwind with fundamentals that are solid in their own right and valuations that are rich but not at peak levels, I am comfortable with an overweight to US equities.
Favor US cyclical equity sectors - Higher interest rates, less regulation, and stronger growth should all help financials' profits. I expect industrials and health care to benefit from less regulation, lower corporate tax rates, and/or a repatriation tax holiday.
Favor US sectors that benefit from Trump's policies - Lower corporate taxes and less regulation are two major positives for financials, industrials, and biopharmaceuticals. However, protectionist policies could hurt multinational companies. Mid-cap and small-cap companies generally pay higher taxes and their revenues tend to be domestically oriented, which means they should benefit relative to large caps if trade is reduced or the US dollar strengthens. Defense companies should benefit from Trump's focus on national security, as well as shifting global alliances, which will pressure governments to increase their military budgets.
Favor Japanese equities - Japanese economic fundamentals remain mixed, but politics there are the most stable of the major developed markets and valuations are the cheapest. Given the BOJ's aggressive monetary stance and my expectation of a weaker yen, I favor a currency-hedged overweight to Japanese equities.
Avoid European equities - Despite valuations that are roughly fair versus their own history and cheaper than their usual discount to the US, I recommend that investors stay on the sidelines until economic fundamentals decidedly improve or election results reduce eurozone breakup risks.
Favor credit over government bonds - Government bond yields are likely to increase in the US, while the ECB and BOJ may be constrained in how much more they can do to hold rates down. High-yield spreads could benefit from relaxed regulations and higher oil prices, and bank loans could benefit from higher interest rates. I favor duration-hedging credit exposure.
Favor inflation protection - Trump's economic policies are pro-growth and reflationary. He also wants to add significant fiscal stimulus at a time when the US economy is at or near full employment. Further, the Fed is likely to allow the economy to "run hot" and inflation to creep above target levels. Therefore, I favor protecting portfolios with inflation-sensitive assets such as TIPS, natural resource equities, and base metals.
Be selective on emerging markets - While China's economic cycle remains intact, I think higher developed market interest rates and a stronger US dollar make emerging markets, in aggregate, less appealing. Given that the broad market has been penalized, I recommend that investors differentiate among countries that may have quite different fundamentals.
Consider holding gold as a hedge - With fiscal stimulus, the risk case is stagflation.5 Though gold will struggle in an environment of higher real rates, it has substantial upside in a stagflationary environment. I favor gold-mining companies that have restructured and have higher sensitivity to gold prices.
---
1 Purchasing managers' index is an indicator of the health of the economy. Readings over 50 suggest economic growth should rise from its current pace, while readings under 50 suggest economic growth should fall from its current pace.
2 Standard deviation measures the spread of the data about the mean value.
3 Duration is a measure of the sensitivity of an investment's price to nominal interest-rate movement.
4 Abenomics are the policies pursued by Japan's prime minister, Shinzo Abe.
5 Stagflation is a condition when growth is falling but inflation is rising.
All investments are subject to risk, including the possible loss of principal. Fixed income risks include credit, liquidity, call, duration, and interest-rate risk. As interest rates rise, bond prices generally fall; these risks are currently heightened due to the historically low interest rate environment. As interest rates rise, bond prices generally fall; these risks are currently heightened due to the historically low interest rate environment. Investments in high-yield ("junk") bonds involve greater risk of price volatility, illiquidity, and default than higher-rated debt securities. Loans can be difficult to value and highly illiquid; they are subject to credit risk, bankruptcy risk, and insolvency. Foreign investments can be riskier than U.S. investments due to the adverse effects of currency exchange rates, differences in market structure and liquidity, as well as political and economic developments in foreign countries and regions. These risks are generally greater for investments in emerging markets. Municipal securities may be adversely impacted by state/local, political, economic, or market conditions. Investors may be subject to the federal Alternative Minimum Tax as well as state and local income taxes. Capital gains, if any, are taxable. The value of inflation-protected securities generally fluctuates with changes in real interest rates and the market for these securities may be less developed or liquid, and more volatile, than other securities markets. The value of inflation-protected securities generally fluctuates with changes in real interest rates and the market for these securities may be less developed or liquid, and more volatile, than other securities markets. Small- and mid-cap securities can have greater risk and volatility than large-cap securities. Investments in the commodities market and the natural-resource sector may increase liquidity risk, volatility and risk of loss if there are adverse economic consequences in these sectors. Value investing may go out of favor, which may cause underperformance the broader stock market.
The views expressed here are those of Nanette Abuhoff Jacobson. They should not be construed as investment advice. They are based on available information and are subject to change without notice. Portfolio positioning is at the discretion of the individual portfolio management teams; individual portfolio management teams and different fund sub-advisers may hold different views and may make different investment decisions for different clients or portfolios. This material and/or its contents are current as of the time of writing and may not be reproduced or distributed in whole or in part, for any purpose, without the express written consent of Wellington Management or Hartford Funds.
Disclosure: I/we have no positions in any stocks mentioned, and no plans to initiate any positions within the next 72 hours.
I wrote this article myself, and it expresses my own opinions. I am not receiving compensation for it. I have no business relationship with any company whose stock is mentioned in this article.