Note: Members at Value Investor's Edge received a first-look at this report and get advanced previews of all other developing, event-driven and deep-value research.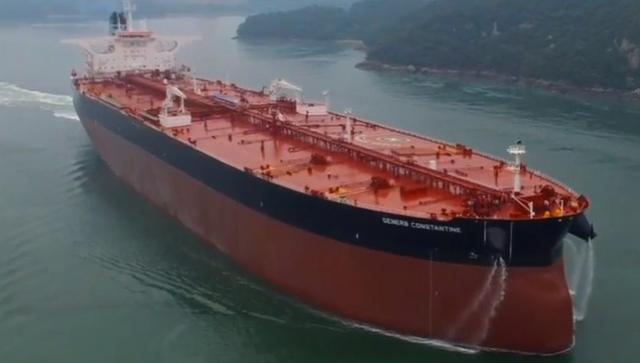 Investment Overview
Gener8 Maritime (NYSE:GNRT) is one of our core speculative holdings and is a favorite trade idea especially as talks of consolidation heat up. Beyond the potential for major near-term gains if a takeover does materialize (extremely speculative at this stage), GNRT offers enormous value and has 80% of upside remaining to our fair value target of $8/sh. This fair value target is conservative to normalized cash flow and is below tangible book, which we estimate to be in the mid/upper-$8s.
This report will briefly discuss the developing takeover rumors, but will primarily focus on the overall GNRT investment thesis. The following sections will review the fleet economics, valuation breakdown, balance sheet structure, and potential risk factors.
Recent Stock Price Disconnect
Gener8 owns the world's largest, modern very large crude carrier ("VLCC") fleet and is currently earning a heavy amount of cash flow while continuing to delever the balance sheet. GNRT has performed abysmally in the stock market over the past year despite producing very impressive operating results including $280M in operating cash flow over the past four quarters (versus a market cap of just $370M).
Despite the stock losing over 50% in the past year, its core business is still performing very well as VLCC spot rates spent the last two months in the $45-60k/day range, and are still holding strong in the $40s. Although 2017 is widely expected to be weaker than 2016 in terms of market rates, the forward forecasts for 2018-2020 are much stronger, especially when looking at trends in modern tonnage.
Enormous Savings from Modern Eco-Design
Additionally, as oil prices continue to increase, GNRT is poised to benefit tremendously compared to peers with older vessels. Bunker fuel prices have continued to surge and are now well into the $300s (per ton) on average: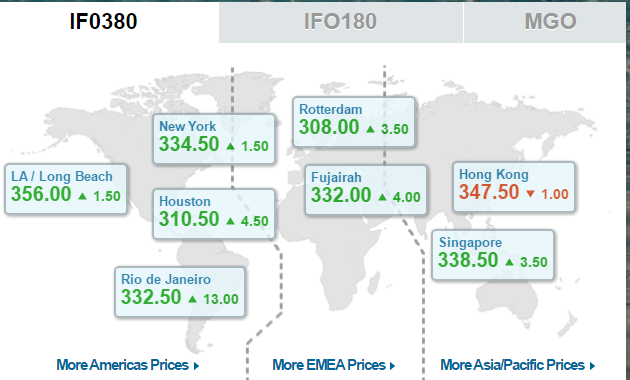 This trend has been viewed as a negative for shipping (i.e. higher fuel costs), but detractors are missing the enormous competitive benefits to firms with modern vessels. The following breakdown of potential GNRT savings is from a recent corporate presentation (slide 8):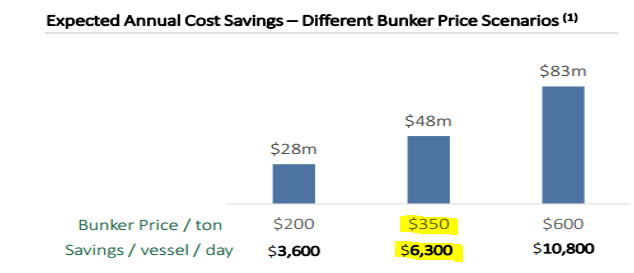 Under the current pricing regime, GNRT's modern vessels are saving close to $6k/day compared to their less efficient peers. The company's modern vessels are also equipped with ballast water treatment technology and are therefore ahead of the curve for future regulations that will also slam competitors from September 2017 onwards. When the low sulfur regulations kick in worldwide by 2020, GNRT's vessels could save over $10k/day versus less efficient peers due to the higher resulting fuel posts.
Gener8 Takeover Getting Closer?
Over the past few weeks, top analysts have highlighted that key rival Frontline (NYSE:FRO) now has "over $600M in firepower." Seeking Alpha's James Catlin has also opined on the subject, suggesting that "Gener8 Maritime would be a logical candidate for some very good reasons." Although I've previously been skeptical of a takeover, especially due to a high proportion of institutional owners sitting on a major equity loss, the stars now appear to be aligning. I've recently shifted my views towards a more likely deal outcome in exclusive notes to research subscribers.
Gener8 Maritime recently filed an equity shelf offering, which is mostly just procedural, but the fascinating part was the inclusion of three major insiders as potential sellers in a secondary share offering. These insiders own nearly 30% of the company, and if they are willing to sell out, there's little stopping GNRT from becoming an immediately viable acquisition target. Frontline has been the primary rumored candidate for a takeover, but I believe Euronav (NYSE:EURN) is actually a more likely acquirer, especially as it has completed a major fundraising transaction, refinanced over $400M in a very advantageous facility, and has locked in over $360M in high-margin backlog at a key oil services joint venture.
The Inverse View: Secondary as a Major Overhang
The majority of investors would logically view a major filing that includes the potential for secondary sales from three major shareholders as a huge negative, especially when the underlying stock trades near all-time lows. I certainly agree that if the actual intention is for these owners to simply sell their shares in the open market, then there could be some serious near-term price risk.
The shelf filing could also very well just be a placeholder for the firm with the large shareholders simply included as a courtesy in case they wanted to keep all options open. My personal opinion is that GNRT is valued outrageously low, but that investors would be far better off with a sale to a larger, stronger, firm such as Euronav. I believe that several insiders also wish to pursue this approach and hopefully lead the charge for some industry M&A. This viewpoint is likely to be controversial, but the valuations are remarkable, and I believe in the underlying logic of a potential M&A transaction here.
The largest barrier to a takeover would be a potential ego-driven fight by Chairman Peter Georgiopoulos, but the vast majority of the board is controlled by private equity. If they want to sell, GNRT will sell.
Fleet Breakdown & Discussion
Gener8 has a fully-delivered (by March 2017) fleet of 41 vessels, of which 21 are brand new eco-VLCCs capable of carrying 2M barrels of crude oil apiece. These 21 vessels are projected to outperform peers in the current markets by up to $6k/day, which adds up to a combined annual outperformance of $46M. Of the remaining 20 vessels, the average build is in the mid-2000s and only three vessels are older than 15 years (2x 18 years and 1x 17 years). The considerable bulk of the older ships still have at least five years of prime marketability, outlasting all related debt.
The following report is from VesselsValue.com, which is the preeminent source for both ship valuations, but also a leading developer of broad shipping market indicators. The data from VesselsValue.com has been used to benchmark multiple deals, its system is based on live sales & purchase data, and is fine tuned with a proprietary algorithm that tracks projected DCF and current rates.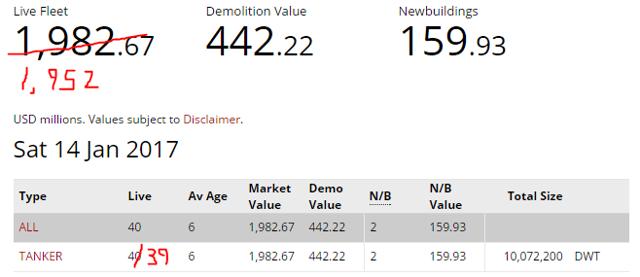 Balance Sheet & Tangible Book ("NAV")
According to GNRT's Q3-16 results, updated for two confirmed sales of older tonnage, it has approximately $1.23B in net debt and had $307M in remaining installments versus a fully-delivered fleet valuation of $2.11B. As of this report, GNRT has already delivered three of its final five vessels.
Remaining Deliveries Fully Financed
As of 11 November (slide 11), GNRT disclosed only $204.2M in payments remaining, of which secured financing covered 99.9% of this amount. Valuations have remained stable over the past two months, so the financing likely still covers the bulk of final installments, which means GNRT requires practically zero cash outlay to complete the program in the next couple months.

Shocking NAV Discount
As of 14 November, 2016, GNRT had 82.7M shares outstanding. Based on the $2.11B in live fleet valuations and assuming $140M in operating cash flow through Q1-17, my projected net-asset-valuation ("NAV," i.e. tangible book) is $8.62/sh.
Based on the current share pricing of $4.49, GNRT trades at just 52% of NAV. Investors should note that NAV represents the current market value of the ships, and this figure isn't just a book accounting figure. Our current fair value price target of $8/sh is conservative considering it represents a discount to a NAV value that already accounts for near record low vessel valuations.
Discount Opens Consolidation Window?
Given this extreme discount, it's very rational for a company (or a coalition) to be willing to pay a fairly high premium to the current stock price of $4.49 in order to buy vessels at a significant discount to either secondhand purchases or contracted newbuilds. I believe a deal could be consummated at a 50-60% premium to the current pricing (i.e. in the neighborhood of $7/sh) while still being considerably accretive to any potential acquirer, especially if part of the purchase price is through equity in the buying company.
As mentioned above, I believe the most logical buyers would either be Euronav or Frontline. Euronav has a massive cash pile and a strong balance sheet while Frontline has widely been rumored to be in the hunt for a major deal, and insider John Fredriksen has the clout and financial capacity to ensure the financing of a successful deal.
Risk Factor Discussion
Despite what I believe is enormous upside potential, an investment in GNRT is very speculative and includes a few key risk factors, the primary of which are heavy exposure to spot markets, high financial leverage, and a likely challenging operating environment during most of 2017.
Spot Market Exposure
GNRT has nearly all of its vessels exposed to the spot markets, which has been a wonderful posture during the past few months as VLCC rates broke $60k/day for a couple weeks and are still above the $40k/day range for most routes. Based on these rates, GNRT is poised to produce close to $140M in operating cash flow during Q4-16 and Q1-17, but we expect the mid-year and especially the fall season to be much weaker. This risk is partially mitigated by GNRT's proven fuel efficiency savings as its eco-vessels should outperform peers by a minimum of $5k/day, perhaps even closer to $6-7k/day.
Higher Financial Leverage
GNRT's financial leverage is fairly high due to its large newbuild program, which is fully financed and will be concluded in March 2017. This risk is mostly offset due to the generous amortization schedule and full financing of the newbuilds, but its net debt-to-assets ratio ("D/A") is still a fairly high 66%, primarily due to the heavy drop in asset valuations over the past year even as GNRT has committed nearly all of its incoming cash flows to shore up the balance sheet. Although I view this leverage as manageable, the forward expectations for mid-2017 and especially fall 2017 are far weaker, which could pressure the balance sheet if vessel values slip deeper.
Speculative Forward Markets
The biggest risk lies in forward supply/demand, which of course drives the spot market rates. Although the dynamics in modern tonnage are very positive, as explained in GNRT's Q3-16 presentation (slide 15), forward demand growth is less certain. Analysts widely expect 2017 to be a difficult year, and I also believe rates will be weaker into summer 2017 and especially into the seasonally weak Q3. However, I'm bullish from Q4-17 onward as long as the global economy remains stable. Although the OPEC production cut is often quoted as a bearish concern, I believe ton mileage could actually increase if Asian imports are sourced from farther destinations (such as West Africa or South America).
Conclusion
Gener8 Maritime is currently my favorite trading and medium-term position. It is certainly a more speculative company, but the current pricing offers a historic valuation opportunity, and I believe there's a strong chance to log a return exceeding 40-50% in just a few months even if a takeover doesn't ultimately materialize as the market comes to its senses regarding the value potential here.
GNRT offers 80% upside to my fair value target of $8/sh, but any potential acquisition would need to be below the NAV range (upper-$8s) to make sense. I estimate that any takeover would likely result in a pricing of around a 50-60% premium to the current mid-$4s, but would likely include an equity component from the acquiring firm. Again, I must stress that the reason we own GNRT is due to its strong value opportunity and our belief in a very bullish 2018-2020 crude tanker market. Any potential takeover is extremely speculative and should never be the sole basis for an investment.
Access the Latest Research & Reports
If you find my research reports helpful, please consider following me on Seeking Alpha for free access to future content. This can be accomplished by clicking on the "Follow" button next to my name at the top of the article. If you desire access to the latest research, income ideas, speculative plays, and a rapidly growing community of professional and private deep value investors, we invite you to join Value Investor's Edge. Finally, I am proud to be featured in the 2016 DIY Investor Forum. Sign-ups are currently free through the end of January, follow this link to sign-up for a plethora of free content, including an exclusive interview where I share my investment approach, positioning, and top ideas for 2017.
Disclosure: I am/we are long GNRT, EURN.
I wrote this article myself, and it expresses my own opinions. I am not receiving compensation for it (other than from Seeking Alpha). I have no business relationship with any company whose stock is mentioned in this article.