In March 1989, John G. Tower, was the rejected by the U.S. Senate, as President Bush's nominee for the Secretary of Defense. Mr. Tower's 53-47 defeat made him the last person to have lost their confirmation bid and the last time this occurred, prior to Mr. Tower, was in 1959. For more context, see the NYT article coverage by writer, Michael Oreskes. Fast forward to 2017 and Donald J. Trump is less than a week away from becoming our 45th U.S. President. My last piece, written on January 10th: Fannie Mae: What Happens If Steve Mnuchin Isn't Confirmed By The Senate?, was met with lots of skepticism by the passionate Fannie (OTCQB:FNMA) and Freddie (OTCQB:FMCC) longs. Therefore, I write to clarify and articulate why Mr. Mnuchin might not secure the 51 votes required.
Just this weekend, the WSJ published an important piece: Marco Rubio's Vote Is Key for secetary of State Nominee. Within the piece we learned that Marco Rubio, who sits on the influential Foreign Relations Committee is undecided on whether to back Mr. Rex Tillerson. If he votes against him then the vote would have to go to the Senate floor. We also know that Messrs. Graham and McCain are undecided and have voiced their concerns about Mr. Tillerson's transactional nature and Russian ties, from his days as the chief executive officer of ExxonMobil (NYSE:XOM). I also listened to Tom Ashbrook's January 12, 2017 NPR coverage The Trump Press Conference And Rex Tillerson. The three guests ultimately thought that Mr. Tillerson will get confirmed, but there is an outside chance he doesn't. We live in strange times and given Mr. Trump's controversial and unorthodox style, the Senate can exercise its right to provide a constitutional check and balance for Presidential Cabinet appointees. Given Mr. Tillerson's well respected business career at ExxonMobil and the fact that he was recommended by some former Bush cabinet folks, it seems more likely than not that he gets the nod.
Given the unexpected turbulence for a very credible Mr. Tillerson, this could foreshadow some risk that Mr. Mnuchin will encounter. We will find out if he has the temperament with the cameras rolling.
On November 30, 2016 Steve Mnuchin, while speaking with the press said:
Steven Mnuchin, president-elect Donald Trump's nominee to be U.S. Treasury Secretary, said Fannie Mae and Freddie Mac should leave government control and that the incoming administration "will get it done reasonably fast."
We have officially entered a new era. Here is a guy who hasn't even been confirmed by the Senate and he is making public statements that directly influence the stock prices of Fannie Mae and Freddie Mac securities. Can you imagine, Alan Greenspan, Ben Bernanke, Janet Yellen, Tim Geithner, or Jack Lew making a statement like this? Of course not! Public officials (or possibly soon to be) are not supposed to publicly discuss public securities, especially members of the Federal Reserve of U.S. Treasury.
What is even scarier than Mr. Mnuchin's comments are his close ties to Wall Street. SA contributor, The Unhooded Falcon, wrote an interesting piece on November 16, 2016.

Within the Unhooded Falcon's article, the author makes these troubling connections.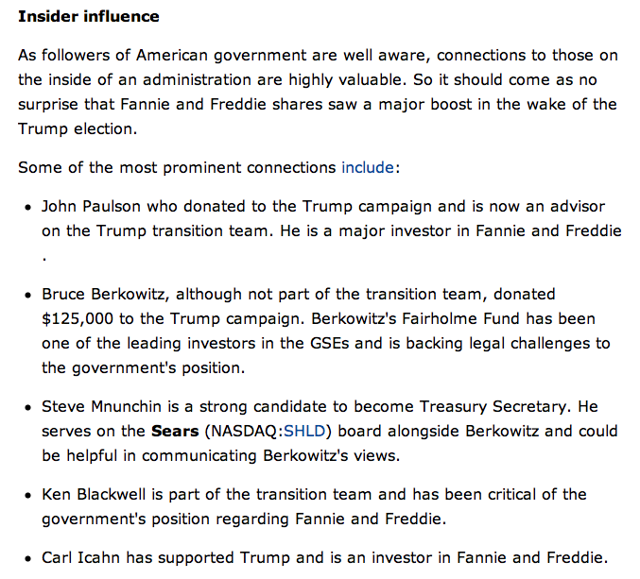 Source: The Unhooded Falcon's November 16, 2016 SA article.
I am confused how Mr. Trump landed on Steve Mnuchin. The optics above look really bad and this doesn't seem like a Drain the Swamp pick. This feels like the self dealing and business as usual that Mr. Trump famously railed against, with much success I might add, on the campaign trail.
Switching gears, this past Sunday, which I often do, I watched John Dickerson's "Face The Nation". I was reminded by some members of its liberal panel, that Donald Trump's entering office favorability ratings are at historic lows. Enclosed please is a quote from the Washington Post's, Ed O'Keefe:
Well, you know, I think it`s important despite what the vice president-elect said about 30 - out of 50 states and a landslide to remember, if you look at polling that was out this week, only 37 percent of Americans have a favorable opinion of the president-elect. That is a - at least modern history historic low. Usually you see a bounce for someone who wins, and he didn`t really ever see one.

The other thing I think that`s important in those numbers, 34 percent believe he`d be a better leader than President Obama, also a pretty poor showing on that regard. And the one that I keep coming back to, two to one, Americans believe he needs to stop tweeting.
Source: CBS News January 15, 2017 transcripts
Lo and behold, CBS News wrote a piece yesterday that graphically compares favorability for incoming Presidents just before inauguration.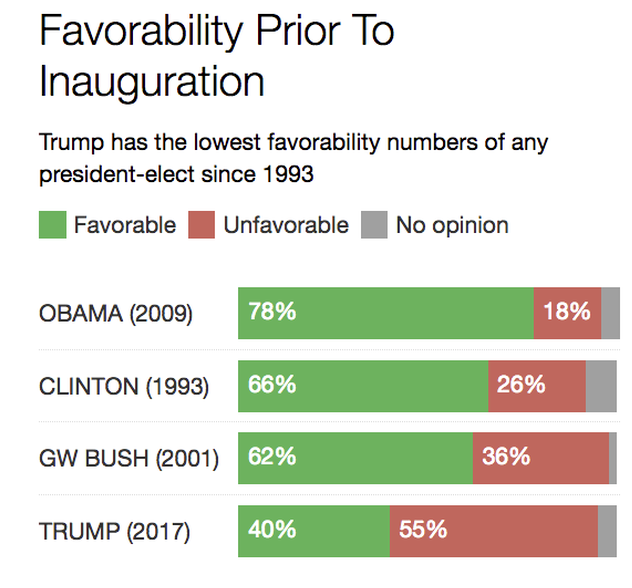 Source: CBS News
I don't want to get too far off topic, but Mr. Trump's scorched earth policies and publicly comparing the U.S. intelligence community to Nazi, Germany is not helpful. As a Republican U.S. Senator that has your doubts, or at least reservations about Mr. Trump, these low approval ratings and unpresidental behavior may give you the political capital/cover to vote against one of Donald Trump's key cabinet members. Mr. Mnuchin is probably the easiest to throw overboard.
On January 4, 2017, Arizona Central published a piece arguing that Republican Senator, Jeff Flake, one of Trump's vocal critics could vote against Steve Mnuchin.
The WSJ also published an article on January 4, 2017: Democrats Gather Ammo Against Treasury Pick Steven Mnuchin. Per the WSJ's piece: Jeff Flake and Dean Heller will be targeted if they vote for Mnuchin given his professional background and his public statements to re-privatize Fannie and Freddie.
The liberal group Allied Progress is launching a six-figure television ad campaign in Arizona and Nevada to call on Sens. Jeff Flake (R., Ariz.) and Dean Heller (R., Nev.) to vote against Mr. Mnuchin's nomination.

"Mnuchin made millions after his bank foreclosed on homeowners," the ads say. They also accuse the bank of discriminating against prospective Latino home buyers, citing a complaint filed in November with the Department of Housing and Urban Development by two California-based housing organizations.

Both Sens. Heller and Flake criticized Mr. Trump for some of his conduct during the presidential campaign, and both face re-election campaigns in 2018 in states with rapidly growing Latino populations. Both states were hit particularly hard with foreclosures during the financial crisis.
For Mr. Mnuchin not to get confirmed, given that the Vice President breaks any 50-50 tie, there only needs to be three Republican Senators that vote against him. We covered Senators Flake and Heller, as possibilities, given how hard hit their states were impacted by the foreclosure crisis.
Nathan Gonzales wrote a nice November 17, 2016 article in Roll Call: Senate Landscape: Never Too Early to Look at 2018, which has a great chart of the upcoming 2018 mid-term senate races.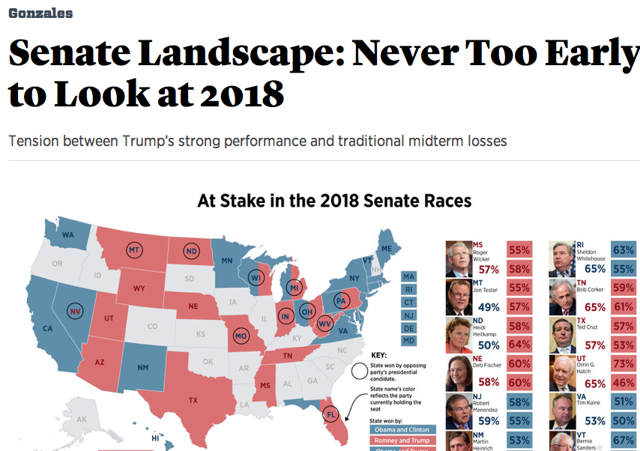 From the perspective of Fannie and Freddie, and the upcoming Steve Mnuchin Senate confirmation hearings, there are five other key Senators that are facing re-election. Bob Corker (R-TN), Elizabeth Warren (D-MA), Bernie Sanders (D-VT), Ted Cruz (R-TX), and Barbara Feinstein (D-CA).
In October 2015, Bob Corker famously said that investors should short shares of the GSEs. It doesn't take an active imagination to logically conclude he might vote against Mnuchin. Next, if we think about Ted Cruz's contentious exchanges with Mr. Trump on the campaign trail combined with his anti Wall Street statements about "New York values", if the political winds are blowing the right direction, he too might vote against Mr. Mnuchin, as he is up for re-election in 2018. In terms of the Warren, Sanders, and Feinstein trio, they are all up for re-election. Warren and Sanders have labeled Mr. Mnuchin the foreclosure king and Senator Feinstein's state was directly impacted by OneWest's foreclosures. Rest assured that they will be vocal critics of Mr. Mnuchin. As Mr. Mnuchin isn't a known quantity in Washington, he has a formidable confirmation hearing ahead of him.
Takeaway
Given that, over the past two months alone, there have been a few dozen bullish articles written about Fannie Mae here on Seeking Alpha, I will continue to argue the bearish side of bet. So far there are upwards of 195 comments to my initial January 10th piece. What stood out to me was the level of group think and the even scarier is the amount of money investors are betting on this highly uncertain outcome that hinges almost entirely on politics. If some readers are being truthful in the commentary section, then I am shocked to learn that some speculators have bet their entire life saving on this coin flip. As I pointed out in my first article, Fannie Mae's stock had another leg up on November 30, 2016, from $3 to $5 on huge volume, the precise day Mr. Mnuchin made those specific comments that the GSEs will be re-privatized, if he gets confirmed. If my synthesizing and intuition are right and that Mr. Mnuchin's confirmation will be problematic given how easily the Democrats can tar and feather him in his Senate confirmation, I hope Fannie and Freddie investors understand the inherent risks of these stocks. If not, adjust accordingly.
Disclosure: I/we have no positions in any stocks mentioned, and no plans to initiate any positions within the next 72 hours.
I wrote this article myself, and it expresses my own opinions. I am not receiving compensation for it (other than from Seeking Alpha). I have no business relationship with any company whose stock is mentioned in this article.
Editor's Note: This article discusses one or more securities that do not trade on a major U.S. exchange. Please be aware of the risks associated with these stocks.