It has taken nearly three months, but we now know what is likely to be the final shape of British American Tobacco's (NYSE:BTI) acquisition of the 57.8% of Reynolds American (NYSE:RAI) that it does not already own. Reynolds American board members who are not affiliated with BAT held out for a 7% improvement on the price that BAT offered in October. The latest offer consists of 0.5260 British American Tobacco shares and $29.44 in cash, compared with the earlier offer of 0.5502 BAT shares and $24.13 cash. This will almost certainly be the final form of the deal.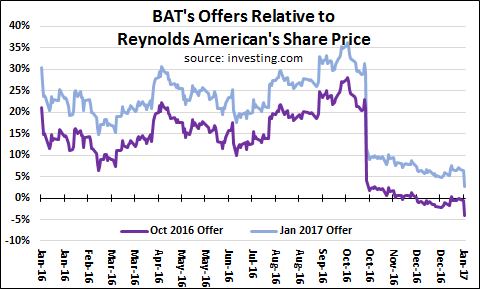 Judging by the comments that my discussion of BAT's initial offer attracted, SA readers are unlikely to be delighted with this result. However, it is the best they are going to get: BAT already has 42.2% of the necessary votes in hand, and it has surely has canvassed Reynolds American's institutional shareholders in coming up with its revised offer. Since there is considerable overlap between the two companies' institutional shareholder bases, it is virtually certain that enough institutions will accept BAT shares as partial payment for Reynolds American to ensure that the transaction closes at this price. If they wish, American holders of Reynolds American's shares will have the option of receiving BAT's NYSE-listed ADRs rather than its underlying, London-listed shares.
In the course of its due diligence BAT has apparently identified a few more synergies it expects to be able to extract from full ownership of Reynolds American: rather than the $400 million over three years that it previously forecast, it now expects "at least" that much. I continue to be somewhat skeptical of this forecast, and in any case, even if they can be achieved, relative to the combined group's pro forma revenue, these savings are hardly dramatic. Its expectation that the deal can be marginally earnings- and dividend-accretive seems a more probable forecast to me.
The reason for my skepticism regarding synergies is that there is very limited geographical overlap between the companies. Reynolds American sells its products all-but-exclusively in the United States, while British American Tobacco completely withdrew from the U.S. when it sold its Brown & Williamson unit to Reynolds American thirteen years ago (the transaction that gave BAT its 42.2% stake). BAT is obviously thoroughly familiar with the competitive position, management and strategies of Reynolds American, so perhaps my skepticism is excessive, but I will believe in these savings when I see them. The lack of geographic overlap between the companies' operations makes it unlikely that the transaction will attract antitrust attention.
I recommend that Reynolds American shareholders seriously consider retaining their British American Tobacco shares when they receive them. They are currently yielding more than Reynolds American's shares, and BAT has pledged to retain its payout ratio. Investors may have concerns about currency exposure to Sterling in the present, rather fraught post-Brexit environment, but the GBP/USD exchange rate has actually made little difference to BAT's share price, which has been virtually identical in dollar and sterling terms: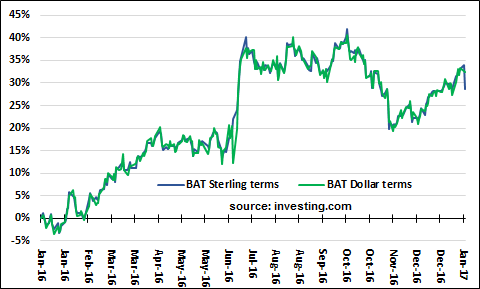 This is not merely accidental. Although its primary listing is in London, as is its headquarters, and although its currency of account is Pounds Sterling, British American Tobacco's effective operating currency is the dollar, and the London-based investors who know the company well price it accordingly. Thus, when Sterling is weak, BAT's share price rises to compensate. This is what is known as an operational currency hedge and it has been in place for many years. By adding a very substantial component of dollar earnings to BAT's consolidated accounts, this transaction will only reinforce it.
Disclosure: I/we have no positions in any stocks mentioned, and no plans to initiate any positions within the next 72 hours.
I wrote this article myself, and it expresses my own opinions. I am not receiving compensation for it (other than from Seeking Alpha). I have no business relationship with any company whose stock is mentioned in this article.