Bank of America (NYSE:BAC) has been an undervalued company for about the last decade. However, BAC has ratcheted upwards in the past couple months and I now believe it is time to take your profits and move on from this stock.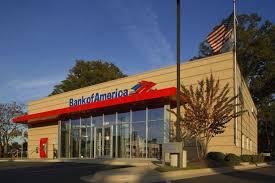 My Trading History with Bank of America
I have been a long-time bull on BAC and it was one of my longest running investments in my fund's portfolio. I first purchased shares of BAC in 2009 and continued to average my shares down, buying up a significant amount of shares at the end of 2011 and throughout 2012. BAC was my largest single holding across my fund and continued to until last year when I began to take profits. As of quite recently, I sold off my last portions of BAC and, for the first time since 2008, my fund does not own any BAC.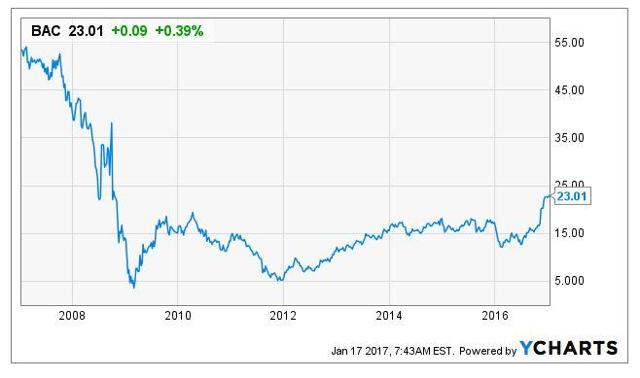 I memorialized my investment thesis in 2014 in a series of posts on Seeking Alpha found here, here, and here. My general thesis at the time centered around operational improvements through expense reduction, litigation expenses soon dissipating, asset quality improvements, and rising interest rates which would provide a positive catalyst to net interest income. Given the significant undervaluation on both a historical and comparative basis, I believed that BAC presented a compelling investment opportunity.
However, given the recent broad banking industry rise following the election of soon-to-be President Trump, BAC appears to be correctly valued and investors should ring the register.
Why the Recent Rally?
BAC shares have skyrocketed in the past few months for two primary reasons, which both stem from Trump taking office. First, Trump is expected to deregulate banks which will allow them to redeploy excess capital to stimulate growth. Secondly, and most importantly, BAC benefits greatly from a rising interest rate environment, which has begun, and is expected to continue.
BAC's net interest income is expected to grow considerably in the near future. In fact, during the most recent quarterly earnings presentation management said it expects a significant boost to net interest income in Q1 of 2017, suggesting that net interest income will grow by $600 million. Further, management guided that BAC's net interest income would increase about $3.4 billion over the next twelve months with just a 100 basis point parallel shift in the interest rate curve.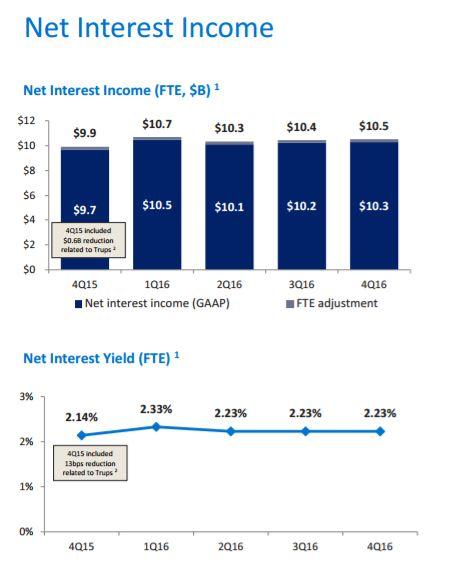 Source: Earnings Release Presentation
However, the rosy picture that is painted by the prodigious amount of expected growth in earnings from net interest income expanding, does not make BAC a prudent investment opportunity since the expansion is already priced into the stock. This information was so widely disseminated and with this event expected to occur, the efficient market has already priced it into the stock and excess market returns are unlikely.
Furthermore, BAC's broad cost cutting plan was able to materially increase earnings over the past few years by reducing its bloated expense structure. From the same period a year ago, BAC management was able to reduce noninterest expense by roughly $800 million, or 6%. This was driven by reductions in operating and support costs, lower litigation expense, and improvements in mortgage servicing costs.
During the conference call, management remarked on how far down expenses have come since 2011. Since their peak in 2011 of $77 billion, expenses have now declined $22 billion, to $55 billion. It is impressive how management was able to slash its expense structure over the past 6 years. However, with already such a prodigious slashing of expenses, it is tough to see much further reductions moving forward. Therefore, EPS growth must come from other areas.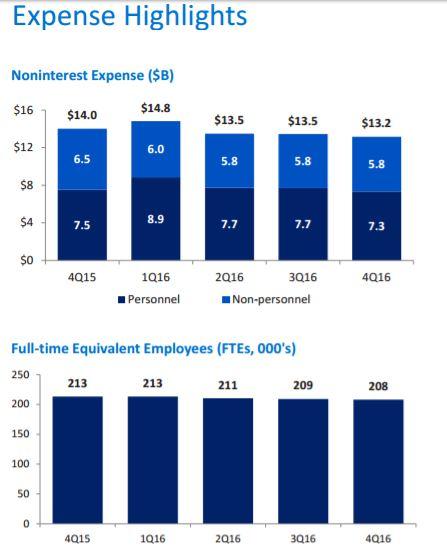 Source: Earnings Release Presentation
One way that management can deliver on EPS growth is through its recently expanded share buyback program. During the conference call, management announced an additional $1.8 billion expansion in their share buyback program. By adding the $1.8 billion to the $2.5 billion left under the program, management now has authorization to repurchase up to $4.3 billion in the first six months of 2017. This will provide a temporary boon to EPS growth, however, with BAC trading above book value again, I do not believe that repurchasing shares is the most prudent capital expenditure.
Valuation
In my article entitled "Bank of America: At An Inflection Point," I summarized the positive catalysts on the horizon and remarked on the undervaluation given these potential drivers:
The financial sector remains one of the most undervalued sectors. The bull market has yet to lift it to the same degree as it has other sectors. BAC in particular is the most undervalued bank in that sector. The negative sentiment resulting from their mortgage practices has led to shareholders leaving this stock untouched. However, investors should buck the trend and add BAC to their portfolio, as the bank witnesses an improving profitability from 'New BAC' initiatives, a lower cost capital structure, mortgage settlements in the rear-view mirror, and trades at a historically low level compared to book value.
However, since that article's publication, those catalysts have propelled the stock and it now does not remain undervalued on a historical and comparative basis. Moreover, those drivers, such as improving profitability through expense reductions, have already occurred, as I discussed above, and further expense reductions will be hard to achieve. At the current tangible book multiple of 1.37x, much further upside seems unlikely.
Fintech Risks
Forbes recently had a piece detailing 50 Fintech companies and how their "[d]igital disruption is going to soon affect every aspect of your money: how you earn it, save it, invest it and spend it."
All of these startups will be chipping away at the market share that big banks hold in these respective areas of the industry. For example, Acorns is an app that links to debit and credit cards and rounds up each purchase to the nearest dollar, investing extra pennies in a portfolio of ETFs. Another startup, called Betterment, employs a robo-advisor to manage individual portfolios and 401(k) plans. These, and other startups are democratizing investing and will eat into BAC's Global Wealth & Investment Management business.
Additionally, there are a number of startups aimed at making loans at lower rates than big banks. For example, Affirm finances purchases with instant loans at interest rates of 0% to 30%. Another example is Avant, which makes instant loans online of $1,000 to $35,000 for a relatively short time-line of two to five years. Startups in this subset of the industry will undercut the loan amounts that big banks are charging and will eat away at net interest income.
Although deregulation is widely expected to help big banks by allowing them to employ excess capital, I believe it could have a negative impact by reducing the regulatory burdens on startups who would like to enter and compete in the industry. Furthermore, big banks that have physical locations, such as Bank of America, will have higher overhead and may not be able to compete as easily with these nimble startups. (The picture at the beginning of this article, of a Bank of America physical location, was purposely chosen to emphasize the antiquated business model that big banks are currently operating under.)
Final Remarks
Bank of America has been my portfolio's largest holding for a number of years. However, with the recent rally, I believe it is time to ring the register and move on. The market is being too sanguine about the rising interest rate environment and is not adequately pricing in the disruption risk from the deluge of fintech startups entering the industry. Although I do not believe BAC faces an imminent risk of a serious decline in the next couple of years, there are many more lucrative investment opportunities.
Author's note: If you enjoyed this article and would like to read more from me, you can hit the "Follow" button at the top of the page, right next to my name and icon, to get informed about new articles.
Disclosure: I/we have no positions in any stocks mentioned, and no plans to initiate any positions within the next 72 hours. I wrote this article myself, and it expresses my own opinions. I am not receiving compensation for it (other than from Seeking Alpha). I have no business relationship with any company whose stock is mentioned in this article.