Over the past few years, e.l.f. Beauty (NYSE:ELF) has been turning heads with their inexpensive, high-quality cosmetics products. The company was able to rapidly grow revenues with their unique focus on online sales, and with proven demand for their products they easily expanded distribution across the US, getting their products onto the shelves of Walmart (NYSE:WMT), Target (NYSE:TGT), and a host of other distributors.
ELF's stock has performed very well since their IPO. In the past four months, the stock has climbed from its issue price of $17 to $29 today, which is a return of nearly 70%.
The Lock-up Period is Ending
On March 21, 2017, ELF's IPO lock-up period will come to an end, and will likely result in a decrease in share price and increased volatility. IPO Lock-up periods are agreements that restrict major shareholders and company insiders from selling their shares for a certain amount of time after an initial public offering; in this case, for 180 days. Following the lock-up agreement expiration, these restrictions are lifted, and investors are free to trade their shares as they wish. Typically, IPO lock-up expirations often coincide with 1% - 3% declines in stock price as a result of the increased number of shares being sold in the market, but in this case I believe the effect could be much larger.
Here is a snapshot of ELF's top 8 institutional owners. Together, these 8 institutions own over half of ELF`s 45 million shares: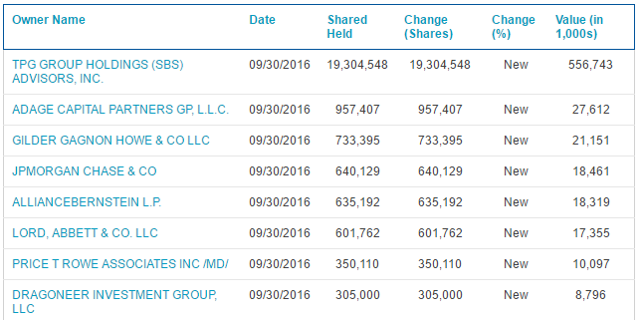 Source: www.nasdaq.com/symbol/elf/institutional-...
Note the date of these positions - September 30, 2016, which is soon after ELF'S IPO. Since that date, many of these major investors have not been able to sell any shares because of the IPO lock-up restriction. It is difficult to determine exactly how many shares are restricted under the lock-up agreement, but I think it is safe to include at least 8.3 million shares. That is the amount that was issued to investors, and with the extremely high demand for IPO shares, I think it is safe to assume only institutional investors were able to purchase shares in the initial offering. Those 8.3 million shares equate to roughly 20% of ELF's float: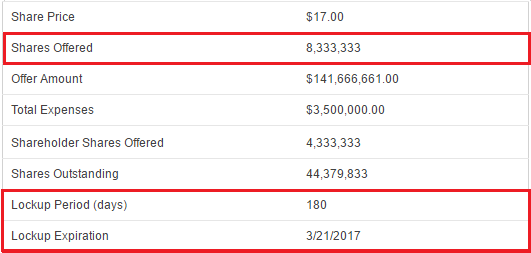 Source: www.nasdaq.com/markets/ipos/company/elf-...
In addition to institutional investors, company insiders are also locked into their positions as well. Insiders own about 25% of the equity in the company: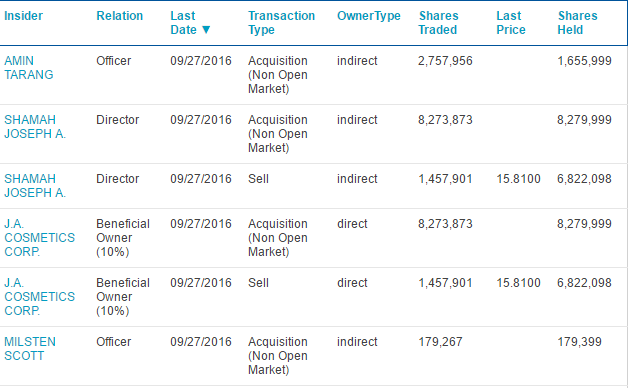 Source: www.nasdaq.com/symbol/elf/insider-trades
I hope at this point you see cause for concern; right now, the amount of shares that are restricted under the lock-up agreement is likely at least 45%. That means that on the morning of March 21, investors holding 45% of the company's stock will be finally be allowed the opportunity to sell their shares and secure the 70% profit they have made since the IPO.
Will institutional investors and insiders take this opportunity to sell, or will they continue to hold onto their stock for future price appreciation? To answer this question, lets take a look at the current valuation of ELF and try to determine what these investors could gain from continuing to hold the stock.
Comparative Valuation
ELF is tricky to value because of its explosive growth in past years, far exceeding the performance of other competitors in its industry. As a result, it is trading at a significant premium to comparable businesses.
In terms of growth potential, I think Ulta Salon, Cosmetics & Fragrances Inc (NASDAQ: ULTA) serves best as a comparable to ELF. Over the past few years, ULTA has seen high growth through expansion of their number of retail locations and increases in same store sales.
Comparing the two company's multiples, we see that ELF is trading at a significant premium in terms of their blended forward EV/Revenue, blended forward EV/EBITDA, and blended forward P/E multiples:

Consider the fact that since these are blended forward multiples, analysts' optimistic growth expectations are already priced into these valuations. This leaves little room for price appreciation over the next year even if ELF meets expectations. That is also a hefty premium to be trading above another growth stock in the same industry.
As evidenced by the already high valuation, analyst's consensus price target is only $30.63 for ELF. The stock is trading at about $29 as of the time of this article, so the implied upside from entering a position in the stock is only about 5% at this point. With short interest at 6% (increasing in recent months), it looks like the market is beginning to doubt ELF's valuation as well.
With such a large portion of the company's stock locked up, I think ELF's valuation has been allowed to run a bit too far. We are likely going to see a lot of supply hit the market when the lockup period ends on March 21.
The Institutional Perspective
There are a few reasons I think institutions will begin liquidating at least a portion of their investment once the lockup period ends.
Most importantly, they have already earned a 70% return on their investment, and the stock is trading at a valuation that has priced in a large chunk of ELF's expected growth. This leaves little room for price appreciation over the next year unless ELF manages to beat the already optimistic growth expectations.
With limited upside potential, the institutions would be exposing themselves to a number of unnecessary risks by continuing to hold their full positions once the lock-up ends. Other articles have done a good job of highlighting the risks, so I will only briefly list the main three risks I see:
1. Competitive Industry: The industry is highly competitive, and there has been an increase in small independent firms that are offering new brands and customized product offerings like ELF.
2. No Brand Loyalty: Millennials - which are ELF's core customers - are not brand loyal and love customization when it comes to cosmetics products, and so there is a real risk that new entrants and ELF copycats could steal market share in the future.
3. Optimistic Growth Expectations: ELF may have already gathered all of the metaphorical low-hanging fruit, and future growth could become increasingly difficult as they must begin to steal demand from established competitors such as L'Oreal S.A. (OTCPK:LRLCY), Proctor & Gamble Co (NYSE:PG), and Revlon Inc (NYSE:REV). Any indication that suggests slower growth in future quarters would likely send the stock price tumbling, because expectations for this company are just so darn high.
Conclusion
With the IPO lock-up period ending on March 21, 2017, I expect a large amount of selling to take place as institutions and insiders lock in the profits they have reaped over the past few months.
I recommend avoiding a position in this stock, or to consider shorting ELF as the lock-up expiration date approaches.
Disclosure: I/we have no positions in any stocks mentioned, and no plans to initiate any positions within the next 72 hours.
I wrote this article myself, and it expresses my own opinions. I am not receiving compensation for it (other than from Seeking Alpha). I have no business relationship with any company whose stock is mentioned in this article.